Bandai Namco Entertainment presents additional content for "Ace Angler", such as the addition of the "Ottotto Competition" to the "Competition Mode".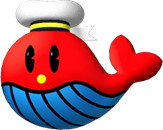 Special rules for the "Ottotto Collaboration Stage" that recreates the fun of "Ottotto" in a game
"Ottotto Competition" has been newly added to the "Competition Mode" of "Ace Angler" on the Nintendo Switch.
Inspired by the guessing game of what kind of sea friends are from the "Ottotto" confectionery mold, the developers have implemented special rules for players to search for the designated fish confectionery mold from among the "Ottotto" swimming around the stage.
Also, catch a rare type of fish, "Bone," to get a high score! "Ottotto Trivia" that has been supervised by Morinaga & Co. will be revealed, and "Totomaru" will appear as a monster fish. This content is jam-packed with fun!.
Christmas Winter TVCM and trailer have been released!
"Ace Angler" has released a Christmas TV commercial and trailer introducing the perfect game for Christmas. An Iceberg Whale will appear while the song "Jingle Bells" plays in the background of the commercial. It is one where you can feel the excitement of reeling in a big fish, as well as the excitement of the sensory control of waving the Joy-Con around.
For the upcoming Christmas and New Year's holidays, go fishing with your family, relatives, and friends! Take a look at the trailer below to find out more!
"Ace Angler" is a popular fishing stimulation game available in arcades all over the globe. In this fishing simulation game, you use a "Rod Controller" to catch small fish, such as clownfish and boxfish, as well as the big fish, such as angler sharks and giant squid. Acquire medals when you catch a fish and get even more medals when you reel in the big fish!
With its simple and easy-to-understand gameplay, "Ace Angler" is a big hit that continues to be popular even now – 10 years after its operation.
Features of "Ace Angler Nintendo Switch Version"
Play the game by shaking Joy-Con to throw afloat and turning the other Joy-Con to reel in fish using the "Rod Controller". The HD vibration will sway in response to the reaction of the fish, which you would be able to feel. Under the supervision of the staff of "Ace Angler", you can enjoy fishing to your heart's content in "Medal Mode." Not forgetting the "Adventure Mode" (single player) where you and the Kappa brothers conquer giant fish in the world's oceans and the "Competition Mode" where you can play against up to four other players by sharing the Joy-Con. With three modes that can be selected according to the play style, it's fun for all!