Ever since the Galaxy Z Flip and Galaxy Z Fold pioneered the foldable smartphone experience, the Galaxy Z series has led the market with breakthrough products that highlight the pinnacle of technology and design. To this day, the series' designers are deeply committed to refining foldable devices. This ongoing innovation not only showcases a profound understanding of users' lifestyles but also demonstrates the dedication to enriching daily lives.
In line with this vision, Samsung Electronics' latest foldable lineup opens even more possibilities for users. The Galaxy Z Flip5's new Flex Window unfolds new opportunities for expressing yourself, and the Galaxy Z Fold5's improved wide display experience gives you the tools to create your own masterpiece. You can embrace a new world with the Galaxy Z Flip5 and Galaxy Z Fold5, where your days become a canvas for expression and creativity.
Where Design Meets Technology
Smartphones are always in our line of sight. From the moment you wake up to the moment you go to bed, your smartphone likely catches your eye throughout the day. This is why both form and function are crucial when it comes to smartphone design. Smartphones inspire us to express ourselves, so our devices should have a strong sense of visual harmony. With this in mind, the designers ensured the aesthetics of the Galaxy Z series could be appreciated from any angle.
The Galaxy Z Flip5 and Galaxy Z Fold5 captivate users with balanced and meticulously crafted designs. The seamless fusion of advanced technology and artistic expertise creates flawless forms that evoke both futuristic elements and current trends — leaving lasting impressions.
The Art of Symmetry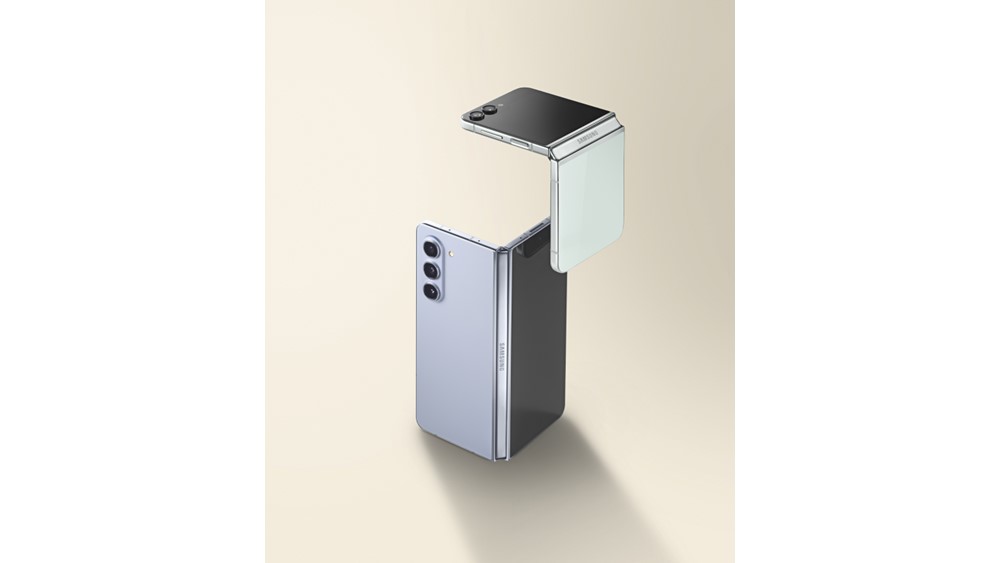 The design identity of the Galaxy Z series starts with the symmetry of a foldable phone. While staying true to its iconic form, the new Flex Window on the Galaxy Z Flip5 provides ample opportunity for you to display your personal style. Furthermore, the Galaxy Z Fold5 has been refined with even more detail. The essence of the Galaxy Z series' iconic grid design is embodied in the perfectly proportionate balance between the device's display and structure as well as the well-polished exterior.
Progressive Changes in Form
With the new Flex Hinge, the Galaxy Z Flip5 and Galaxy Z Fold5 now feature a more aesthetically balanced design when folded. The overall depth and weight have been slimmed down, boosting usability and comfort. This enhancement allows these folded devices to be more stable and occupy less space, making them even more portable than before.
Fill Every Moment With Color
The Galaxy Z Flip5 and Galaxy Z Fold5 are available in a range of colors[1] based on the concept of "Future Nature." These colors represent an appreciation for nature and hope for the future, meant to inspire us in our daily lives. The back panel's glossy finish and the metal frames on the side further amplify the aura of these colors. The Galaxy Z Flip5 comes in Mint, Graphite, Cream and Lavender, and the Galaxy Z Fold5 comes in Icy Blue, Phantom Black and Cream. Mint is the newest addition to the Galaxy Z Flip5's lineup, bringing a refreshed energy to the device. The Galaxy Z Fold5's newest color, Icy Blue, is inspired by the blue shades found in ancient glaciers.
Four additional colors — Gray, Blue, Green and Yellow — inspired by the concept of "Modern Nature" will be exclusively available for online purchase. These four sleek yet natural tones are paired with a matte, graphite metal frame to fuse modern aesthetics with organic elements.
More Ways To Express Yourself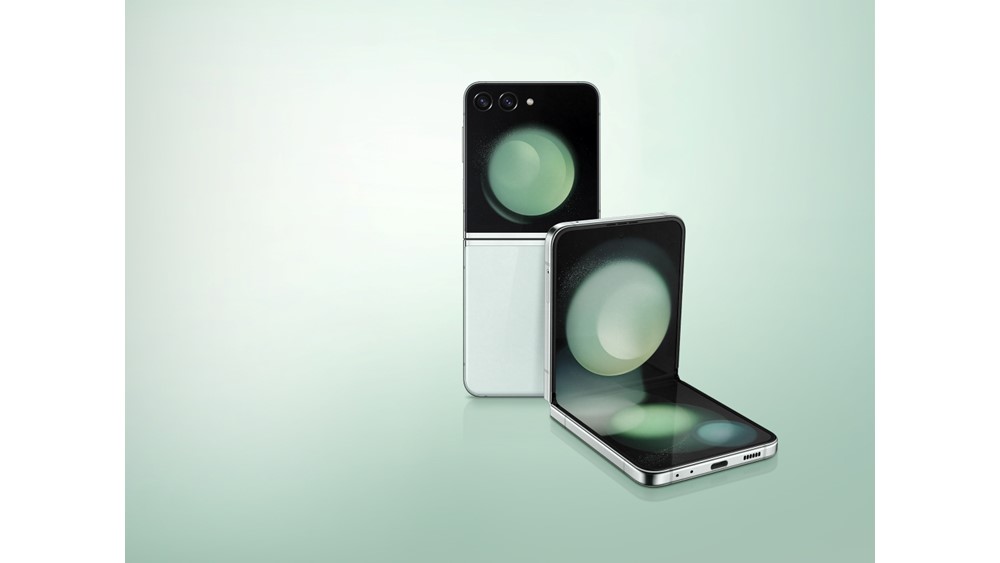 The Galaxy Z Flip series combines portability and style, creating a whole new smartphone experience. With its compact design, you can easily tuck your entire smartphone into your pockets. What's more, the expanded Flex Window tears down the limits of expression and usability with more diverse customization options and access to productivity features. Showcasing who you are is now as simple as setting your Galaxy Z Flip5 down on a table for the world to see.
Bigger Canvas, Bolder Expression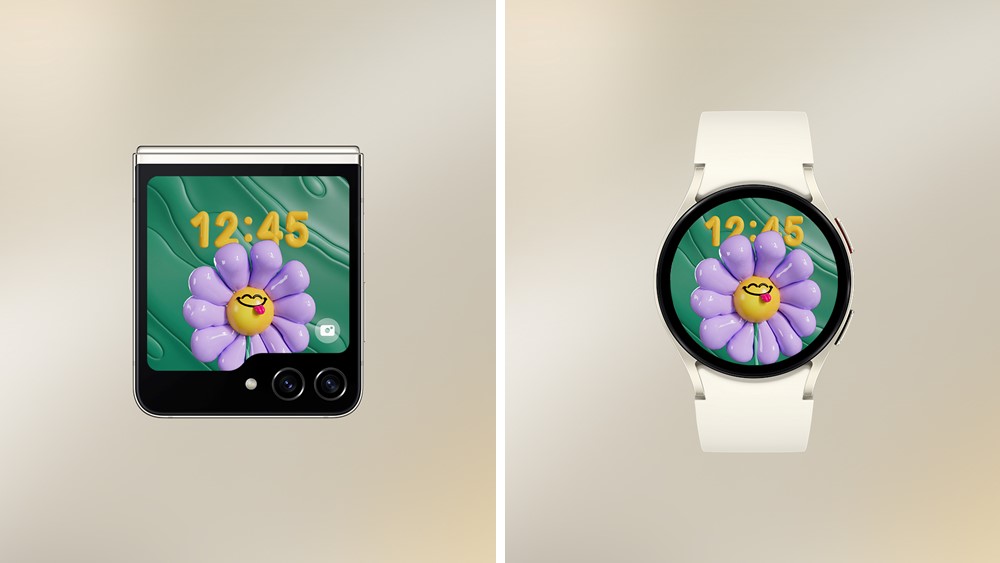 With more space, simple layouts and bold objects make a stronger statement. The Galaxy Z Flip5 provides ample space on the Flex Window to empower you to unleash your creativity. You can also match the style of the Flex Window to your Galaxy Watch6 watch face, coordinating a look across your Galaxy devices.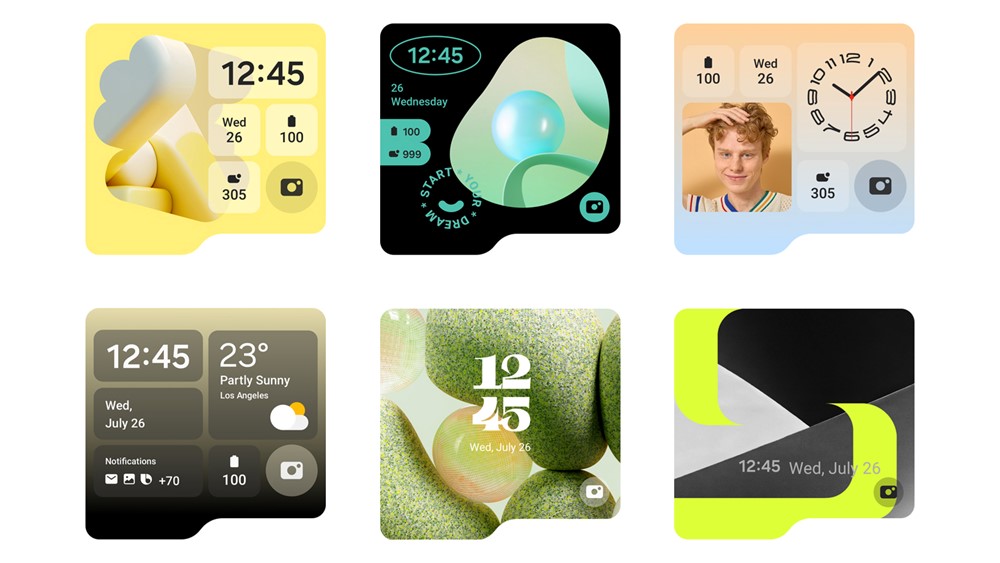 The Galaxy Z Flip5 is capable of so much more when it comes to highlighting your personality. You can customize the Flex Window by choosing from a variety of graphical clocks or frames or by adding widgets to access the information you need quickly and easily. With the new Flex Window, every inch of your screen can be dedicated entirely to you.
Snap, View, Like or Delete
The Galaxy Z Flip5's selfie capabilities have been upgraded as well. You can access the camera app directly from the Flex Window to take, review and even delete your photos on the spot. It's easy to switch through camera modes and timers, set dimensions or decide which photos to keep — all through the Flex Window. Picture this: you snap a selfie with portrait mode, zoom in on the small details and mark your favorite shots without ever opening your phone.
All-in-One

The Galaxy Z Flip5's expanded Flex Window can also streamline any daily routine. On top of the usual Flex Window capabilities, such as checking notifications or accessing quick settings, you can now browse your call and chat history. The full QWERTY keyboard enables you to do more than send suggested replies and emojis. Your whole mobile experience can start and end from your Flex Window.
Complete Customization
The Galaxy Z Flip5 series' expansion is more than just customizing your screen. On top of protecting your device, the all-new Flipsuit Case supports a changeable NFC card that lets you match your Flex Window and case designs for more personalization. You can now change your device's design from front to back, inside and out.
Create Without Boundaries
The Galaxy Z Fold series opened new ways to maximize productivity. For instance, if you frequently travel for work, you can jump on a quick conference call or edit documents on the go without a laptop. The Galaxy Z Fold series has pioneered everyday productivity through robust, big-screen experiences, and now, it's driving user experiences even further by expanding its features. In particular, the Galaxy Z Fold5's new design enhances the series by improving its multitasking and widescreen usability. This device is the ideal companion during your otherwise mundane subway ride to work. With Multi Window, you can make the most of your commute by catching up on daily news while simultaneously jotting notes. You can also take advantage of the new multi-touch feature to easily attach files to emails with two-handed Drag and Drop — helping you get things done, wherever you are.
Improved Multi Window Experiences
One of the most powerful features of the Galaxy Z Fold series is Multi Window, which has been enhanced for better productivity. The experimental features offered through Labs in the previous version — Pop-up view, which lets you turn an app into a pop-up window by dragging down the upper right corner, and Split Screen View, which splits your screen when you swipe with two fingers — have now become official One UI features starting with the Galaxy Z Fold5. For instance, if you want to take notes while reading, simply use two fingers to open a Multi Window with a notepad. You can conveniently write down your ideas with easy access to two side-by-side windows on a single screen.
Create Easier and Faster
The Galaxy Z Fold5 also introduces the innovative two-handed Drag and Drop feature — a remarkable addition that elevates multitasking on the big screen. You can use one finger to hold an object and another to interact with other features, delivering a whole new level of efficiency and convenience. For example, press an image in your gallery with one finger and simultaneously use a different hand to bring up a new window and attach that image to an email. When moving an app to another page, just hold down the icon and use your other hand to swipe through the home screen to place it just where you want it. This multi-touch upgrade unlocks huge potential for productivity on the Galaxy Z Fold5.
These efforts to boost productivity have led to even more ways to multitask. Up to four most recently used apps can now be added to the Taskbar, allowing easy transitions between apps. While switching to a different app, you can open the pop-up window to multitask across apps and windows more conveniently than ever before.
Style Meets Comfort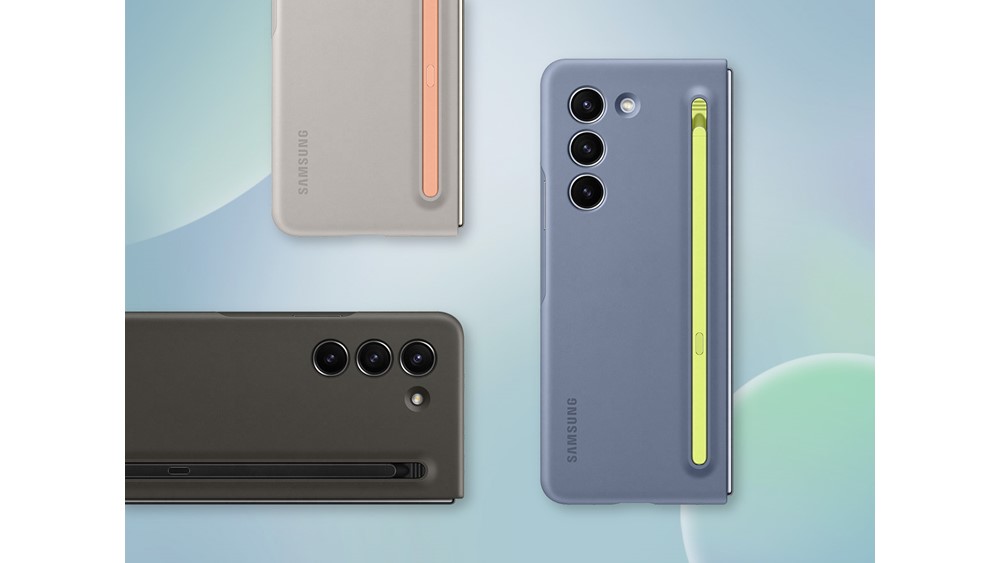 The all-new Slim S Pen Case features a design that improves your experience with the S Pen Fold Edition. The sleeker and slimmer S Pen holder not only helps your phone lie flat, making it effortless to take notes on a table, but it also ensures that you're able to write with a more comfortable grip. In addition, there is a toggle feature that lets you conveniently attach or detach the S Pen Fold Edition.
The Slim S Pen Cases come in three colors — Icy Blue, Sand and Graphite. To make a bold style statement, Icy Blue and Sand Slim S Pen Cases have been paired with Lime and Apricot S Pen Fold Editions, respectively.
In 2019, the Galaxy Fold revolutionized the smartphone market by pioneering a brand-new category of foldable phones. Every iteration in the series refined foldable technology, captured the essence of the modern era through its design and unfolded new and innovative user experiences.
In 2023, Samsung unveiled the next step in the evolution of the Galaxy Z series and its iconic design identity. With a perfectly balanced grid, a flawless form factor and colors inspired by nature, the design of these new foldable phones raises the bar for all. Now, you can create with passion, express with purpose and fill your life with endless possibilities using the Galaxy Z Flip5 and Galaxy Z Fold5.
Pre-order Galaxy Z Fold5 | Galaxy Z Flip5 now to enjoy these offers
We know you can't wait to own the latest Galaxy innovations, so get ready to pre-order them all from now until 17 August 2023. Get your hands on the Galaxy Z Fold5 from RM6,799, Galaxy Z Flip5 from RM4,499. Don't forget to also redeem your e-voucher of up to RM400 that you received when you registered your interest.
Models
RRP
Colours
Offers
Galaxy Z Fold5

256GB

RM6,799
Icy Blue, Phantom Black, Cream

Online Exclusive Colours: Gray, Blue

Double Storage upgrade worth RM500[1].

Buy from Samsung Online Store to get up to RM600 e-voucher on your next purchase.

Up to 40% off purchase-with-purchase[2] on Samsung Accessories, Samsung Care+, Galaxy Tablets, Galaxy Watch and Galaxy Buds Series.

Additional rebate up to RM600[3] under the Enhanced Trade-in[4] program.

*The 256GB variant of the Galaxy Z Fold5 and Galaxy Z Flip5 are not entitled for the pre-order offers.

Galaxy Z Fold5

512GB

RM7,299
Galaxy Z Fold5

1TB

RM8,299
Galaxy Z Flip5

256GB

RM4,499
Mint, Lavender, Cream, Graphite

Online Exclusive Colours: Gray, Blue, Green, Yellow

Galaxy Z Flip5

512GB

RM4,999
---
[1] All storage updates are capped at RM500.
[2] 20% off PWP for selected Galaxy Z Series accessories, 10% off PWP for Galaxy Tab S8 Series, 40% off Samsung Care+, and 20% off PWP for selected Galaxy Watch and Buds.
[3] Selected devices only. The promotion is valid while stocks last. Colour availability may vary by country, region, or carrier. Visit samsung.com/my for more details. Terms and conditions apply.
[4] Any device condition is accepted.