ROG has revealed details about the upcoming ROG Phone 6 Diablo Immortal Edition & AeroActive Cooler 6 for ROG Phone 5/5s including its pricing and availability. With its unique Diablo-themed design and a treasure trove of themed accessories, this unique phone is a must-have item for serious fans of the Diablo universe.
Exclusive Diablo Themed Design
The phone has a unique flame-effect finish that creates a variant of luminance of the red flames as the viewing angle changes. A custom Aura RGB illuminated logo is the outline of the Diablo Immortal game title. It continues its custom user interface with exclusive themed live wallpapers, icon styles, animations, sound effects and more.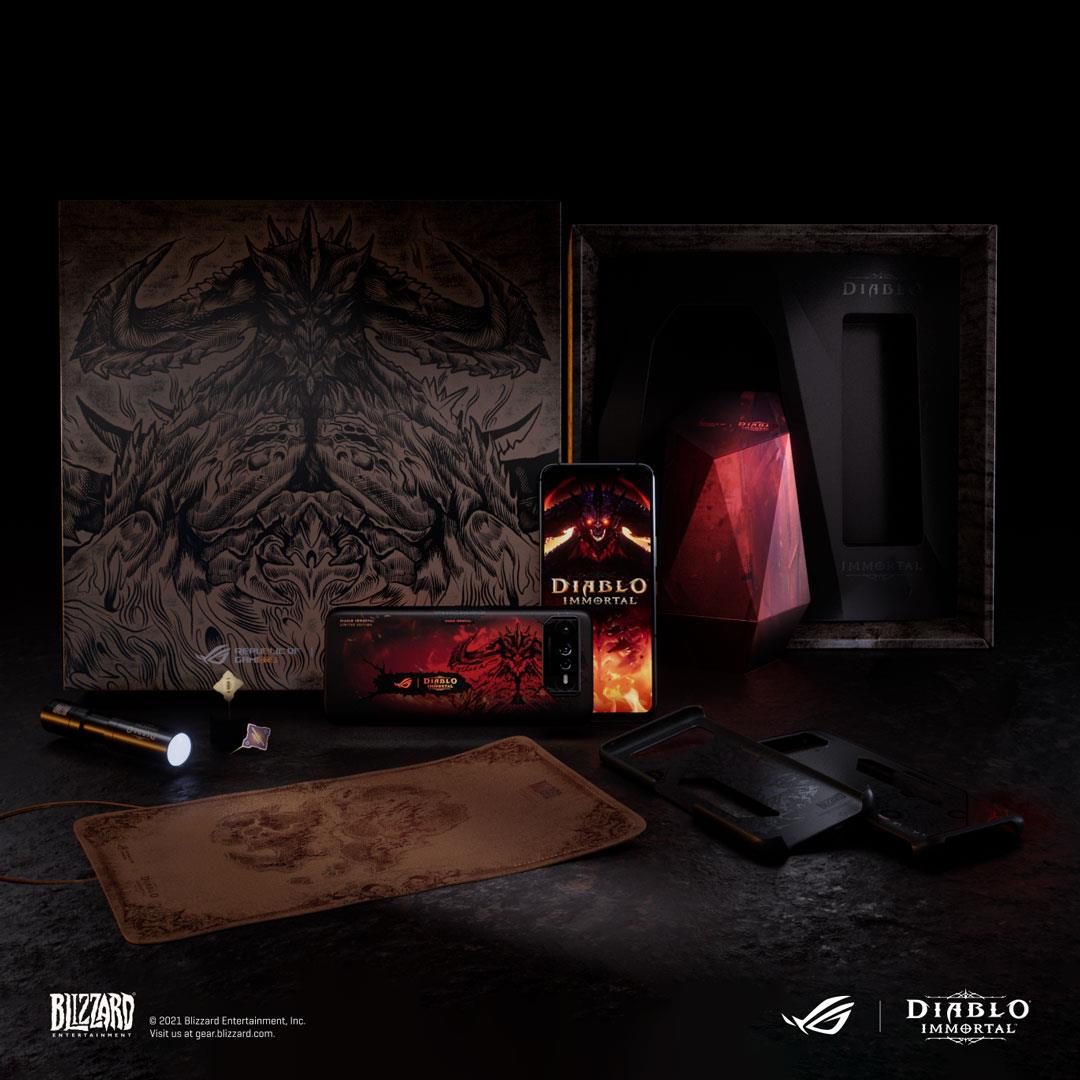 Included with the phone are matching themed accessories like the Shield Blessing Aero Case, a map of the Sanctuary, and a Fahir's Light torch with will reveal markings on the phone case and Sanctuary map. There is also a uniquely crafted Immortality Ejector Pin that is fashioned after the game's logo.
Internally, the ROG Phone 6 Diablo Immortal Edition is identical to the battle-ready ROG Phone 6, with its premium built-to-win specification powered by the latest Snapdragon 8+ Gen 1 Mobile Platform with 16GB LPDDR5 RAM and 512GB UFS3.1 ROM.
Cooler – Evolved
The highly anticipated AeroActive Cooler 6 for the ROG Phone 5/5s series will also be available in Malaysia. The cooler is specially designed to be used with the ROG Phone 5/5s series with its repositioned USB-C connector. It has an AI-powered thermoelectric cooler, and a fan that delivers increased cooling airflow directly to the hot spots on the back of the cover of the ROG Phone 5/5s. This will result in cooler temperatures of up to 20°C.
On top of improving performance, the AeroActive Cooler 6 comes with four physical buttons to give you an incredible console-like gaming experience. Last but not least, there are Aura RGB lighting on the logo and two sides of the AeroActive Cooler 6, as well as a hidden kickstand to prop up your ROG Phone 5/5s.
Availability & Pricing
Both the ROG Phone 6 Diablo Immortal Edition (16GB+512GB) and AeroActive Cooler 6 for ROG Phone 5/5s Series are now available in Malaysia from authorized resellers, in limited quantities. The ROG Phone 6 Diablo Immortal Edition is priced at RM4,999, with a complimentary one-year extended warranty coverage. The first 50 purchases will also receive exclusive gifts worth RM100. Meanwhile the AeroActive Cooler 6 for ROG Phone 5/5s Series is priced at RM349.