Original news : @JomGaming.my
Date : 11.8.16

Does Sony Malaysia not care for their loyal customers anymore ?
That was the headline of one very interesting article published by JomGaming.my just a moment ago.
Apparently, the shortage of stock problem during the PSVR launch almost a month ago has come back to haunt Sony Malaysia. Now if you all remember, the PSVR launch date was supposed to be 13.10.16 but instead, due to some technical problems they were postponed to 21.10.16 . Sony Malaysia compensated its first batch PSVR customers with a RM 100 worth PSN wallet card. But this time around, it seems that we may have a bigger problem than just slight delays, the allocated number of units for the PS4 Pro launch in Malaysia is so low it forced many game shops to cancel most of their customers pre-order. Some shops are only getting as many as 10% of their pre-orders while they are forced to cancel 90% of them.
The exact reason for such low number of units being brought into Malaysia remains unknown up to this date. It is however reported that the number of pre-orders submitted by multiple game shops are significantly higher than the number of units brought in. The mass cancellation caused many excited pre-0rder customers to be upset and one gamer especially made himself heard, he is Duncan Tsai. Shown below as he expressed his disappointment on a game store's Facebook Page.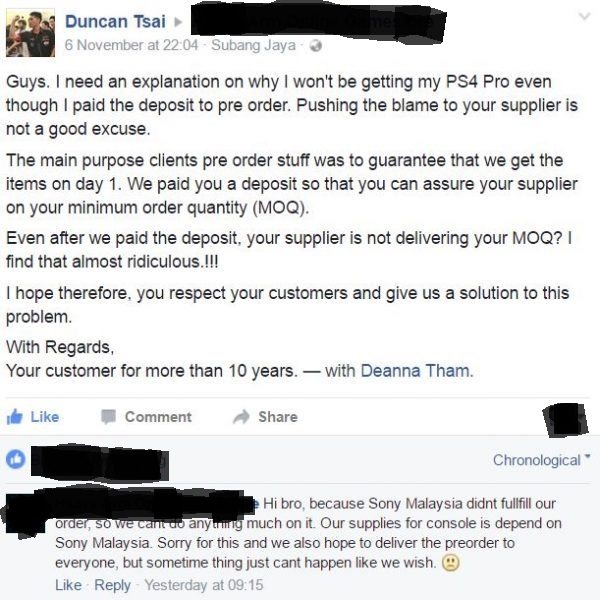 Image source : JomGaming.my
Subsequently his attempt to reach Sony's customer service were responded with a bucket of cold water that asked him to buy from Lazada instead.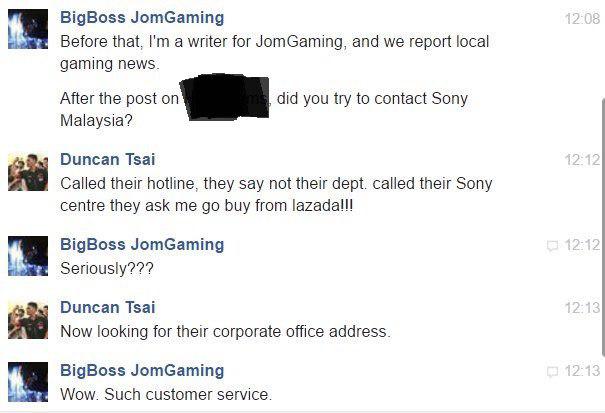 Image source : JomGaming.my
Further input from Duncan revealed that Sony Malaysia implied any hardware pre-orders should only be done through Sony Centre or the Sony Store. Does it mean the pre-orders should not have been done with the authorized retailers in the first place? Duncan also found out that it wasn't actually a number of units "reduction" , Sony just did not commit to any specific number in the first place. Hence the confusion between Sony and its authorized retailers perhaps?

Image source : JomGaming.my
So really, does Sony Malaysia care for their Malaysian customers at all ? First the massive cancellation due to shortages, Second is the shortages itself. Why is there a shortage in the first place ? PS4 Pro is a new console so heavily advertised by Sony PlayStation and pre-orders are still open in so many other countries, so why did Sony Malaysia only bring in so few ? Personally, I am very curious as to why Sony did what they did. It does not make sense, not when the PlayStation's successful dominance in Malaysian console market was ensured by its own legions of loyal Malaysian PlayStation fans.
Up to now there are still no confirmation on why Sony brought in only so few units and what are the plans for the subsequent batches. We will keep this post updated as we learn more. If your orders too were cancelled, do leave a comment below. We'd love to hear from you and see how we can help you forward your concern.