Blizzard Entertainment has introduced the new content update for Diablo Immortal – the Character Transfer feature. Beginning after the maintenance period, players may move one of their characters from their current server to a new server. Your first Character Transfer will be free, but additional transfers can be purchased.
Since this is an important decision, the team wanted to alert the players that some servers will be merging shortly after their next Content Update in two weeks. This change is being made so players will have an easier time finding other players to party up with regardless of the server they play on. To ensure players can make an informed decision on which server to transfer to, please refer here for list of all servers that will merge
As the server maintenance has concluded, all items mentioned below are live—specific dates for any content going live afterward are provided below.
Character Transfer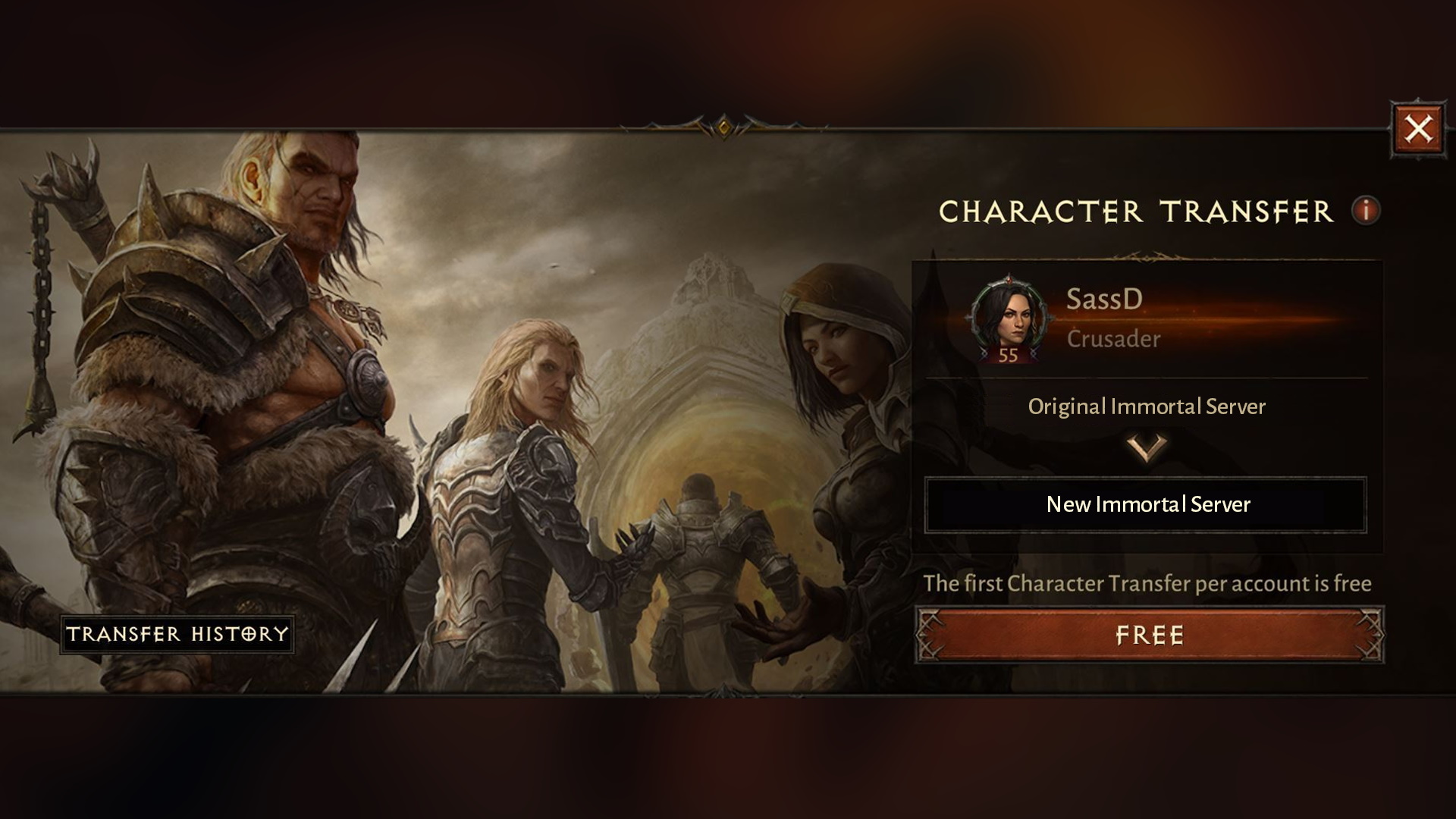 The ability to transfer your character from one server to another has been among the top requested changes from the community, and the devs heard you. Diablo Immortal is not only a game about slaying demons to obtain powerful loot, but also about having meaningful experiences alongside other players in Sanctuary.
It is the devs utmost pleasure to announce that players may now transfer from one server to another. Both current players and new players will receive one free Character Transfer to use as they wish—this does not expire. Whether it be to vanquish darkness with friends on another server, to make new friends beyond your current server, or even for the sake of changing things up—the team wants to empower players to enjoy the game on whichever server feels like home to them.
Season Six Battle Pass: Below The Sands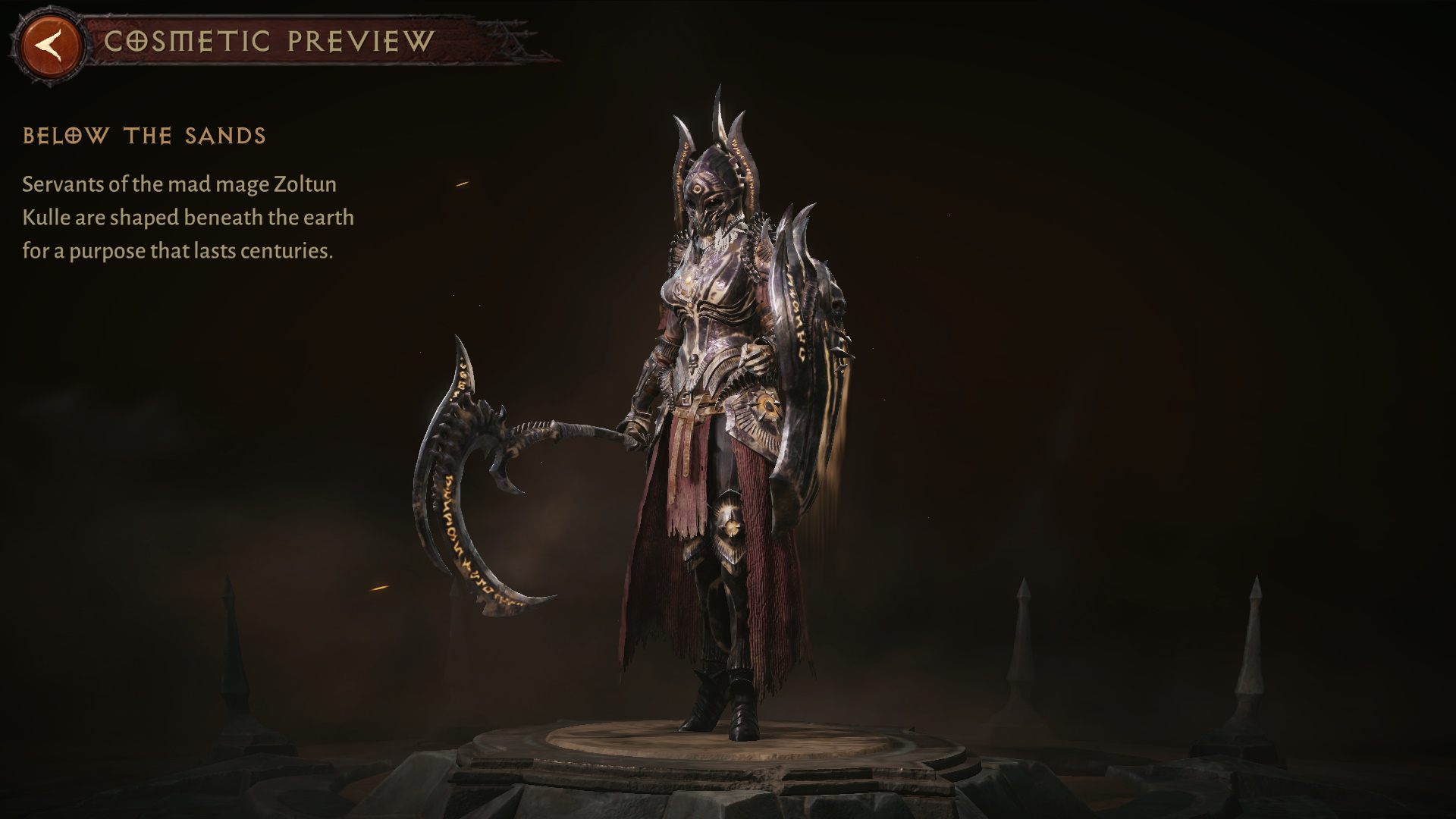 Zoltun Kulle, known as one of the most powerful mages in Sanctuary's history, crafted the first of his libraries alongside a series of unique constructs he built to endure the shifting sands. His primary focus was the physical strength and obedience of the constructs, not their adaptability—and thus, years later, they still continue their tasks, despite the library nearly crumbling around them.
A new Battle Pass devoted to the sands has shifted into Diablo Immortal, and with it, Season Six begins on October 27, at 3:00 a.m. server time. The Below the Sands Battle Pass hosts 40 ranks worth of challenges and rewards, such as Legendary Gems, Crests, Hilts, and more.
For adventurers seeking additional treasures from their Battle Pass ranks, there are two paid versions they can upgrade their Battle Pass to for the full duration of the season: the Empowered Battle Pass, and Collector's Empowered Battle Pass.
The Empowered Battle Pass includes all rank rewards from the free standard Battle Pass but also unlocks an Empowered track that provides additional rewards at each rank. Plus, players will receive the Below the Sands Weapon cosmetic, unlocked at rank one, and the earthen made Below the Sands Armor cosmetic, unlocked at rank 40.
The Collector's Empowered Battle Pass gives players access to all rank rewards and cosmetics from the Empowered Battle Pass plus, the Below the Sands Avatar Frame, Portal cosmetic, and a ten-rank boost, all provided immediately after upgrading.
The Season Six Battle Pass only runs until November 24, at 2:59 a.m. server time—begin slaying demons and climbing your way through the ranks today!
Hungering Moon: Back For Seconds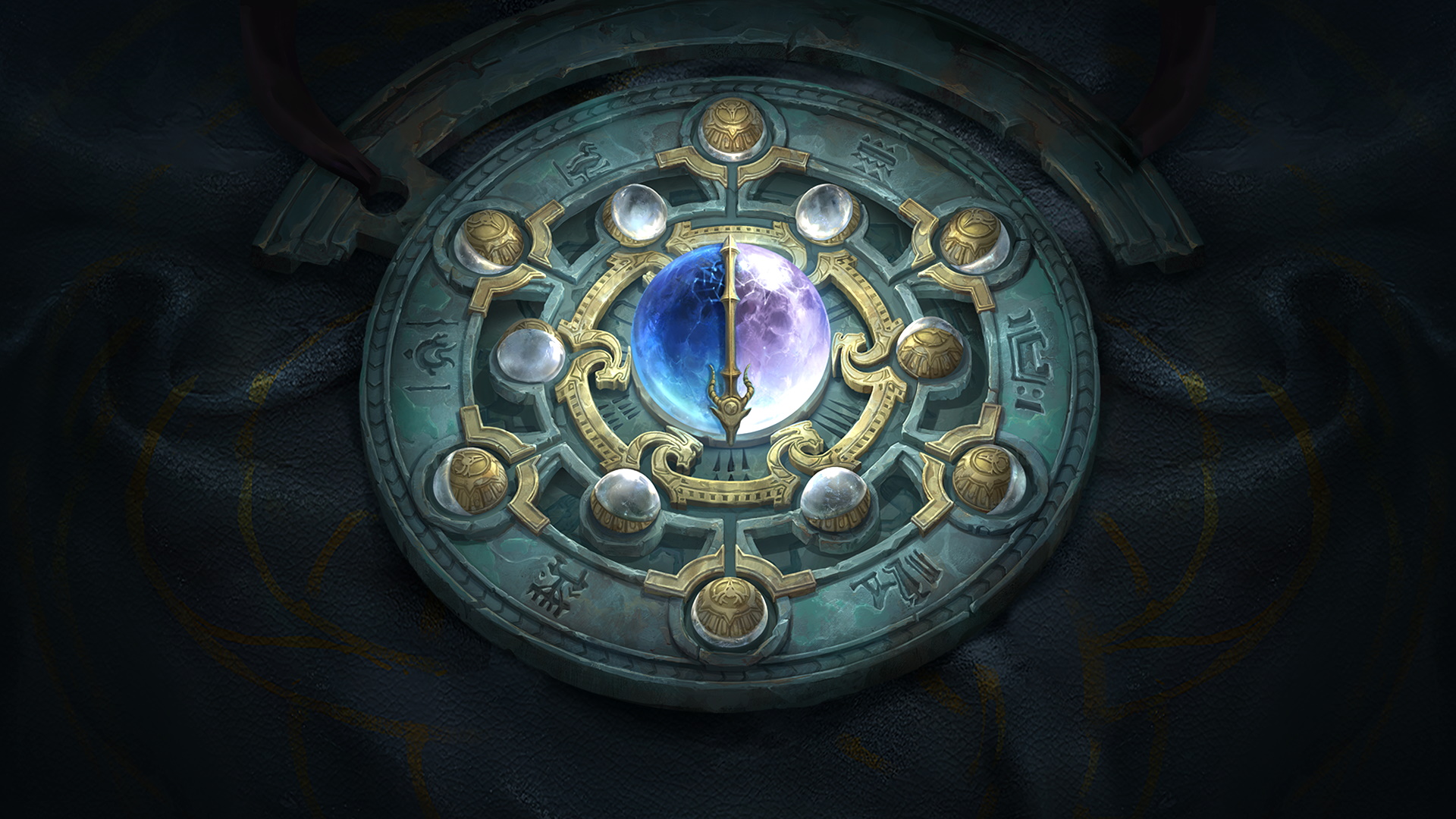 Despite your best efforts to sate the moon's hunger…it confoundingly demands more blood! The moonlit path players will take to heed the lunar overlord's howl for sustenance is ready to be traversed. Players can complete up to three tasks a day starting November 3, 3:00 a.m.–November 7, 3:00 a.m. server time. Through completing tasks, players will gain Astrolabe Power—the power can be used to draw one of two types of blessings with unique benefits from the Astrolabe.
Drawing a Blessing of Magic will give players a bonus to Magic Find, handy for increasing your chances of receiving Rare, Magic, or Legendary items from monsters as a drop. Drawing a Blessing of Might invites players to complete any dungeon in exchange for Moonslivers, and if you complete the dungeon with a party, twice the amount of Moonslivers shall be bestowed upon you. The moon is a generous entity, so you may have one of each Blessing active at a time.
Once players have racked up a handful of Moonslivers by purging demonic hordes from dungeons, visit the Hermit's Collection located within the Hungering Moon event page to trade your Moonslivers for lunar-laced rewards of your choice, such as Telluric Pearls, which will be offered as a reoccurring reward in many of our future events. Be sure to collect 12 blessings in total to earn The Moon's Regard—a bounty of 120 bonus Moonslivers meant for the most exemplary devotees.
Can you satisfy the moon's hunger before the long night wanes?
Boon Of The Progenitors Bundle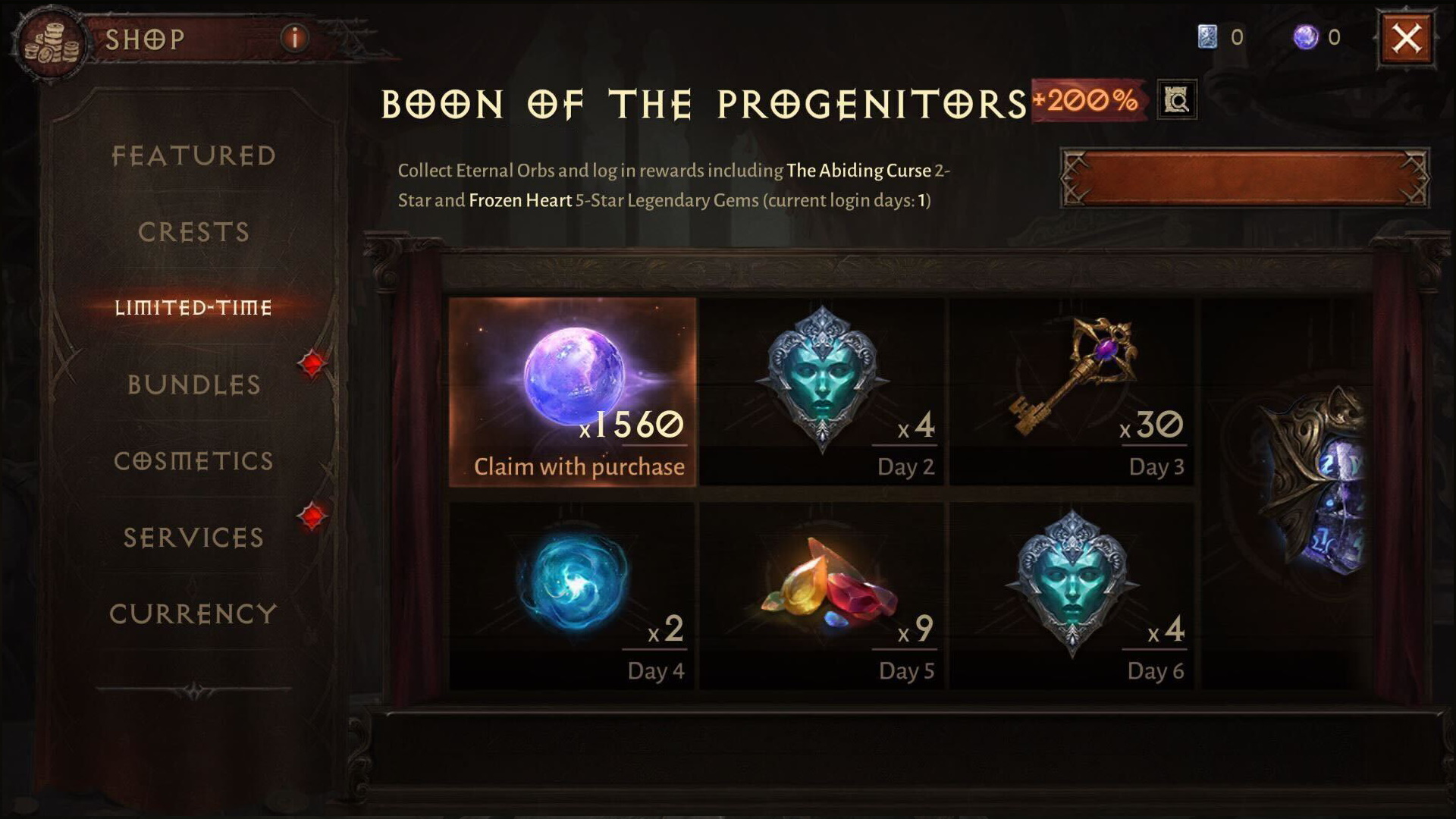 Step right up, adventurer! The opportunity to bolster your Legendary Gem collection has just arrived. The Boon of the Progenitors limited-time bundle provides players with a hefty sum of Eternal Orbs upon purchase and 14-days' worth of login rewards to collect, including two powerful Legendary Gems: The Abiding Curse and Frozen Heart.
This bundle is only available to characters level 40 and above. Once purchased from the in-game shop, players will have 21 days to claim all daily login rewards. Be sure to log in daily to claim all your rewards within the given time as any unclaimed rewards will be lost. The Boon of Progenitors bundle will be available in the shop from October 26, 3:00 a.m.–November 16, 3:00 a.m. server time.
Bug Fixes
Looking for the newest round of hotfixes and bug fixes implemented for Diablo Immortal? Check here for all-platform fixes and the known issues blog for PC-specific fixes.
Feature Updates
36 New Legendary Items
The newest batch of Legendary items were designed to complement the Gloomguide's Prize set. Many of the affixes will create new ways to activate the set's bonuses and the team is looking forward to seeing how players harness these new powers and incorporate them into their builds. You can read more about the list of Legendary items here.
Dungeon Experience Boost
The experience rewards for all dungeons have been increased
---
Developer's Note: As we continue to develop Diablo Immortal, we want to make sure that you feel adequately rewarded for all the different activities that you put your farming time into. We observed that many of our dungeons were not granting as much overall experience to players when compared to other activities, such as open-world farming and Elder Rifts—so, we have boosted the experience rewards of all dungeons to bring them more in line.
---
Purge the Depths Changes
Remnants are now automatically looted and shown to all party members. Unopened chests are displayed on the mini-map after a room has been cleared.
Ancestral Tableau Improvement
Ancestral Weapons with inherited essence may now be placed in the Ancestral Tableau. An item's inherited essence does not dictate the Ancestral Property of the deposited weapon.
Blessing of the Worthy
The Rank one and two description text for the Blessing of the Worthy Legendary Gem has been updated to correctly reflect the existing functionality of the unleashed retribution damage effect scaling off current life at all ranks. This is a text correction only and has no bearing on the functionality of the gem.