Capcom held a demo behind closed doors during the Tokyo Game Show this year for Devil May Cry 5. Many journalists got to have their hands on the game and noticed a new feature. Devil May Cry 5 will allow players to purchase Red Orbs using real money.
Now for those who never played a Devil May Cry game (please go and play the game after reading this), orbs are used to upgrade your character with a new set of skills or power-up. These Red Orbs are usually dropped by monsters or given as a bonus for completing a mission at a certain rank. This means that players needs to play the game (and play it really well) to get the number of orbs needed to purchase everything.
Game Director Hideaki Itsuno during an interview with IGN has this to say :
"With giving people the ability to purchase Red Orbs, it's something we want to give people as an option. If they want to save time and just want to get all the stuff at once, those people can do that. But on the other hand, I don't feel you have to get all the moves. You should be able to play it the way you want to play it."
Now since it is optional, players should not need to worry but having microtransactions in a Devil May Cry game does leave a little bitter taste in your mouth.
All three characters will be playable
Devil May Cry 5 will allow players to play all three characters including the newly introduced V. Certain missions will allow you to select between Dante, Nero or V to bring along on the mission. It is unclear whether each character will have different environmental interaction in the mission but if there is, it will be great for the game replayability.
Speaking about replayability, Devil May Cry 5 will have a multiplayer component as it is in the listing in the PlayStation Store (Credit : devilmaycry.org for the discovery).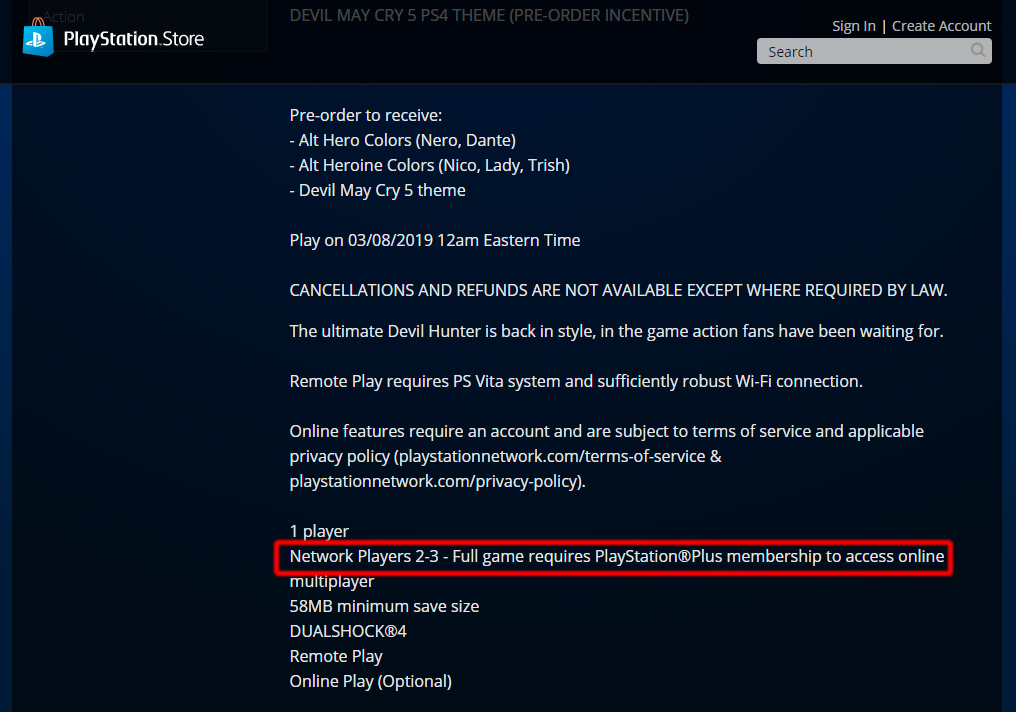 Game Director Hideaki Itsuno is keeping quiet about the online details but he does say that the game is built for the single experience first. Seeing as the game has three playable characters, the online may be some kind of co-op like Monster Hunter: World since it is also under Capcom.
Devil May Cry 5 has a planned released date of Spring 2019 on the PlayStation 4 and Xbox One.