Alright peeps, let's get down to it and talk about Days Gone and its pre-order details.
Sony Interactive Entertainment Hong Kong Limited Singapore Branch (SIES) has announced that the DAYS GONE digital pre-order will start today, January 18, 2019, on the PlayStation Store. Further to their announcement is a whole load of information on all 4 editions, so here's everything you need to know about DAYS GONE's pre-order details. The pricing, the bonuses, the difference, etc.
---
The suggested retail price is as the following;
Blu-ray Disc Standard Edition (SRP) of MYR 239
Blu-ray Disc Collector's Edition (SRP) of MYR 679
Digital Standard Edition at MYR 239
Digital Deluxe Edition at MYR 299
---
Pre-Order Bonuses Include:
DRIFTER CROSSBOW EARLY UNLOCK
NITROUS UPGRADE #1
GAS TANK UPGRADE #1
SHROUD UPGRADE #1
Digital Pre-Orders will also receive the exclusive DAYS GONE SAWMILL DYNAMIC THEME.
---
DAYS GONE Collector's Edition (RM 679)
DAYS GONE Full Game
DAYS GONE Collector's Edition Statue
Steelbook Case
6 DAYS GONE Collector Pins
Physical & Digital Mini-Art Book
Physical & Digital Original Soundtrack
DAYS GONE Patch
4 Decals
Deacon vs. The Horde Dynamic Theme
Monkey Wrench Skill Early Unlock
3 Bike Skins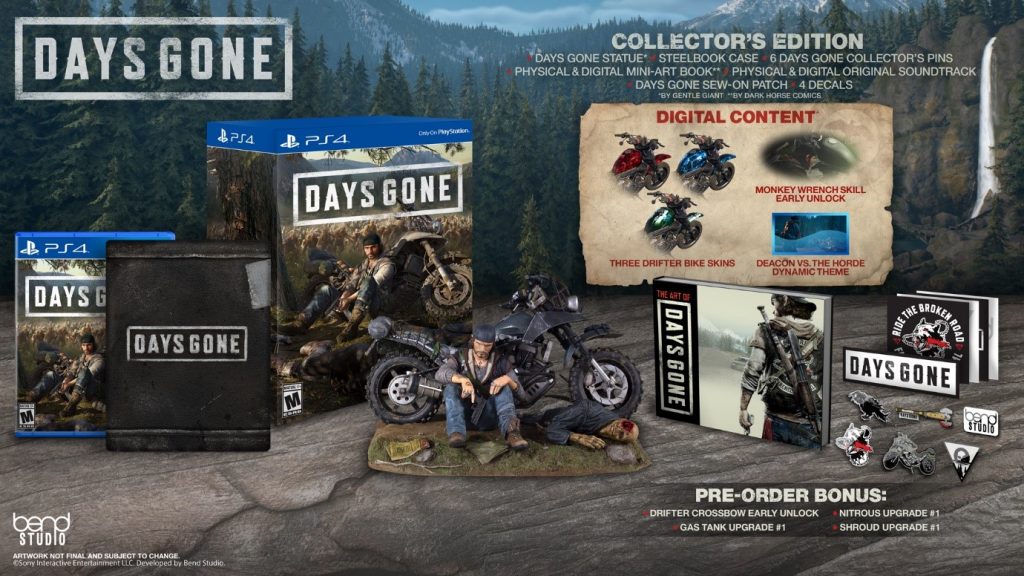 ---
DAYS GONE Digital Deluxe (RM 299) Edition
DAYS GONE Digital Full Game
Digital Original Soundtrack
Digital Mini-Art Book
DAYS GONE Sawmill Dynamic Theme
Monkey Wrench Skill Early Unlock
3 Bike Skins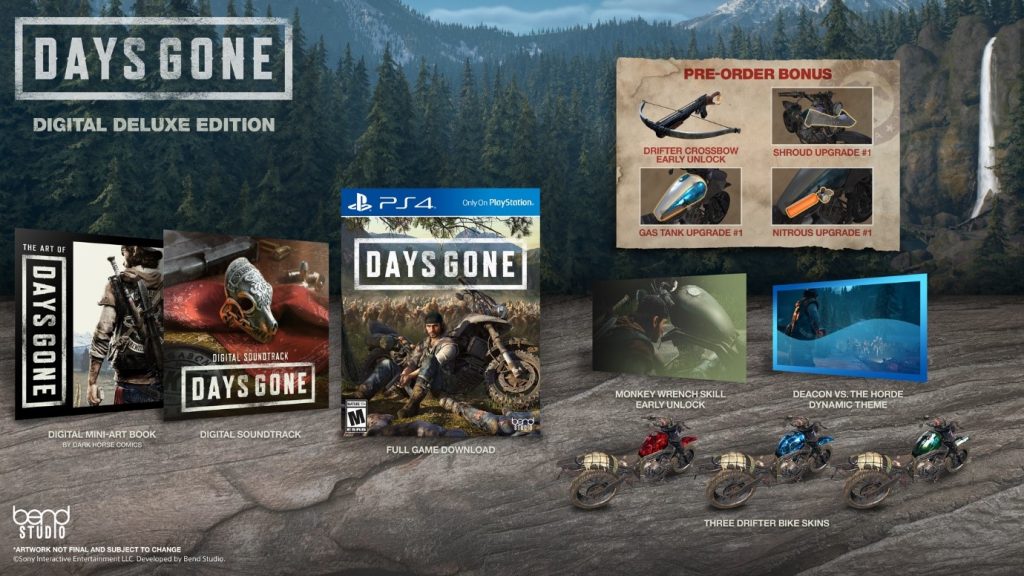 ---
About DAYS GONE
DAYS GONE is an open-world action-adventure game set two years after a devastating global pandemic. Play as Deacon St. John, a bounty hunter facing a brutal struggle for survival while searching for a reason to live.
Harsh Open World – Using the power of PlayStation 4 and Unreal Engine 4, DAYS GONE delivers an incredibly realistic and detailed open-world experience. Explore the vast and hostile regions of the Pacific Northwest high-desert as you ride the broken road on Deacon's Drifter Bike.
Brutal Sandbox Combat – Encouraging true, free-form gameplay, DAYS GONE offers you the freedom to explore, strategize and play how you want. Customize your weapons and skills, upgrade your Drifter bike and learn to craft better melee weapons and traps, as you struggle to survive.
Compelling Story – At its core, DAYS GONE is a story of loss and hope in the wake of a global pandemic. Become Deacon St. John, a drifter and bounty hunter who survives a harsh and unforgiving wilderness using what he learned from his past life as a hardened outlaw biker. Throughout his journey, Deacon searches for a reason to live after suffering a deep, personal loss.
---
DAYS GONE launches on April 26, 2019, as a PlayStation 4 Exclusive.