The Pokémon Company is commemorating the discovered Pokémon surpassing the 1000 mark with the release of Pokémon Scarlet and Pokémon Violet.
Meet Gholdengo, Pokémon #1,000 in the National Pokédex

Gholdengo, the Pokémon that falls at #1,000 in the National Pokédex, evolves from Chest Form Gimmighoul or Roaming Form Gimmighoul.
Gimmighoul evolves into Gholdengo when it levels up after its Trainer has collected 999 Gimmighoul Coins. Apparently, this lively and cheerful Pokémon's body is made of a thousand coins. It is friendly to both people and Pokémon.
Gholdengo functions by controlling the coins that comprise its body, and it even uses them as weapons in battle. The coins are densely packed, making Gholdengo durable. It can absorb impacts and lessen the damage it takes by letting coins fly off from areas hit by enemies. Gholdengo can attack by firing coins from anywhere on its body.
Meet the Evolutions of the Three Starter Pokémon!
1) Floragato and Meowscarada
Name: Floragato

Category: Grass Cat Pokémon

Type: Grass

Height: 2'11" (0.9 m)

Weight: 26.9 lbs. (12.2 kg)

Ability: Overgrow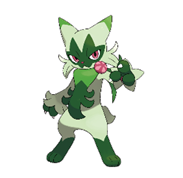 Mischievous and Prone to Loneliness
Floragato is a mischievous show-off, desiring attention and company. If its Trainer won't entertain it, Floragato may try to get their attention by misbehaving—it might wrap its Trainer up with its vine in their sleep, for example.
It Skillfully Wields Its Vine and Strikes with Its Flower Bud
Floragato is intelligent and dexterous. The flower bud on its neck is on the tip of a long vine. Floragato specializes in attacking by deftly manipulating this vine to strike opponents with the hard flower bud on the end.
Name: Meowscarada

Category: Magician Pokémon

Type: Grass/Dark

Height: 4'11″ (1.5 m)

Weight: 68.8 lbs. (31.2 kg)

Ability: Overgrow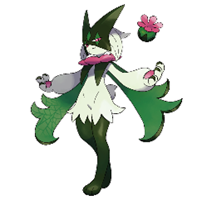 Flower Bombs Catch Opponents Off Guard Like Magic
The leaf that was growing from the base of Floragato's neck has become a cape. Meowscarada uses the fur lining its cape to reflect and scatter light, thus camouflaging the stem of its flower bomb and making it look like the flower bomb is floating in midair. Furthermore, Meowscarada can attach its pollen-packed flower bombs to various surfaces and choose when to set them off. With skillful misdirection, Meowscarada rigs foes with flower bombs and sets them off before foes realize what's going on.
Strong Attachment to Its Trainer
Meowscarada is prideful and likes to show off, but it's also sensitive. This jealous Pokémon will often display strong attachment to its Trainer, and its mood will sour if it sees another Pokémon getting their attention.
2) Crocalor and Skeledirge
Name: Crocalor

Category: Fire Croc Pokémon

Type: Fire

Height: 3'3″ (1 m)

Weight: 67.7 lbs. (30.7 kg)

Ability: Blaze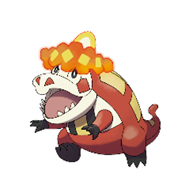 It Can Control the Egg-Shaped Fireball on Its Head
This Pokémon's fire energy and overflowing vitality have mixed together into an egg-shaped fireball that Crocalor can maintain atop its head.
In battle, Crocalor can send out the egg-shaped fireball as part of a move.
It Projects a Destructive Voice with Its Flames
The valve in this Pokémon's flame sac is closely related to its vocal cords, and Crocalor tends to let its voice out when it breathes fire. It cannot be said that this voice is beautiful. When Crocalor tries to breathe more-powerful fire, its voice becomes more destructive, which may cause some opponents to take damage.
Name: Skeledirge

Category: Singer Pokémon

Type: Fire/Ghost

Height: 5'3″ (1.6 m)

Weight: 719.8 lbs. (326.5 kg)

Ability: Blaze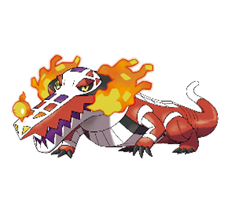 Its Powerful Voice Soothes All Who Hear
Skeledirge is a busybody with a caring personality. Its gentle but powerful singing voice is filled with vitality, and it soothes the hearts of all who hear it. Foes that hear Skeledirge sing are left with feelings of warmth and fulfillment, thus losing their will to battle.
An Independent Fireball Spirit
Skeledirge gained its Ghost-type powers due to the influence of the soul inhabiting its fireball. The soul in the fireball is independent, and it can change its form via the power of Skeledirge's singing voice.
3) Quaxwell and Quaquaval
Name: Quaxwell

Category: Practicing Pokémon

Type: Water

Height: 3'11" (1.2 m)

Weight: 47.4 lbs. (21.5 kg)

Ability: Torrent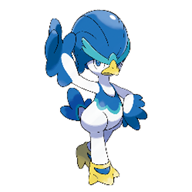 Serious and Stoic
Quaxwell has a serious and stoic disposition, and it has a tendency to compete with others to see whose kicks are the most graceful. It makes sure to consistently practice the fundamentals of its training wherever and whenever it can, and it observes Pokémon and people from various regions to incorporate their movements into its own dance routines.
Messy Hair Makes for a Weakened Mind and Body
The hair on Quaxwell's head has impact-absorbing properties, so whenever an attack is incoming, Quaxwell holds a low posture and takes the blow with its head. It feels mentally and physically unwell if its hair gets messed up, so it uses gel to fix its hair immediately after getting attacked.
Name: Quaquaval

Category: Dancer Pokémon

Type: Water/Fighting

Height: 5'11" (1.8 m)

Weight: 136.5 lbs. (61.9 kg)

Ability: Torrent
It Slashes at Opponents with Its Decorative Water Feathers
The strength of Quaquaval's well-trained legs is incredible. With a light kick, this Pokémon can flip a truck. During battle, large decorative water feathers spray like a fountain from organs at the tips of its tail feathers, and it swings these water feathers around to slash through opponents like a water-jet cutter.
Cheerful and Always Breaking Out into Dance…But It Still Has Its Stoicism
Quaquaval is cheerful and energetic, and no matter the situation, it will shake its entire body in dances that evoke far-off places. On the other hand, it is very serious about consistently polishing its skills, and during critical moments, it shows a level of concentration that would amaze onlookers.
What awaits in the depths of Area Zero?
In the center of the Paldea region lies the Great Crater of Paldea. A strange place called Area Zero is spread out across this crater, and mysterious Pokémon that are barely seen outside of the Great Crater of Paldea call it home.
Why do these undiscovered Pokémon live here? What awaits in the depths of Area Zero? You'll have to uncover the truth on your adventure!
The Mysterious Pokémon You Can Meet in Pokémon Scarlet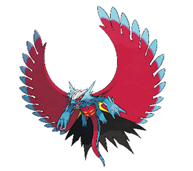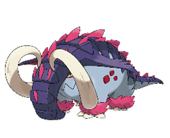 The Mysterious Pokémon You Can Meet in Pokémon V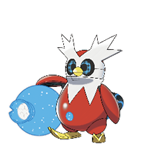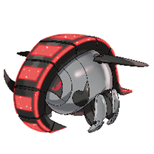 Pokémon Scarlet and Pokémon Violet are the first open-world RPGs in the Pokémon series that is available now for the Nintendo Switch.