2K and Gearbox Software is happy to announce that the latest exciting update is now live with new features including the much anticipated Crossplay Update. It includes crossplay functionality for Xbox One, Xbox Series X|S, Mac, Stadia, and PC via Steam and the Epic Games Store, the return of the game's most popular seasonal event with The Revengence of Revenge of the Cartels, permanent seasonal event toggling, a new level cap increase, and more.
The return of a fan-favourite seasonal event is here with The Revengence of Revenge of the Cartels. Joey Ultraviolet and his gang of underlings are back for another round, so the friendly Saurian Maurice will once again ask you to eliminate Cartel Operatives, who can be found in areas from both the base game and campaign add-ons. Once you've dispatched enough of them and collected Hideout Coordinates from their corpses, Maurice can open a portal to the main event: a showdown at Villa Ultraviolet against the Eridium Cartel kingpin himself, Joey Ultraviolet. The event features a new set of themed cosmetic rewards, all of which are detailed on the game's official website.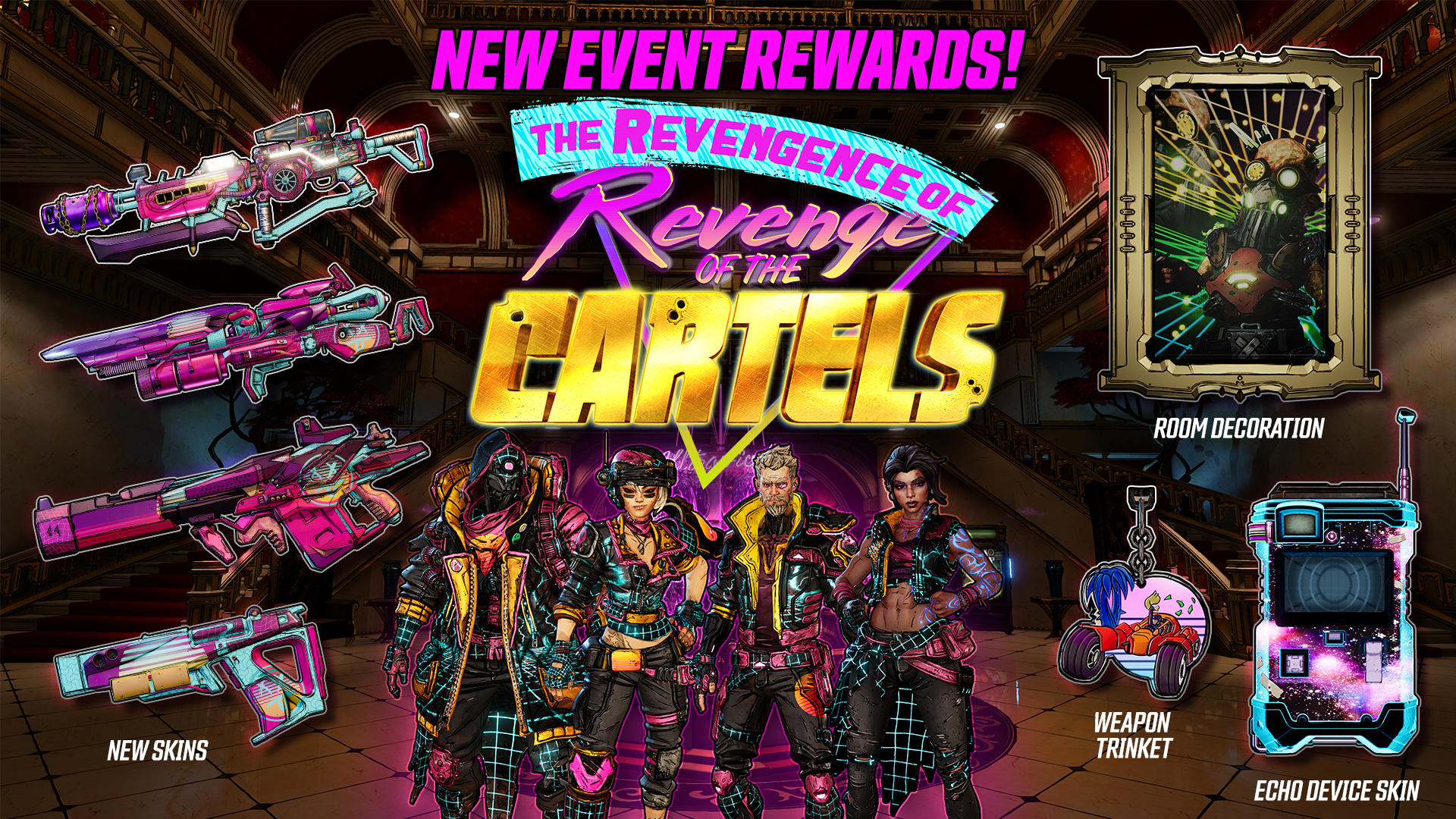 The Crossplay Update also brings with it Endless Seasonal Events! You can now access all of Borderlands 3'sthemed seasonal events—Bloody Harvest, Broken Hearts Day, and Revenge of the Cartels – whenever, and for however long, you'd like. A new option on the Main Menu lets you select which of these three events you want to toggle on or off. These annual events all have their own unique sets of themed cosmetic rewards and exclusive drops from their Year 1 and Year 2 iterations, which can now be earned at your own pace. Progress on related Challenges won't be reset if you participated in these events previously, but you can instead earn or re-earn seasonal event drops from their iconic boss fights.
Speaking of events, from June 24 at 9:00 AM PT to July 1 at 8:59 AM PT, the effects of all six True Trials mini-events will be active. This means all six of the Trials bosses get the same substantial health and damage boosts, and they'll all drop their two designated Legendary items. The chest at the end of each trial will be chock-full of Legendaries as well!
Finally, with the Crossplay Update, Vault Hunters can push their power even further as the level cap increases by seven levels to a max level of 72. With a maximum total of 70 Skill Points to play with, players have even more ways to create mayhem and character builds that will annihilate enemies like never before.
Borderlands 3 is available now on Xbox One, Xbox Series X|S, PlayStation 4, PlayStation 5, Stadia, and PC via Steam and the Epic Games Store.