The eighth major update for Baldur's Gate 3 was revealed during the Panel From Hell, featuring a live performance by Hunter – a Belgian metal band led by Larian's own Head of Production, David Walgrave, an appearance by Neil Newbon, and commentary by Volothamp Geddarm himself (played by Stephen Hogan).
Larian's Eurovision-themed live show revealed the addition of the Bard class, a playable Gnome race, a major upgrade to the pace of combat, and more. Read the highlights below – the full patch notes will be available on Steam when the patch goes live.
Patch 8: Of Valour and Lore will be available to Baldur's Gate 3 players now. Catch the Panel From Hell VOD on Youtube and Twitch after the Livestream.
*No Bards were harmed in the production of this show.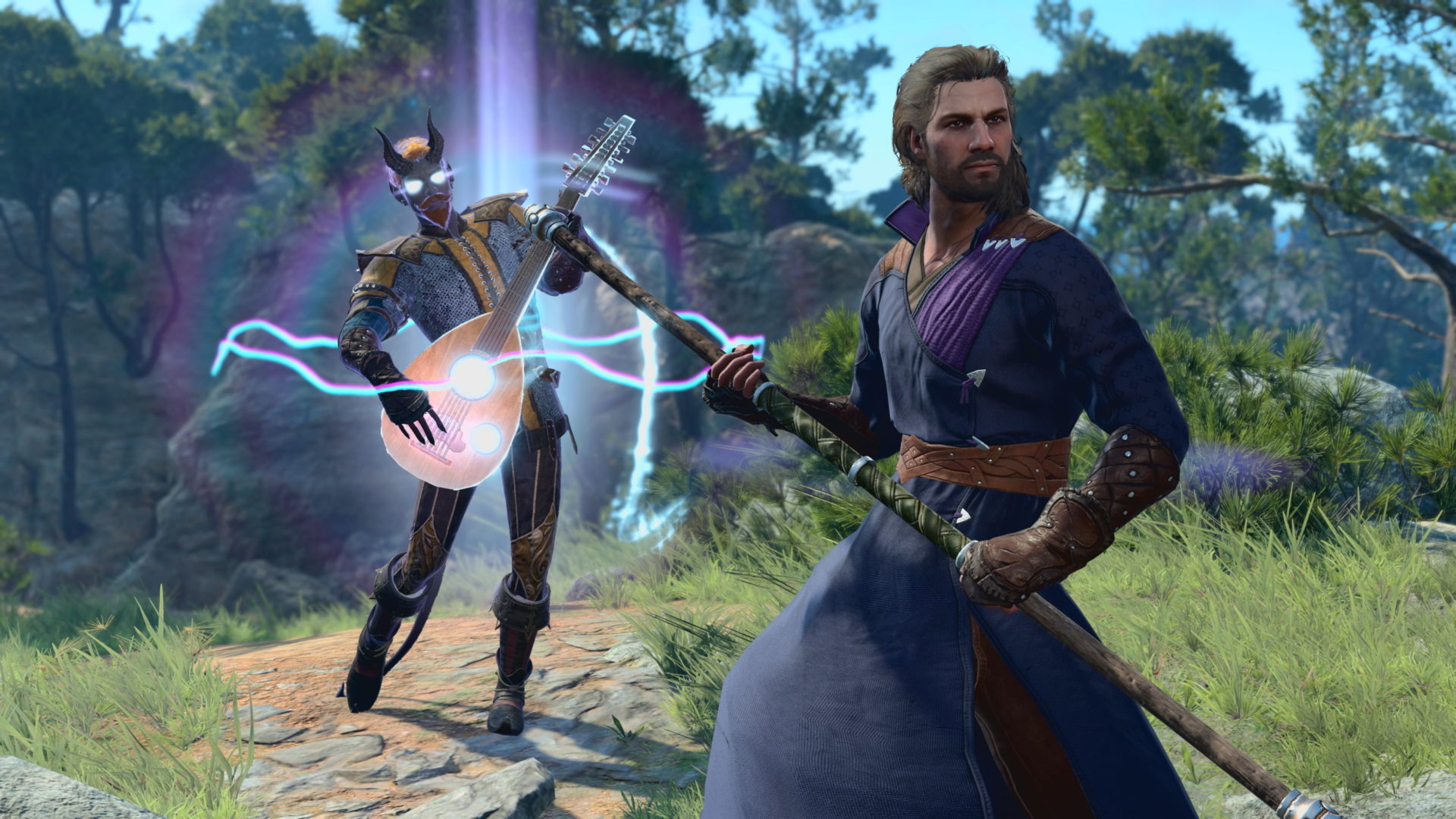 New Class: Bard

Masters of song and speech dealing out both inspiration and devastation in battle, the long-awaited Bard class is the latest to join the party in Baldur's Gate 3. Hurl pithy one-liners at your enemies or play songs with your companions by the campfire.
It's fun to play music with friends, especially with such fantastic hair.

Fun fact: there are a number of NPCs in the game who will join in with your ditties – who will find them first? pic.twitter.com/2fxHMVAO7h

— Larian Studios is making sweet music (@larianstudios) July 7, 2022
New Playable Race: Gnomes

Play as a Gnome! Adventurous and vibrant, curious and small of stature, Gnomes are the first new playable race to come to Baldur's Gate 3 since its launch into Early Access.

Swarm AI

Minor enemies (e.g. animals, goblins) are now grouped together in combat. These groups move and attack together, making for a much faster and smoother combat experience during larger battles.

Killcams:

Ranged critical hits now utilize combat cameras! Watching arrows and Magic Missiles pierce your enemies has never been cooler.

Hair Upgrades

It's as if everyone in Faerûn's using a great new shampoo – all hairstyles have received an upgrade in the form of a new hair-shading model and other general improvements.
Highlights & graying have been added to character creation.

Brazilian Portuguese Localization:

Baldur's Gate 3 is now playable with Brazilian Portuguese subtitles – vamo nessa!

Improved Multiplayer Stability:

Implemented network compression, meaning that players with slower and less reliable internet connections should hopefully start to see a noticeable improvement in stability and reduction of lag when playing multiplayer with their friends.
Press F to pay respects to @NeilNewbon pic.twitter.com/Plpn4Pjk1c

— Larian Studios is making sweet music (@larianstudios) July 7, 2022