After a long wait, the Fan Edition of the Galaxy S21 Series is officially here! The newest Samsung Galaxy S21 FE 5G features plenty of fan-favourite premium qualities which allow users to live out their passions to the absolute fullest! From its fastest chipset to a pro-grade camera, there is so much epic awesomeness packed in the 6.4 inch refined, iconic design. Before diving deep into the Galaxy S21 FE 5G's capabilities for BIG surprises, why not start your learning trip from what catches your eyes the most – its stunning minimalist look!
When you first lay your eyes on the new Galaxy S21 FE 5G, you will notice how clean, soft and sophisticated the design is. The colours exude warmth, peace, and simplicity at first glance. This soothing impression is all thanks to the harmonisation of its minimalist features – soft pastel colours, slim body, rounded edges and the iconic contour-cut form.
Galaxy fans adored the premium Galaxy S21 flagship design, and it inspired the Galaxy S21 FE 5G's overall design language. Featuring the signature Contour Cut Camera housing for a seamless blending into the frame, the Galaxy S21 FE 5G retains its sleek and premium aesthetic with its aluminium, ultra-thin chassis at only 7.9mm in thickness. So, you can imagine how easy, and comfortable it would be to grip it on the go or slip it into your pocket.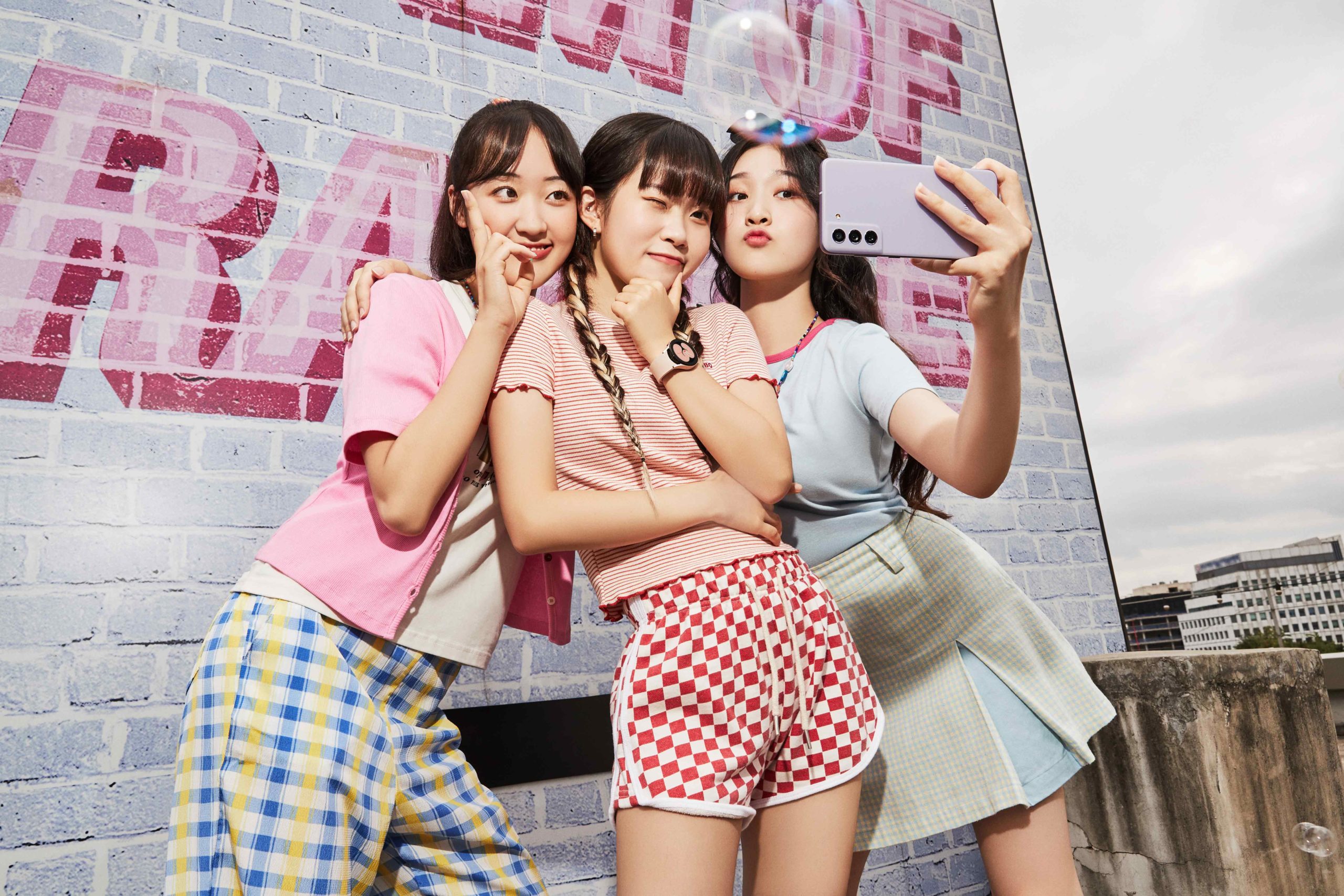 Designed with the purpose to give users more ways to express themselves, Galaxy S21 FE 5G comes in four stylish colours which will surely boost your personality vibes wherever you roam. From subtle, colourful Olive and Lavender to the classic Graphite and White, you can select the one that best suits your style! Fun fact – the colour options are closely similar to the Galaxy Buds2. So, if you own a pair of Galaxy Buds2, match your brand-new Galaxy S21 FE 5G with it and consider your everyday outfits perfectly complete! Plus, with the luxurious matte textured rear, it will not only complement your overall aesthetic but also offers a more ergonomically comfortable grip.
To describe the visual aesthetics of Galaxy S21 FE 5G in three words, it would be simple, soft, and sophisticated. If you are someone who admires minimalism, self-expression and powerful performance, the fresh-from-the-oven Galaxy S21 FE 5G is ideal for you!
Availability
Starting 11 until 31 January 2022, the Galaxy S21 FE 5G will be available nationwide through Samsung Experience Stores, Samsung Authorized Partners and Samsung Malaysia Online Store. Trade-in and overtrade options will be available too.
*Earlier delivery/collection is subject to stock availability.

*The e-voucher can be used during the next purchase on selected wearables.
Accessories and Wearables Promotion
From 6 January to 28 February 2022, customers will receive 30% OFF selected accessories and 20% OFF selected wearables and hearables with every purchase of the Galaxy S21 FE 5G. This will be available on Samsung Malaysia Online Store, Samsung Experience Store, and Samsung Authorized Partners.
*Valid up to two units of accessories per device. While stocks last. Terms and conditions apply.