This is one of the toughest comparisons we've made due to how well-built and powerful both of these laptops are and it isn't just about their hardware and performance either.
Because ASUS has once again raised the bar in terms of what a gaming laptop should be with the launch of the refreshed ASUS ROG Zephyrus Duo and ASUS ROG Flow gaming laptop. More specifically, we're talking about the ROG Zephyrus Duo 16 and the ROG Flow Z13.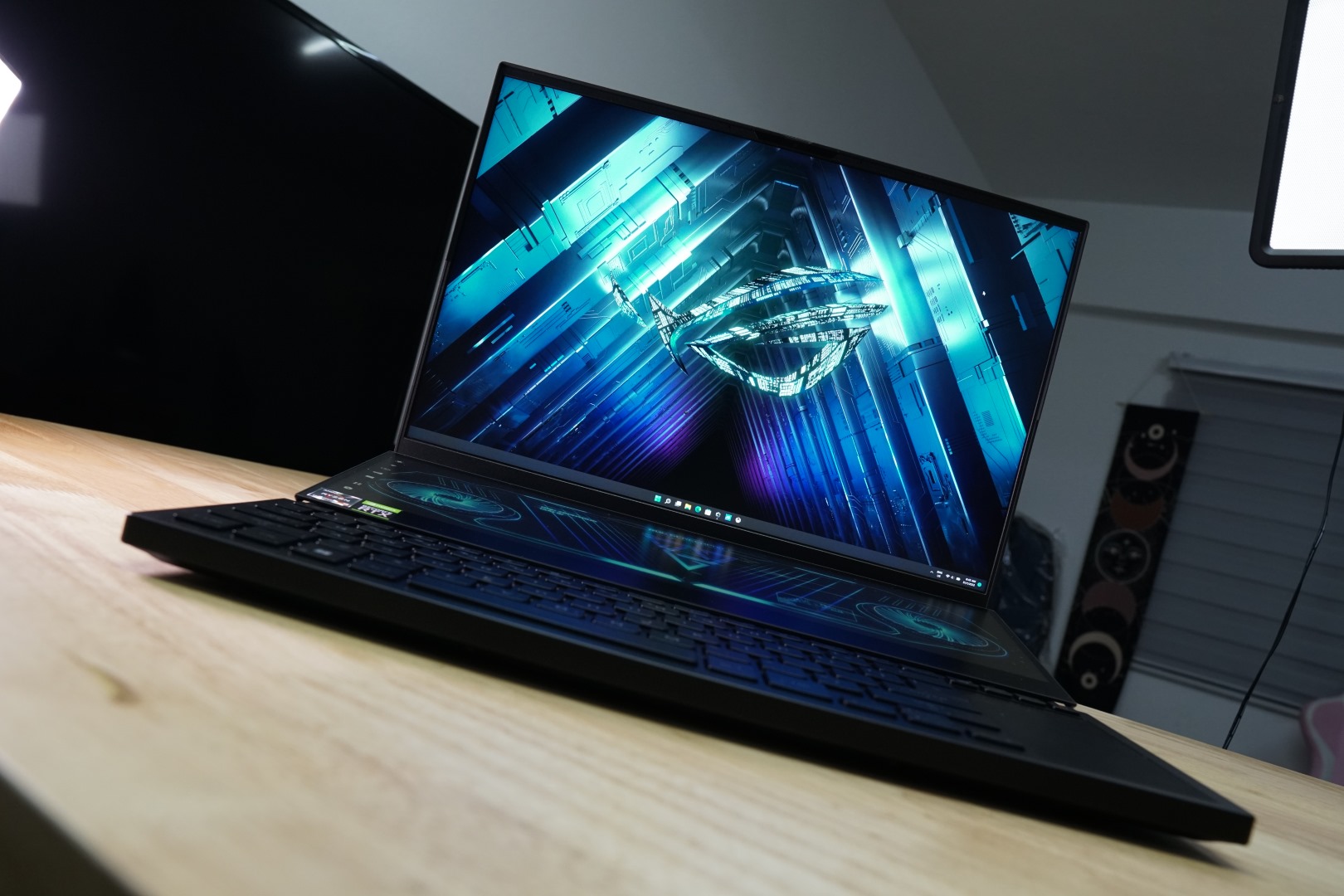 Both the Zephyrus Duo 16 and Flow Z13 belong to the category of 'One of the best money can buy' laptops and in Malaysia, the cheaper one of the two has a price tag that will buy you almost 7 units of PlayStation 5s (6.9 in exact). The other one can get you 7.3 units (if PS5s can be broken into decimal points.)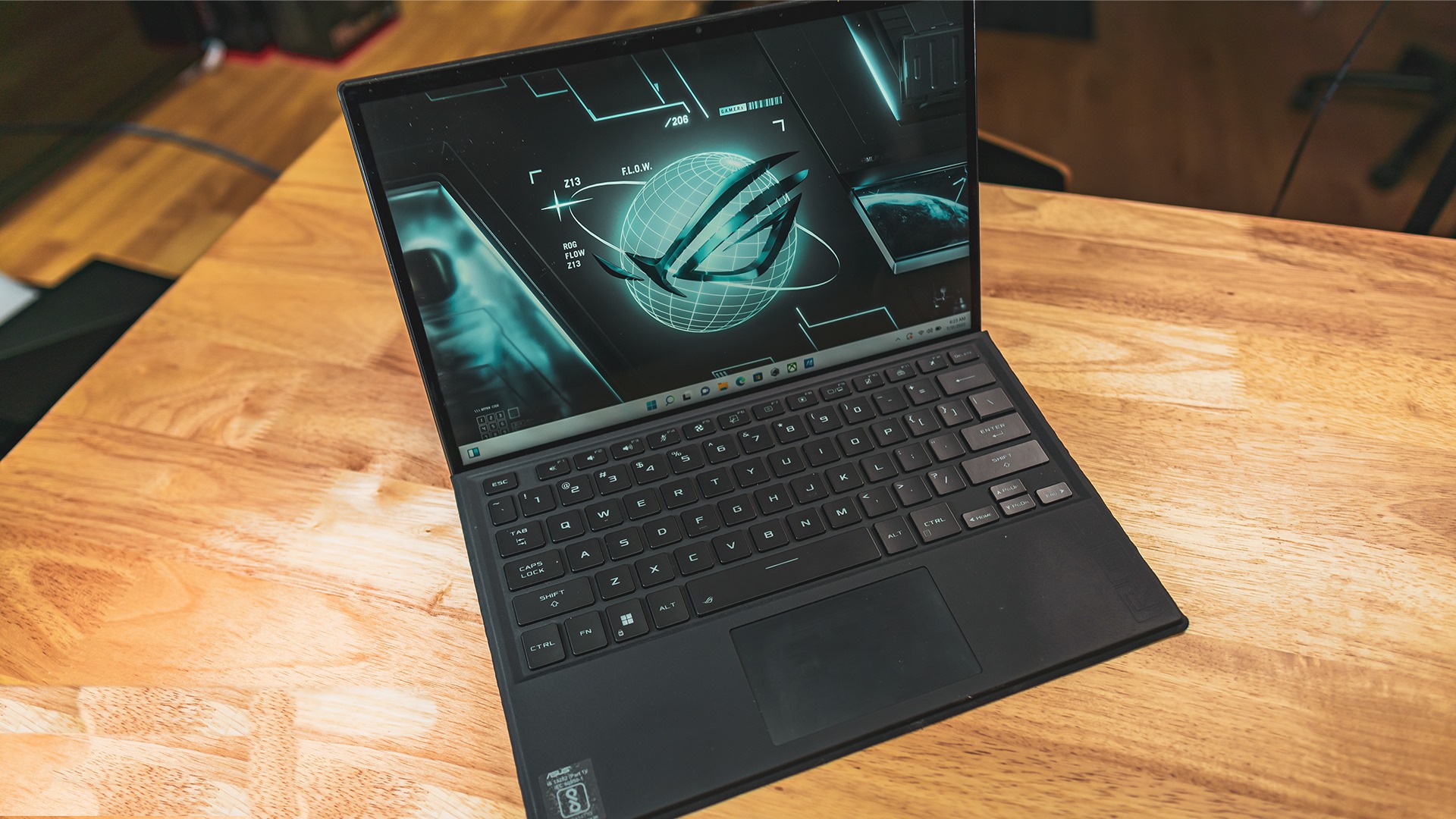 Make no mistake, this is the battle of two ASUS goliaths, each designed and targeted at a specific group of performance-demanding high-end laptop buyers who will either have genuine needs and intention to fully utilise all the power afforded to them by these laptops or just to show off simply because they can. Now, which one of these laptops should you get?
Prices and Model
For the sake of this comparison, we are using the ASUS ROG Zephyrus Duo 16 (GX650-WLO106W) and ASUS ROG Flow Z13 (GZ301Z-ELC214W) model and variant to compare. The prices shown are part of a bundle package that comes together with each purchase and this is how they compare:
Zephyrus Duo 16 (GX650-WLO106W)
Flow Z13 (GZ301Z-ELC214W)
RM 15,999 (Including)
RM 16,999 (Including)
ROG Ranger BP2701
Backpack
ROG Delta Headphones
Palm rest
ROG Chakram Core mouse P511
TYPE-C, 100W AC Adapter
ROG Flow Sleeve (2022)
ROG Delta headset
ROG Chakram Core mouse P511
ROG XG Mobile (GC31S with
NVIDIA® GeForce RTX™ 3080)
Design and Build – Battle Of The Subjective Preference
Design-wise, the two laptops are easily distinguishable from one another – the ROG Zephyrus Duo 16, like its name suggested, comes with a dual-display screen for those who seek more screen room. The ROG Flow Z13 on the other hand comes with a handy detachable tablet-like construction that speaks volumes about the convenience it offers and usage possibilities.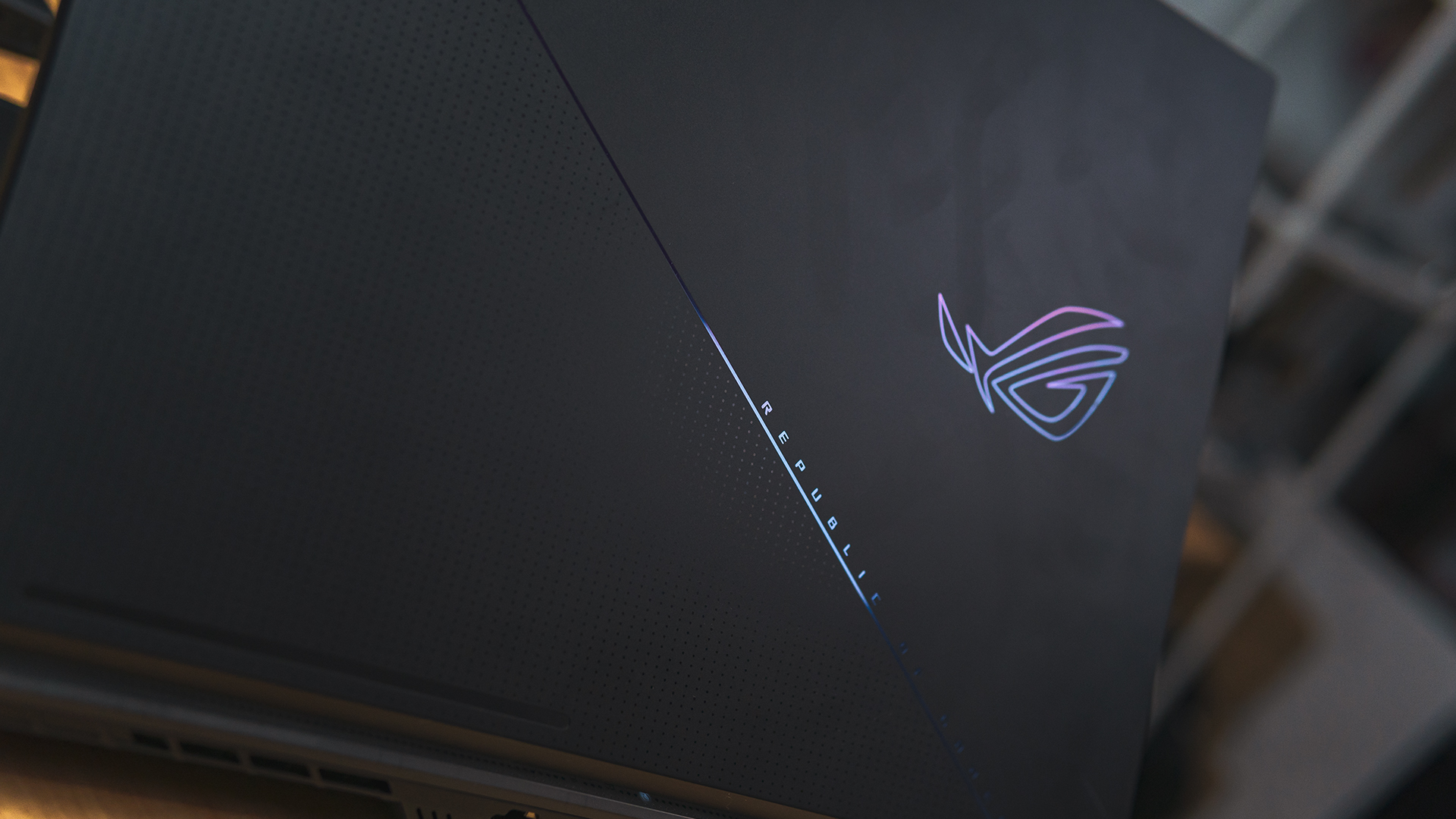 The Zephyrus Duo maintains the sleek all-black colour profile from its predecessor, with a purple holographic reflection of the ROG logo and slash pattern to be seen. Whereas the Flow Z13 emphasizes a spaceship-like design cue inspired by "retro-futurism", as ASUS said in their marketing material. The Flow Z13 also has an ARGB Illuminated see-through panel to provide a small glimpse of conventional hardware looks.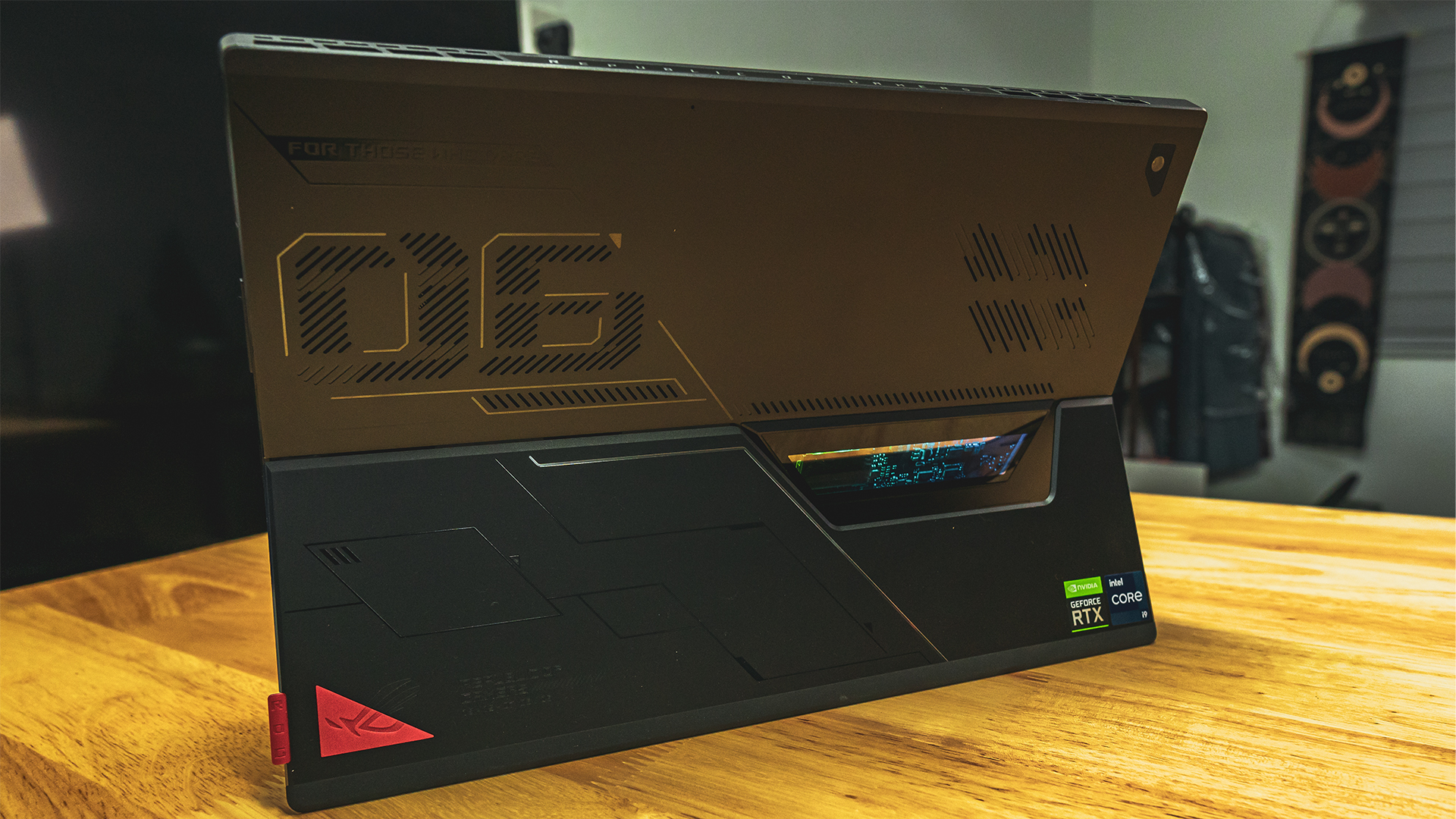 Details
ASUS ROG Zephyrus Duo 16 (GX650-WLO106W)
ASUS ROG Flow Z13 (GZ301Z-ELC214W)
Dimension
35.5 x 26.6 x 2.05 cm
30.2 x 20.4 x 1.20 cm
Weight
2.6kg
1.18kg
IO
1x 3.5mm Combo Audio Jack
1x HDMI 2.1
2x USB 3.2 Gen 2 Type-A
1x USB 3.2 Gen 2 Type-C support DisplayPort™ / power delivery / G-SYNC
1x USB 3.2 Gen 2 Type-C support DisplayPort™
1x RJ45 LAN port
1x 3.5mm Combo Audio Jack
1x USB 2.0 Type-A
1x Thunderbolt™ 4 support DisplayPort™
1x ROG XG Mobile Interface
1x card reader (microSD) (UHS-II)
1x USB 3.2 Gen 2 Type-C support DisplayPort™ / power delivery / G-SYNC
Display Size
16"
13.4″
Touch Screen
Second screen only
Yes
In terms of sizes, the Zephyrus Duo 16 is obviously the bigger-sized candidate thanks to its 16″ screen and dual-screen construct. It weighs a whopping 2.6kg and the laptop's keyboard is pushed down to make space for the second screen panel to sit. The keyboard fits nicely and neatly at the bottom but it also means there's no more room to rest your wrists on the laptop when you type. ASUS included a magnetic wrist rest that comes with the laptop but not everyone is going to find this setting comfortable. I know I didn't.
This laptop's weight factor plus its squashed-down keyboard made me wonder if we can even call this a laptop anymore because there's just no imaginable way the Zephyrus Duo 16 can be comfortably used on anyone's lap. But on the actual keystrokes experience, its keys are well made and provided good tactile feedback like a gaming keyboard should.
The smaller-sized Flow Z13 would fare better if you seek convenience and mobility from your laptop. Weighing at only 1.18kg, this is the lightest gaming laptop I've had the luxury to play with and the most convenient one when it comes to serving multi-purpose needs. But with just a 13.4″ screen, understandably, the Flow Z13 isn't going to appeal to those hoping to view their games on a larger screen.
Due to the Flow Z13's hybrid design nature, it comes with a detachable keyboard that also includes a trackpad. On the upside, the detachable element connects easily to the 13.4″ tablet body like a magnet. This makes the Z13 ideal when you need to just show the screen or work on it while enjoying its touchscreen benefits.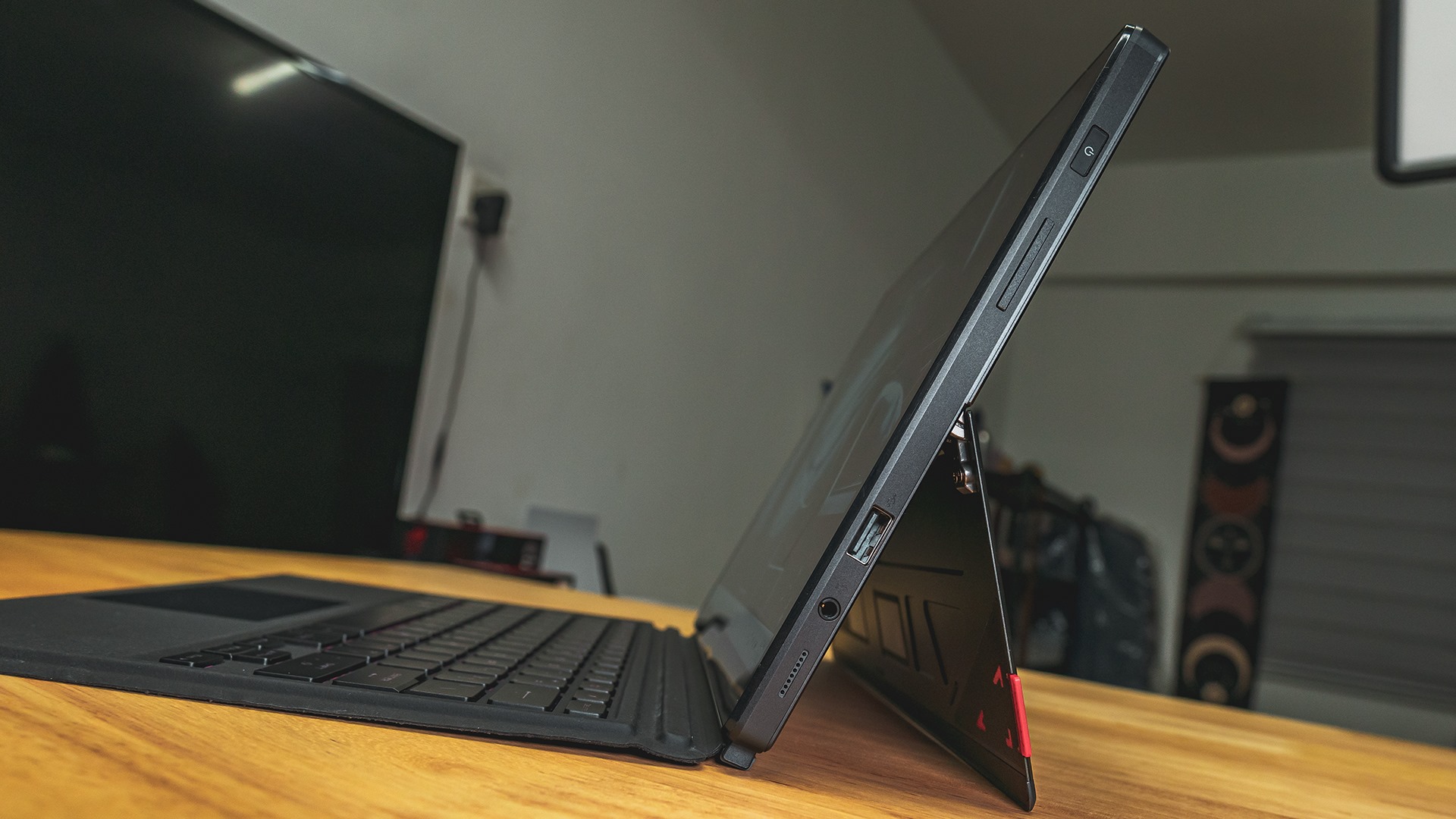 But on the downside, the stock magnetic keyboard that it comes with is not really gaming material. The keys are shallow and cramped and don't exactly provide the type of mechanical feedback one would naturally expect from a gaming keyboard. The trackpad is also too small for comfort but then again, this is a touchscreen laptop so there is that. It is worth noting that one can still pair their third-party Xbox or PlayStation controllers to the laptop for gaming.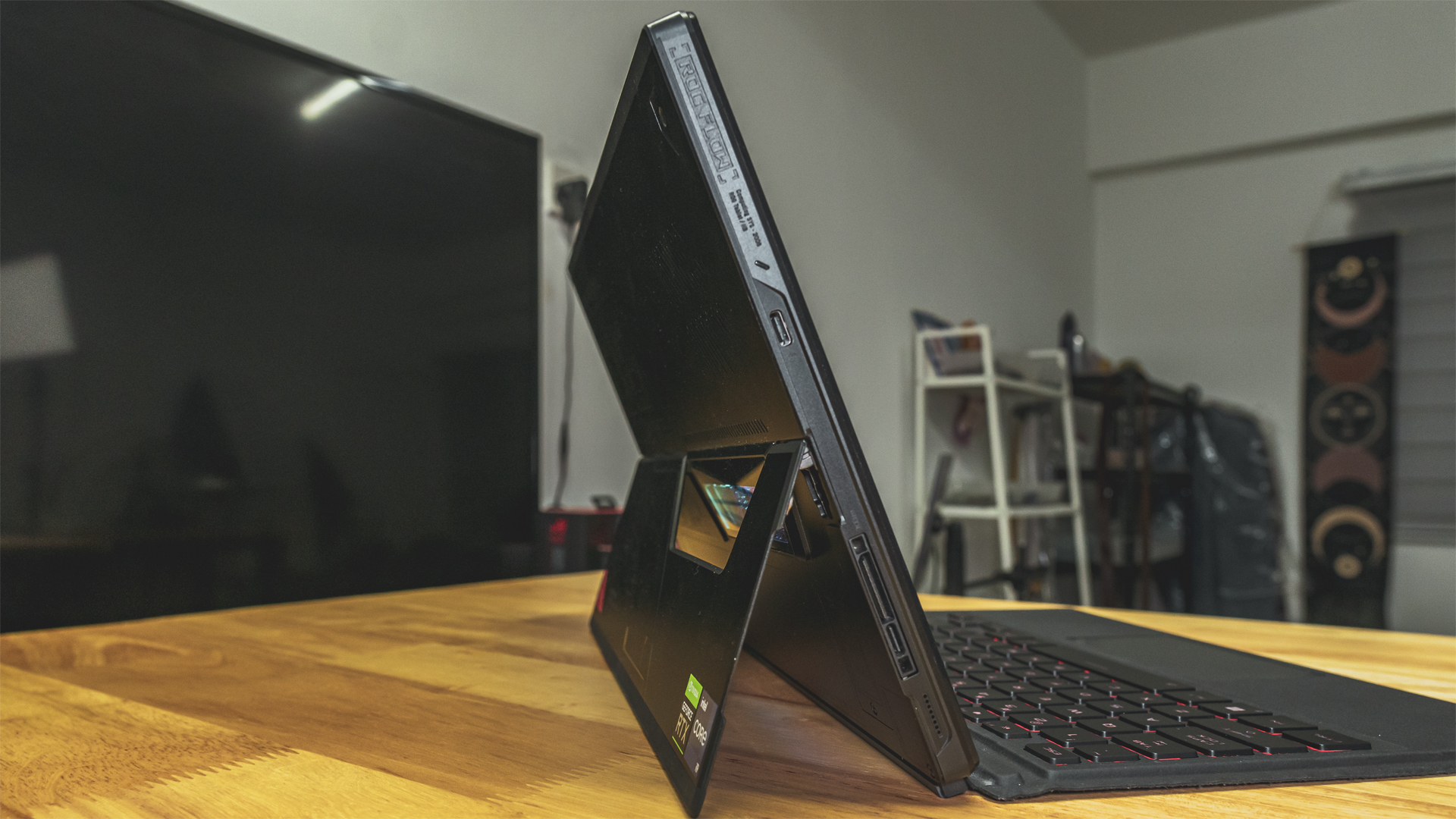 Both the Zephyrus Duo 16 and Flow Z13 are well-built and sturdy in quality although I wished the detachable elements on the Z13 were better made. The secondary screen on the Zephyrus Duo has an inclination angle of a maximum of 13 degrees while the kickstand on the Flow Z13 opens up to a maximum of 170 degrees. This means although they both look nice in their fully opened up form, dust will start to accumulate behind the gaps of the inclination and this calls for constant aesthetic maintenance.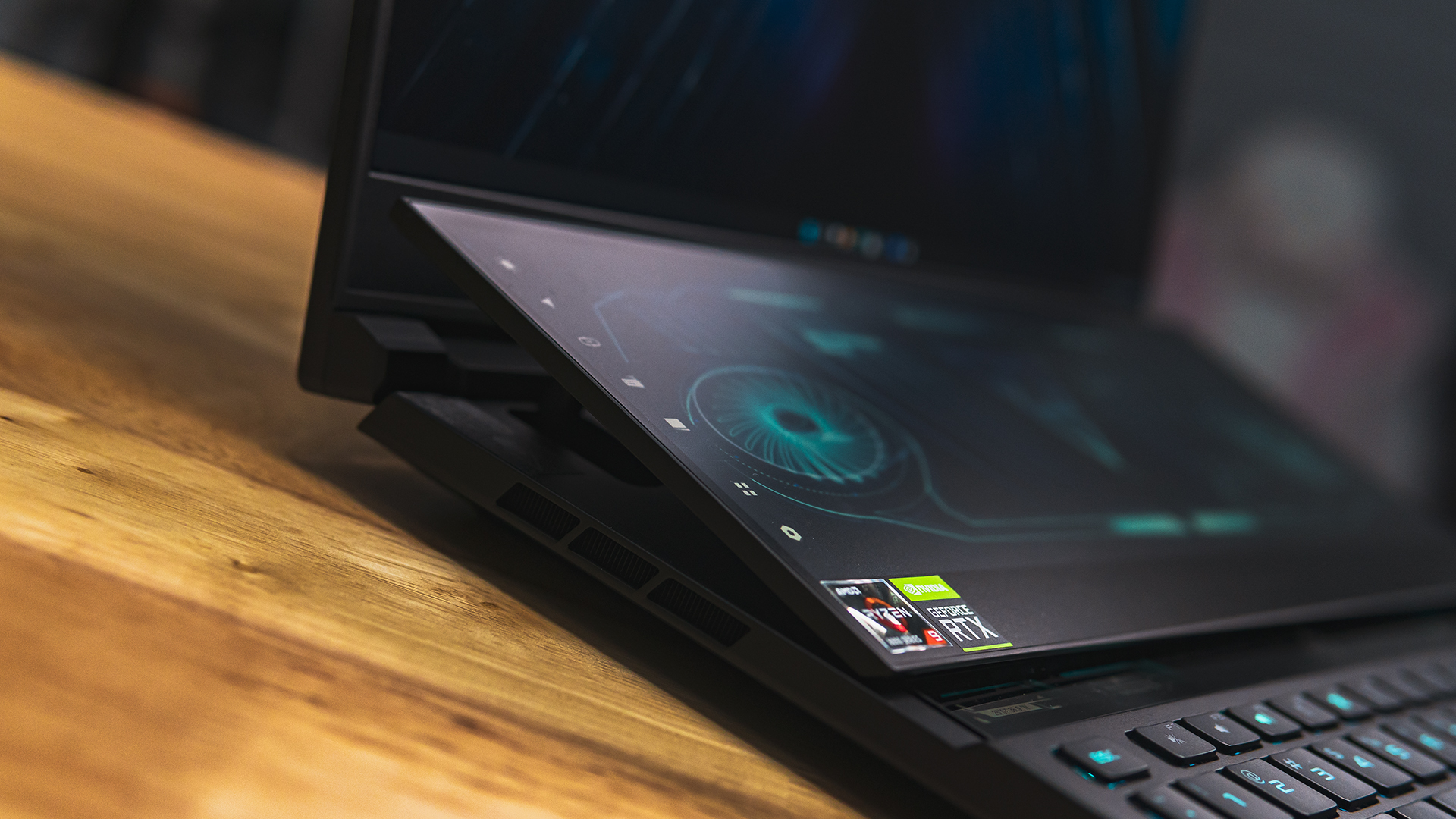 All around the sides of the laptop, both are packed with a heavy dose of IO ports. Basic necessities such as USB Type A, USB Type C, HDMI, 3.5mm Audio Jacks, Power Cable and SD Card readers are present. To ensure blazing fast speed, a LAN cable port is present as well on the Zephyrus Duo 16 while the Flow Z13 has the XG Mobile Interface ports for the plugging in of the ROG XG Mobile RTX 3080 16GB.
Screen and Display
In terms of visual qualities, both the Duo 16 and Z13 are attractive in their own right. The Duo 16's main screen features 165Hz refresh rates and ASUS' own ROG Nebula HDR QHD+ display showing a ratio of 16:10 and a resolution of 2560 x 1600. This variant of the Duo 16 that we have doesn't come with a 4K screen but if you are keen on 4K, there is the XLB199W variant of the Zephyrus Duo 16 that's capable of giving you that luxury. But even without the 4K nobility, the Duo 16's main screen still made games and movies look impressive with its Mini LED backlight that gives darker blacks than conventional LEDs.
The 14″ ScreenPad+ second display on the other hand is an IPS panel that supports stylus use. Funnily, unlike the main screen, the ScreenPad+ is actually a 4K capable screen despite its brightness level being on the weaker side. But what makes this additional display truly special is its value in making users' life more convenient.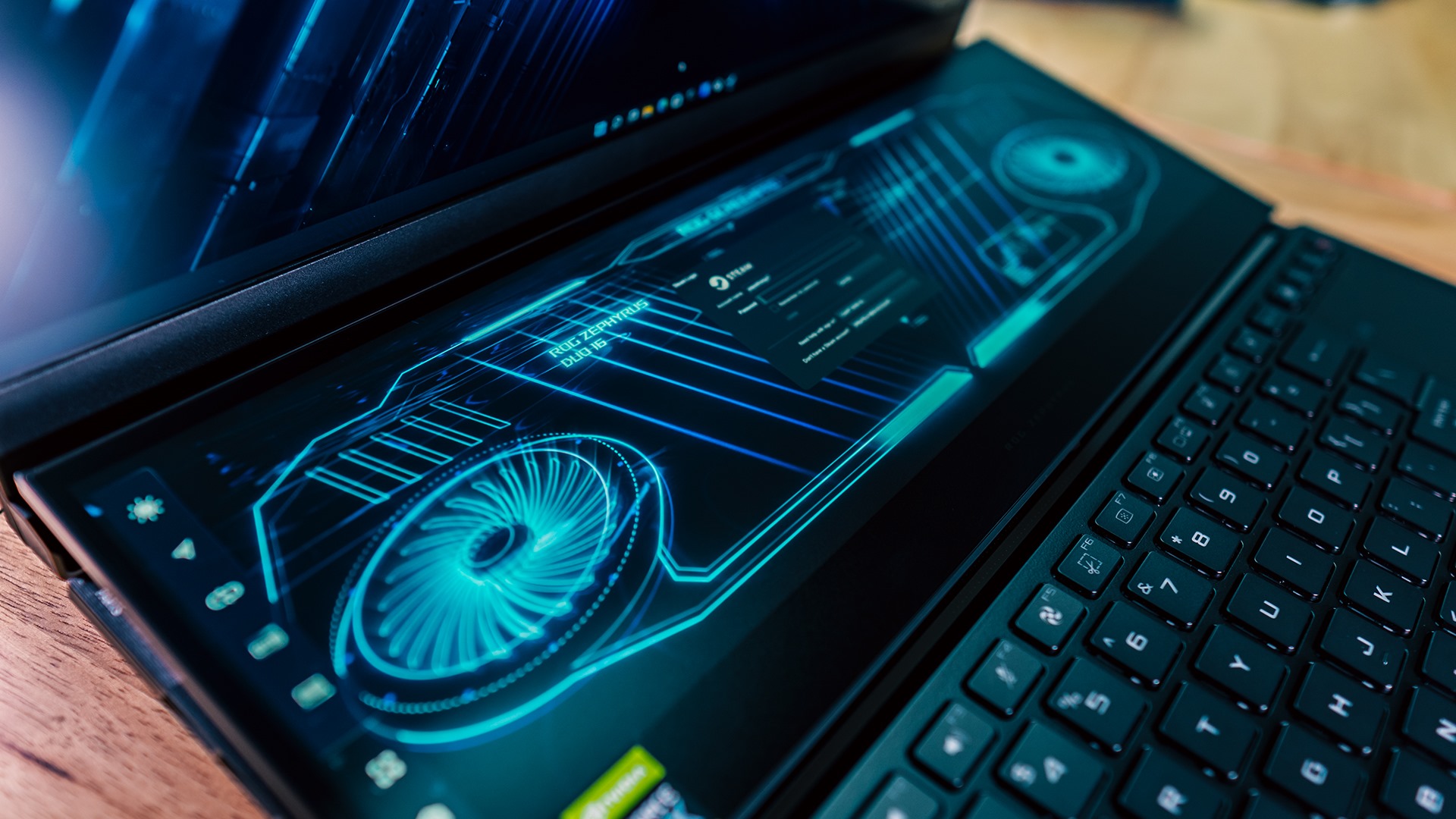 Picture a scenario where you're spending time doing creative work and just need maximum screen room for your strokes while your tools, colour palettes, and layers just sit conveniently on the second screen. Or perhaps you are a streamer who doesn't want streams of chats waterfalling down your interface so you can just host them on your second screen instead of having an extra monitor at the side.
Details
ASUS ROG Zephyrus Duo 16 (GX650-WLO106W)
ASUS ROG Flow Z13 (GZ301Z-ELC214W)
Main Display
ROG Nebula HDR Display
QHD+ 16:10
2560 X 1600 WQXGA
UHD+ 16:10
3840 X2400 WQUXGA
2nd Display
ScreenPad Plus
(14″ 3840 x 1100(4K)
IPS-level Panel Support Stylus)
None
Size
16-inch
13.4-inch
Refresh Rates
165Hz
60Hz
Touch Screen
Second screen only
Yes
Stylus Support
Second screen only
Yes
Beside the Zephyrus Duo 16, the Flow Z13 look like the humble one but only on the exterior. Internally, the Z13's 13.4″ screen is fitted with a UHD+ 4K screen which is good for those who want better visual qualities. This laptop's touchscreen, stylus support, and detachable build allow it to moonlight as a tablet whenever you want, making it a great choice for those looking for productivity elements other than just gaming use.
The Z13's native screen offers only up to 60Hz refresh rate compared to the Zephyrus Duo 16's mouth-watering 165Hz. But if you connect the laptop to the ASUS ROG XG Mobile (An external RTX 3080 GPU), you'll get all the juice that comes with the more powerful RTX 3080 that'll boost your Z13 to 120Hz.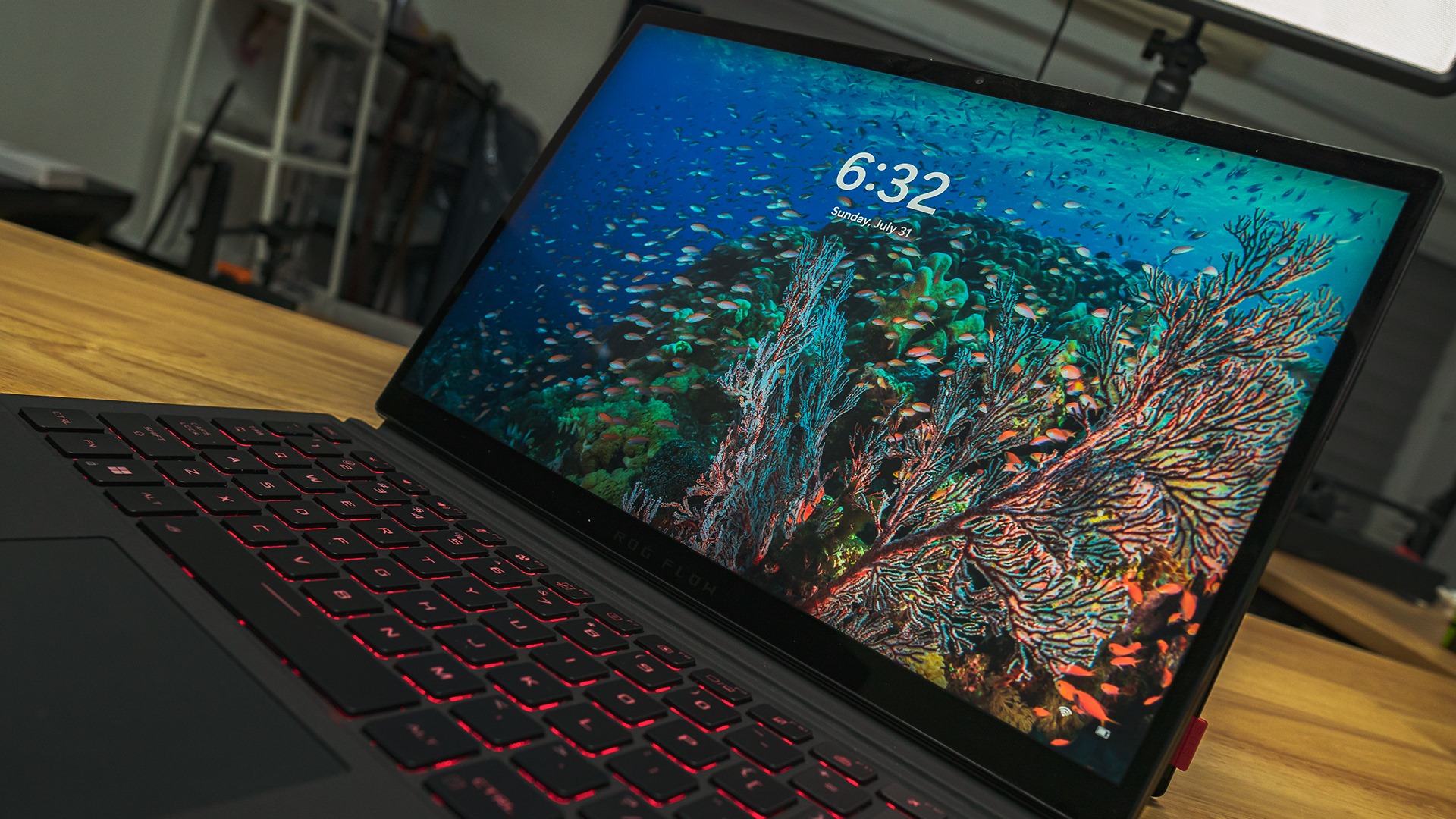 In the screen and display department, the Flow Z13 has a better screen and the luxury qualities of being a touchscreen panel and stylus support but it has a smaller screen size and refresh rate than the Zephyrus Duo 16. But while the second screen on the Duo 16 has some admirable qualities, one question will continue to persist and that is – do you really need a second screen on your laptop? The answer is subjective but it is an important one to justify buying this laptop.
Technical Specifications
Details
ASUS ROG Zephyrus Duo 16 (GX650-WLO106W)
ASUS ROG Flow Z13 (GZ301Z-ELC214W)
Processor
AMD Ryzen 9 6900HX
Intel i9 12900H
Memory
32GB DDR5 4800mhz
16GB DDR5
Graphics
NVIDIA GeForce RTX 3070ti
NVIDIA GeForce RTX 3050ti
ASUS ROG XG Mobile(RTX 3080)
Storage
1TB PCIe Gen4 NVME
1TB PCIe Gen4 NVME
Bundle
ROG Ranger BP2701 Backpack
ROG Delta Headphones
Palm rest
ROG Chakram Core mouse P511
TYPE-C, 100W AC Adapter
ROG Flow Sleeve (2022)
ROG Delta headset
ROG Chakram Core mouse P511
ROG XG Mobile (GC31S with
NVIDIA® GeForce RTX™ 3080)
Price
RM 15,999
RM 16,999
Powered by the Ryzen 9 6900HX and RTX 3070 TI, the Zephyrus Duo 16 is probably one of the most powerful laptops to be launched this year. The 90WHr battery and 280W AC adapter also ensure that there's always enough juice to perform and a quick charge when there's a need. The bundle also comes with a 100W USB-C second powers adapter which is lighter and much more convenient for travelling use.
It comes with 32GB RAM (2 x 16GB) running on a dual channel, and they can both be upgraded up to 64GB max capacity. With how games are nowadays, anything lesser than 32GB will only guarantee you a good but not great gaming experience. Not only does this provide the necessary performance stability, but it's also good enough for productivity works such as video and photography editing.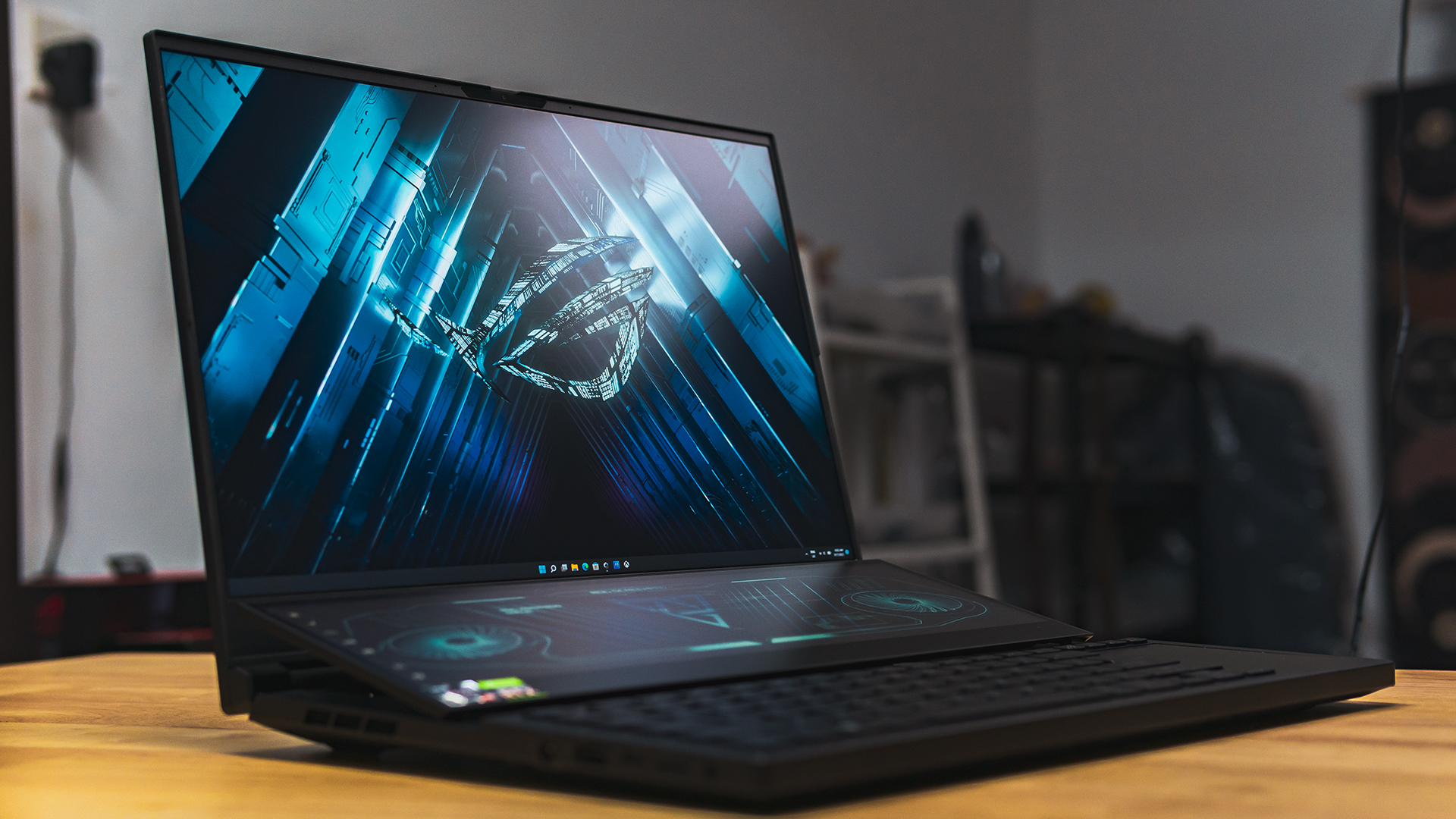 Unlike its predecessor, the Zephyrus Duo 16 comes with a MUX switch which seamlessly swaps from the integrated GPU to the discreet GPU when gaming. The MUX switch can be accessed via Asus Armoury Crate in the System Configuration section. From then on, activating the discreet GPU is as easy as a click of a button.
As for the Flow Z13, it's powered by the Intel i9 12900H and RTX 3050 TI. While the GPU isn't as impressive, the Flow Z13 is still great for most games due to the availability of a MUX switch which bypasses the integrated GPU for better performance. And if there's a need for even better performance, the RTX 3080 inside the bundled XG Mobile will give it the needed boost.
Unlike the Zephyrus Duo 16, the Flow Z13 only comes with the USB-C 100 W power adapter, and the battery capacity is rated at only 56WHrs due to form factor limitations. The Flow Z13 is also running on 16GB of RAM, and this is the maximum capacity that it supports.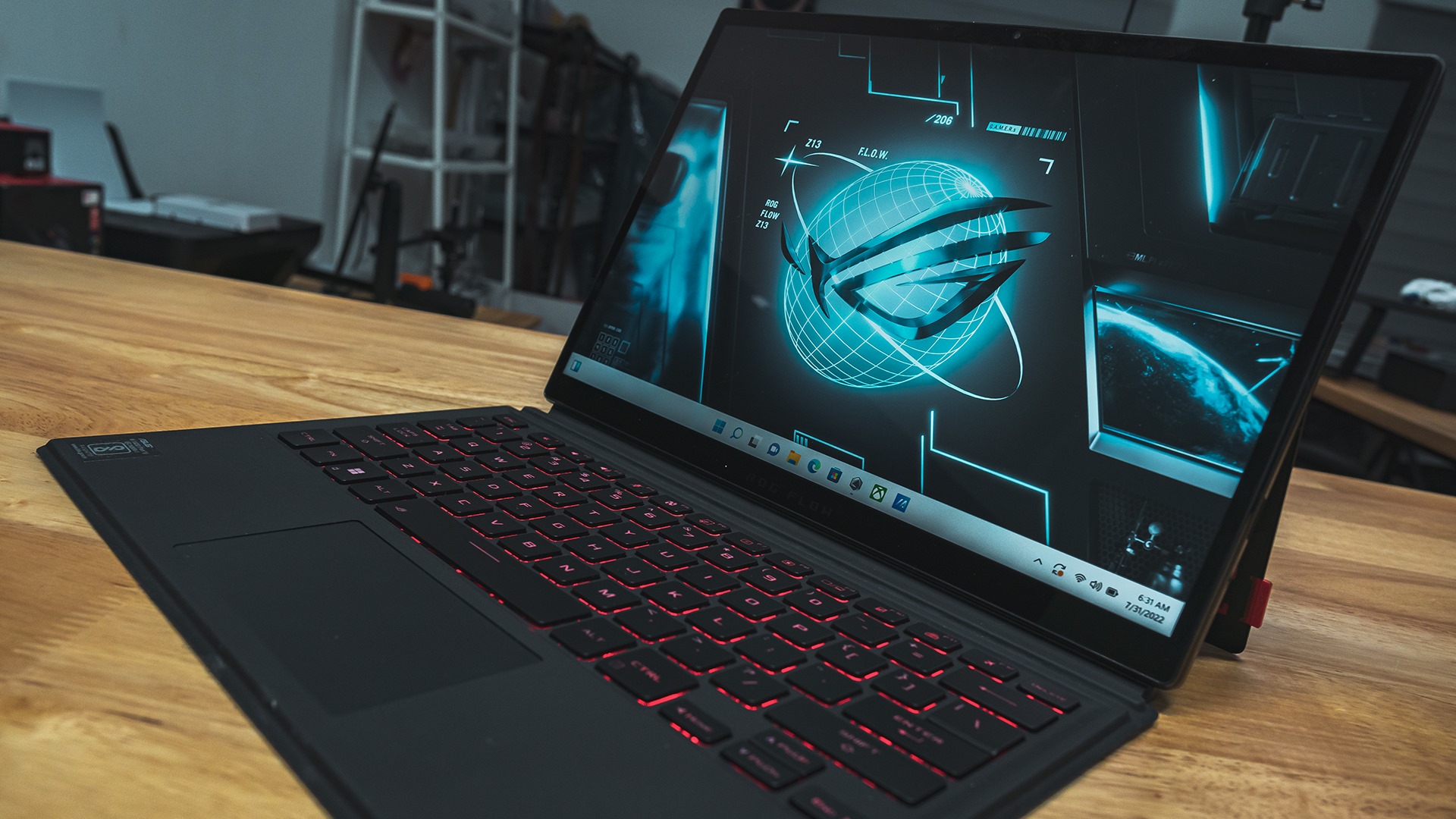 The other shortcoming of the Flow Z13 is the 30ms response time. This is due to the limitations of a full-on touch screen in all modes, on top of running in an all-in-one form factor which may lead to higher heat generation if the screen is capable of a faster response time.
Both laptops come with top-of-the-line components and they have their own unique perks and shortcomings. The Zephyrus Duo is geared towards extreme gaming performance capabilities while the Flow Z13 is designed to be an all-rounder gaming laptop that focuses on portability without sacrificing too much on gaming performance.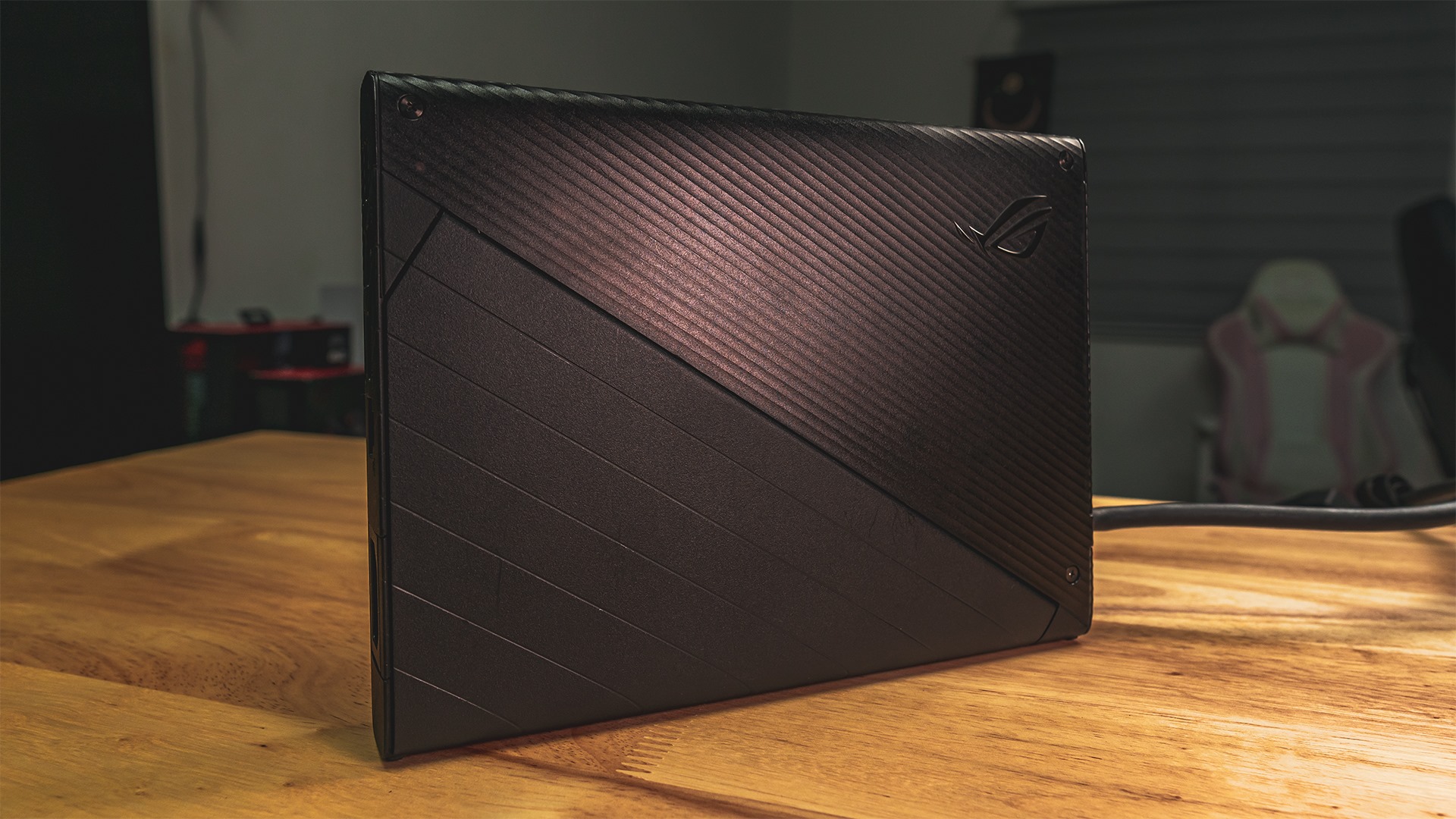 Benchmarks and Performance
Both the laptops were subjected to 3 different benchmarks to gauge their performance and they were configured to Turbo Mode in Armoury Crate to obtain results based on maximum performance settings. We have also skipped the benchmark for the Flow Z13's native 3050 TI and have connected it to the XG Mobile external GPU instead as it comes bundled together with the laptop.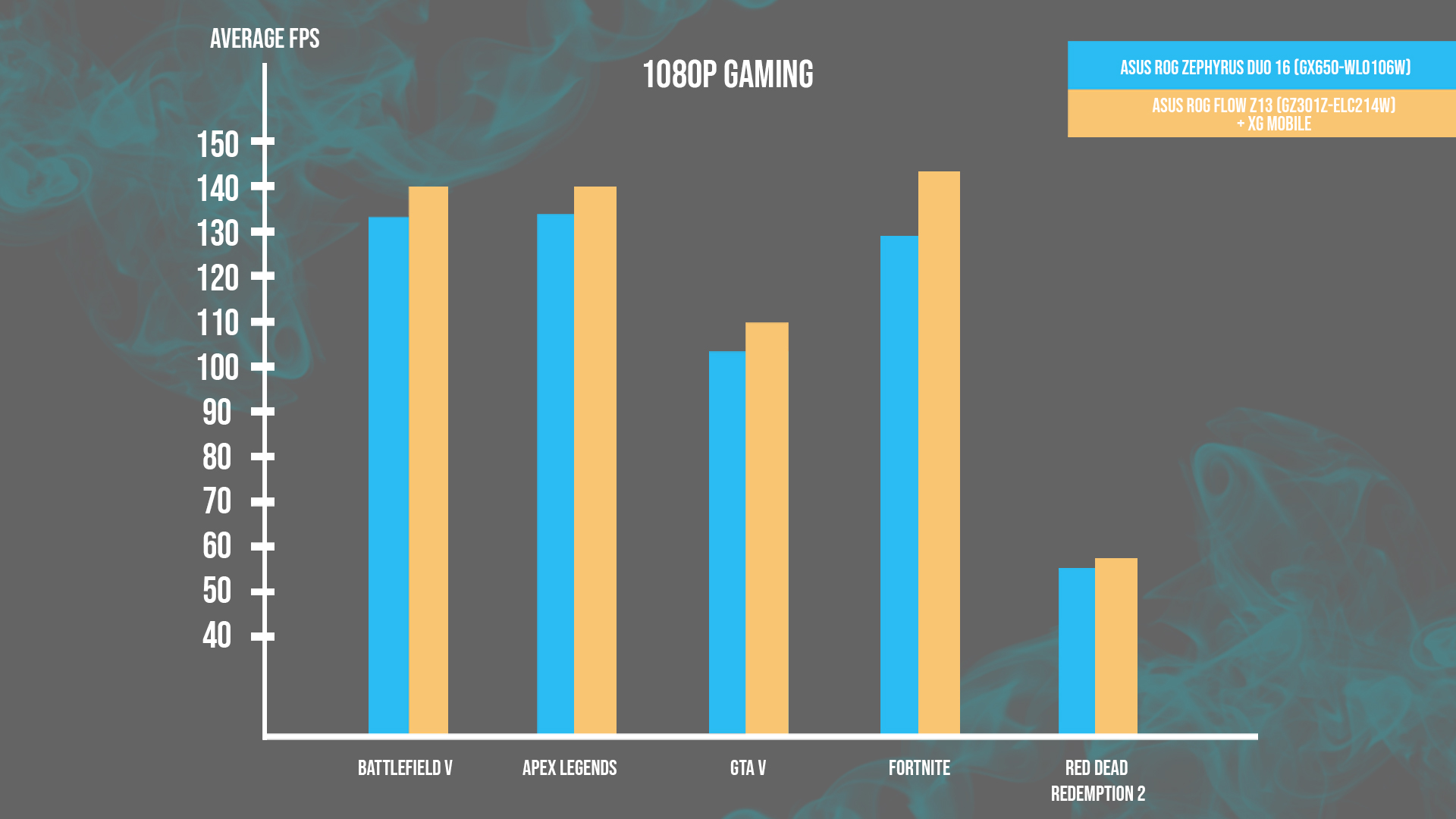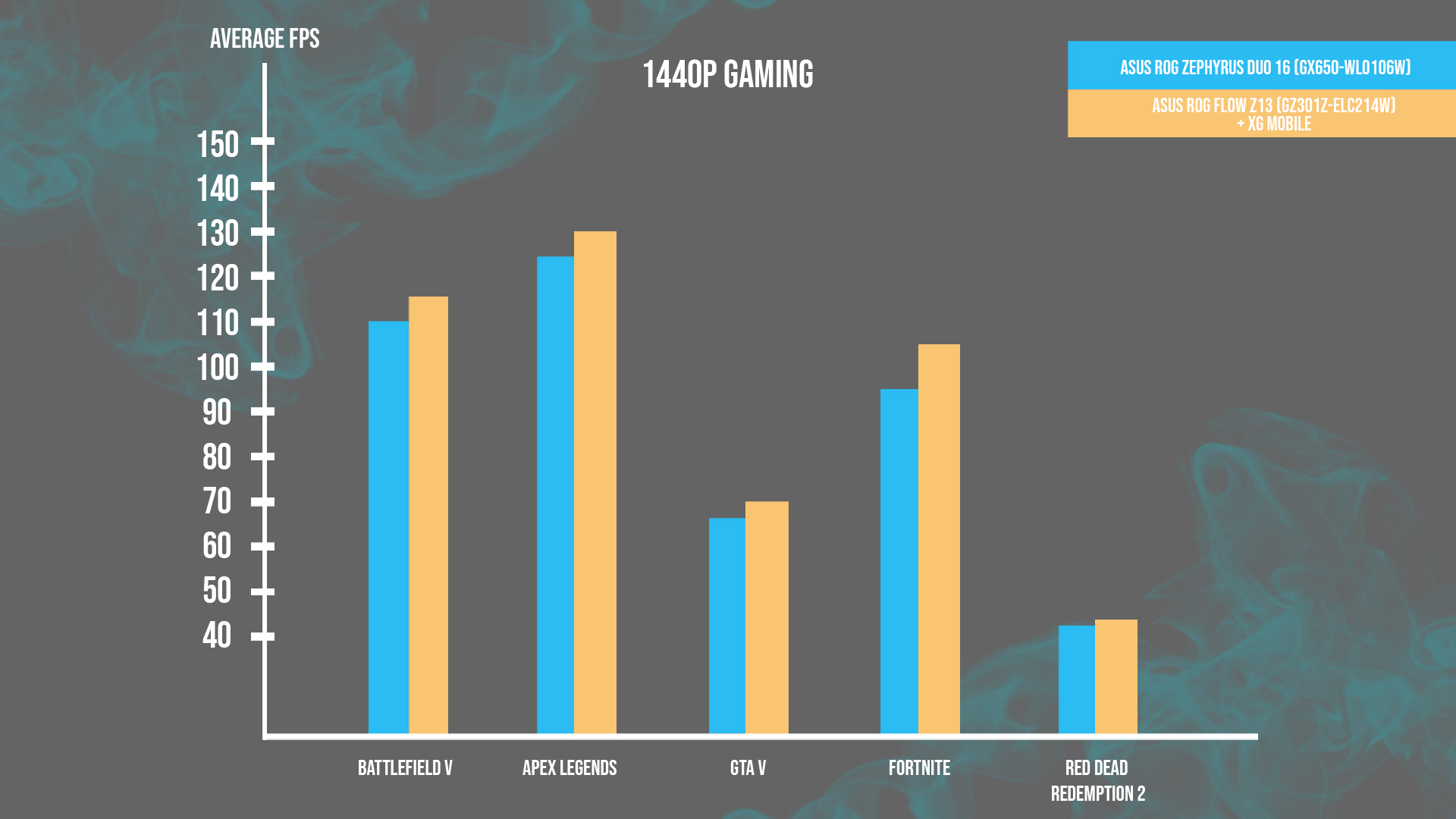 As seen above, both laptops were subjected to a 1080p and 1440p FPS benchmark for Battlefield V, Apex Legends, Fortnite, GTA V and Red Dead Redemption 2. They performed really well for Battlefield V, Apex Legends and Fortnite, with an average of 120FPS and 100FPS for both 1080p and 1440p. The performances had a slight decline when it came to GTA V as it's more taxing than the previous three at max settings.
Although the performance in RDR 2 was still in the acceptable range for the 1080p benchmark, the 1440p benchmark produced mediocre results. The average FPS for Red Dead Redemption 2 in the 1440p benchmark dropped to as low as 45FPS and 50FPS for the Zephyrus Duo 16 and Flow Z13. The only point that was in favour of the benchmark is that the Zephyrus Duo 16 is only capable of displaying up to 2k on its native screen the decline stops here. The same can't be said for the Flow Z13 as the screen is capable of displaying up to 4k in resolution.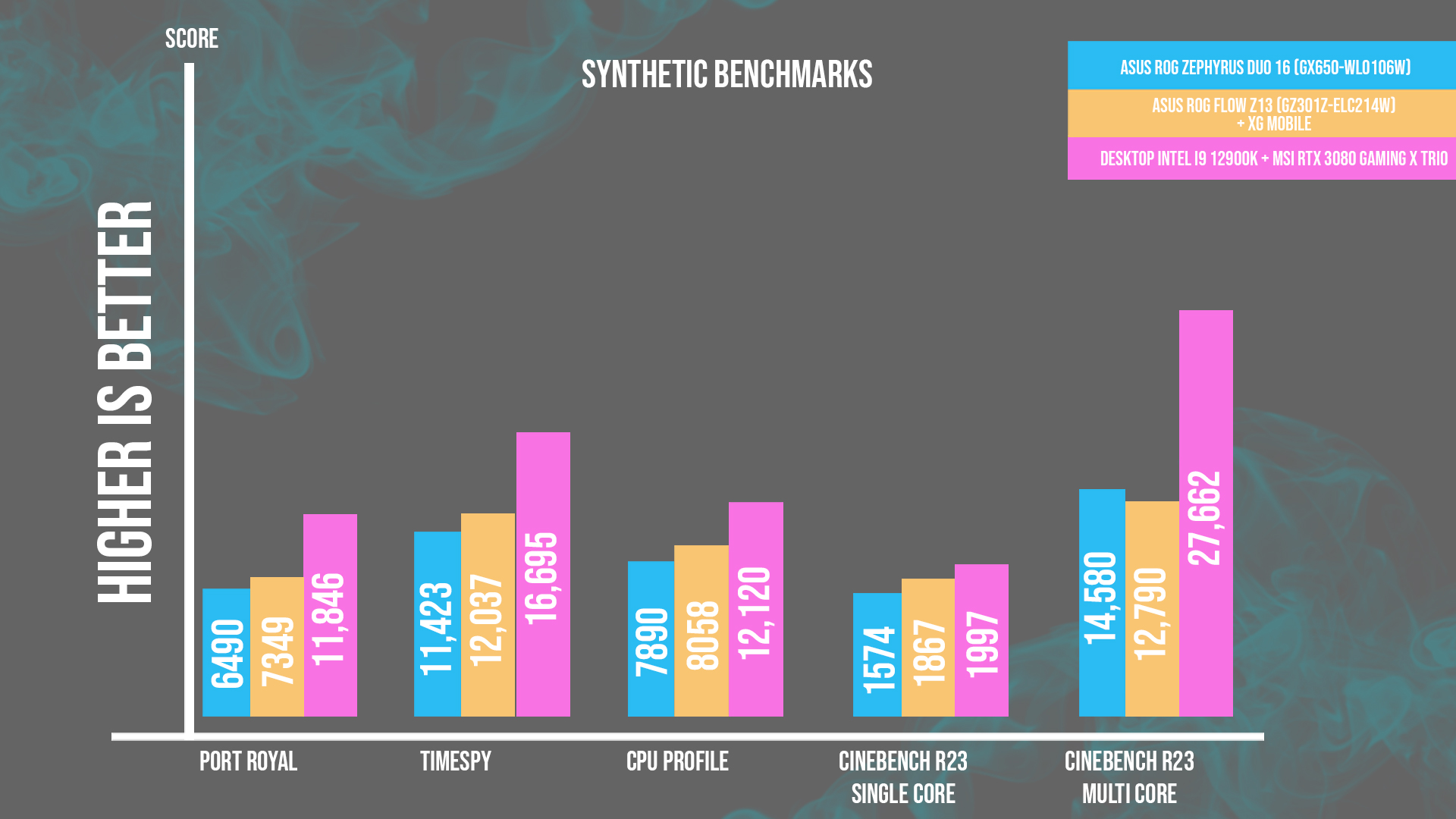 In the synthetic benchmarks, both the laptops were up against an Intel i9 12900k and RTX 3080 desktop counterpart as a reference. The benchmarks performed are Port Royal for Ray Tracing performance, Time Spy for overall GPU performance, CPU Profile to see how it performs with the best of its kind, and Cinebench R23 Single and Multi core to gauge the CPU's rendering performance.
The first thing to note from the results is that mobile components are at least a few steps behind their larger-sized desktop counterpart. The form factor is still the main issue when it comes to laptop components, which directly affects the performance itself.
There was also a slight hiccup when I ran the Cinebench R23 Multi-Core Benchmark's 30-Minute Loop. The i9 12900H in the Flow Z13 hit 97°C during the benchmark and started to throttle which resulted in a lower score against the Zephyrus Duo 16. We originally considered that this is due to its smaller form factor design and lack of airflow for proper heat dissipation, but were told otherwise when we consulted with the others in the industry. So it's highly likely that we've encountered a bug or our unit of Flow Z13 has a defect somewhere.
But otherwise, the Flow Z13 paired with the XG Mobile outclassed the Zephyrus Duo 16 in performance – this is not unexpected as the XG Mobile is powered by the RTX 3080 and the i9 12900H is a much better CPU in comparison to the Ryzen 9 6900HX. While the Zephyrus Duo 16 has more RAM than the Flow Z13, this round of benchmarking proves that nothing beats raw power itself.
---
All in All
It's obvious that performance-wise, both the ROG Zephyrus Duo 16 and the ROG Flow Z13 are superb laptops and like I've said in the opening, they belong in the category of "One of the best money can buy" in Malaysia.
Whichever you end up getting, you'll be in for a treat, no doubt. Because ASUS has outperformed themselves in the terms of innovating their lineup of ROG laptops this time around. Both of these laptops are beautiful and great on their own and have their own shortcomings.
But are you more about performance? Or are you more about usage flexibility? Knowing what's more important to you here will ultimately decide which one you should get.
---
Get the ASUS ROG Zephyrus Duo 16 if;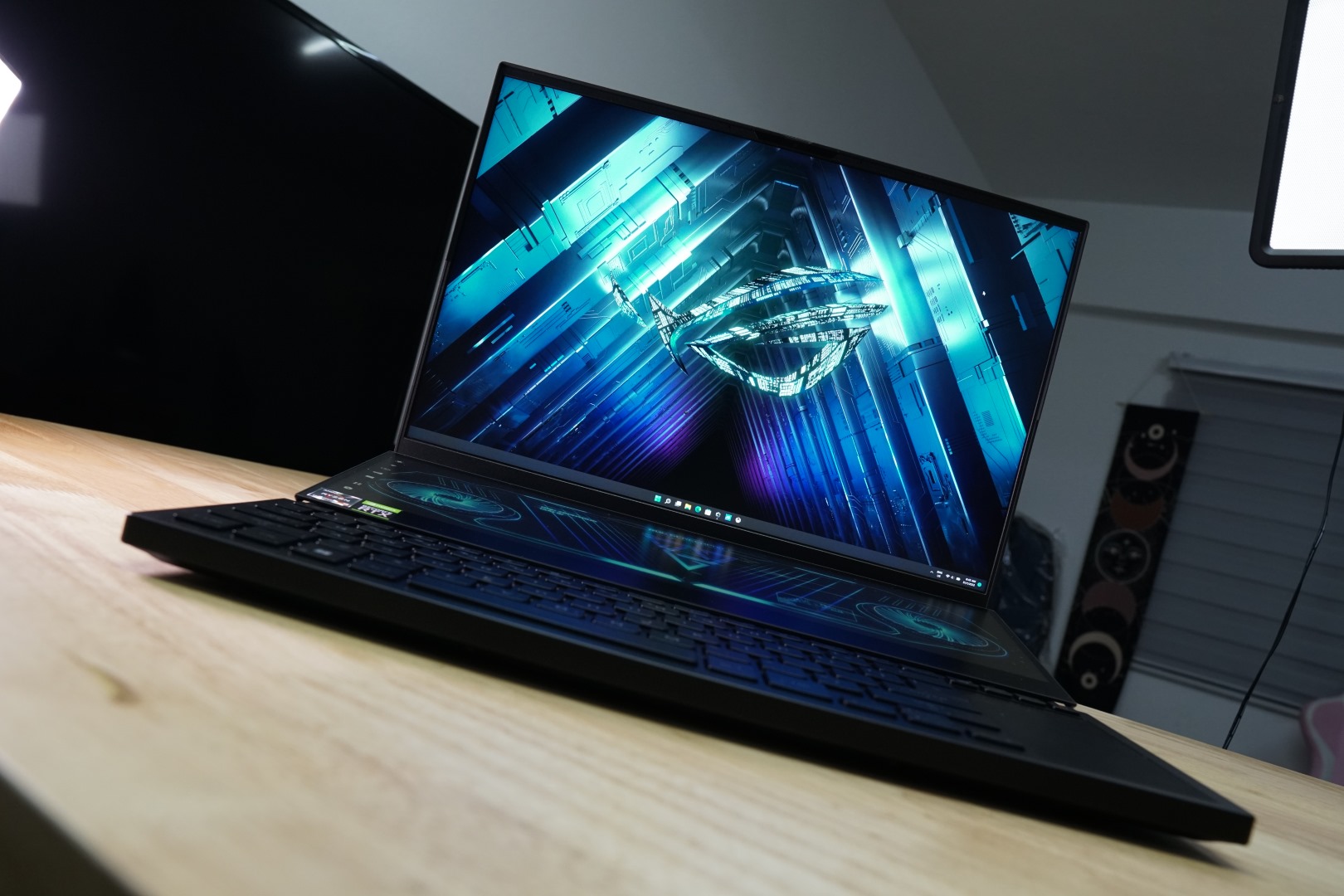 You don't mind its 2.6KG weight
You don't plan on travelling much with the laptop anyway
You have enough desk room to use the laptop and its detachable wrist-rest with
You want a bigger screen at 16″ vs 13.4″ (Z13)
You are a streamer, artist, or designer who has a genuine need for the second-display
You want a native 165Hz screen
You want a better keyboard (compared to Z13)
You want more RAM at 32GB vs 16GB (Z13)
You are okay with a Ryzen 9 6900HX CPU
If the bundle items included in its RM 15,999 price tag are of your liking.
---
Get the ASUS ROG Flow Z13 if;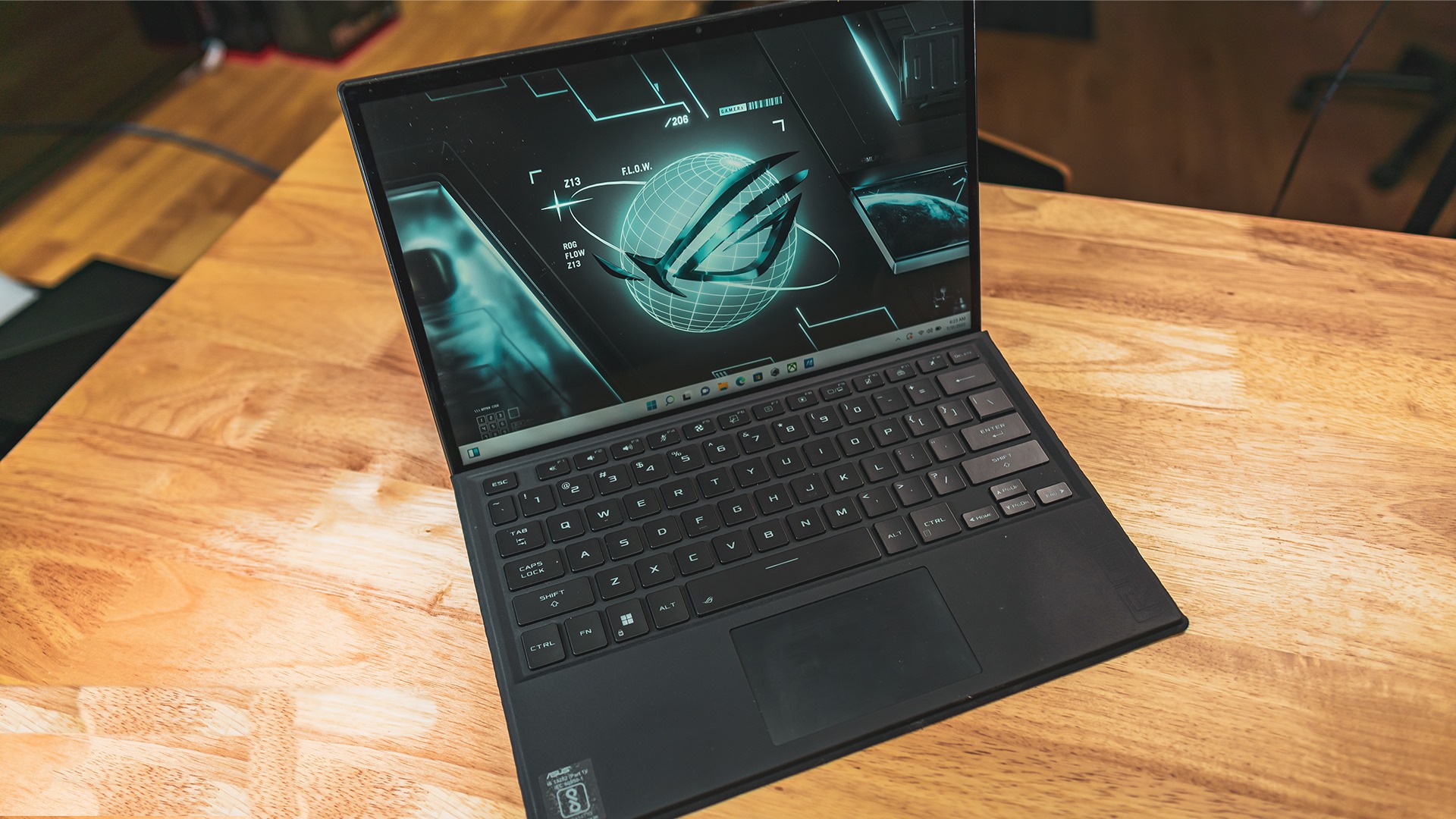 You want one of the lightest gaming laptops in the market at only 1.18KG
You want the flexibility of going tablet and laptop mode
You need a touchscreen panel that also supports a stylus
You need a 4K screen and don't mind the smaller 13.4″ frame
You want that poweeerrr from an RTX 3080
You don't mind carrying the XG Mobile device around with your laptop
You want a more powerful CPU in i9 12900H
You want an overall better performance than the Zephyrus Duo 16 for games.
If the bundle items included in its RM 16,999 price tag are of your liking.
---
For those interested, you can get these laptops from the links below:
ASUS: https://www.asus.com/my/store/Laptops/For-Gaming/
Lazada: https://www.lazada.com.my/shop/asus-laptop-store/
Shopee: https://shopee.com.my/asus_laptop.os