For numerous years, Kingston has maintained a brand image of trust among PC builders, consistently delivering innovative and dependable solutions for both RAM and storage needs. In this review, our focus shifts to evaluating the performance of the Kingston FURY Renegade PCIe 4.0 NVMe.
Specifications
Form factor
M.2 2280
Interface
PCIe 4.0 x4 NVMe
Capacities
500GB, 1TB, 2TB, 4TB
Controller
Phison E18
NAND
3D TLC
Sequential read/write
500GB – 7,300/3,900MB/s
1TB – 7,300/6,000MB/s
2TB – 7,300/7,000MB/s
4TB – 7,300/7,000MB/s
Random 4K read/write
500GB – up to 450,000/900,000 IOPS
1TB – up to 900,000/1,000,000 IOPS
2TB – up to 1,000,000/1,000,000 IOPS
4TB – up to 1,000,000/1,000,000 IOPS
Total Bytes Written (TBW)
500GB – 500TBW
1TB – 1.0PBW
2TB – 2.0PBW
4TB – 4.0PBW
Power consumption
500GB – 50mW idle / 0.34W avg / 2.7W (MAX) read / 4.1W (MAX) write
1TB – 50mW idle / 0.33W avg / 2.8W (MAX) read / 6.3W (MAX) write
2TB – 50mW idle / 0.36W avg / 2.8W (MAX) read / 9.9W (MAX) write
4TB – 50mW idle / 0.36W avg / 2.7W (MAX) read / 10.2W (MAX) write
Storage temperature
-40°C~85°C
Operating Tempetemperaturerature
0°C~70°C
Dimensions
Heat spreader:
80mm x 22mm x 2.21mm (500GB-1TB)
80mm x 22mm x 3.5mm (2TB-4TB)
Heatsink:
80mm x 23.67mm x 10.5mm
Weight
Heat spreader:
500GB-1TB – 7g
2TB-4TB – 9.7g
Heatsink:
500GB-1TB – 32.1g
2TB-4TB – 34.9g
Vibration operating
2.17G peak (7-800Hz)
Vibration non-operating
20G peak (20-1000Hz)
MTBF
2,000,000 hours
Warranty/Support
Limited 5-year warranty with free technical support
Price
RM398.00 (As of 23rd August 2023)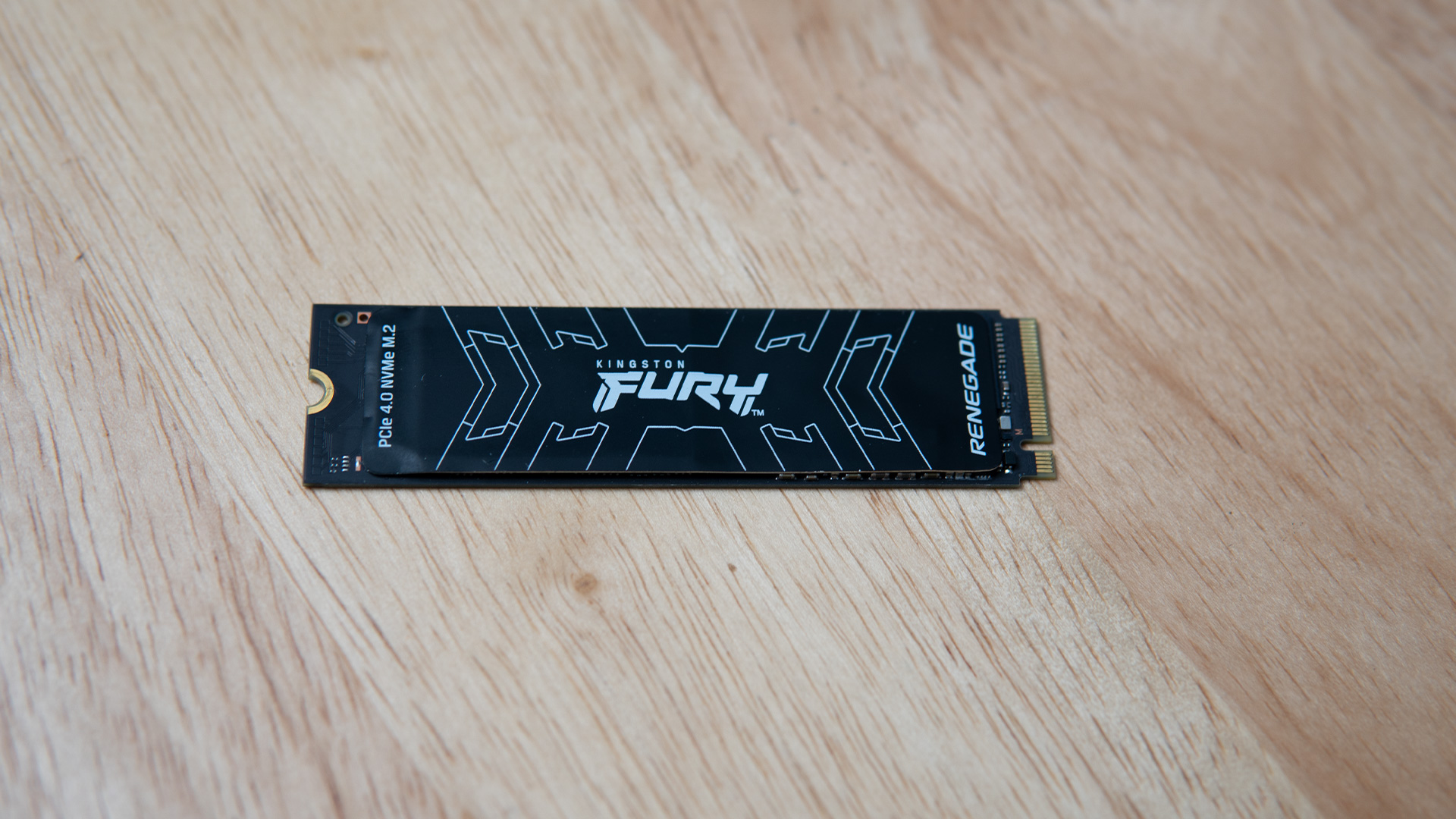 Branded as a key component of their gaming-oriented series, the FURY Renegade PCIe 4.0 NVMe drive stands as Kingston's most advanced NVMe offering to date. Similar to the KC3000 model, beneath the heat spreader lies a Phison E18 PCIe Gen 4×4 controller accompanied by 3D TLC NAND technology.
However, setting itself apart from the KC3000, the FURY Renegade NVMe showcases an impressive 7300 MB/s sequential read speed across all capacity variants. The maximum sequential write speeds vary according to drive size, starting at 3900 MB/s and peaking at 7000 MB/s with the 2TB and 4TB models.
Moreover, the FURY Renegade NVMe showcases an enhanced write endurance, extending up to 4PBW on the 4TB version. Each drive is safeguarded by a 5-year limited warranty.
Packaging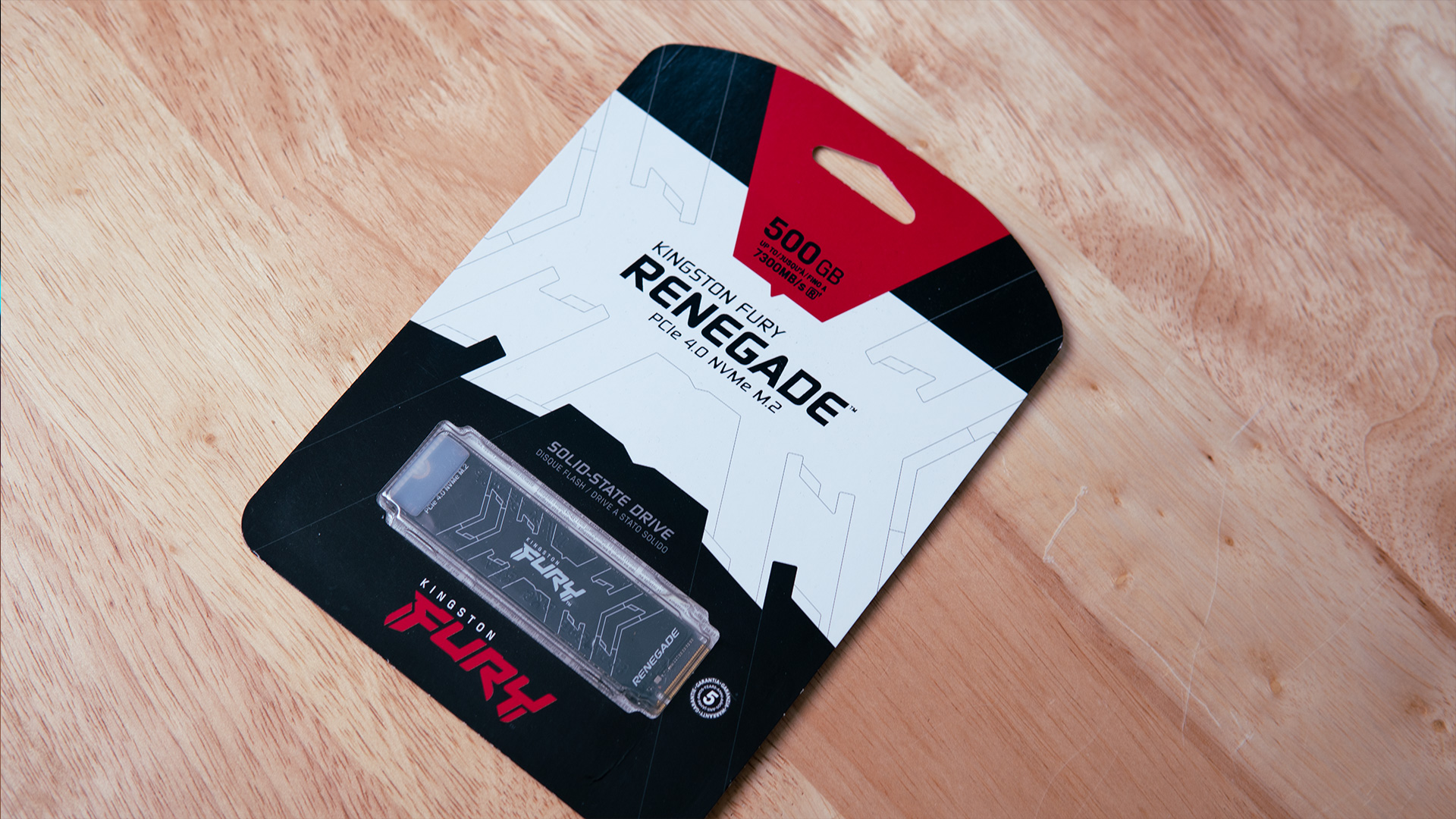 In line with modern NVMe packaging trends, the Kingston FURY Renegade arrives enclosed in a cardboard packaging accompanied by a transparent plastic window, providing a view of the drive. Detailed product information is imprinted on both sides of the packaging, with the front carrying the signature red, white, and black design scheme of the FURY product line.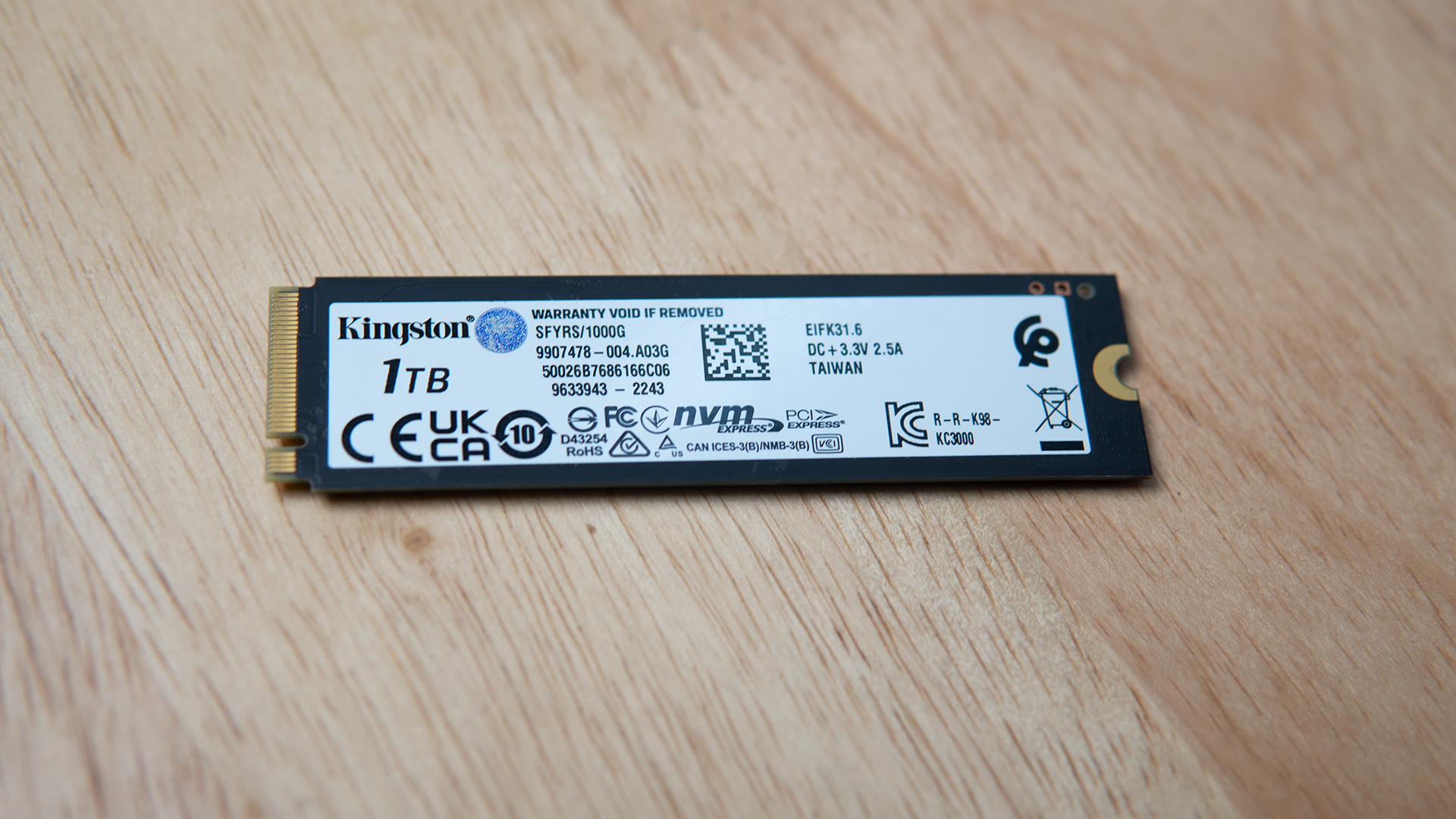 The 1TB variant of the Kingston FURY Renegade has a single-sided design, with all essential components consolidated on the front side of the module, while the back remains unoccupied. Covering the front is a low-profile graphene aluminum heat spreader, while the rear comes with the typical sticker sheet with detailed part information.
For those who owns a PS5 and are concerned about thermal management, there is also an alternate variant of the Kingston FURY Renegade NVMe that comes with an aluminum heatsink for more efficient thermal dispersion.
Benchmark Platform
| | |
| --- | --- |
| CPU | Intel Core i7-13700 |
| Motherboard | ASUS ROG STRIX B760-G GAMING WIFI D4 |
| Memory | 2 x 8Gb G.Skill TridentZ DDR4 |
| GPU | ASUS NVIDIA GeForce RTX 4060 Ti 8 GB |
| Storage | 1TB KINGSTON FURY Renegade (SFYRS1000G) |
| Cooling | Alphacool Core Ocean T38 AIO 280mm |
| Operating System | 64-bit Windows 11 (10.0.22621) |
3DMark Storage Benchmark Results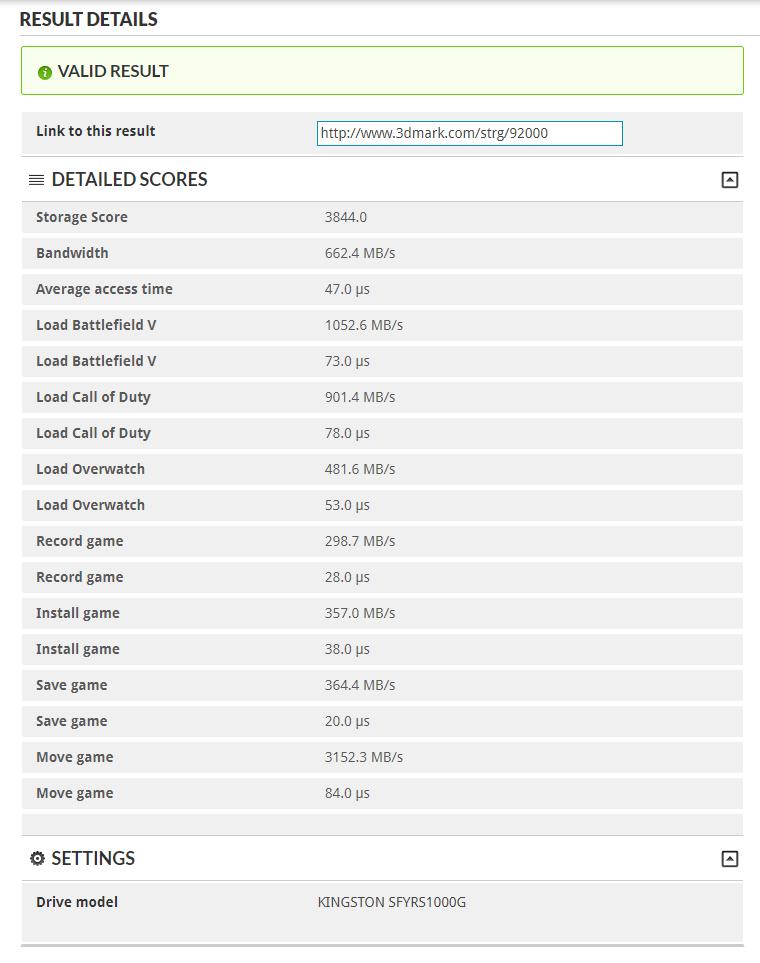 On 3D Mark Storage Benchmark, we see an impressive score of 3844, with exceptionally impressive performance on various gaming activities.
CrystalDiskMark 8.0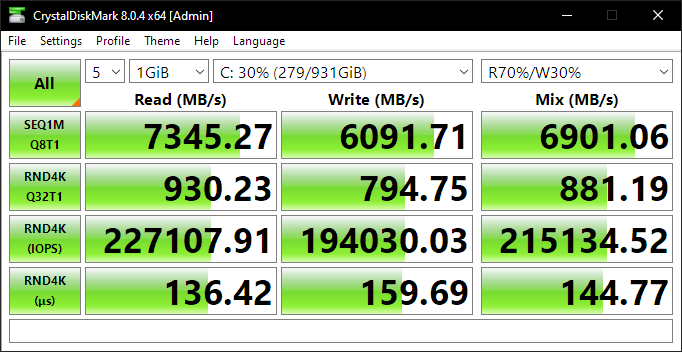 The Kingston FURY Renegade PCIe 4.0 NVMe was subjected to the Peak Performance test settings on CrystalDiskMark 8.0. Despite the usual expectation where most NVMe's might perform slightly below officially reported figures, the results defy these assumptions. The Kingston FURY Renegade 1TB model not only met the reported 7300/6000 MB/s read and write speeds but even over performed slightly.
AS SSD Benchmark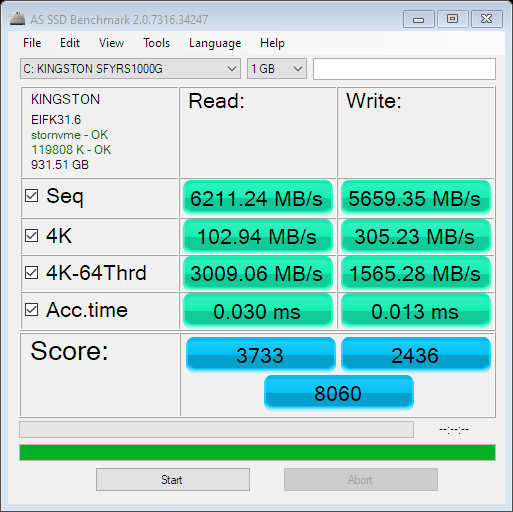 Unlike CrystalDiskMark, which highlights the peak performance across five tests, AS SSD presents the average performance outcome. On the AS SSD Benchmark, performance figures are slightly lower compared to CrystalDiskMark, although they still remain within a commendable average performance range.
ATTO Disk Benchmark
On the ATTO Disk Benchmark, the performance of the FURY Renegade reaches its peak at the I/O size of 128kb. Impressively, it records a read and write speed of 6.48/5.63 GB/s, sustaining this high-performance range throughout the duration of the test.
Temperature
With the motherboard's M.2 heatsink attached, the highest recorded temperature reached 55°C. However, an intriguing incident emerged when CrystalDiskMark 8 was executed without the heatsink in place. Under these circumstances, the temperature surged significantly, peaking at 65°C. Notably, the benchmark were also inconsistent when compared to the prior findings, where the M.2 heatsink was attached.
Out of curiosity, we proceeded to run a few more benchmarks without the M.2 heatsink. The outcomes further proved our accidental discovery. The Kingston FURY Renegade's performance appears to experience a decline when subjected to temperatures reaching or exceeding 63°C. This sheds light on the correlation between temperature and the drive's operational efficiency and a slight deviation from the official max operating temperature of 70°C.
While this might raise some concerns, it's important to clarify that our observations are derived from the unit that underwent abuse for this review. Furthermore, this particular issue arises under specific circumstances, particularly when the heatsink is absent from the NVMe drive. It's worth noting that the absence of a heatsink isn't the standard scenario, as most motherboards come equipped with heatsink ready – so chill out kay?
---
What's Good
5 Years Warranty
High TBW Rating
Comes with Heatsink option for PS5 owners
Consistent controller performance across the board
What's Average
Pricing.
Runs rather hot without a heatsink, may not be suitable for laptops without heatsink modules.
---
Final Verdict
The Kingston FURY Renegade PCIe 4.0 NVMe drive is often misinterpreted as a product exclusive to gaming and hardware enthusiasts. However, this assumption couldn't be further from the truth. This NVMe drive excels in delivering reliability and performance, regardless of usage. It stands as a strong contender for PC owners who prioritize the steadfastness and potency of their primary storage drive.
The sequential read speeds of up to 7300 MB/s, regardless of the capacity variant, highlights its capability in swiftly accessing data. Equally impressive is its sequential write performance, reaching up to 7000 MB/s for the higher capacity models. The FURY Renegade's consistent controller performance, irrespective of capacity, ensures that users experience remarkable speeds regardless of their storage needs.
During testing, the FURY Renegade showcased its capabilities across various benchmarks. It secured an impressive score of 3844 in the 3DMark Storage Benchmark, excelling in gaming activities. The CrystalDiskMark 8.0 testing yielded results that surpassed official figures with the 1TB model, even outperforming expectations.
Endurance and reliability are strong suits as well, with the drive offering an enhanced write endurance of up to 1PBW on the 1TB variant. This extended lifespan, coupled with Kingston's 5-year limited warranty, is a good enough guarantee in the drive's long-term performance.
This drive's resilience is evident even when considering temperature management. Although our testing revealed a performance dip at higher temperatures, it's crucial to remember that these observations were made under specific conditions, without the presence of a heatsink. Most motherboards come equipped with heatsink modules, mitigating this concern effectively.
Overall, the Kingston FURY Renegade NVMe drive redefines high-performance storage, catering not only to gaming and hardware enthusiasts but also to anyone who seeks reliability, speed, and longevity in their primary storage solution. It's a testament to Kingston's commitment to delivering top-notch products that meet the demands of modern computing.
Final Score : 8.5/10
---
Offical Page : https://www.kingston.com/en/ssd/gaming/kingston-fury-renegade-nvme-m2-ssd
Official Lazada Store : https://www.lazada.com.my/shop/kingston/
Official Shopee Store : https://shopee.com.my/product/114059518/8896547318/