Introducing the ASUS Dual GeForce RTX™ 4060 OC Edition, a highly anticipated GPU that has been eagerly awaited by the gaming community. As a successor to the RTX 3060, which is nearing the end of its lifecycle, the RTX 4060 is expected to be a significant upgrade in performance and features.
Positioned within the affordable range of the RTX 40 series family, this GPU specifically caters to gamers who tend to skip one or more architectural generations, allowing them to experience substantial improvements in performance without compromising on the latest advancements.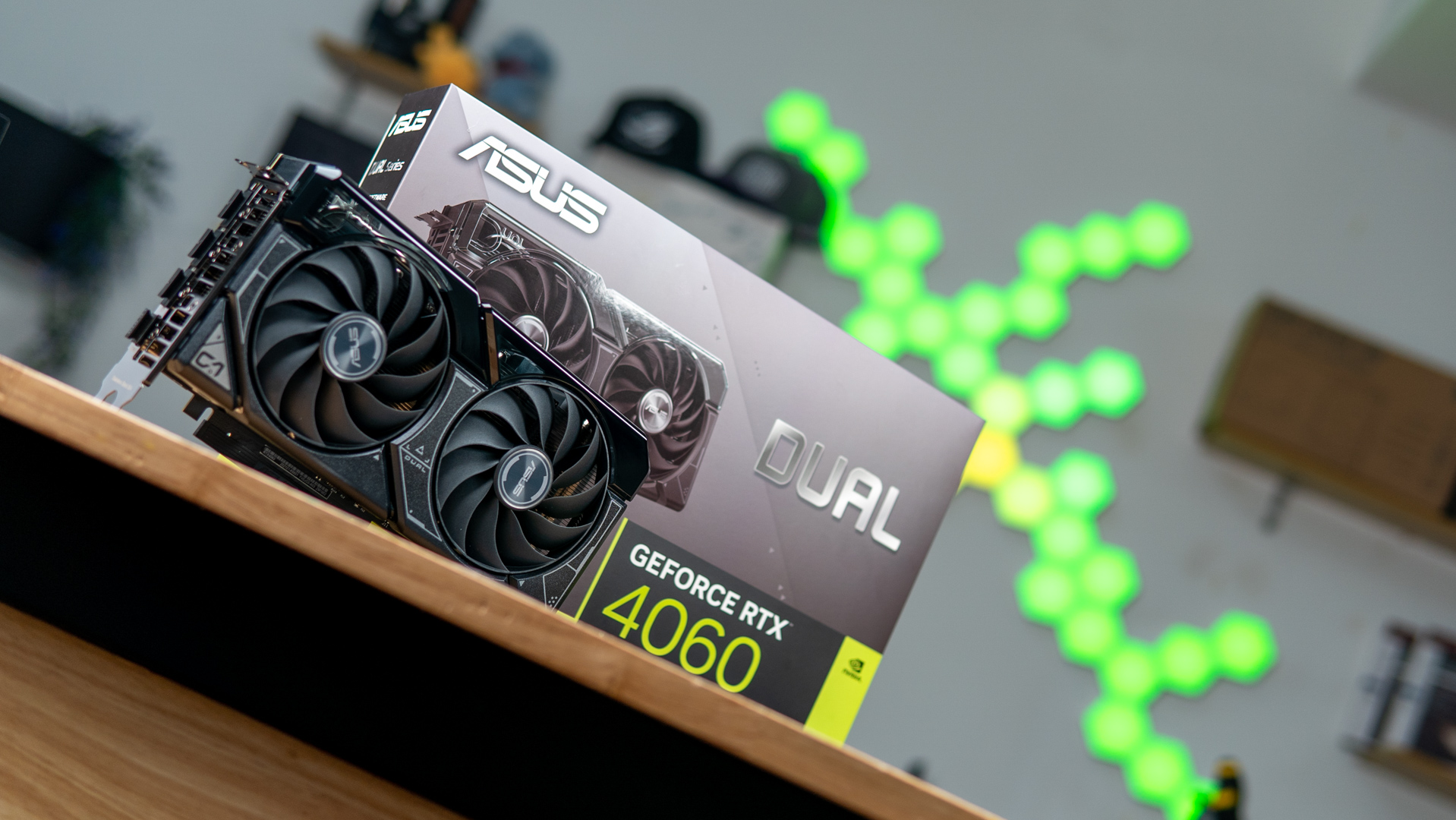 In the realm of gaming, I expect the ASUS Dual GeForce RTX™ 4060 OC Edition to hold great appeal. According to a recent Steam Hardware and Software Survey conducted in May 2023, the most popular GPUs among gamers are the GTX 1650, GTX 1060, RTX 3060, RTX 2060, and GTX 1050 Ti. Additionally, a significant majority, around 77% of gamers, still play at 1080p resolution or lower, which indirectly makes the RTX 4060 an ideal choice for these users, providing an improved gaming experience within affordable.
This GPU introduces NVIDIA's Ada Lovelace GPU Architecture, featuring 3rd Generation RT and 4th Generation Tensor Cores that surpass the capabilities of its predecessors. With enhanced features such as Shader Execution Reordering (SER) and NVIDIA DLSS 3 technology, the RTX 4060 delivers superior performance while consuming less power than the RTX 3060. Notably, the Ada architecture incorporates a redesigned Streaming Multiprocessor (SM), enabling significantly higher clock speeds and an expanded L2 cache capacity of 24MB compared to the previous 3MB L2 cache on the RTX 3060. This boost in cache size enhances performance, reduces latency, and improves power efficiency, resulting in a truly immersive gaming experience.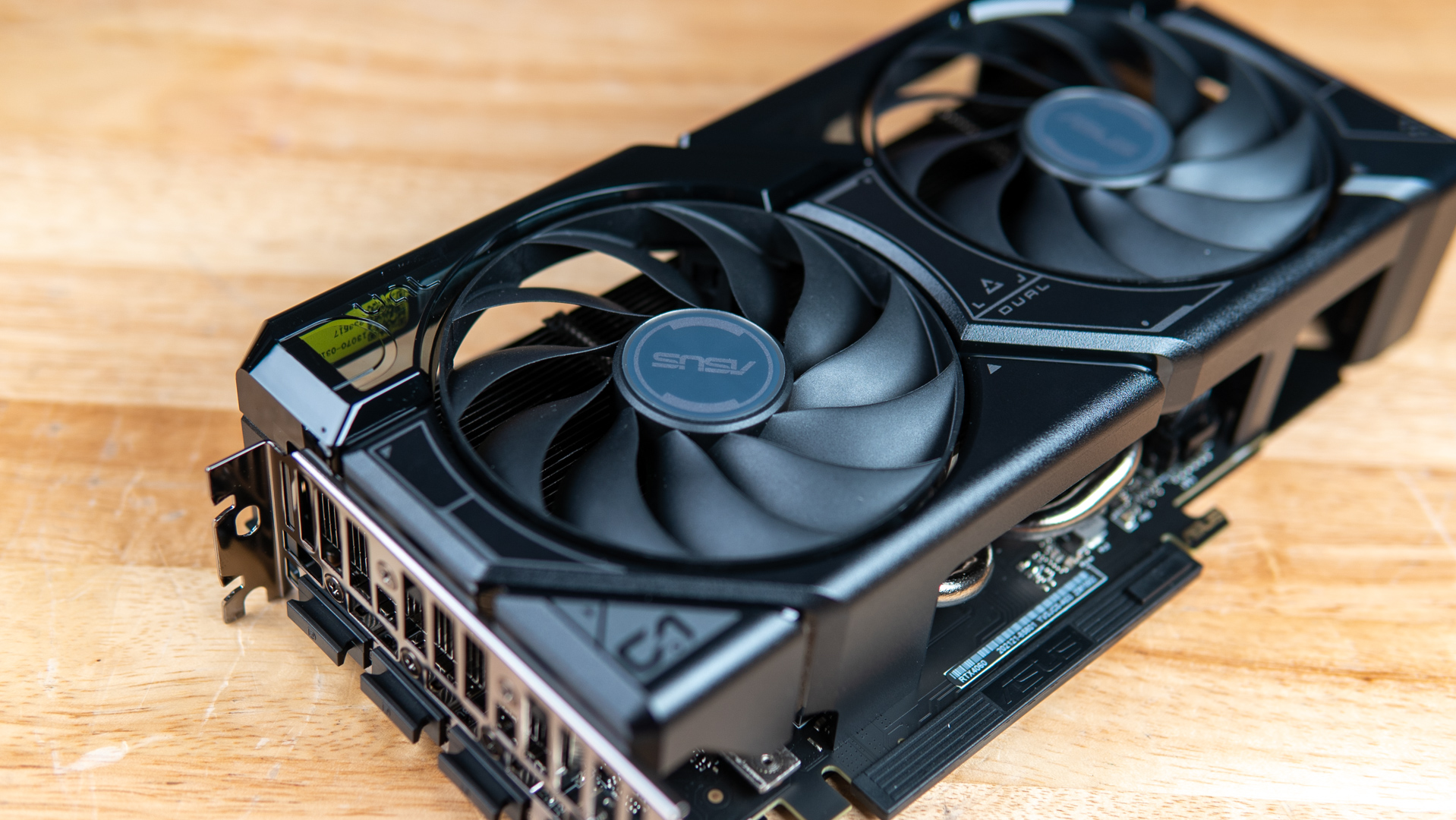 Furthermore, the ASUS Dual GeForce RTX™ 4060 OC Edition supports AV1 encoding, making it a valuable asset for streamers. With the expansive choice of games and applications already supporting RTX features, including more than 50 announced titles with DLSS 3, the adoption rate of DLSS 3 technology has been exceptional, surpassing that of its predecessor by 7 times. Prominent titles such as Diablo IV, The Finals, and The Lord of the Rings: Gollum showcase the prowess of DLSS 3, utilizing AI-powered graphics to generate additional high-quality frames and deliver unprecedented performance.
Specification and Features
Model Name
DUAL-RTX4060-O8G
Graphics Engine
NVIDIA® GeForce RTX™ 4060
Price
RM 1539
CUDA cores
3072
Tensor Cores
96
RT Cores
24
OpenGL®
OpenGL® 4.6
Engine Clock
OC mode: 2535 MHz (Boost Clock)
Default mode: 2505 MHz (Boost Clock)
Memory Interface
128 bit
Video Memory
8GB GDDR6
Memory Speed
17 Gbps
Power Connectors
1 x 8-pin
I/O
1 x Native HDMI 2.1a
3 x Native DisplayPort 1.4a
HDCP Compliant
HDCP 2.3
Digital Max. Resolution
7680 x 4320
Maximum Display Support
4
NVLink/ Crossfire Support
NA
Recommended PSU
550W
Bus Standard
PCIE 4.0
Package Contents
1 x Collection Card
1 x Speedsetup Manual
Bundled Software
ASUS GPU Tweak III & GeForce Game Ready Driver & Studio Driver: please download all software from the support site.
Dimensions
227.2 x 123.24 x 49.6 mm
8.94 x 4.85 x 1.95 inches
Packaging (mm)
368 x 220.5 x 68 mm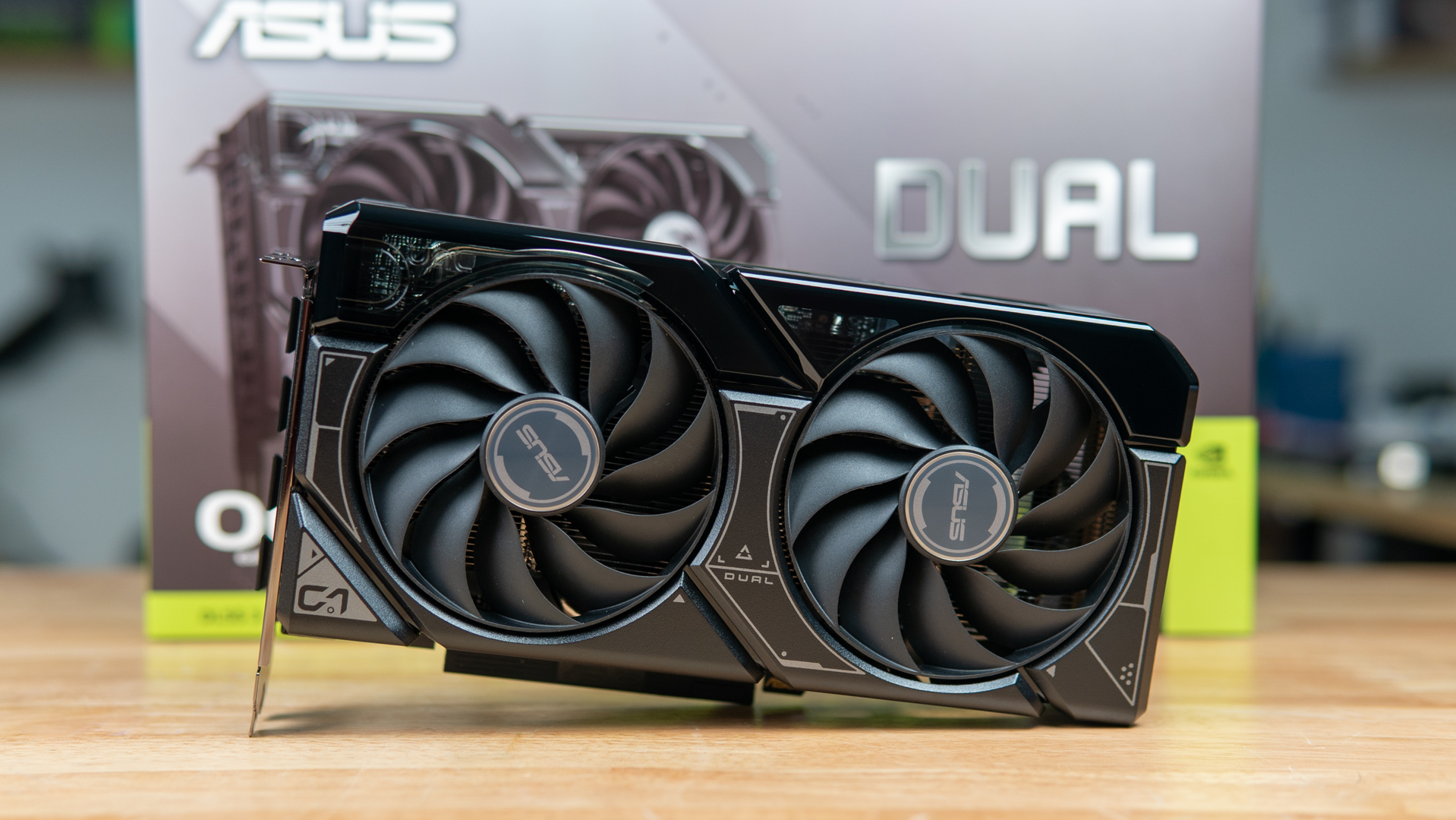 The ASUS Dual GeForce RTX™ 4060 OC Edition is manufactured to be a highly efficient and reliable GPU that focuses on the needs of modern gamers. With the RTX™ 4060's power consumption of just 110W, it offers substantial power savings over its less efficient predecessors, which ran at 170W. This not only translates to cost savings over time but also prerequisite for a lower heat generation.
One of the standout features of the RTX 4060 is its Ada memory subsystem. This innovative design incorporates a generous 24MB of L2 cache, setting it apart from previous architectural memory subsystems. The larger L2 cache reduces memory bus traffic, resulting in improved performance and power efficiency, especially for 1080p gaming. By minimizing the need to access external VRAM, the RTX 4060 ensures that data can be accessed quickly and efficiently, keeping up with the demanding requirements of modern games.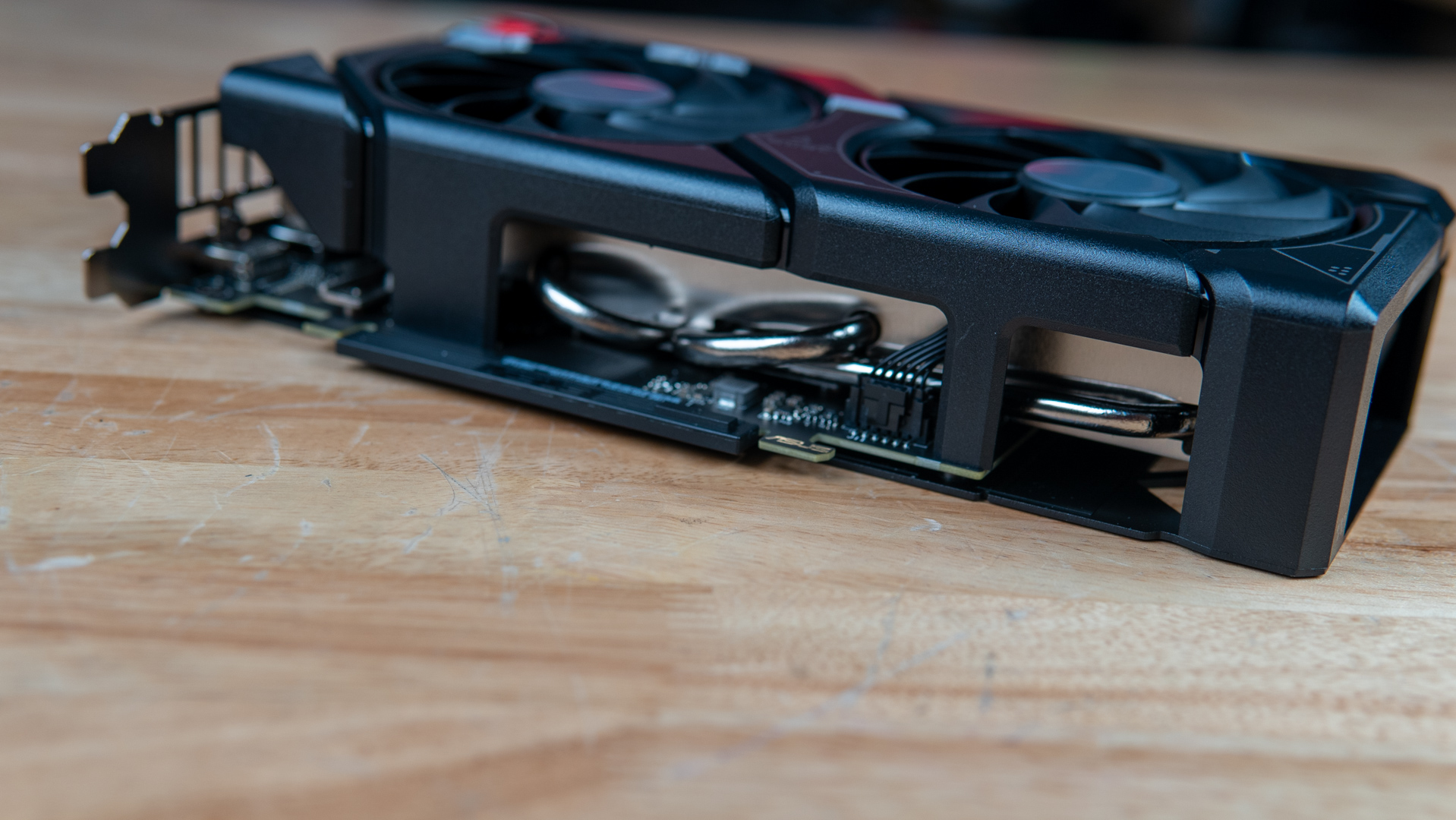 The ASUS Dual GeForce RTX™ 4060 OC Edition also boasts several notable features specific to the ASUS brand. To further improve on the already optimal cooling performance, ASUS has equipped this GPU with its signature Axial-tech fans which are commonly found in their higher end GPUs. The inclusion of two Axial-tech fans maximizes airflow to the heatsink, ensuring efficient heat dissipation. These fans feature dual ball bearings for enhanced durability, offering up to twice the lifespan of sleeve bearing designs. ASUS has also incorporated 0db Technology into the GPU, which halts fan operation when the GPU temperature falls below 50 degrees and power consumption is low, resulting in a silent gaming experience during less demanding tasks.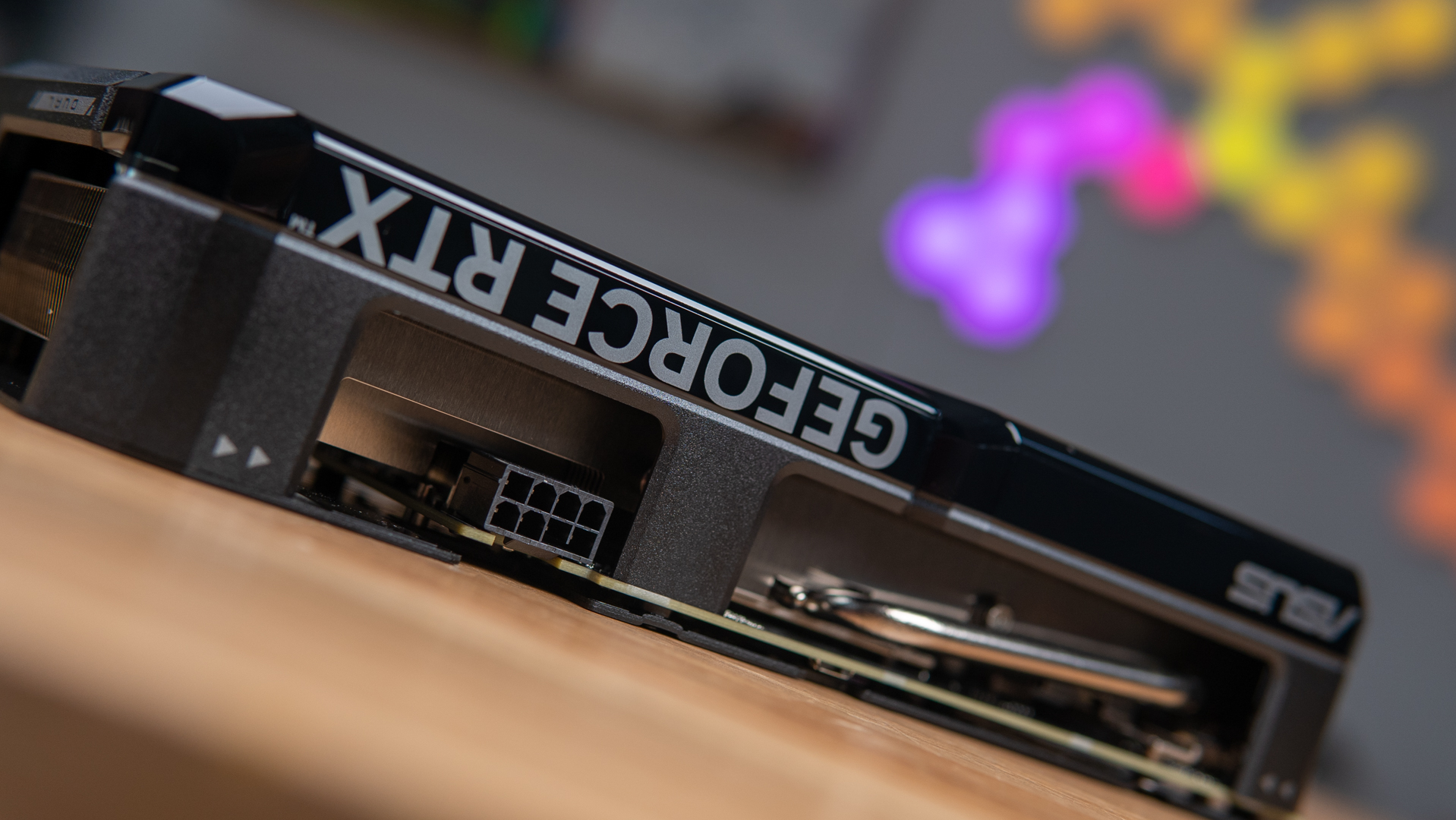 Owners of the ASUS Dual GeForce RTX™ 4060 OC Edition also benefits from the availability of dual BIOS, allowing users to choose between performance mode and quiet mode. Performance mode keeps the fans running at higher speeds to maintain optimal cooling, while quiet mode provides a less aggressive fan curve for quieter operation at medium temperatures. This level of customization and control can be further enhanced through the use of ASUS's GPU Tweak III software, providing gamers with the flexibility to tailor their GPU settings to their specific needs.
As a top tier brand, ASUS has further enhanced the GPU with a protective backplate, reinforcing the PCB and providing structural rigidity. This backplate not only helps prevent flex but also offers protection to critical components and trace pathways, safeguarding them against damage during installation or transportation.
Design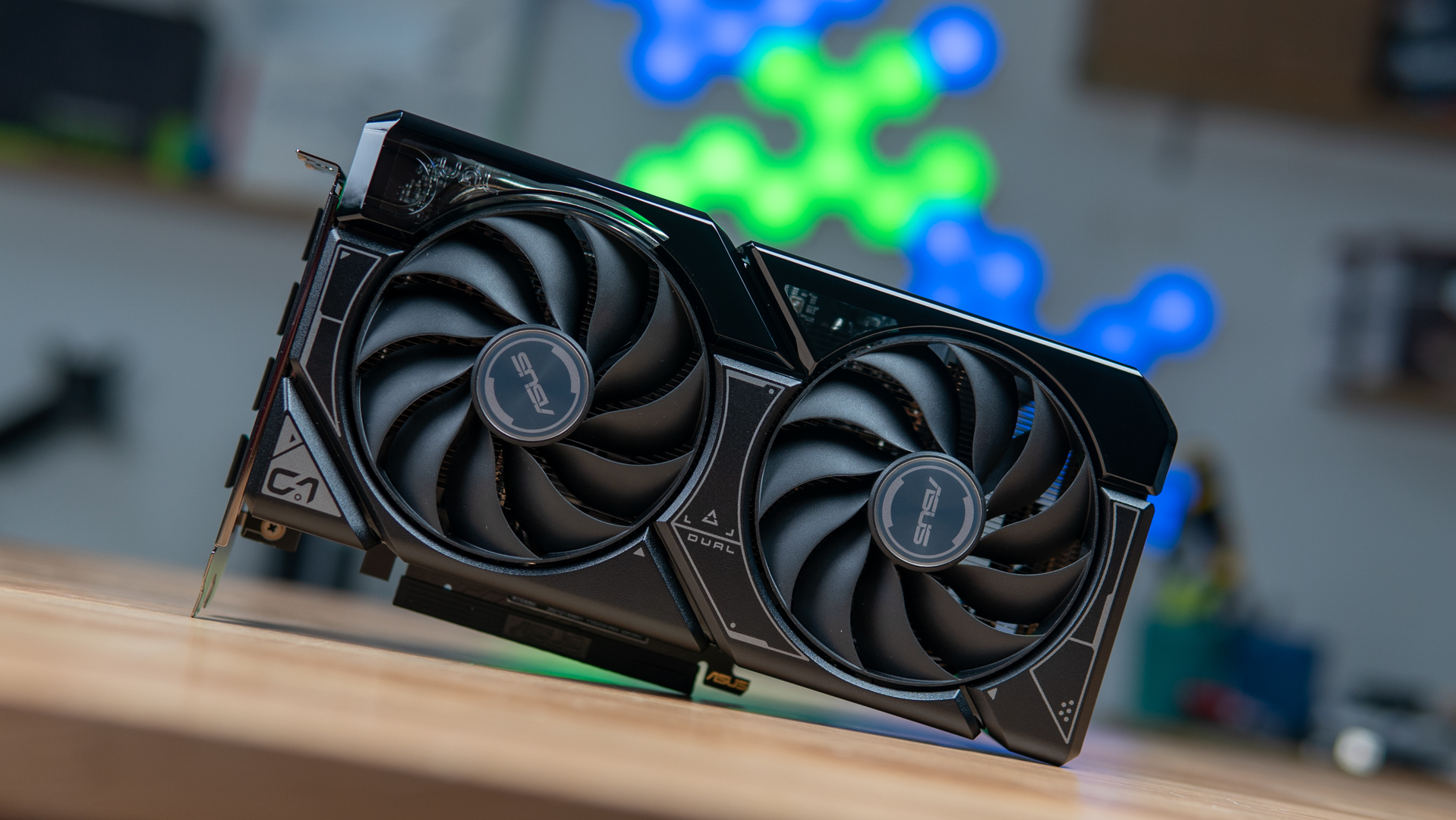 The design of the ASUS Dual GeForce RTX™ 4060 OC Edition is both sleek and visually striking, making it a standout addition to any gaming rig. While I wasn't able to personally tear down the GPU for an in-depth look inside, the exterior design closely resembles its Ti sibling, the ASUS Dual GeForce RTX™ 4060 Ti.
The GPU features a semi-transparent shroud that not only adds a touch of elegance but also allows glimpses of the internal components, giving it a unique aesthetic appeal. Positioned on the left corner of the shroud is a debossed "DUAL" logo, adding a subtle yet stylish element to the overall design. Additionally, the shroud is adorned with various interesting details, further enhancing its visual appeal.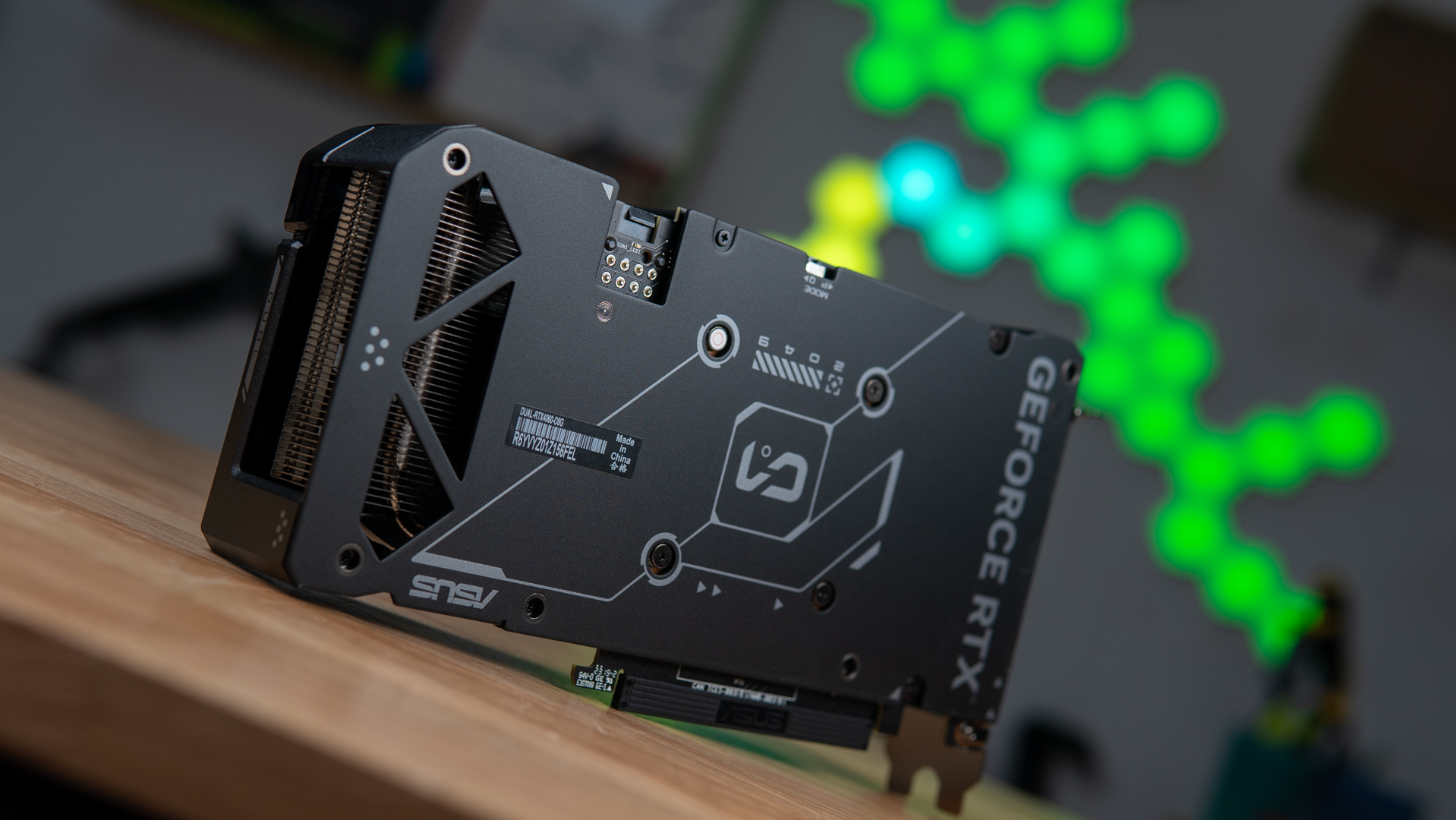 On the back of the GPU, we find a black protective backplate with geometric patterns that surround a logo commonly seen on all the RTX 40 Dual cards by ASUS. This backplate not only adds structural rigidity but also provides protection to critical components and trace pathways, ensuring durability and longevity.
One notable feature that can be observed from the backplate is the presence of a dual BIOS switch. This switch allows users to toggle between two different modes: Performance mode and Quiet mode. The backplate clearly marks "P" and "Q" to indicate the respective modes, providing users with the flexibility to choose between maximum performance or quieter operation based on their preferences.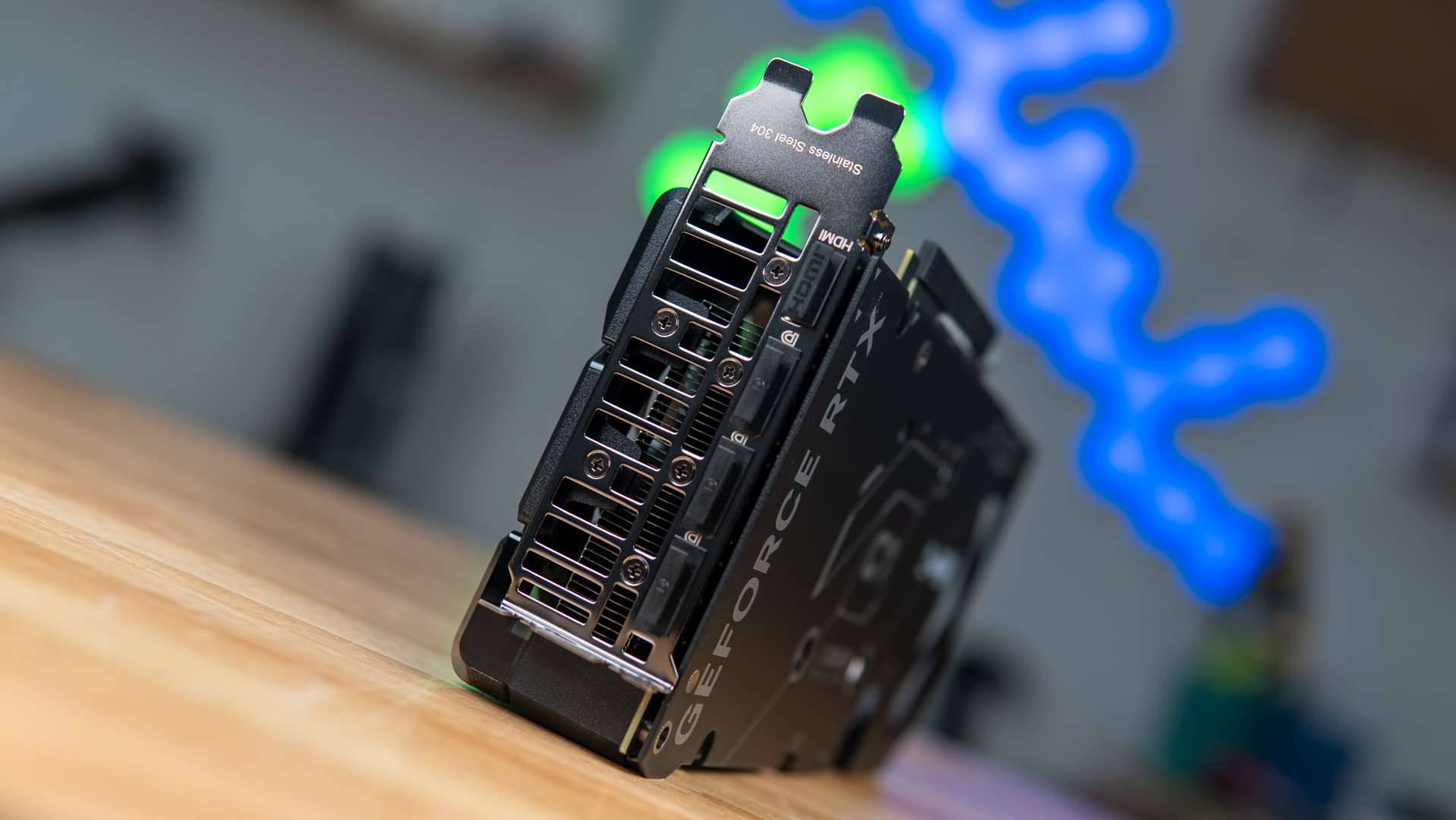 In terms of dimensions, the ASUS Dual GeForce RTX™ 4060 OC Edition measures 227.2mm in width, 123.24mm in height, 49.6mm in thickness and it occupies PCIe 2.5 slots.
The stainless steel mounting bracket on the GPU features the usual selection of ports for display connectivity. It includes 1 x native HDMI 2.1a and 3 x native DisplayPort 1.4a, offering connectivity of up to 4 concurrent displays.
Gaming Performance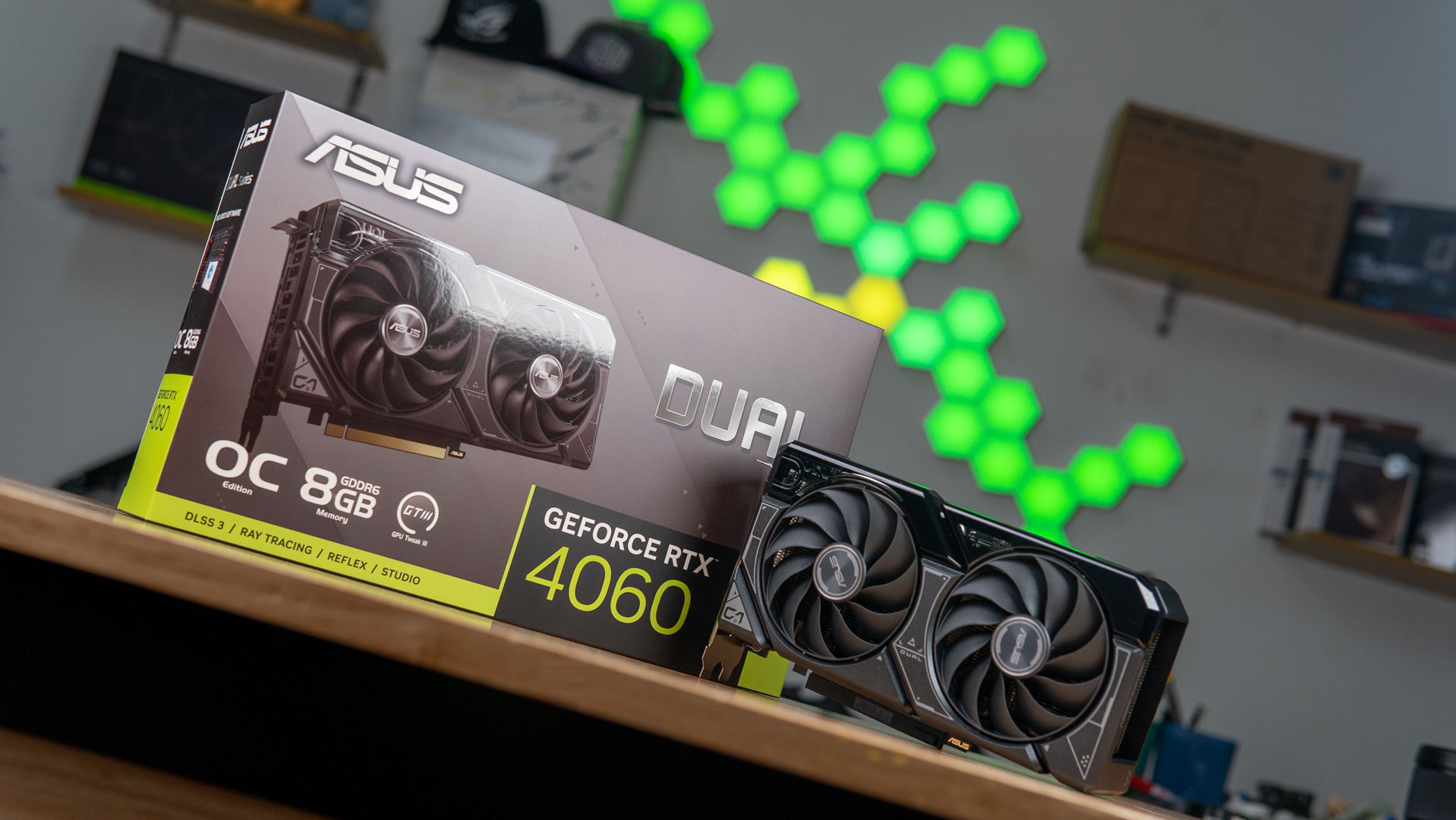 Having extensively tested and experienced the gaming performance of the ASUS Dual GeForce RTX™ 4060 OC Edition, I can confidently say that it delivers an impressive gaming experience across a wide range of popular titles. With its powerful hardware and advanced features, this GPU truly shines in demanding games and graphics-intensive tasks.
Benchmark Hardware Setup
| | |
| --- | --- |
| CPU | Intel 13th Gen 13700 |
| CPU | ASUS Dual GeForce RTX™ 4060 OC Edition, GeForce RTX™ 3060 |
| RAM | G.Skill Trident Z 16GB DDR4 3200 |
| Motherboard | ASUS ROG STRIX B760-G |
| Storage | 2TB Kingston FURY Renegade PCIe 4.0 NVMe M.2 SSD |
| PSU | Phanteks Revolt SFX 850W Gold |
| Engine Clock | OC mode: 2535 MHz (Boost Clock) Default mode: 2505 MHz (Boost Clock) |
In my testing, I pushed the ASUS Dual GeForce RTX™ 4060 OC Edition to its limits in various games, including Assassin's Creed Valhalla, Metro Exodus, Forza Horizon 5, Cyberpunk 2077, Spider-Man Miles Morales, and The Witcher 3: Wild Hunt. With max settings and high resolutions, the RTX 4060 consistently delivered smooth gameplay and stunning visuals.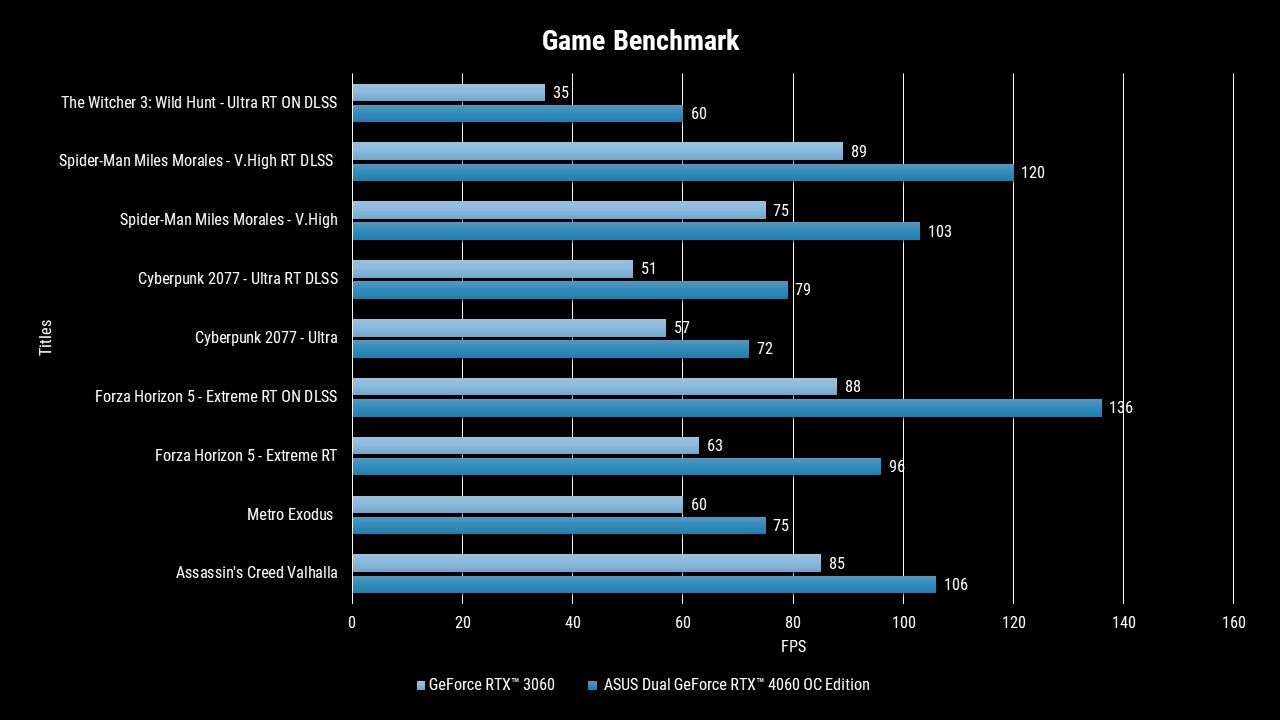 For example, in Assassin's Creed Valhalla, I experienced an average frame rate of 106 frames per second (fps) with the RTX 4060, while the previous generation RTX 3060 managed an average of 85 fps under the same conditions. This demonstrates a significant performance advantage of the RTX 4060, allowing for a more immersive and fluid gaming experience.
In Metro Exodus, the RTX 4060 achieved an average frame rate of 75 fps, surpassing the RTX 3060's average of 60 fps. This performance boost ensures a smoother gameplay experience, particularly in graphically demanding scenarios.
When it comes to ray tracing and DLSS (Deep Learning Super Sampling), the RTX 4060 showcased its enhanced capabilities. In games like Forza Horizon 5, enabling ray tracing and DLSS on the RTX 4060 resulted in higher average frame rates compared to the RTX 3060. With extreme settings and RTX on, the RTX 4060 achieved an average of 136 fps, while the RTX 3060 reached 88 fps. This improvement demonstrates the RTX 4060's ability to handle ray-traced effects and leverage DLSS technology to deliver exceptional image quality and performance simultaneously.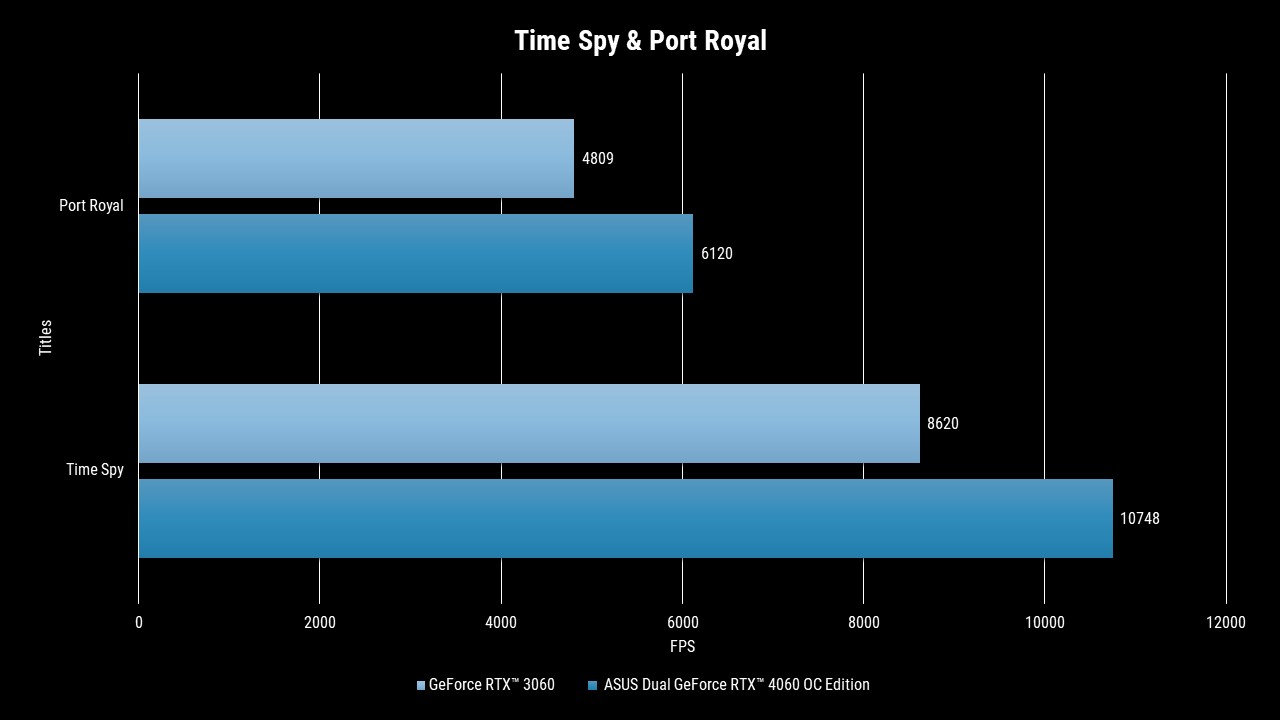 Additionally, the RTX 4060 demonstrated superior performance in synthetic benchmarks, as evidenced by the 3DMark results. In TimeSpy, the RTX 4060 achieved a score of 10748, outperforming the RTX 3060's score of 8620. Similarly, in Port Royale, the RTX 4060 scored 6120, surpassing the RTX 3060's score of 4809. These benchmark results further validate the RTX 4060's performance advantage over its predecessor.
The ASUS Dual GeForce RTX™ 4060 OC Edition introduces several notable features and improvements that enhance the gaming experience. With its 3072 CUDA cores, 96 4th Generation Tensor Cores, and 24 3rd Generation RT Cores (Ray Tracing Cores), the RTX 4060 delivers improved ray tracing capabilities and accelerated AI processing. This allows for more realistic lighting and reflections, as well as improved performance in AI-powered features like DLSS on 1080p gaming. In comparison to the RTX 3060, the RTX 4060 offers significant performance gains across various games and tasks.
---
What I Liked
The massive improvement over its predecessor.
The dual fan setup makes it a versatile form factor for most cases.
The all new DLSS 3 really makes a huge difference.
What I wished was different
It would've been better if the DUAL stands out from the rest of ASUS' GPU range. At this point right now, each and every other GPU by ASUS looks more or less the same, always littered with geometric details on the card but nothing minimalistic. It's about time to move on – maybe?
12GB VRAM would have been a better offering, but this is entirely up to NVidia.
---
Verdict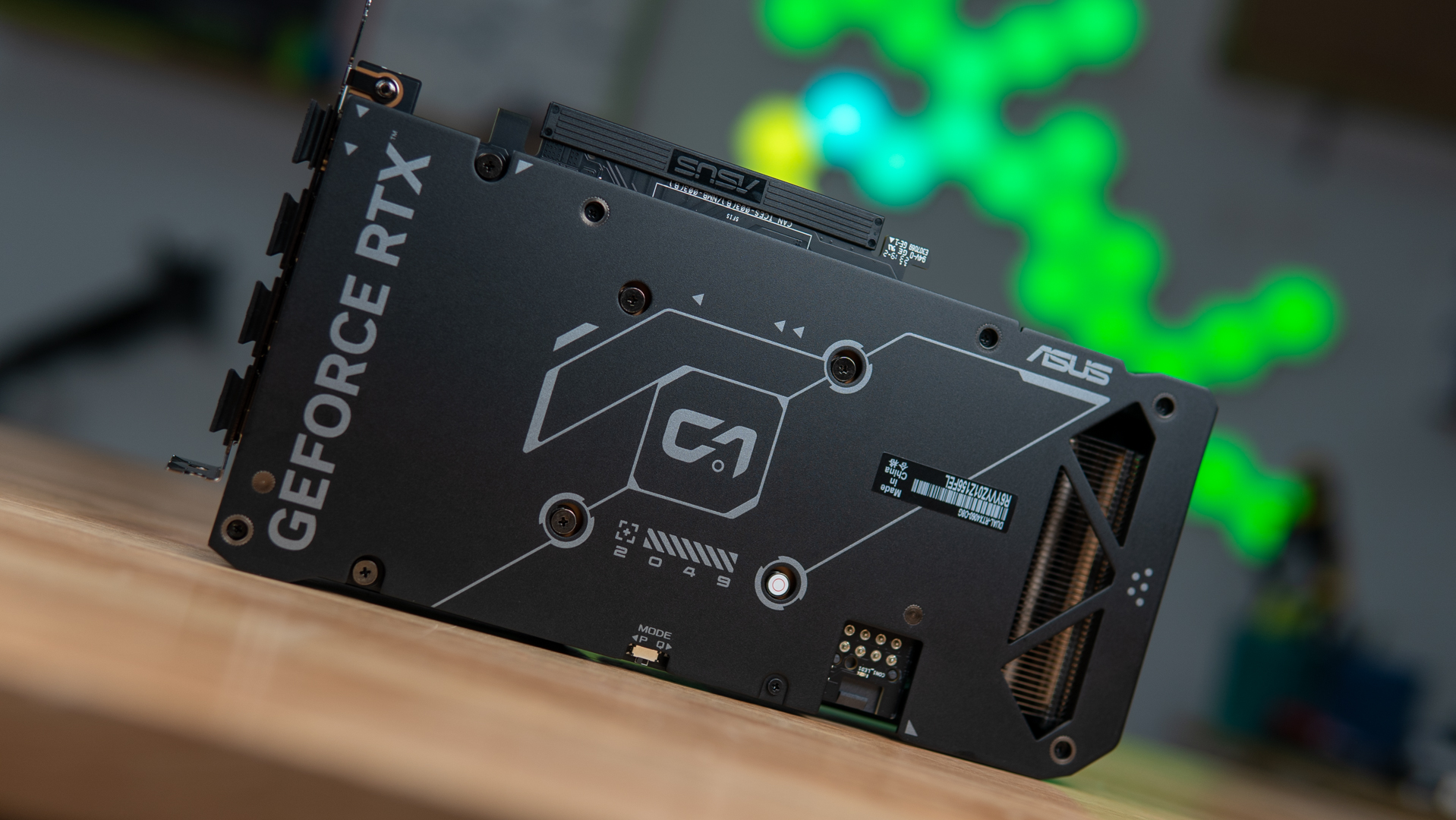 In conclusion, the ASUS Dual GeForce RTX™ 4060 OC Edition impresses on multiple fronts, making it an excellent choice for gamers looking to elevate their gaming experience. From a personal perspective, there are several standout features that contribute to its appeal.
First and foremost, the simple design of the GPU is commendable. While some may desire RGB lighting, the absence of it in the ASUS Dual GeForce RTX™ 4060 OC Edition is actually a positive aspect. By forgoing RGB, manufacturing cost and retail price are reducde while maintaining a clean aesthetic. This decision ensures that the focus remains on the GPU's performance and functionality, rather than unnecessary embellishments.
Regarding performance, the significant increase in performance compared to its predecessor, the RTX 3060, is a major selling point. The ASUS Dual GeForce RTX™ 4060 OC Edition delivers remarkable gaming performance, particularly in 1080p gaming scenarios. With its 3072 CUDA cores, 96 4th Generation Tensor Cores, and 24 3rd Generation RT Cores, the GPU handles demanding games and graphics-intensive tasks with ease. This performance boost makes the ASUS Dual GeForce RTX™ 4060 OC Edition a worthy upgrade for those seeking enhanced gaming experiences.
However, it's important to note that the 8GB of VRAM in the GeForce RTX™ 4060 series may be a point of concern for some users, particularly those who engage in heavily demanding tasks or utilize high-resolution textures. While 8GB of VRAM is generally sufficient for most gaming scenarios at 1080p, it may prove to be limiting under exceptionally demanding workloads or when gaming at higher resolutions. Therefore, users who plan on pushing the limits of their gaming experiences or engaging in content creation with resource-intensive applications should carefully consider their VRAM requirements before making a final decision.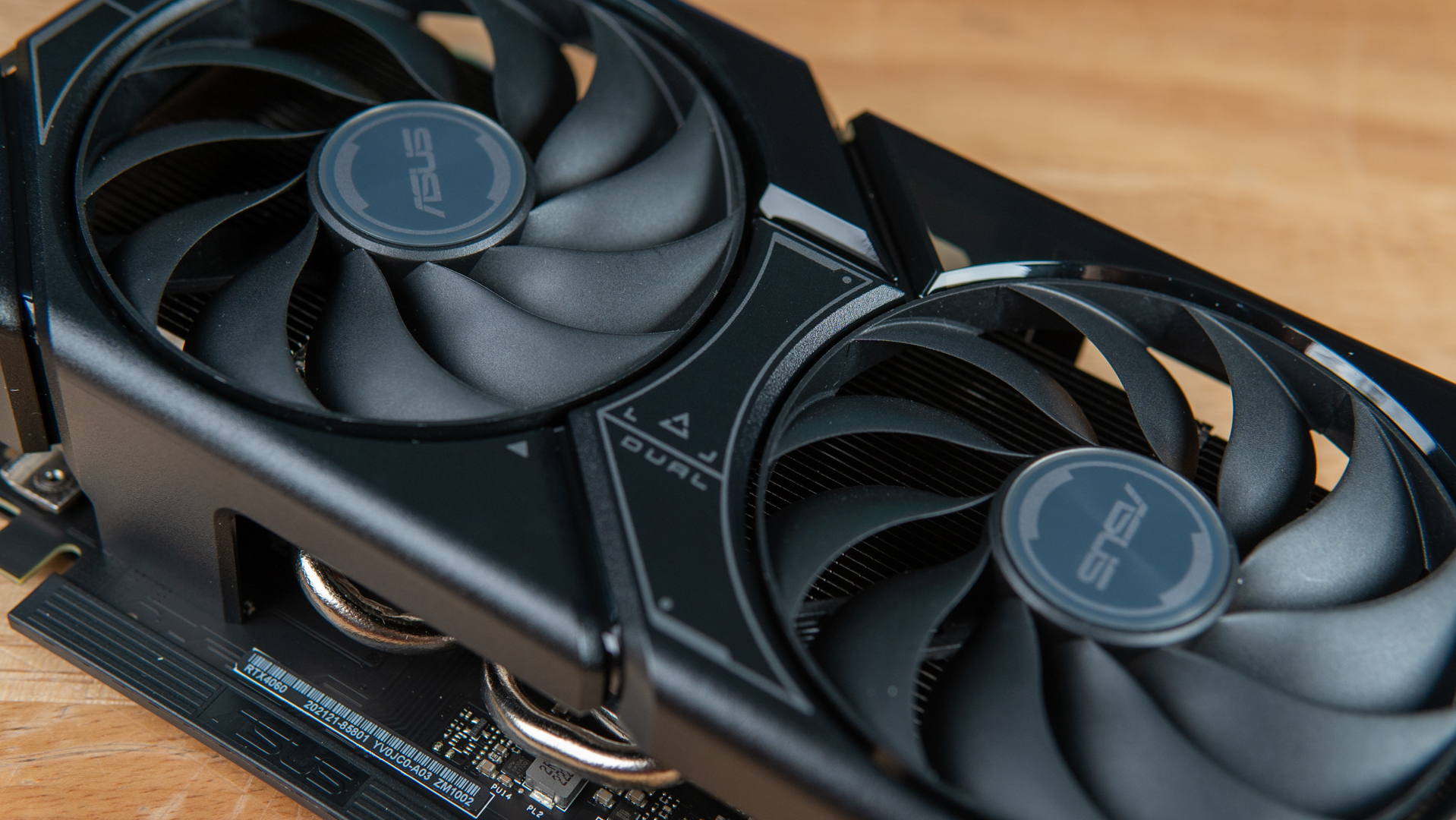 Considering the price point of RM1539, the ASUS Dual GeForce RTX™ 4060 OC Edition offers exceptional value for its performance. Priced fairly, this GPU provides a significant performance upgrade over its predecessor without breaking the bank. Gamers on a budget or those looking for a brand new and cost-effective upgrade will find the RTX 4060 to be an enticing option.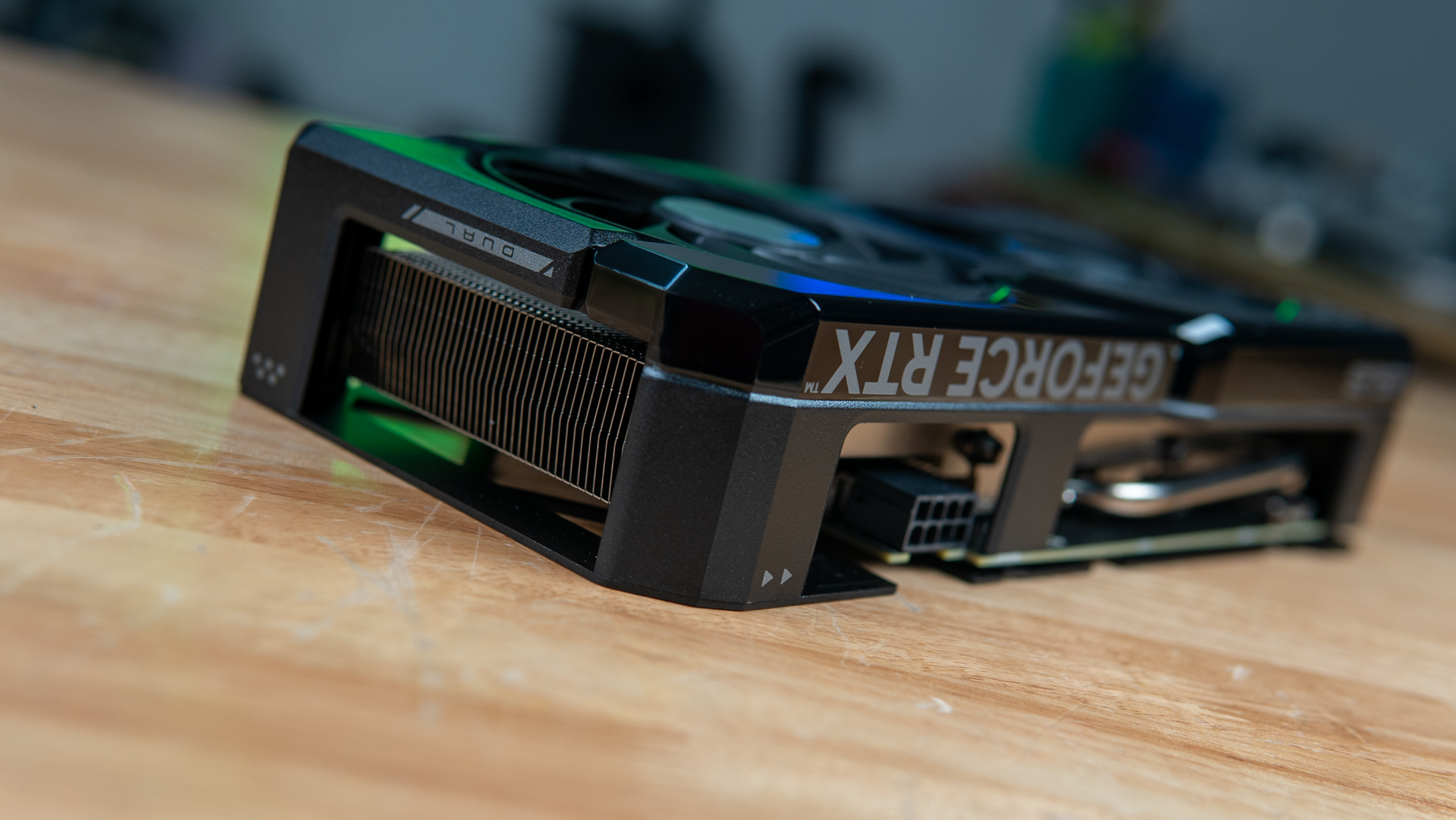 In summary, the ASUS Dual GeForce RTX™ 4060 OC Edition stands out as an impressive GPU with its clean design, notable performance increase, and reasonable price tag. The absence of RGB lighting adds to its appeal by keeping costs down, while the improved gaming performance makes it a worthwhile upgrade, especially for 1080p gaming enthusiasts. Priced at RM1539, this GPU offers an excellent balance of performance and affordability, making it a highly recommended choice for gamers seeking a powerful and cost-effective graphics solution.
Final Score : 8/10
---