The ASUS ROG Strix G17 (2023) G713P gaming laptop is available in two models in Malaysia. One comes with an RTX 4060 8GB that would set you back by RM 7,999 to own one, the other one comes with an RTX 4070 8GB that would cost you RM 9,999. For this review, we'll talk about the latter. But first, let's take a look at the spec sheet to get an impression of why this laptop costs so (damn) much!
Dimension

39.5cm x 28.2cm x 2.34-3.08~cm
2.8kg

Display

17.3 inches
WQHD (2560 x 1440) 16:9
IPS-level
Anti-glare display
DCI-P3: 100%
Refresh Rate: 240Hz
Response Time: 3ms
G-Sync
MUX Switch + NVIDIA® Advanced Optimus
Support Dolby Vision HDR: Yes

OS

Windows 11 Home

Processor

AMD Ryzen™ 9 7945HX Mobile Processor (16-core/32-thread, 64MB L3 cache, up to 5.4 GHz max boost)

GPU

NVIDIA® GeForce RTX™ 4070 Laptop GPU
ROG Boost: 2225MHz* at 140W (2175MHz Boost Clock+50MHz OC, 115W+25W Dynamic Boost)
8GB GDDR6

Storage

1TB PCIe® 4.0 NVMe™ M.2 SSD

Memory

16GB DDR5-4800 SO-DIMM x 2
Max Capacity: 32GB

Keyboard & Touchpad

Full-sized Backlit Chiclet Keyboard Per-Key RGB
Touchpad

Camera

720p HD

Audio

Smart Amp Technology
Dolby Atmos
AI noise-canceling technology
Hi-Res certification
Built-in array microphone
2-speaker system with Smart Amplifier Technology

Device Lighting

Light Bar – Aura Sync

I/O Ports

1x 3.5mm Combo Audio Jack
1x HDMI 2.1 FRL
2x USB 3.2 Gen 1 Type-A
1x USB 3.2 Gen 2 Type-C support DisplayPort™ / power delivery / G-SYNC
1x USB 3.2 Gen 2 Type-C support DisplayPort™ / G-SYNC
1x RJ45 LAN port

Network

Wi-Fi 6E(802.11ax) (Triple band) 2*2 + Bluetooth 5.2

Comes With

ROG Impact Gaming Mouse
ROG Backpack

Protection

2 – Years Manufacturer Warranty

Price

RM 9,999.00
This is a pricey laptop, no doubt. But the hardware it comes packed with speaks volumes about its price tag. The ROG Strix G17 is meant for gamers who count themselves among the hardcore tier. Anyone who can settle for less should definitely look elsewhere because this is for the uncompromising crowd.
Design and Build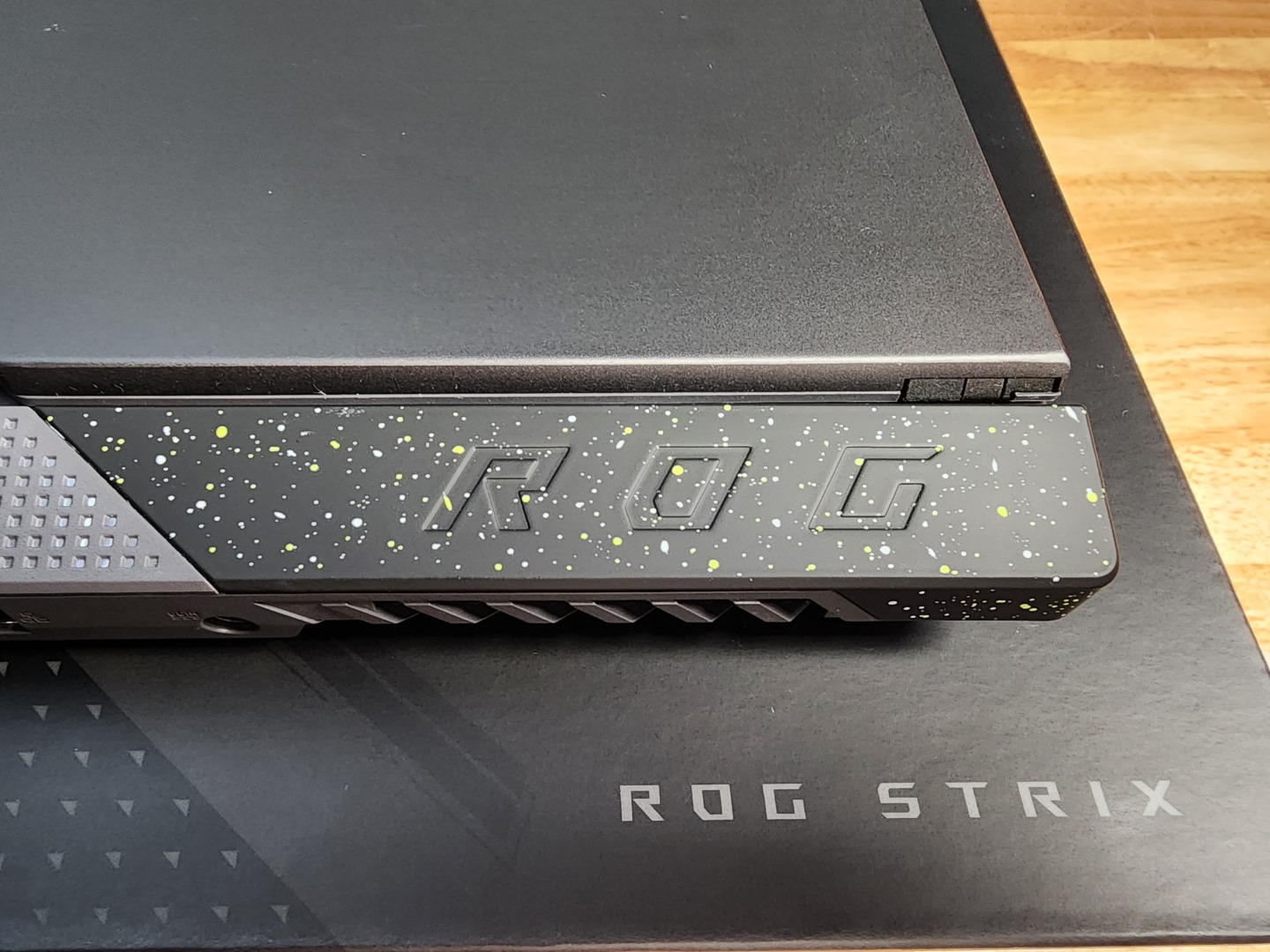 First thing first, there's little to complain about when it comes to the cosmetic attraction of the laptop. I usually dislike some elements in the design whenever I see a new laptop but this one was surprisingly familiar. ASUS have retained most of the original design from the ROG Strix G17 G713 series. Coming in Eclipse Gray colour, the exterior of the laptop is sleek and minimalistic, giving the laptop a premium look and feel. Upon opening the laptop, users will be greeted with a modern sci-fi design that reminds one of a spaceship. The full-sized backlit keyboard adds to the laptop's aesthetic appeal, making it a handsome-looking laptop that's befitting a gamer's taste.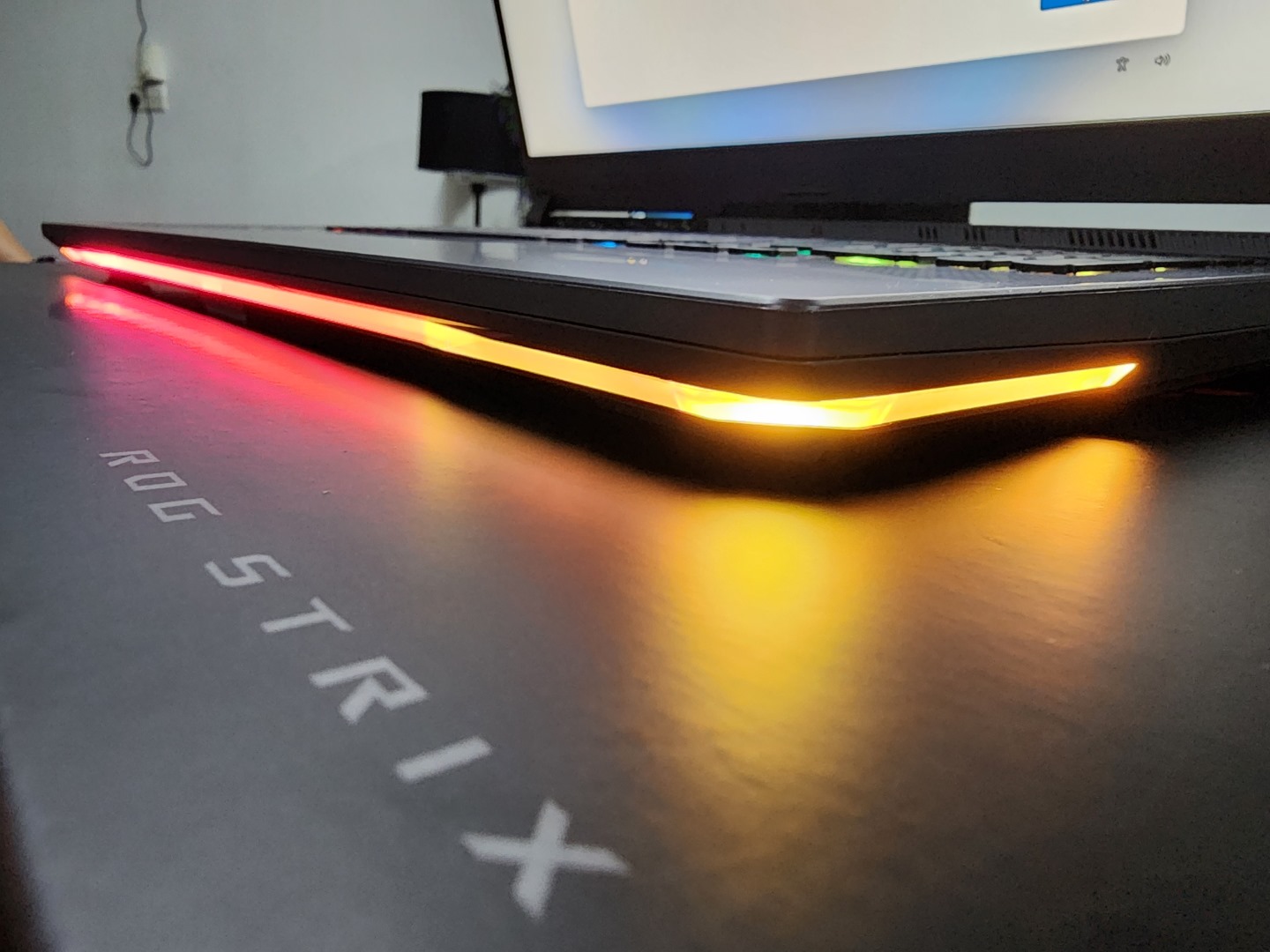 The unique feature of the ROG Strix G17 series (and the ROG Scar Strix) is the lightbar under the laptop that provides a premium feel. This adds to the overall aesthetic of the laptop, giving it a stylish and modern look. However, some grill portions on the chassis may require some dust maintenance to ensure they remain unclogged by dust and bits.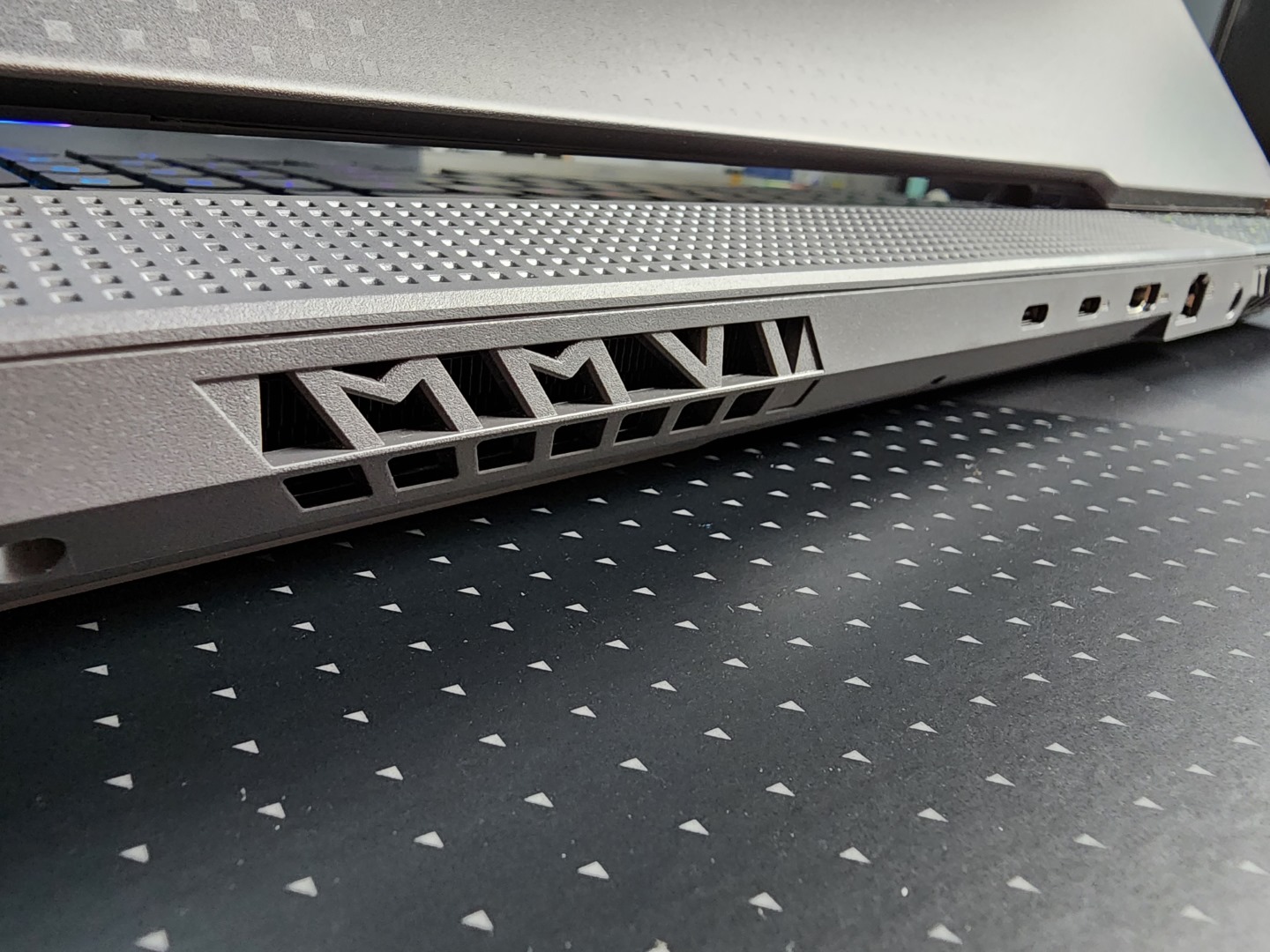 Weighing 2.5kg, this is not a light laptop, but this is not unexpected for a 17″ laptop with a full-size keyboard. The construct as a whole looks sturdy and has the confidence of a premium gaming laptop that carries this price tag.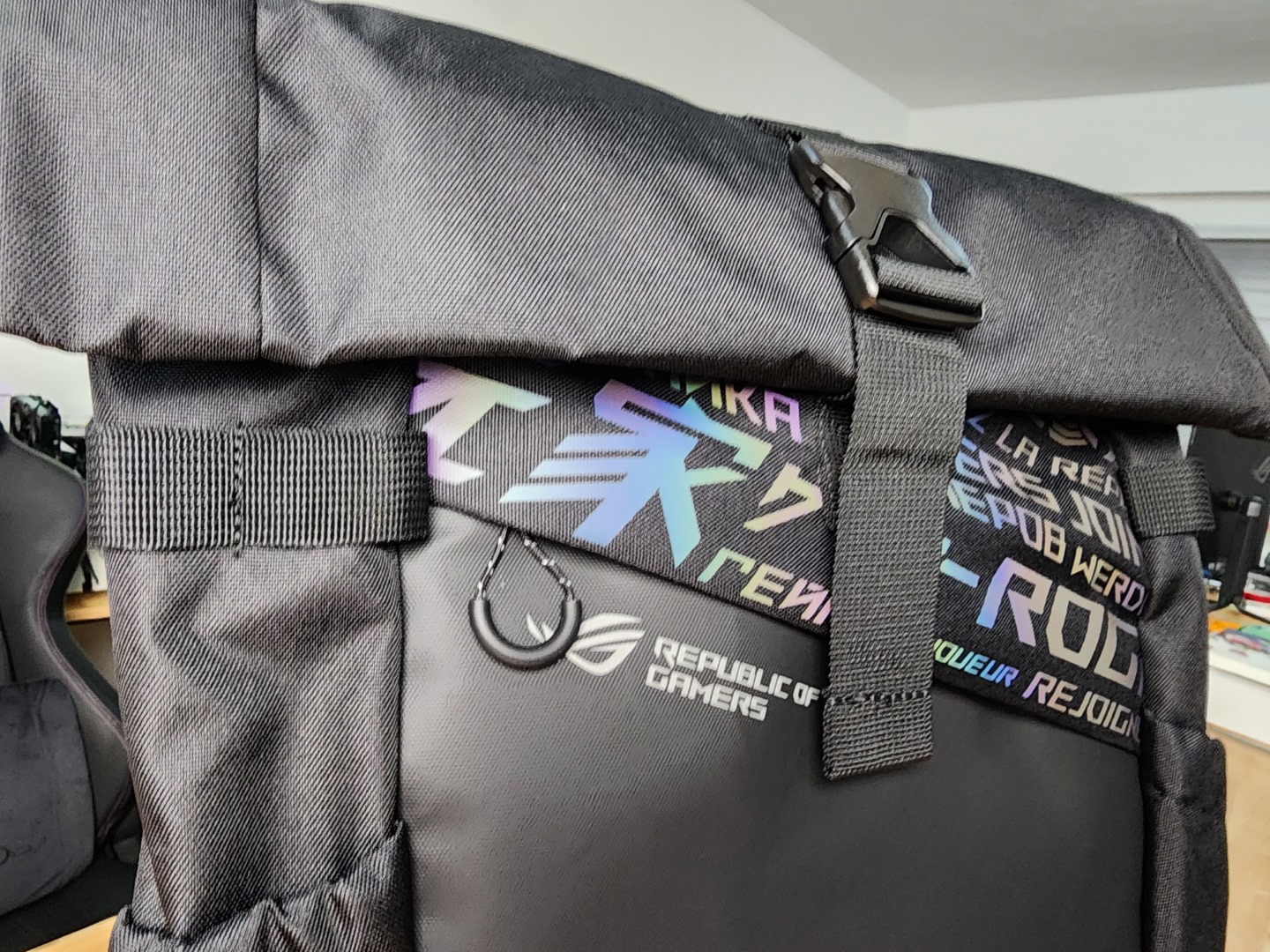 Another highlight of the laptop is the smart-looking and spacious bag that comes with it. This bag is not only practical but also stylish, making it a perfect companion for the premium laptop. Users can comfortably carry the laptop around without worrying about the bag looking out of place.
I/O Ports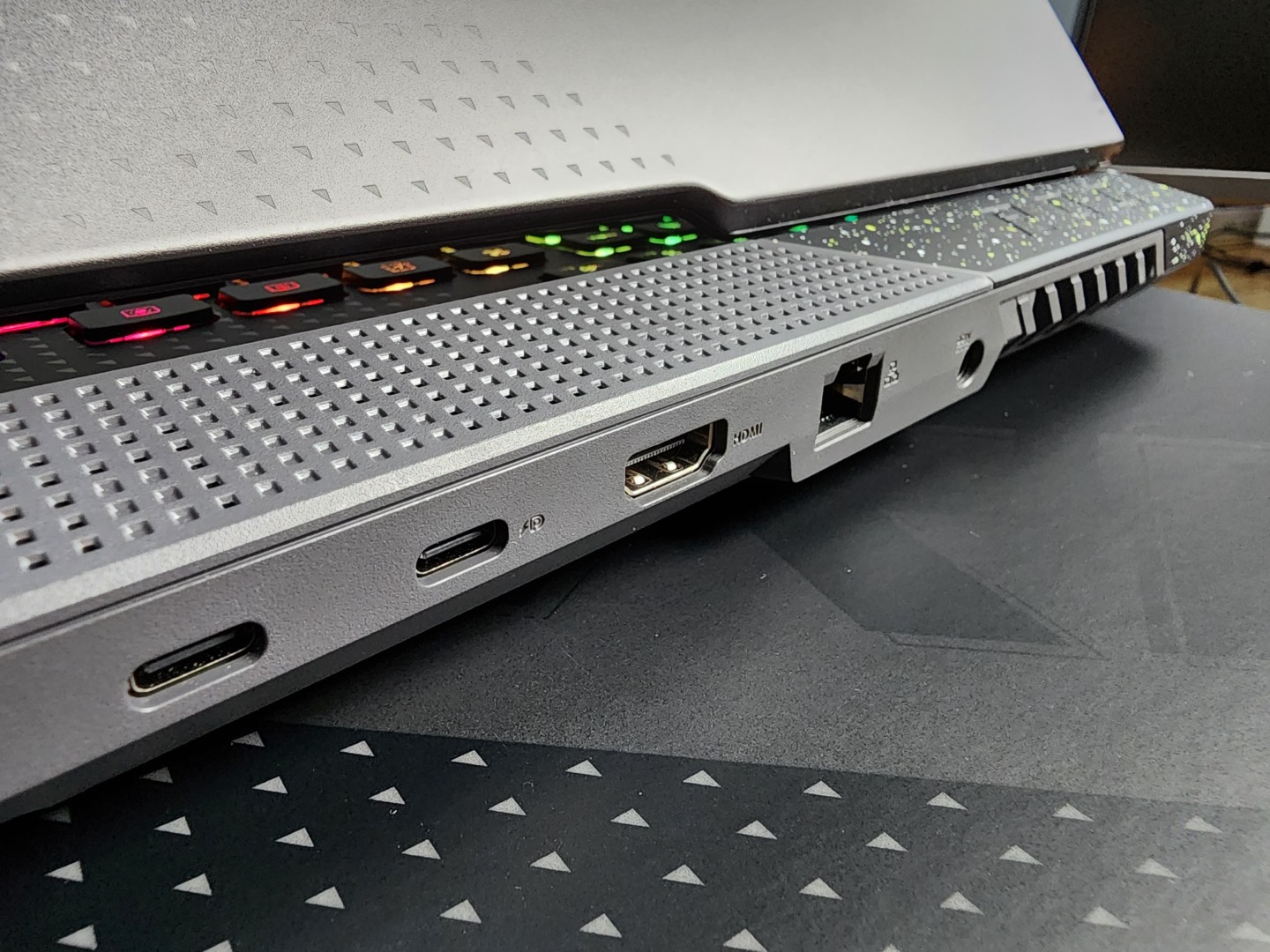 The ROG Strix G17 is a laptop designed for gamers and power users who demand uncompromising performance. This means that the I/O ports need to be sufficient for users to connect all the necessary peripherals for work and play. In terms of connectivity, the laptop has an array of ports that cater to all the basic needs of the user.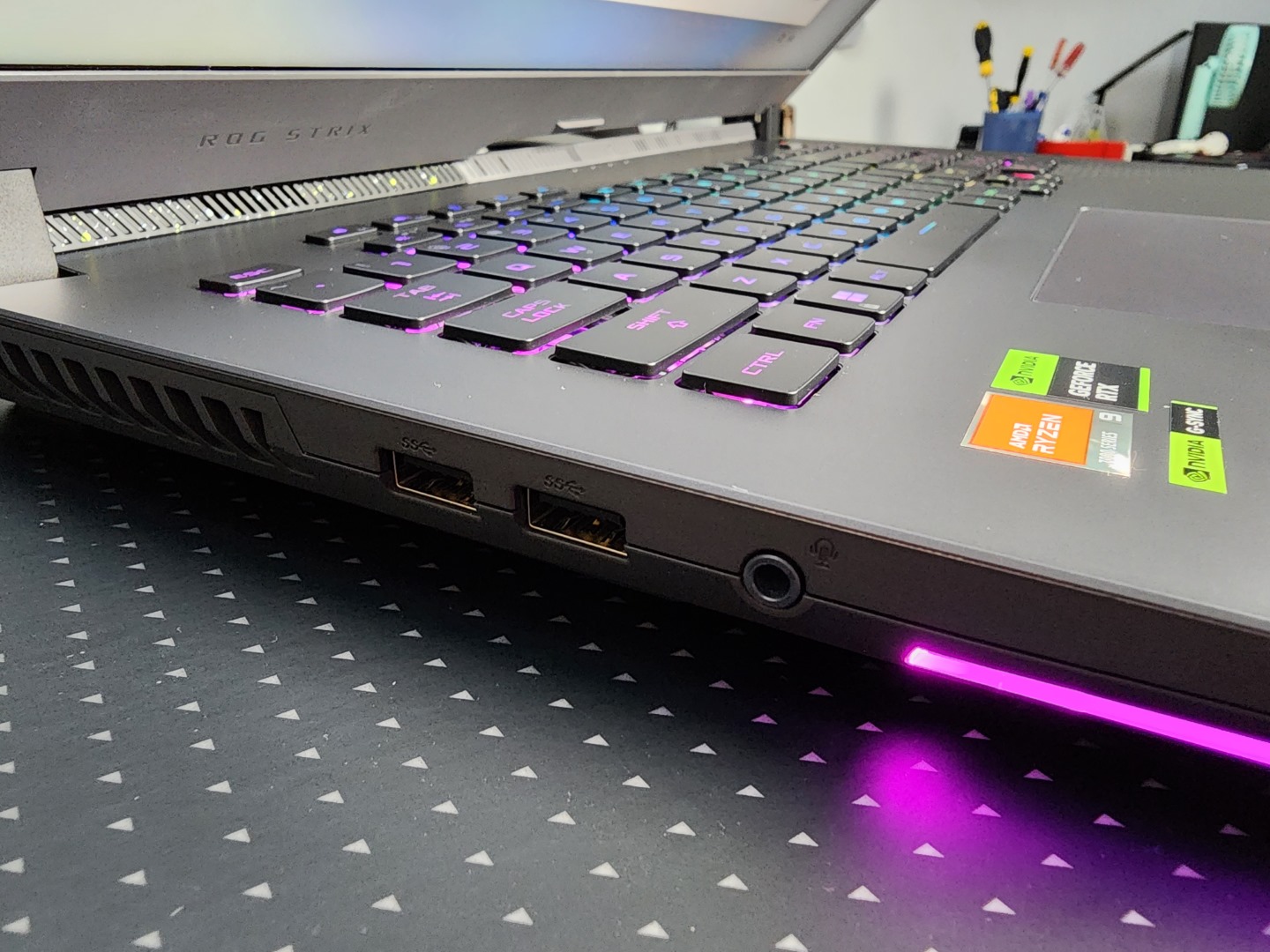 On the left side of the laptop, there are two USB 3.2 Gen 1 Type-A ports and a 3.5mm Combo Audio Jack. These ports are perfect for connecting external devices such as a gaming mouse, a keyboard, or a headset. The USB 3.2 Gen 1 Type-A port provides fast transfer speeds for data, and the 3.5mm Combo Audio Jack lets users plug in a pair of headphones or earbuds.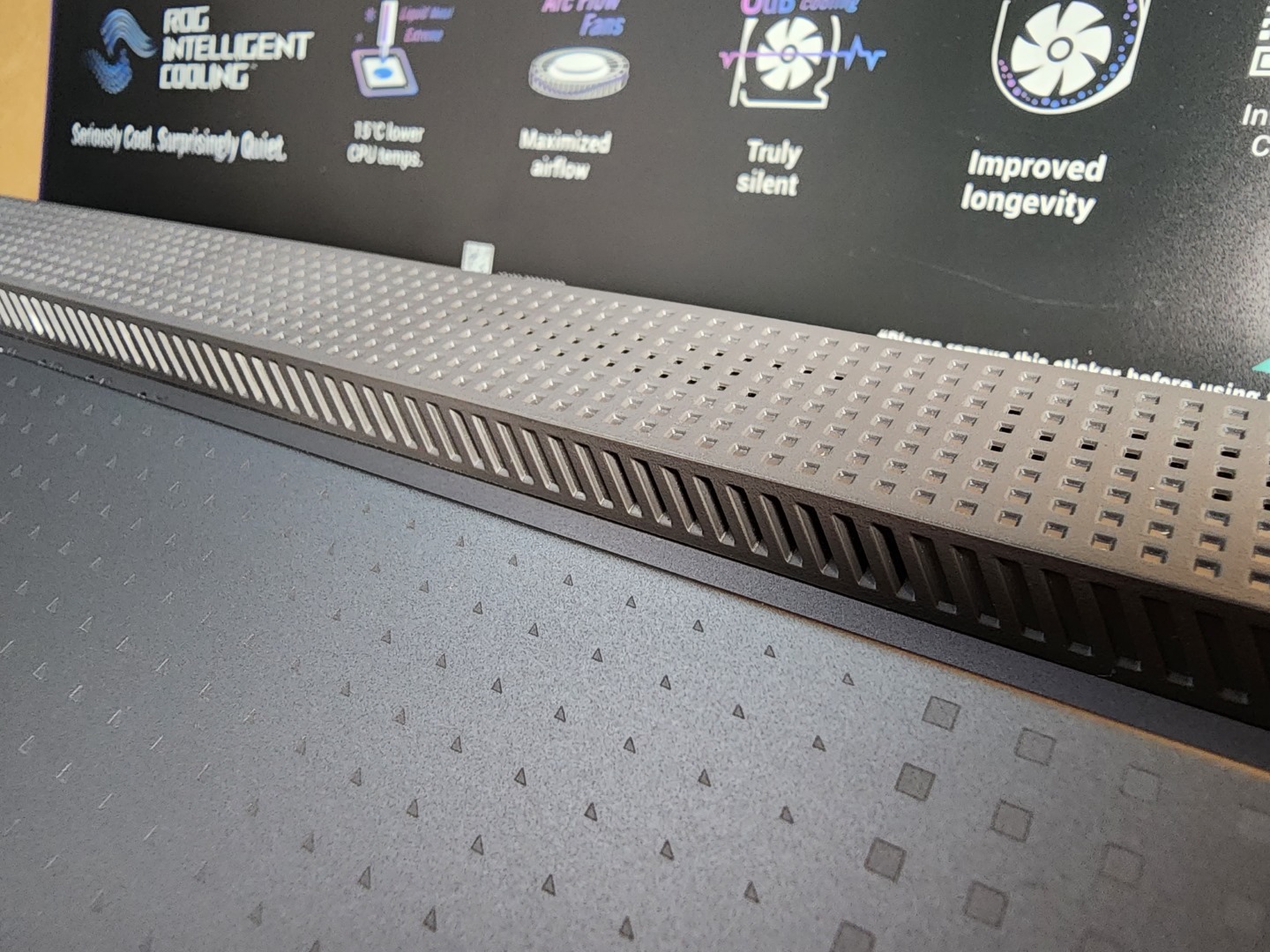 At the back of the laptop, there are three more ports. There is an HDMI 2.1 FRL port, which supports high-speed video and audio, making it perfect for connecting to a TV or a high-end monitor. There are also two USB 3.2 Gen 2 Type-C ports, which are more versatile and can be used for a variety of purposes. One of these Type-C ports supports DisplayPort™, power delivery, and G-SYNC, which allows users to connect to an external display and enjoy smooth visuals without any lag.
The other Type-C port also supports DisplayPort™ and G-SYNC, but it does not have power delivery capability. This port is ideal for connecting an external display that does not require power delivery. Lastly, there is an RJ45 LAN port, which is perfect for gamers who want to have a stable and fast wired internet connection.
However, it's worth noting that the ROG Strix G17P does not have a card reader or Thunderbolt port – which is rather disappointing in my books. For those who require these features, they may need to consider external adapters.
Keyboard, Mouse, and typing experience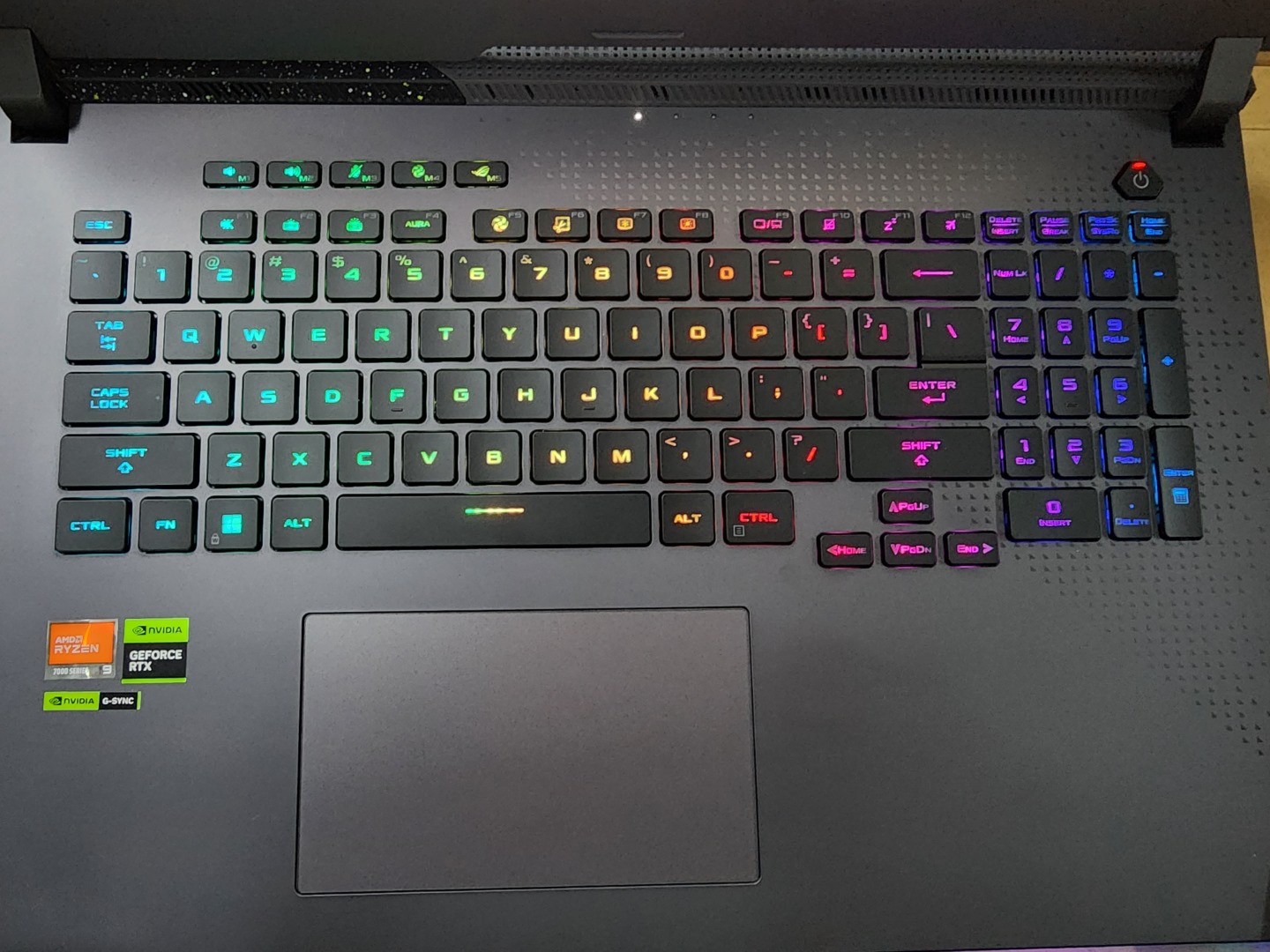 Switching to a new laptop can be a daunting experience, especially when it comes to getting used to a new keyboard layout. However, with the ROG Strix G17, adapting to the new keyboard layout took a surprisingly short amount of time. The broad keycaps and responsive switches underneath make for a breezy typing and gaming experience. The keys have a good travel distance, providing tactile feedback that's satisfying to use.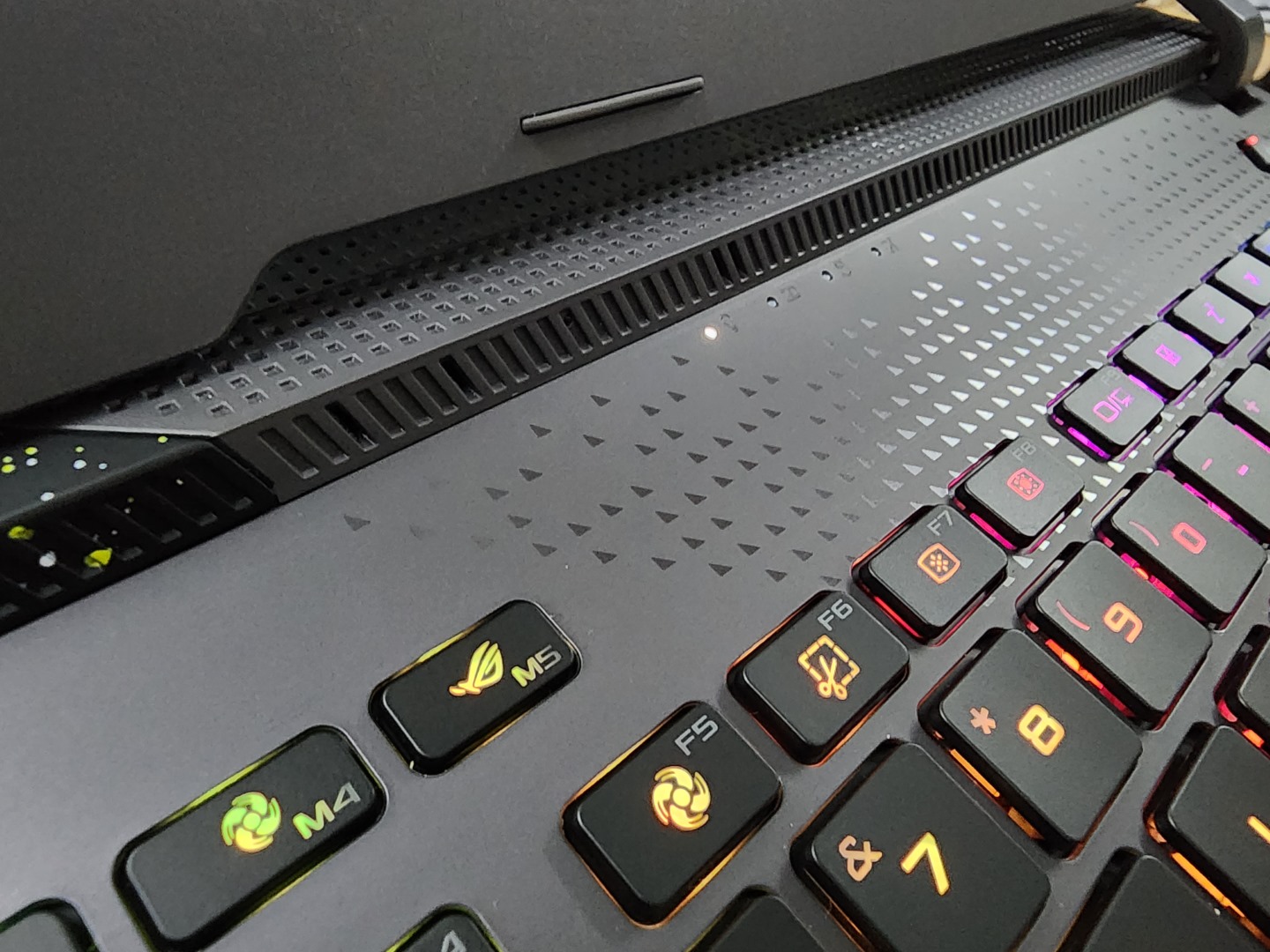 The keyboard is a full-sized backlit keyboard that's designed with gamers in mind. The keys are spaced out well, allowing users to type and game comfortably without any major issues. The travel distance of the keys is also quite good, providing users with a satisfying typing experience. Whether you're typing up a document or gaming for hours on end, the keyboard won't disappoint.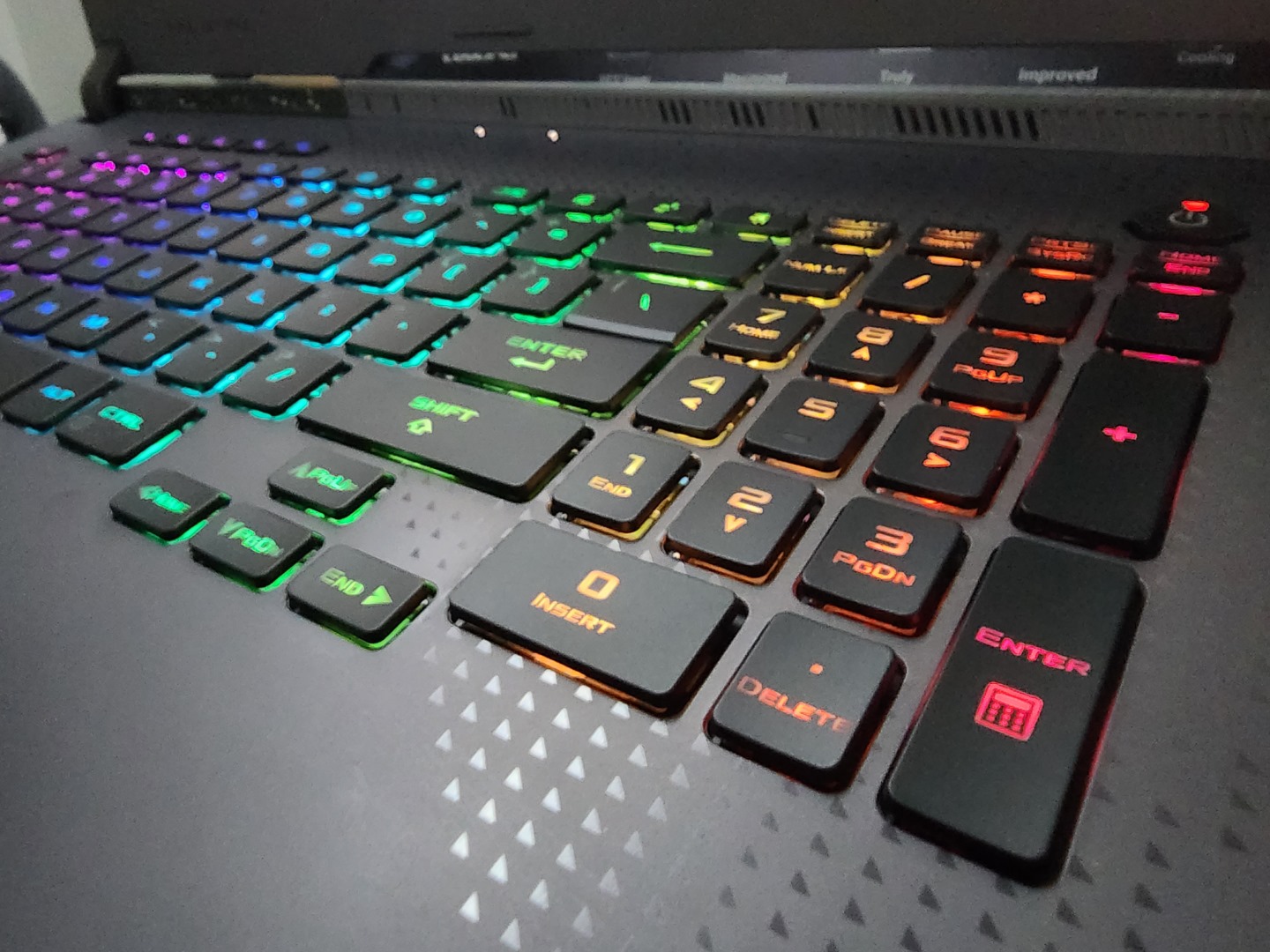 RGB
The ROG Strix G17 follows the trend of most gaming laptops with its keyboard featuring AURA Sync ready RGB lighting. The illumination is bright enough to provide users with excellent visibility even in dimly lit environments, which is a plus for individuals who tend to work or play games in low light conditions. The backlighting is highly customizable, enabling users to select from a variety of colors and effects that align with their preferences. This customization capability is a welcomed feature, adding a touch of individuality to the laptop's aesthetics.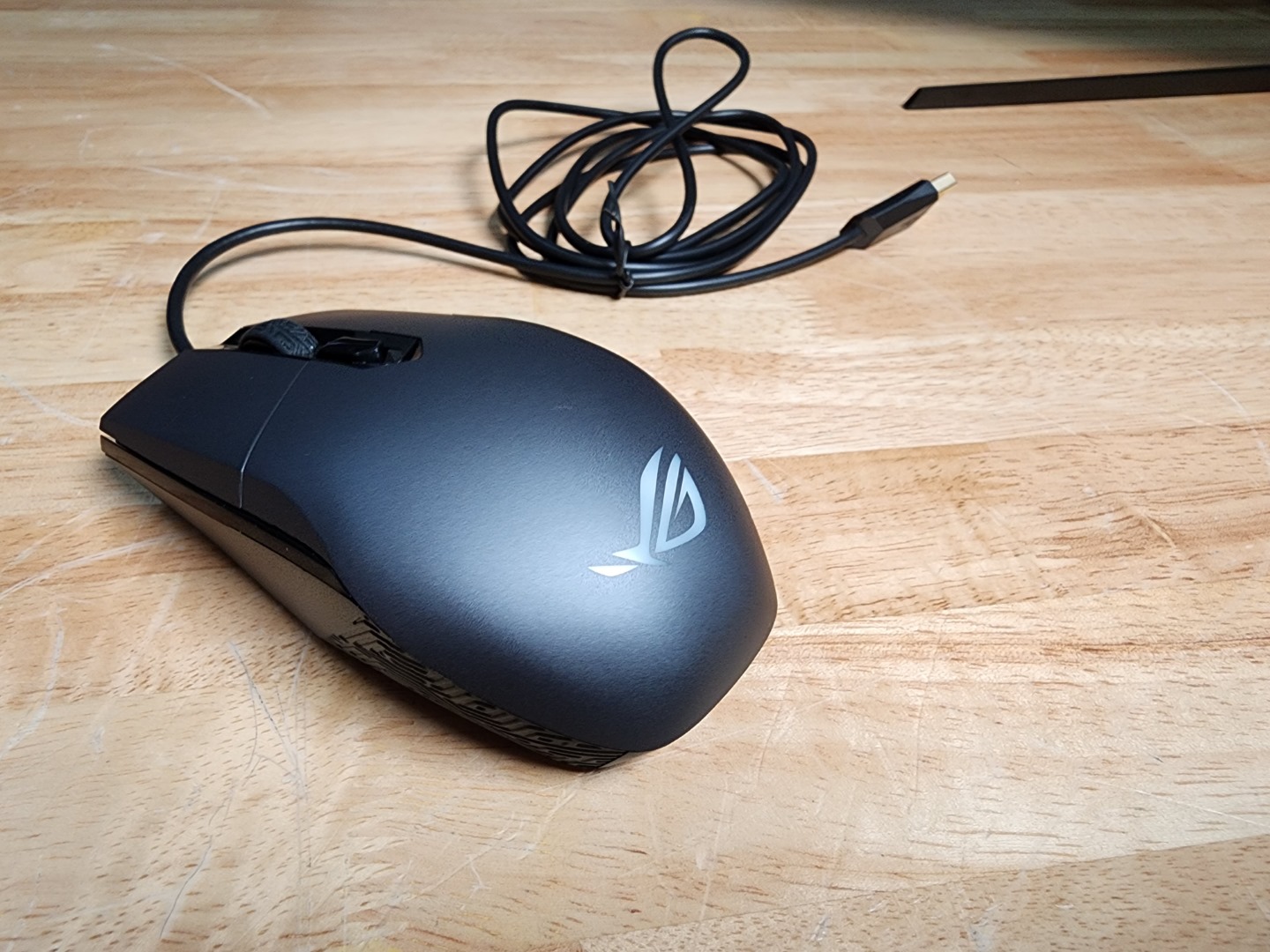 Bundled along with the laptop is a ROG Impact gaming mouse, which is a nice bonus. While it may not compete with the best gaming mouse in the market, it's still a good addition for users who don't want to spend extra money on a separate gaming mouse. The mouse is responsive and accurate, providing a decent gaming experience for users. The form factor is comfortable to hold and use, with a textured surface that provides a good grip.
One thing to note is that the mouse is wired, which might be a deal-breaker for some users who prefer wireless mice. However, the wire is quite long, which should give users enough flexibility to use the mouse comfortably. So there's nothing to complain here, free is good!
Display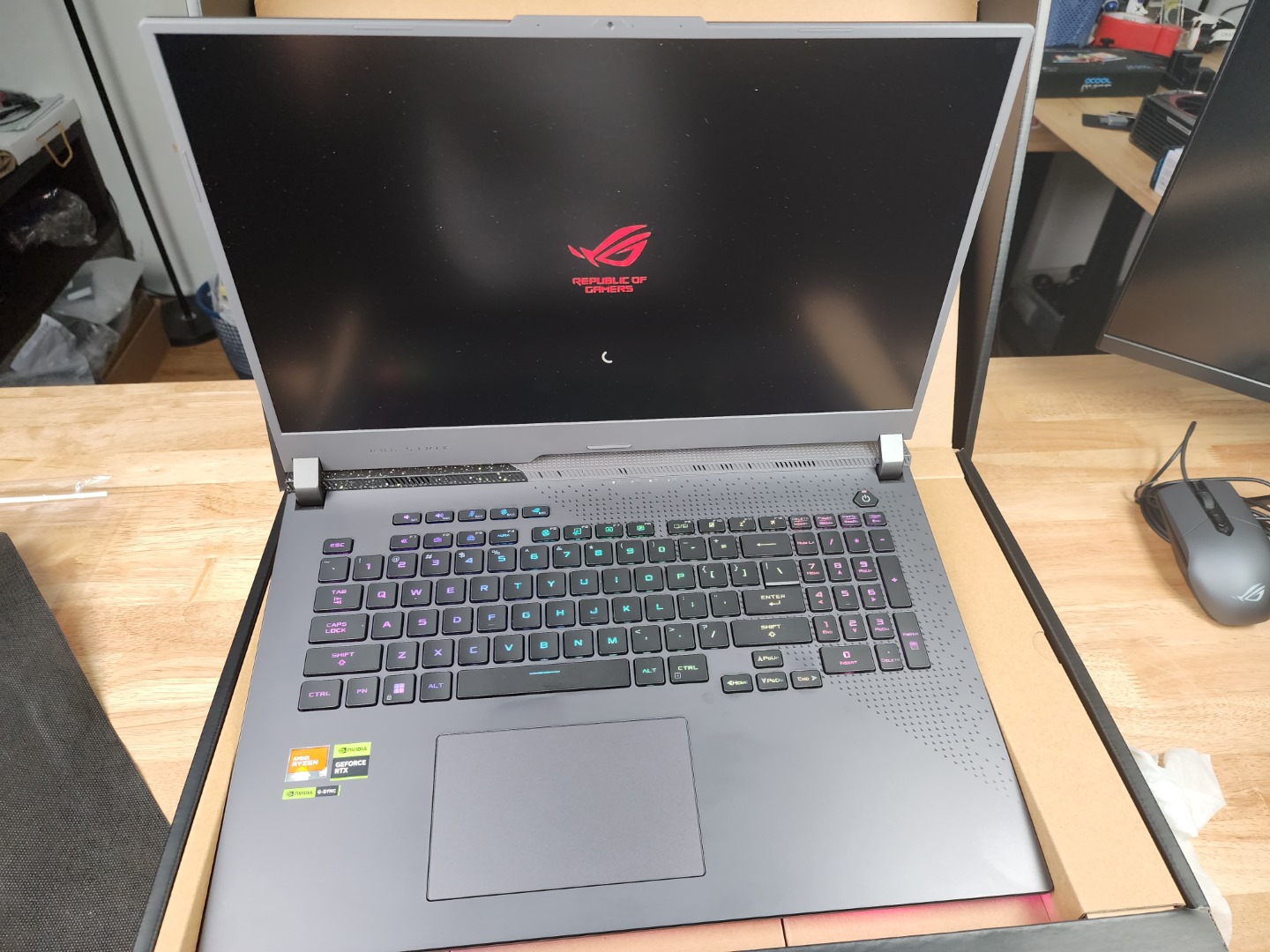 The ROG Strix G17 is a gaming laptop that is built to satisfy the needs of serious gamers who are in search of a high-performance device that can deliver on all fronts. One of the most important aspects of a gaming laptop is the display, and the ROG Strix G17 does not disappoint. It features a 17.3-inch WQHD (2560 x 1440) 16:9 IPS-level anti-glare display that is capable of delivering a stunning viewing experience.
The first thing that caught my eye was the size of the display. At 17.3 inches, it's larger than the average laptop display, which is great for gaming. It provides a more immersive experience that makes you feel like you are right in the middle of the action. The WQHD resolution ensures that everything on the screen looks crisp and clear, with sharp edges and vibrant colors.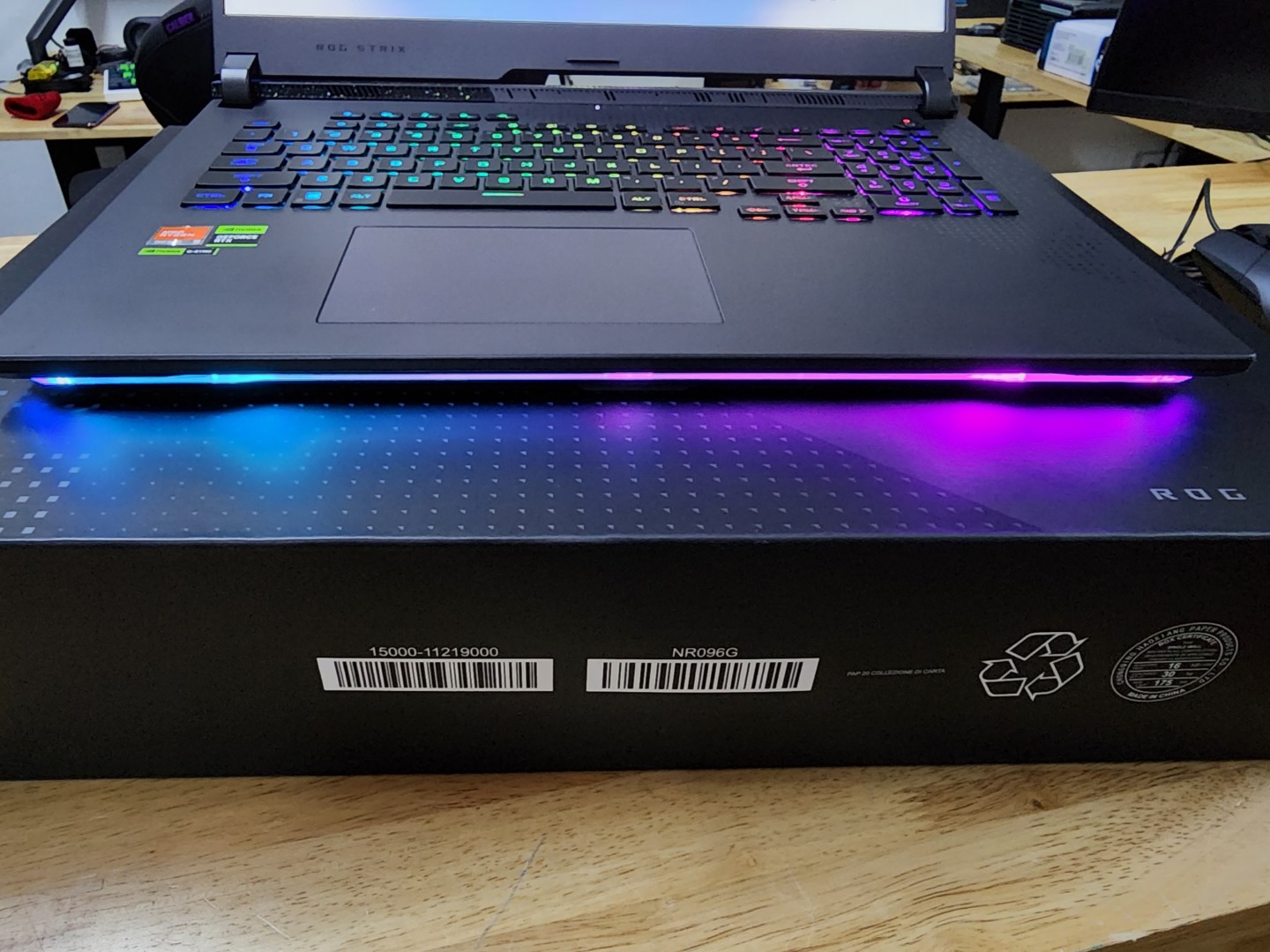 Refresh Rate & Colours
One of the most impressive features of the ROG Strix G17's display is the refresh rate. With a 240Hz refresh rate, the laptop is capable of delivering an incredibly smooth and fluid experience, even in the fastest-paced games. This makes it easier to track enemy movements and react quickly to what's happening on the screen. It's also great for competitive gaming, where every millisecond counts.
Another important aspect of a gaming laptop's display is the color gamut. The ROG Strix G17 has a DCI-P3 color gamut that covers 100% of the spectrum. This means that the colors are accurate and vibrant, providing an immersive and enjoyable viewing experience. Whether you're playing games, watching movies, or editing photos and videos, the colors on the Strix G17P's display will look amazing.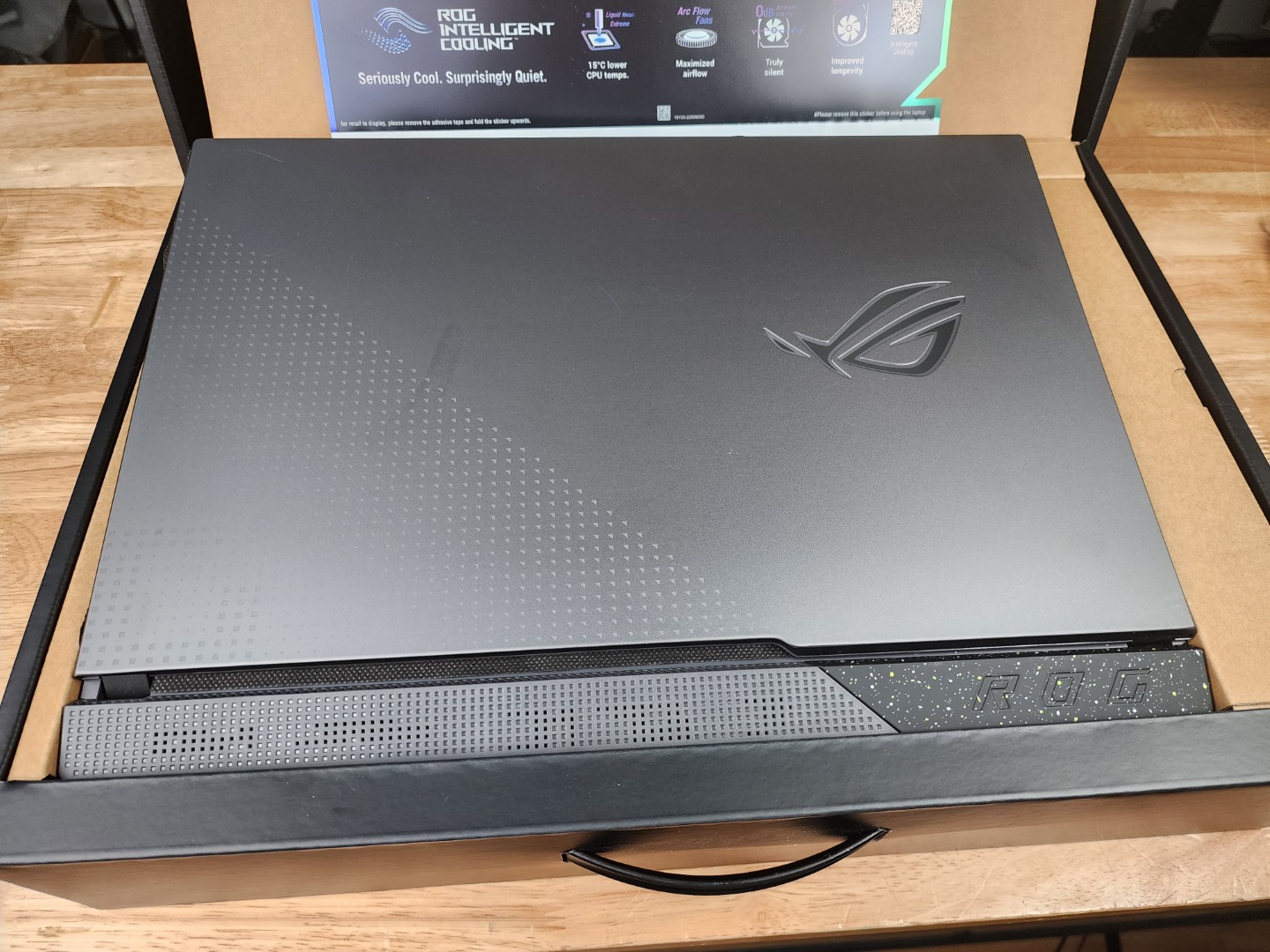 In addition to the high refresh rate and accurate color gamut, the ROG Strix G17 also has a fast 3ms response time. This means that the pixels on the display can change color quickly, reducing motion blur and ghosting. It's especially important for fast-paced games where every millisecond counts.
One of the things that I appreciated about the display is the anti-glare coating – which is often missed on most laptop displays! It helps to reduce glare and reflections, making it easier to see what's happening on the screen, even in brightly lit environments. This is especially important if you like to game or work in a room with lots of natural light.
Camera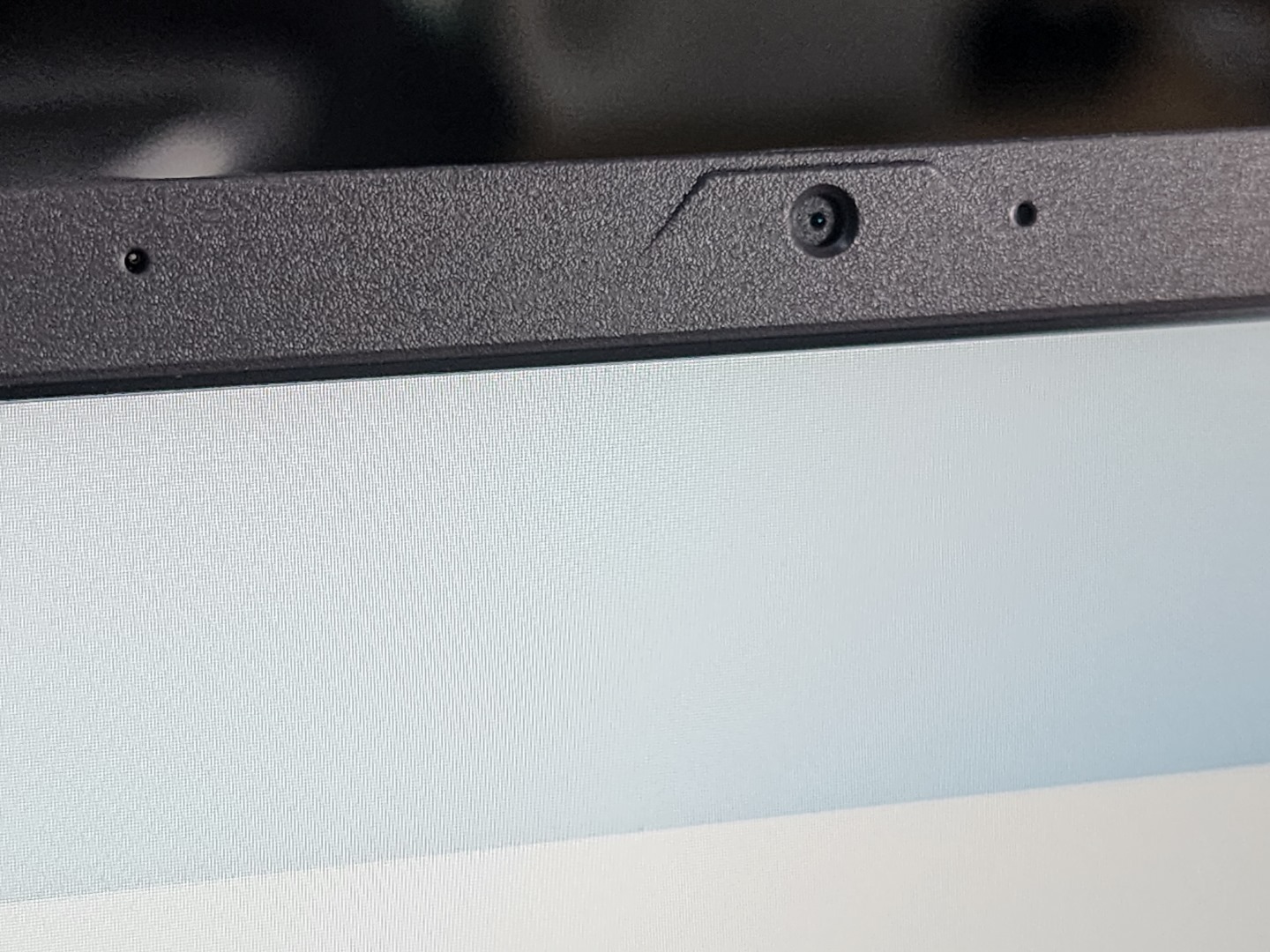 For a gaming laptop that excels in almost every aspect, it falls short for one surprising detail: its built-in camera. With 4K becoming the new standard, it's somewhat disappointing to find out that the laptop's webcam only has a resolution of 720p. Considering the premium price tag of RM 9,999.00 in Malaysia, one would expect a higher resolution camera to match.
While the 720p camera is still functional and suitable for basic video conferencing needs, it falls short of expectations in comparison to the other impressive features of the ROG Strix G17. A minimum expectation for most laptops these days is a 1080p camera, and 2K is considered a benchmark quality to strive for. Some high-end laptops even come with 4K webcams, which further highlights the missed opportunity in the ROG Strix G17.
Hardware & Performance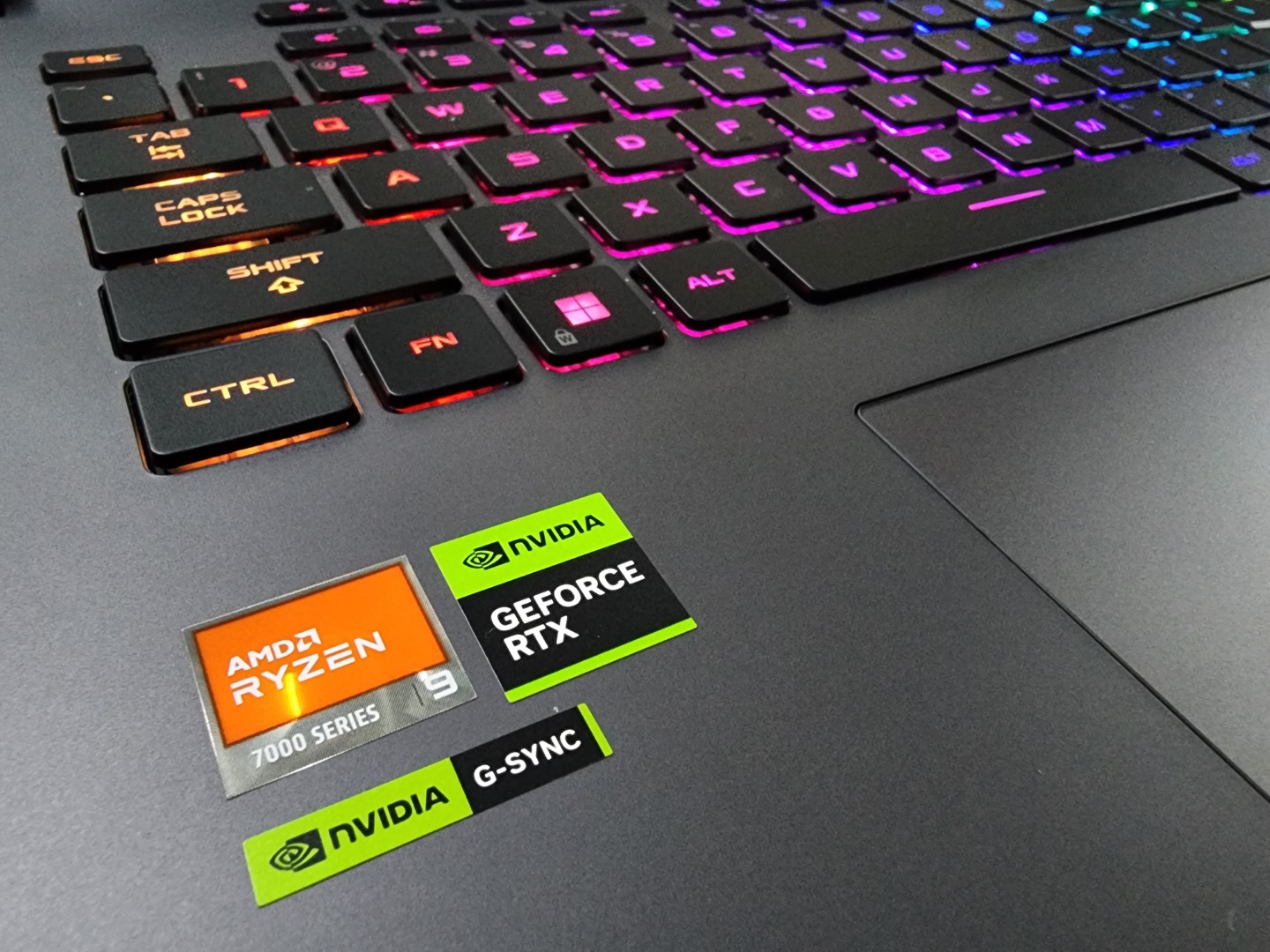 As a passionate gamer, I'm always on the lookout for the best hardware to take my gaming experience to the next level. That's why I was thrilled to get my hands on the ROG Strix G17, a high-performance gaming laptop that boasts some seriously impressive specs.
The Strix G17 boasts up to an AMD Ryzen™ 9 7945HX CPU and up to an NVIDIA® GeForce RTX™ 4070 Laptop GPU, providing ample processing power for seamless gaming. The Ryzen™ 9 7945HX CPU, combined with 16 cores and 32 threads, can handle multi-threaded tasks like streaming and recording gameplay with ease.
The NVIDIA® GeForce RTX™ 4070 Laptop GPU, with a max TGP of 140W on the Strix G17, provides impressive graphics performance with RTX 4070 support for DLSS 3, making virtual worlds appear realistic with full ray tracing. The laptop's NVIDIA® Advanced Optimus feature further optimizes gaming performance, automatically routing frames from the discrete GPU directly to the display using a MUX switch. This feature results in a 5-10% performance boost compared to machines without a MUX Switch, delivering an outstanding gaming experience.
However, with such high-powered components, heat management is a critical consideration. To address this, ASUS have equipped the ROG Strix 17 with the propietary ROG Intelligent Cooling™ system and Thermal Grizzly's Conductonaut Extreme liquid metal on the CPU. In contrast with traditional thermal pastes, liquid metals are known to lower temperatures by up to 15°C, providing better cooling performance. The laptop also features four exhaust vents and ROG Armoury Crate for customizing an optimal balance between power and acoustics.
Gaming & Thermal Performance
When it comes to gaming laptops, benchmarking is an essential part of evaluating their performance capabilities. In this regard, we have conducted a series of synthetic benchmarks on the ROG STRIX G17 using 3DMARK. These tests include the CPU Profile, TimeSpy, TimeSpy Extreme, and Port Royal. Each of these benchmarks provides a unique perspective on the laptop's capabilities, allowing us to paint a complete picture of its gaming performance. Let's take a closer look at what each benchmark measures:
The CPU Profile benchmark focuses specifically on the processor's performance, measuring its ability to handle complex calculations and tasks.
The TimeSpy benchmark tests the laptop's graphics card capabilities, measuring its performance in DirectX 12 games and providing a score that can be compared to other systems.
The TimeSpy Extreme benchmark pushes the graphics card to its limits, testing its ability to render complex scenes and lighting effects at high resolutions.
Finally, the Port Royal benchmark is specifically designed to measure the performance of the laptop's real-time ray tracing capabilities, which are critical for lifelike virtual worlds with full ray tracing effects.
Benchmark Results
After subjecting the ROG STRIX G17 to a range of synthetic benchmarks on 3DMARK, we can conclude that this gaming laptop is a beast. Its impressive specs and cooling system make it a top performer for both gaming and heavy multitasking.
Starting with the CPU Profile benchmark, the ROG STRIX G17 scored an impressive 13796 for all threads average, 13315 for 16 threads, and 1024 for single thread. This showcases the incredible power of the AMD Ryzen™ 9 7945HX CPU, which delivers smooth gaming experiences and can handle multitasking with ease.
Moving on to the TimeSpy benchmark, the laptop scored a total score of 11796, with the graphic score at 11793 and CPU at 11815. The TimeSpy Extreme benchmark produced a total score of 5875, with the graphic score at 5449 and CPU score at 10554. These scores are truly impressive, especially considering that the laptop was tested with RTX off.
In the Port Royal benchmark, the laptop produced a total score of 7090, further solidifying its high-performance capabilities. The combination of the NVIDIA® GeForce RTX™ 4070 Laptop GPU and AMD Ryzen™ 9 7945HX CPU proved to be a winning combination for this laptop.
Throughout the benchmarks, the average temperature of the CPU was in the range of 79-80 Celsius on heavy load, while the GPU was at 68-79 Celsius. These temperatures are well within acceptable limits and is a form of testament to the ROG Strix G17's cooling capabilities.
Compared to other gaming laptops, such as those equipped with the RTX 4080, the ROG STRIX G17 holds its own with its impressive scores and cooling system. While it may not be the absolute top performer in terms of benchmark scores, its combination of high-performance specs and efficient cooling make it a top contender for gamers and heavy multitaskers alike.
---
What I Liked about the ROG Strix G17
Large screen with anti glare coating.
Super high end CPU pairing with a powerhouse GPU.
Numpads! I'm the type who prefers the convenience of having a numpad.
It comes with a large backpack to fit the entire gaming arsenal.
Free gaming mouse! Free is good.
What I wished was better
A card reader would've come in handy, as gaming laptops are the go to category for designers as well, and card readers do come in handy.
Better camera.
---
VERDICT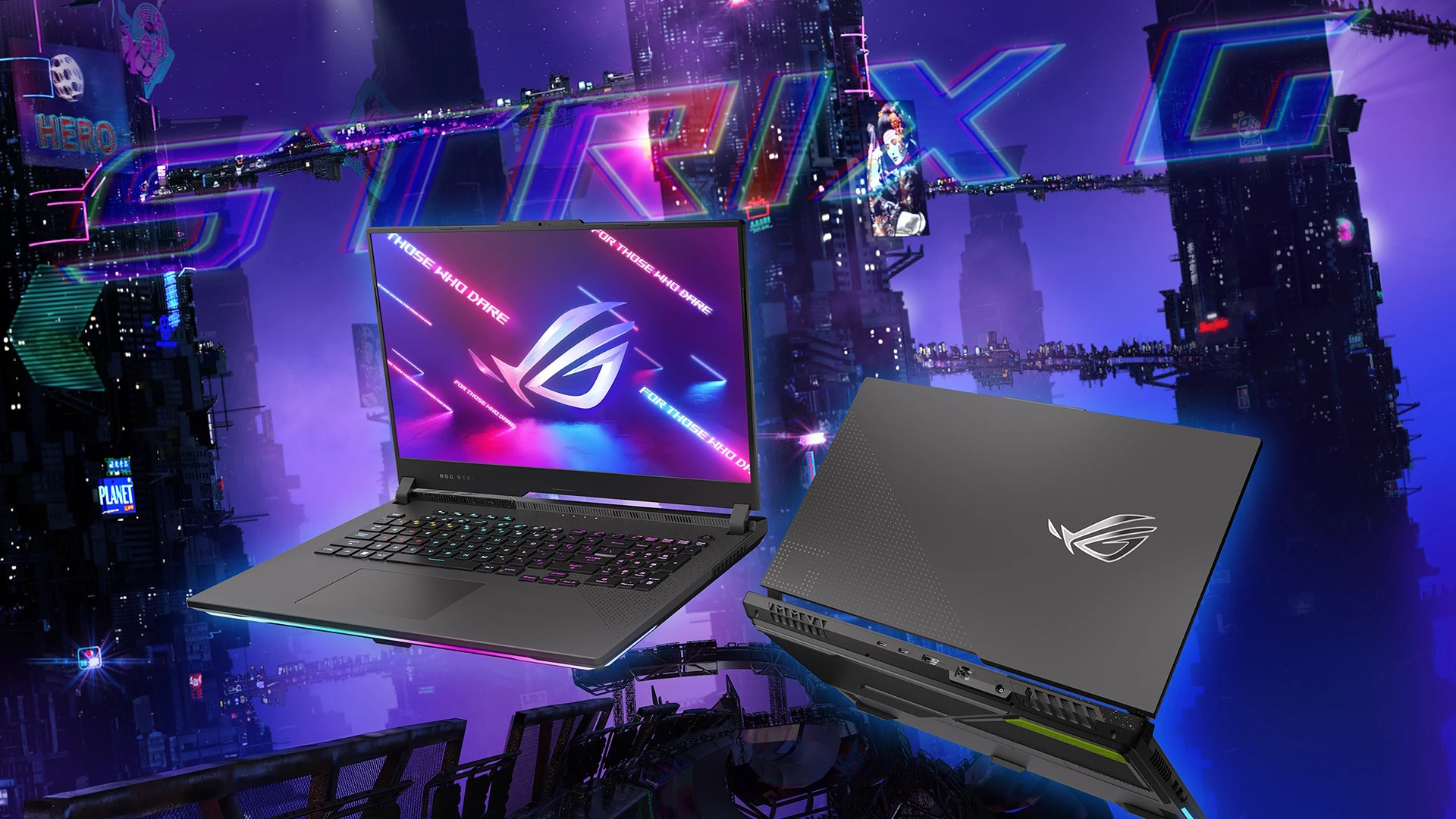 The ROG Strix G17 is a high-performance gaming laptop that boasts some impressive specs. It features a sleek and sturdy build that not only looks great but also provides durability. The laptop's design is well thought out, with a subtle RGB light bar that complements the sleek design. The G17's aesthetics are perfect for gamers who want a laptop that not only looks good but can also handle intense gaming sessions.
The keyboard on the ROG Strix G17 is incredibly responsive and provides excellent feedback. The touchpad is precise and responsive, and the laptop's design allows for a comfortable typing experience. With its high-quality build and excellent keyboard, the G17 provides a comfortable typing and usage experience.
In terms of IO port configuration, the ROG Strix G17 features a decent selection of ports. However, it lacks a card reader, which could be a deal-breaker for some users. The camera quality is average and could be better, but it still gets the job done. Overall, the G17's IO port configurations and camera are decent, but the lack of a card reader might be a downside for some.
The ROG Strix G17's gaming performance is top-notch. The laptop's components, including the AMD Ryzen 9 7945HX CPU and NVIDIA GeForce RTX 4070 Laptop GPU, provide excellent performance for both single and multi-threaded tasks. The laptop's thermals are also impressive, thanks to the Conductonaut Extreme liquid metal on the CPU that can lower temperatures by up to 15°C compared to traditional thermal pastes. The ROG Armoury Crate software unifies system and lighting controls and allows for easy customization of scenario profiles, making it an ideal gaming laptop for those who want an immersive gaming experience.
Overall, the ROG Strix G17 is a well-designed and well-performing gaming laptop that offers a premium experience to users. Its sleek design, sturdy build, and customizable RGB lighting make it stand out among its competitors. However, it is on the slightly pricey end at a price tag of RM 9,999.00, which may not be accessible to all gamers. Nonetheless, if you are willing to invest in a high-end gaming laptop, the ROG Strix G17 is definitely worth considering.
Final Score : 8/10