Developed By: Codemasters
Published By: Electronic Arts
Platforms: PlayStation 4 & 5, Xbox One, Xbox Series S & X, PC
Reviewed On: PS5
The Formula One sport this year is going through a thoroughly refreshing change of scene. The sport has seen a new set of technical regulations, updated layout of tracks as well as new track additions, and we've celebrated the emergence of a new world champion in Max Verstappen after a nail-biting season finale last year that saw Verstappen seizing the crown from 7 times Formula One Drivers Championship winner, Lewis Hamilton.
With that much going on in the real sport, this year's new Formula One game the F1 2022, did its best with all the new perks and updates reflecting the real changes that took place as well. This includes the new Sprint race, new tracks, and new Formula One car design. But these are not the only new stuff that made the launch. There is also a new F1 Life mode which is a leisure mode with no actual meaningful value to the player and of course, the hard-to-ignore absence of Braking Point, the series' story mode that I've come to enjoy in the previous F1 games.
Never thought I'd miss Braking Point
The swapping of Braking Point for F1 Life was especially disappointing in my experience. F1 Life is nothing but a virtual lobby where I get to "decorate" my mansion and kit my avatar out with virtual clothes from real actual brands and fill my garage out with supercars. This mode is meant to give players a sense of how it feels like to live out the life and perspective of a glamorous F1 racer but it was weakly delivered.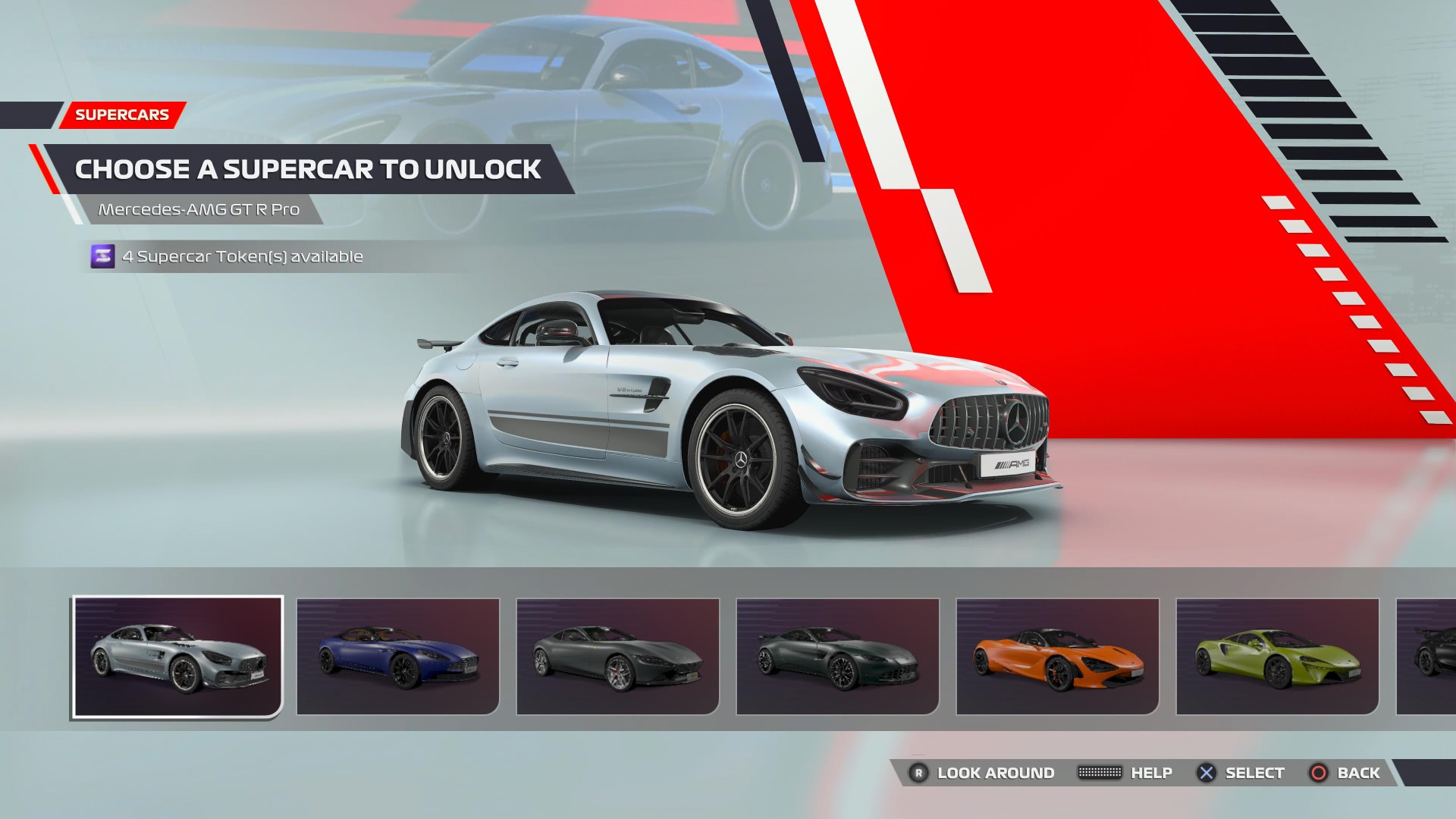 To make things worse, this half-baked mode is fueled by micro-transactions (MTX) where one can buy "Pitcons" with real money and use those coins to buy these virtual cosmetic appeals. I find this mode annoying not because of the MTX, because I can just easily ignore this mode altogether since it does not interfere with the core gameplay experience, but rather, I am unhappy with how resources were allowed to develop this mode and not towards producing another episode of Braking Point.
Racing and AI improvement
As for the actual racing experience itself in F1 2022, it was wonderful. Car handling felt noticeably different with the new car physics from the new model design. Still, understandably, real-world problems like the porpoising and bouncing issue that has plagued teams in the sport this year, namely team Mercedes, did not come with the game. But whether one would find driving easier in F1 2022 is completely subjective to individual driving style. As for me, I found the adjustment on the actual driving part to be minimal, instead, the racing part was where my attention was seriously needed.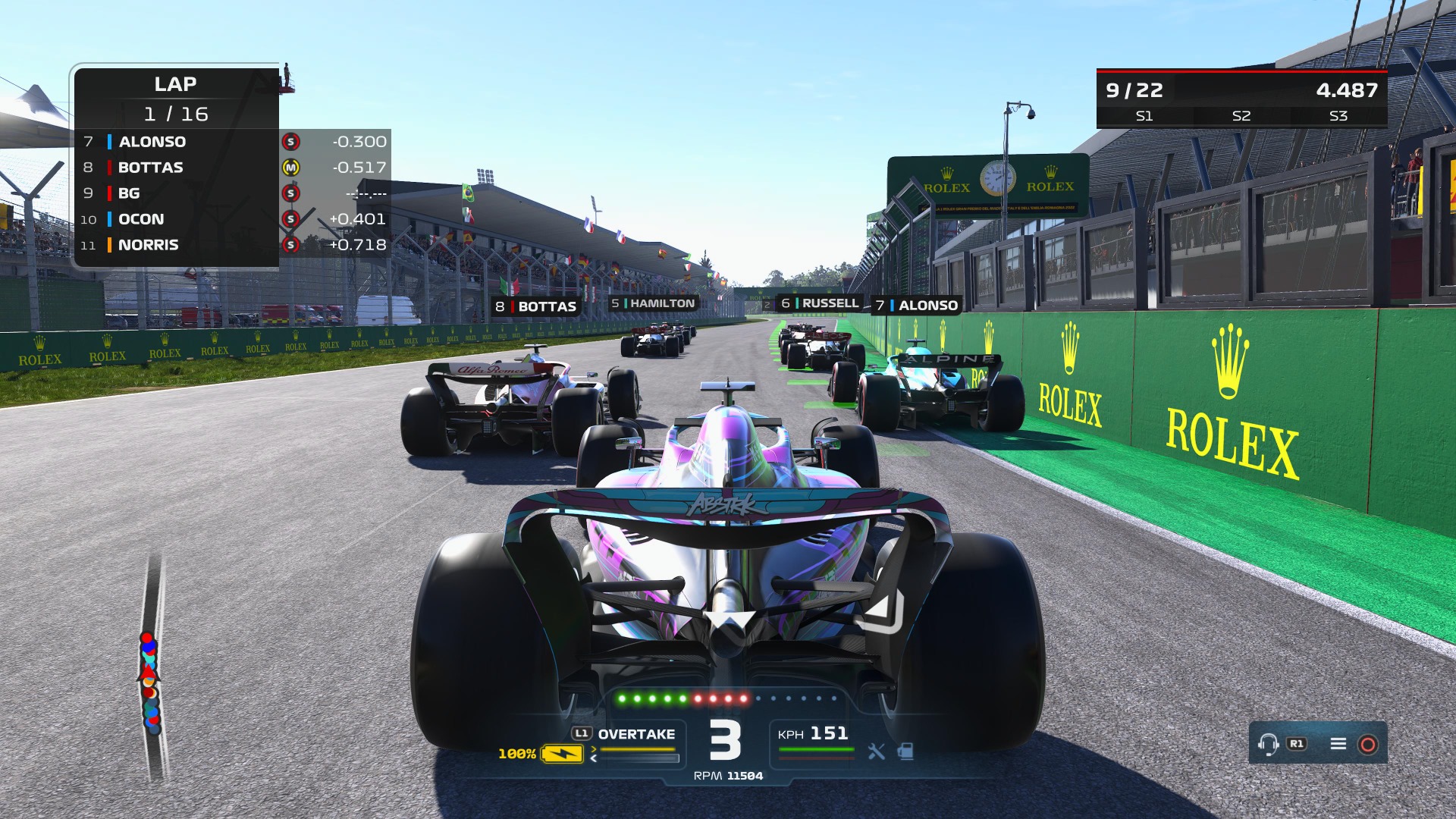 There has been a series of improvements with the AI in the game this year where mistakes on the track will be taken advantage of by the AI, and the player punished, sometimes severely, for any less than clinical or overconfident move. I've been racing on the same difficulty level as I had in the previous F1 game and have been quite confident with my abilities in this category at least but I've had some rude awakening from the AIs. They are smarter in their positioning now, lining up their vehicle to enjoy a good slipstream to get ready for an overtake and not in a manner they used to do before. They are also more aggressive in approach and will not hesitate to push me off track. The old "I'll brake-check them in a corner to force them to slow down" doesn't work as well anymore as the AIs are now richer in both skills and confidence. Wheel-to-wheel racing happens more regularly in F1 2022 than before and on-track battles have never felt more epic.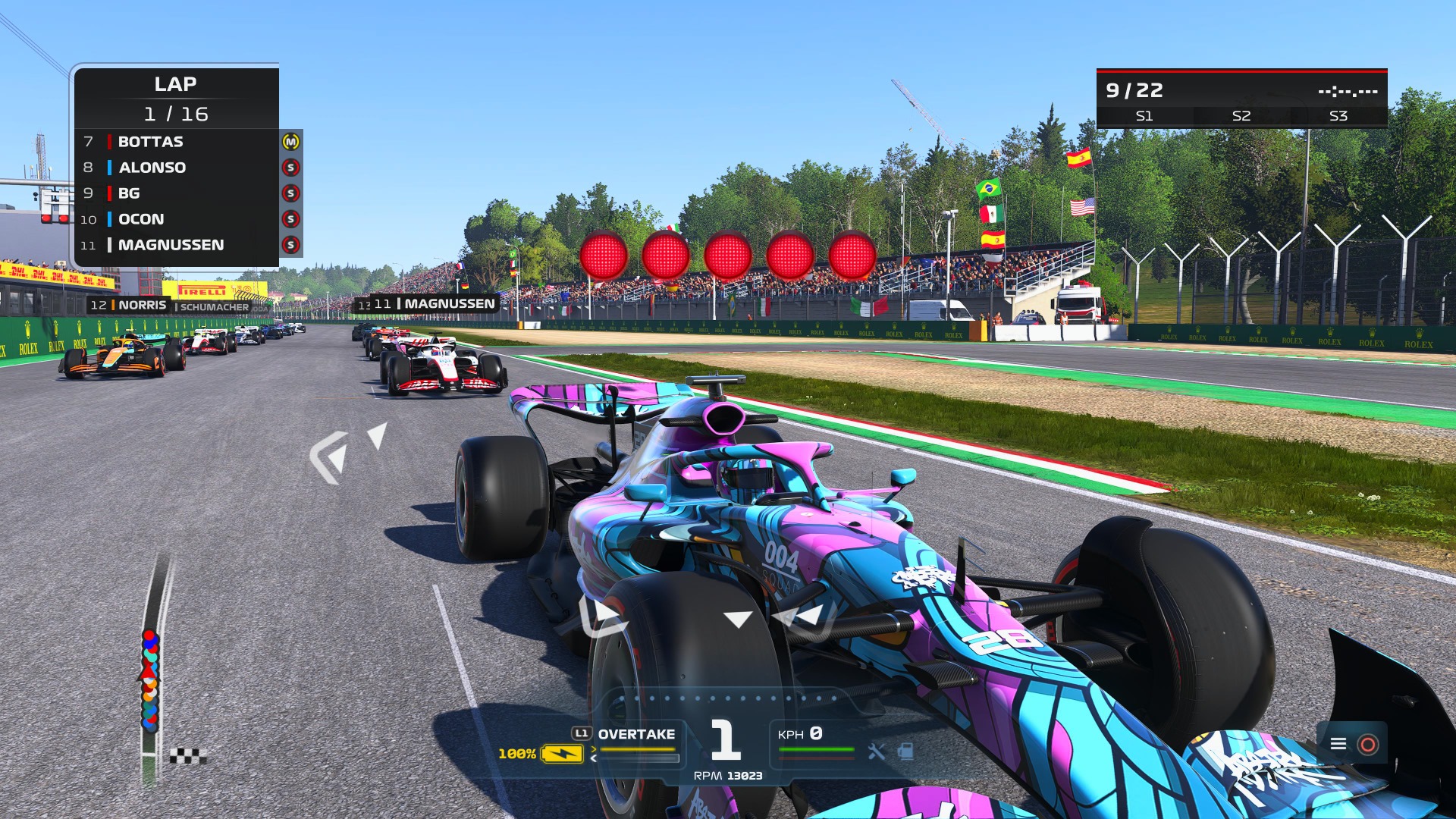 More hands-on involvement
Sprint races are now available on tracks that involve it in the qualifying process, namely the Red Bull Ring, Imola, and Interlagos. There's also a new QTE mini-game when the driver is coming in for a pitstop where if the input is done at the right time, will benefit the car in a faster pitstop. All-in-all, there has been a heavier emphasis on the racing department this year, to make racing as fun and as engaging as possible. But with that being said, the game is still as accessible as ever, which is worth celebrating for new or aspiring F1 2022 players. There are multi-tier difficulty settings along with ample custom settings that'd allow just any type of player to find the setting and racing environment they'd need to fully enjoy the game. If you want to come in manually after completing the formation lap parade and position the nose of your vehicle slightly to give you an advantage when the lights are off, you can. If you think that's too much micro-management for you, you can turn it off too. That's just one of the many aspects the game can accommodate.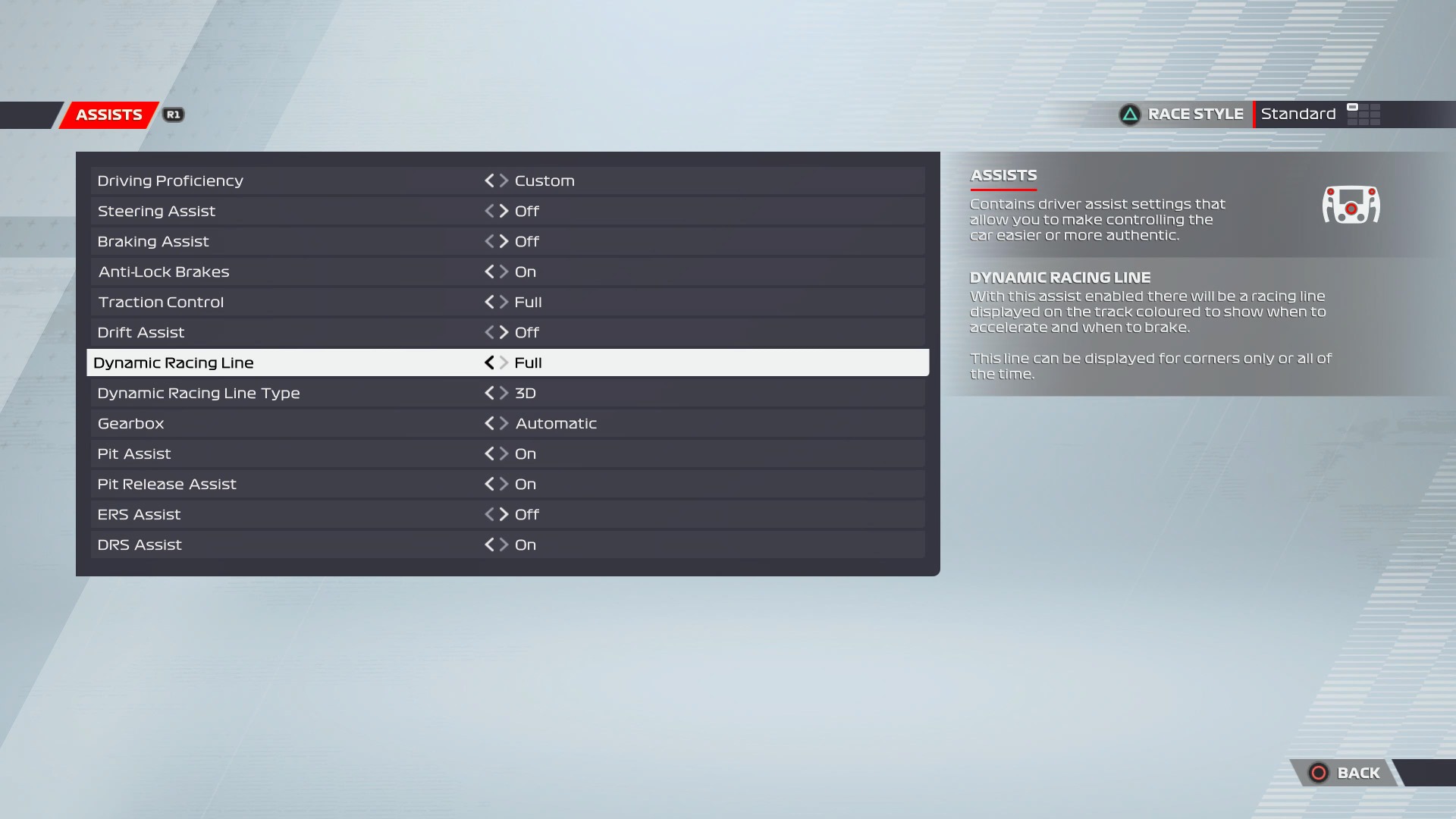 Not a lot of improvements in some areas
The Drivers and Team's career modes are my two favourites in the series and I'd usually spend the most time here but the lack of new addition and changes here was rather disappointing. I've commented about the lack of strategical play in the Team's mode where playing as the team's owner cum principal cum driver did not provide any strategising opportunities to lead the team towards success. This remains the case in this year's F1 game and it did not help that all other elements except for one, have remained unchanged. The only thing that's new is the Pirelli's Hot Laps, a new mini-game mode that comes between race weekends where I could drive a supercar through a series of challenges to earn in-game currency and research points.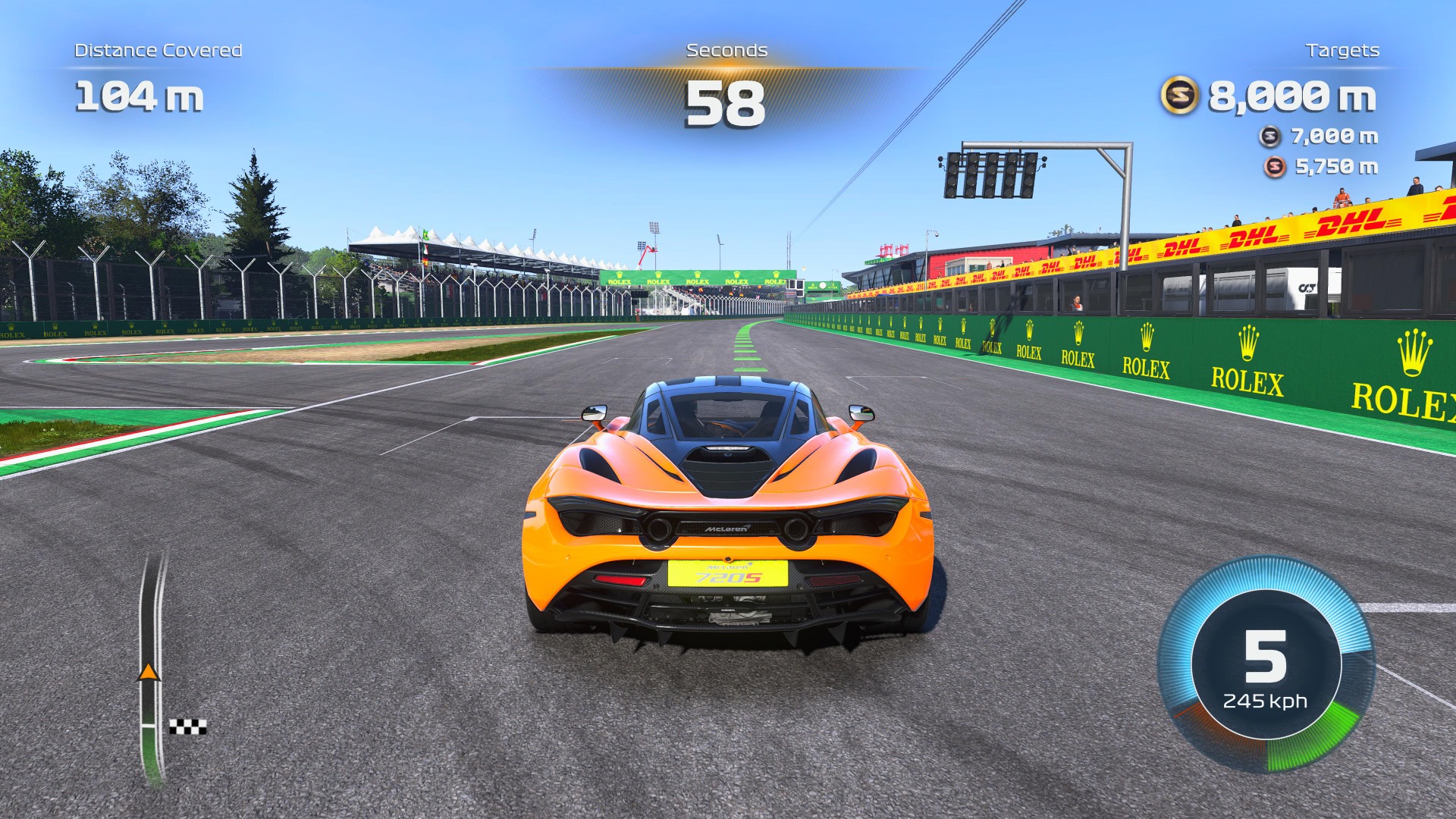 Graphically, I didn't notice any big improvements, or perhaps any at all to the game compared to its older F1 2021 predecessor. But that didn't bother me much as I find F1 2021 a pretty neat-looking game already though I wonder if I would still settle for the same level of graphics if the game returns next year with the same. Vehicles look stunning but the tracks and its surrounding could still use some improvements. And while I don't expect F1 games to look like what we'd get from Polyphony Digital's Gran Turismo series, I do expect Codemaster with the resources and backing of its new owner, Electronic Arts, to eventually benefit the F1 series in the visual department.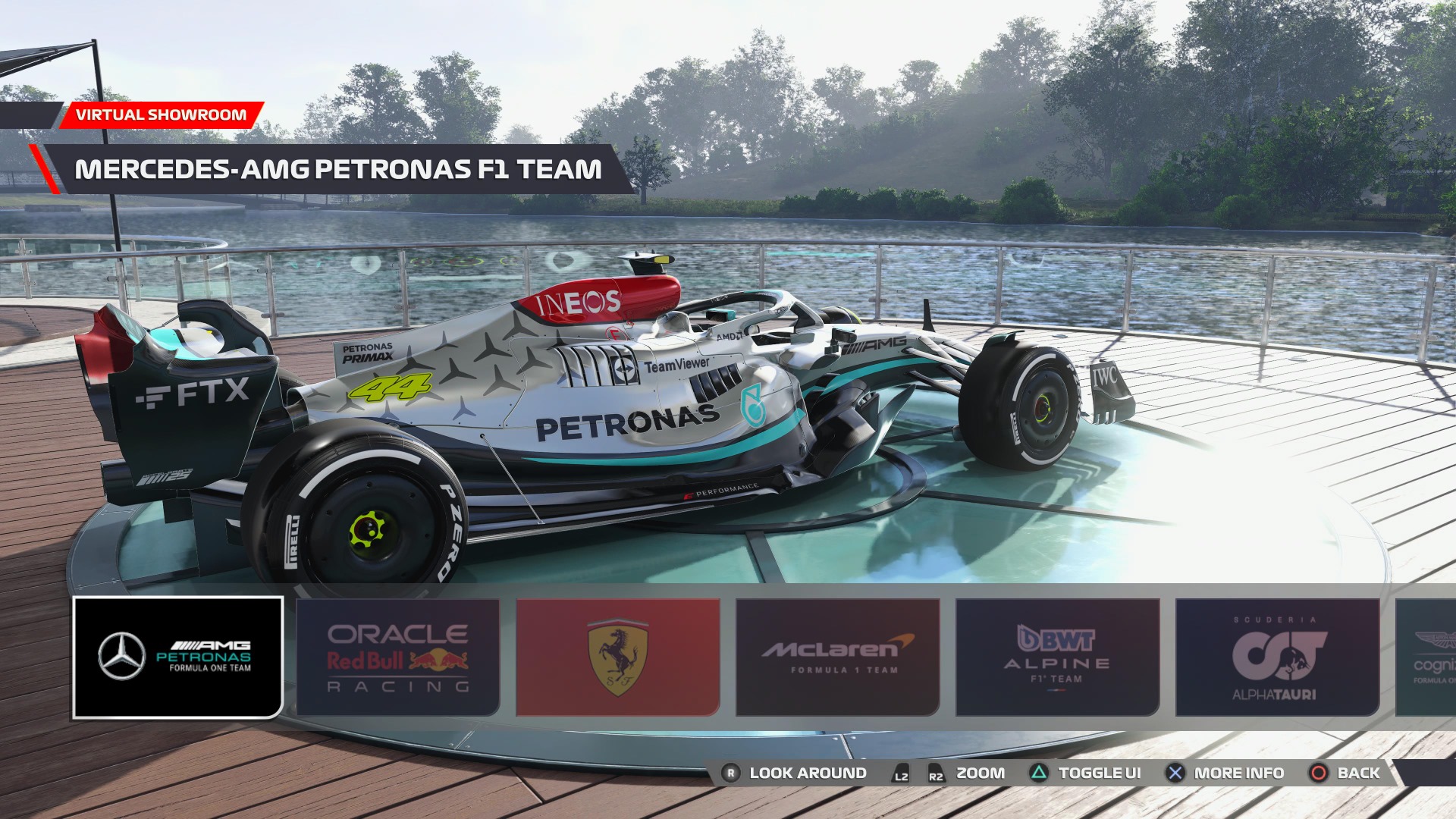 Radio/Voice bit is still as good
However, there is one element that the F1 games have triumphed over countless of its racing games peers out there and that is when it comes down to producing a proper teeth-clenching racing atmosphere. The actively communicated updates of the race and vehicle condition from the race engineer in the game is one of the things I adore the most about F1 games, especially when it's a close race where every little bit of timely information can make a huge difference. This includes the update of lapping time on the driver in front or behind me, the pitstop information and what tyres my rivals are running on, weather prediction or where my teammate is in time and position, the status and condition of my vehicle and so many more. F1 games before this would relay these vital information through an NPC Racing Engineer named Jeff but this year's game has afforded another option in real-life F1 mechanic, Marc Priestly, lending more authenticity to the racing atmosphere.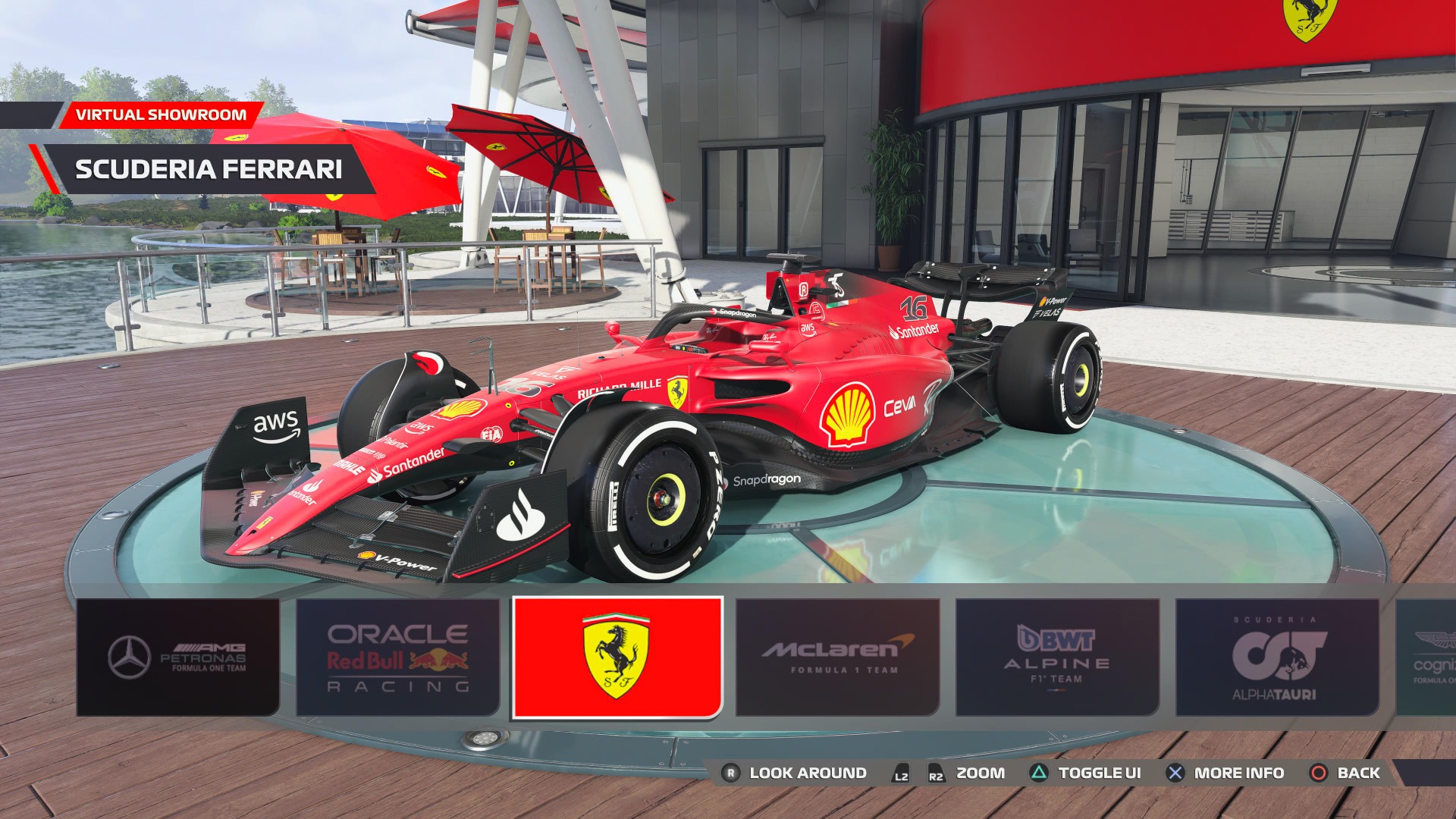 What I liked about F1 2022:
New tracks and revised layouts
The game is more accessible than ever
New car physics
Marc Priestly, the real-life F1 mechanic voicing as Race Engineer.
What I wished was better:
Braking Point is badly missed.
F1 Life is a waste of time.
Overall lack of new gameplay elements.
Verdict:
Is F1 2022 a better F1 game than F1 2021? In many ways, it is, except for the part where the story mode is missing. Despite some of my complaints about the game, I still enjoyed my time and have burned as many hours in it as I've burnt out my tyres racing. But was I disappointed with the lack of revolutionary elements in the title? Yes. The title is in a dangerous zone where if things still remain more or less the same next year, fans may just see less motivation to buy. I'd still vouch for it this year because the new car designs are an absolute looker and the sheer fact that this game comes together with new car physics and tracks.
Final Score – 7.5/10