In the fast-paced and fiercely competitive world of esports, victory often hinges on split-second decisions and lightning-quick reflexes. For esports enthusiasts, professional gamers, and those who demand nothing less than the best from their gaming experience, the choice of a monitor can be pivotal. Enter the ASUS ROG Swift Pro PG248QP, a monitor that caters to the very heart of what esports gamers seek: blistering frame rates and lightning-fast response times.
The ROG Swift Pro PG248QP , boasting an astonishing 540Hz refresh rate and a remarkable 1ms pixel response time, promises to be a game-changer in the quest for gaming perfection. In this comprehensive review, we delve into the world of the PG248QP, exploring its unique features and capabilities.
Specifications & Features
Display
Panel Size (inch) : 24.1
Aspect Ratio : 16:9
Color Space (sRGB) : 125%
Panel Type : TN
True Resolution : 1920×1080
Display Viewing Area (HxV) : 535.68 x 298.08 mm
Display Surface : Non-Glare
Pixel Pitch : 0.277mm
Brightness (Typ.) : 400cd/㎡
Brightness (HDR, Peak) : 400 cd/㎡
Contrast Ratio (Typ.) : 1000:1
Viewing Angle (CR≧10) : 170°/ 160°
Response Time : 0.2ms(GTG)
Display Colors : 16.7M
Flicker free : Yes
HDR (High Dynamic Range) Support : HDR10
Refresh Rate (max) : 540Hz
Video Feature
Color Accuracy : △E< 2
GamePlus : Yes
Low Blue Light : Yes
HDCP Support : Yes, 2.2
Game Visual : Yes
VRR Technology : G-SYNC®
I/O Ports
DisplayPort 1.4 DSC x 1
HDMI (v2.0) x 2
Earphone jack : Yes
USB Hub : 2x USB 3.2 Gen 1 Type-A
Signal Frequency
HDMI: 24-240Hz(V)/30-255KHz(H)
DP: 1-510Hz(V)/510-510KHz(H)
Power Consumption
Power Consumption : <21W
Power Saving Mode : <0.5W
Power Off Mode : <0.3W
Voltage : 100-240V, 50/60Hz
Mechanical Design
Tilt : Yes (+20° ~ -5°)
Swivel : Yes (+30° ~ -30°)
Height Adjustment : 0~110mm
VESA Wall Mounting : 100x100mm
Lighting effect (Aura) : Aura Sync
Kensington Lock : Yes
Dimensions & Weight
Phys. Dimension (W x H x D) : 55.7 x (39.2~50.2) x 25.5 cm
Phys. Dimension without Stand (W x H x D) : 55.73 x 33.04 x 8.58 cm (21.94″ x 13.01″ x 3.38″)
Box Dimension (W x H x D) : 67.20 x 52.00 x 22.80 cm (26.46″ x 20.47″ x 8.98″)Net Weight with Stand : 7.5 kg (16.53 lbs)
Net Weight without Stand : 3.6 kg (7.94 lbs)
Gross Weight : 11.4 kg (25.13 lbs)
Accessories (vary by regions)
Color pre-calibration report
DisplayPort cable
HDMI cable
Power adapter
Power cord
Quick start guide
ROG sticker
USB Type-B to A cable
Warranty Card
Certificates
TÜV Flicker-free
TÜV Low Blue Light
VESA DisplayHDR 400
G-SYNC
Based on the specifications alone, the ROG Swift Pro PG248QP monitor can be said as tailor made to the demands of gamers, particularly those engaged in esports. While most gamers prefer 4k gaming experience, an esports gamer will benefit more from a smaller but faster display with little to no input delay.
What distinguishes the ROG Swift Pro PG248QP is its exceptional 540Hz refresh rate, a substantial departure from typical industry standards, making it especially enticing for gamers who prioritize the pursuit of seamless and highly responsive gaming experiences.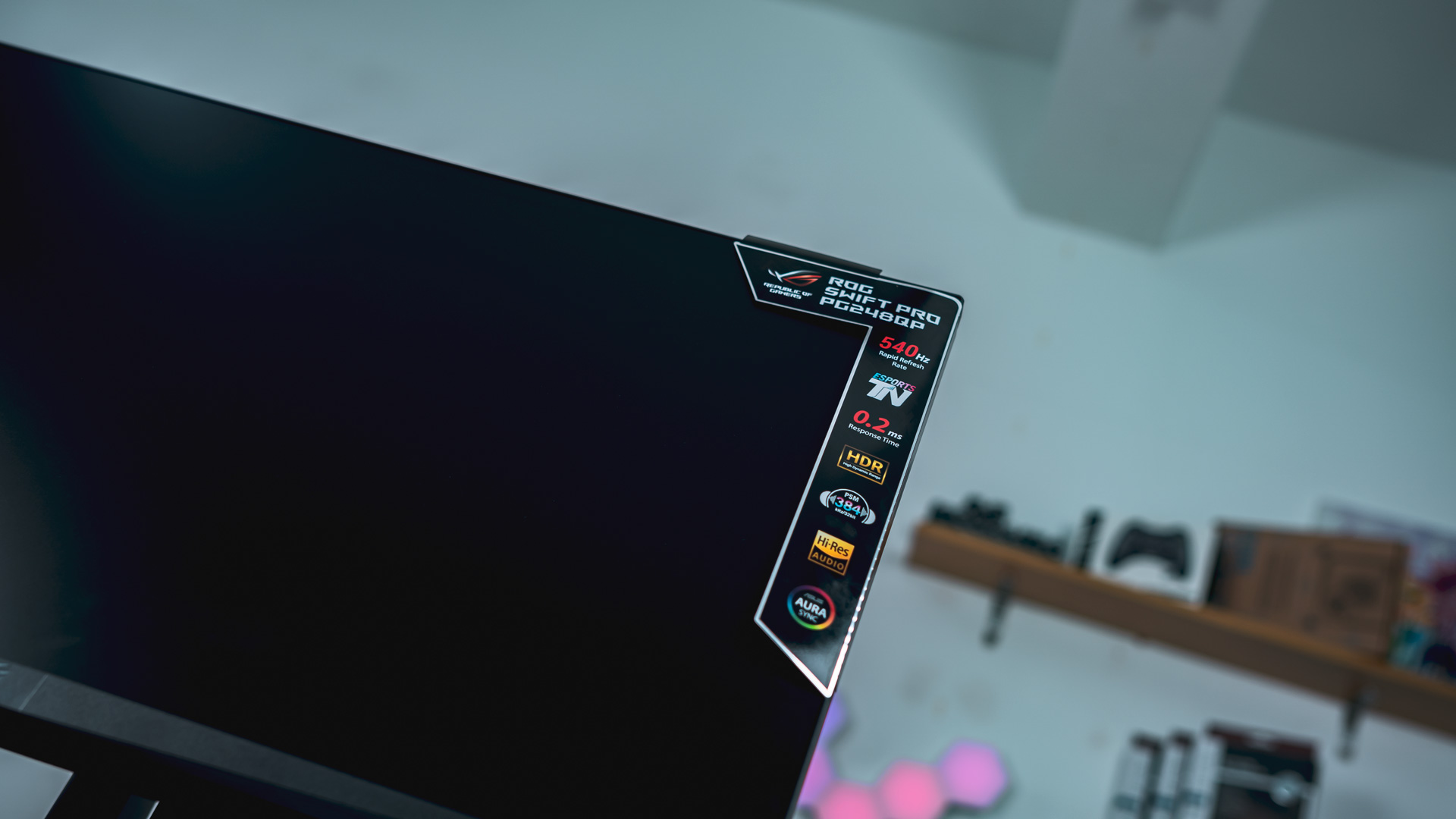 Complementing this, the monitor boasts a rapid 0.2ms response time, courtesy of its E-TN technology, not only enhancing response speed but also elevating visual clarity and effectively mitigating motion blur in the context of high-speed refresh rates.
E-TN Panel
ASUS claims that its E-TN panel demonstrates a performance advantage, surpassing both 360Hz IPS and 360Hz TN panels by as much as 50% and 30%, respectively. This positions it among the leading contenders of high-speed gaming monitors.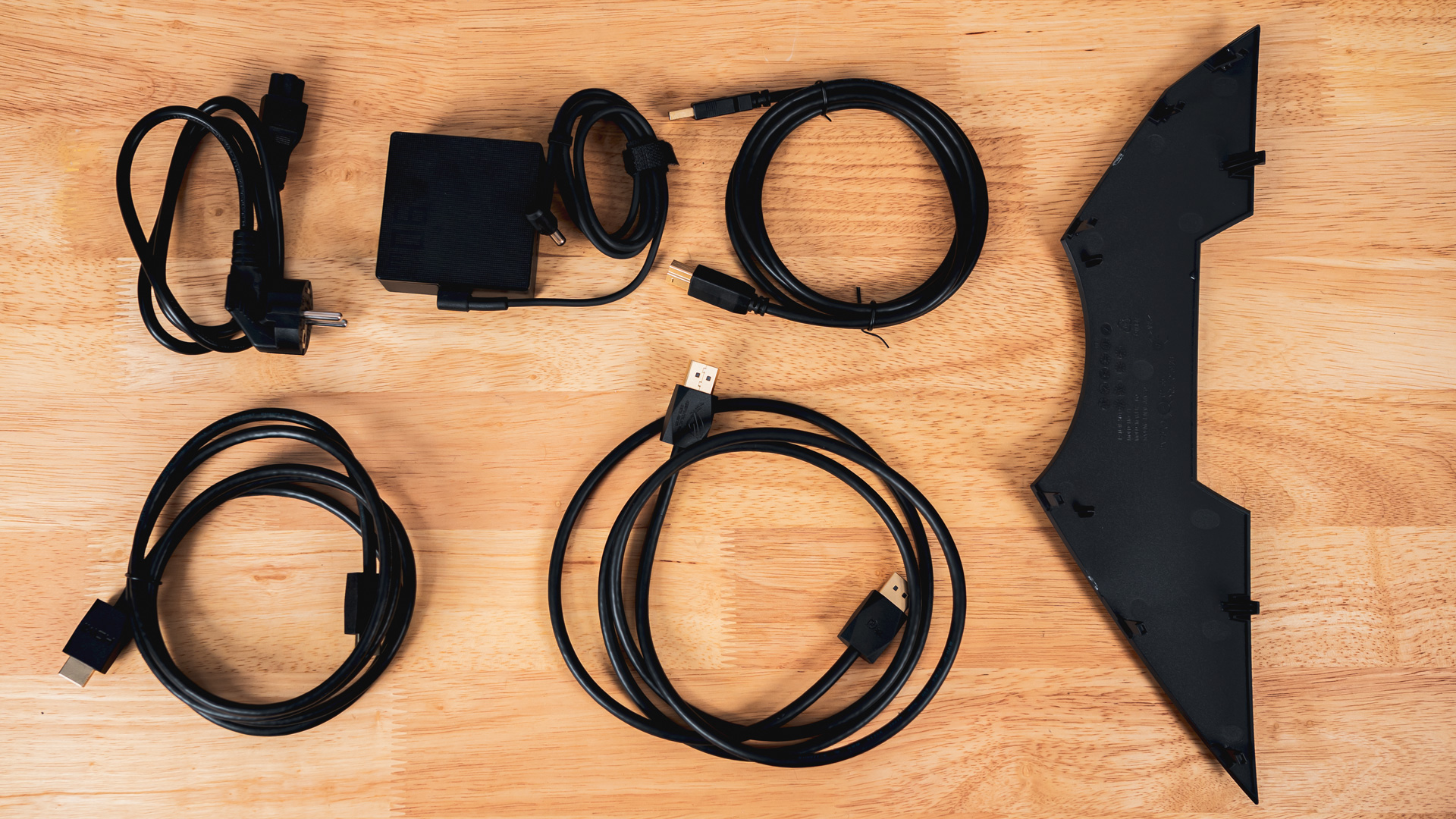 Moreover, the monitor features a 1000:1 contrast ratio, ensuring rich blacks and bright whites, thereby elevating the overall image quality. What's particularly notable is its DCI-P3 rating of 90%, a remarkable achievement for a TN panel, which broadens the color spectrum and challenging conventional limitations.
Exterior
When viewed from the front, the ROG Swift Pro PG248QP presents a rather simple and minimalistic appearance, characterized by nearly bezel-less edges on the top, left, and right sides, and a metallic ROG Eye logo centered at the bottom. The primary focus of its aesthetic appeal are focused on the back and it's unique stand.
On the back, the left side is home to all the control buttons, including the power and on-screen display (OSD) function buttons. In stark contrast, the right side is where this monitor truly shines (literally). In the upper-right corner, a large ROG Eye logo, compatible with AURA Sync, takes center stage, surrounded by futuristic design elements that converge toward the central exhaust vents. The lower section of the back panel houses the I/O ports (list of I/O ports on specifaction table above).
Retractable Base
Notably, the stand of the ROG Swift Pro PG248QP is a standout feature in itself, and I mean that without a pun. Unlike most display stands which comes with fixed base, the base on the ROG Swift Pro PG248QP is actually retractable.
While this feature might appear redundant to some, it holds immense significance for professional esports gamers. Pro players are known for their exceptionally close proximity to the screen, with some positioning themselves so close that their noses are mere centimeters away from the display (as seen in the video below). In such cases, the placement of the mouse and keyboard often shifts either below or even behind the monitor.
This is where the retractable base proves its relevance. By retracting both feet to form a smaller base, it facilitates a more convenient arrangement for players to position their mouse and keyboard, enhancing their gaming experience.
Display Quality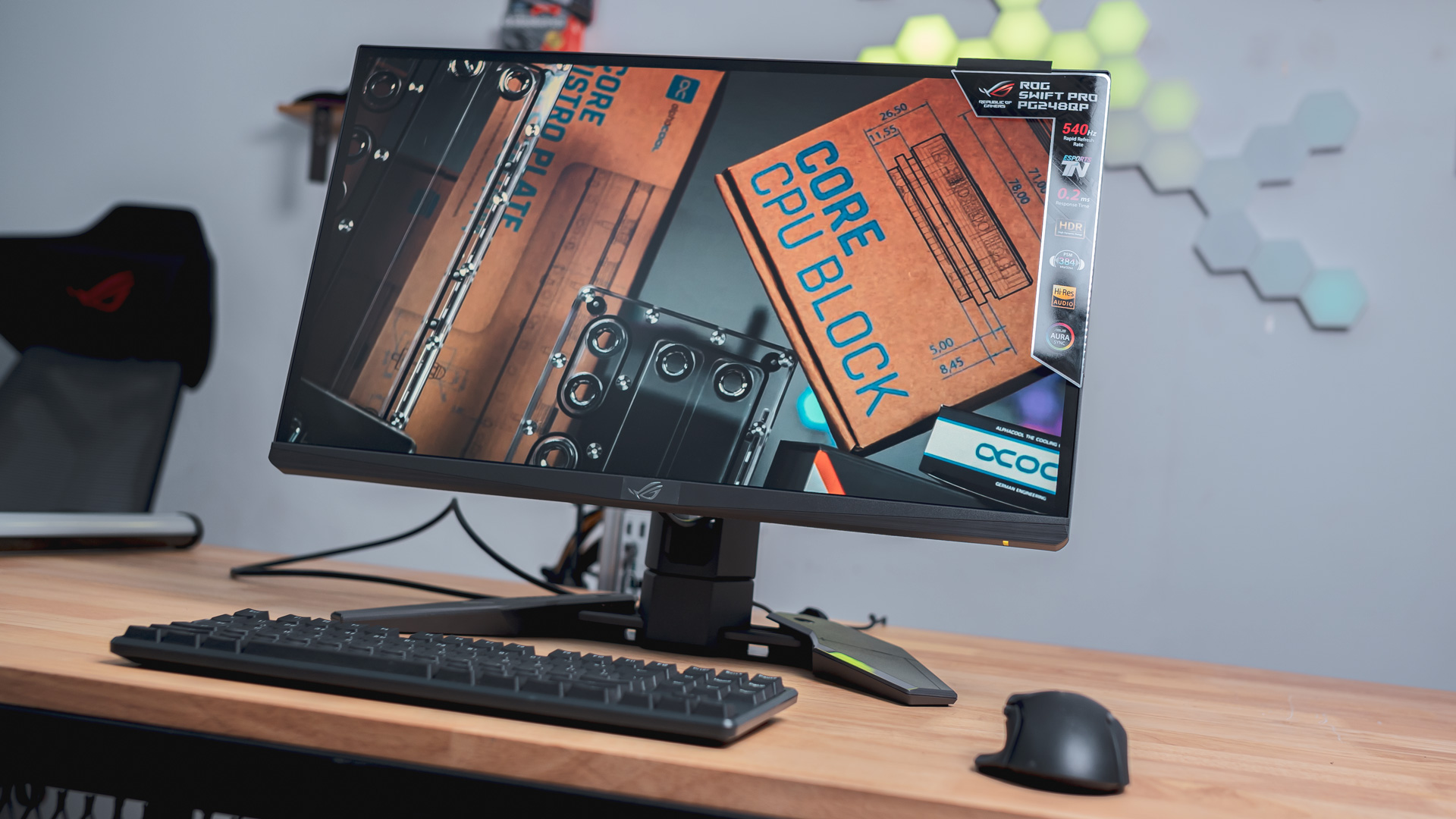 As an owner of both the ProArt PA279CRV and ROG Swift OLED PG27AQDM, I've always associated gaming monitors with less color accuracy but the more vibrant of the two – which is not the case with the ROG Swift Pro PG248QP. If I'm to put it into a comparison scale, I would place the ROG Swift Pro PG248QP between both my monitors in terms of vibrancy while being much closer to the ProArt in terms of colour accuracy. And this is coming from a TN panel – colour me surprised!
As for overall display quality, it is rather impressive except for the limitations of viewing angles which is inherent to all TN panels. It's high contrast ratio of 1000:1, peak brightness of 400 Nits and DCI-P3 rating of 90% contributes greatly to its display quality and also meets the requirement for VESA's DisplayHDR™ 400 certification.
540Hz display – with NVidia G-SYNC ULMB 2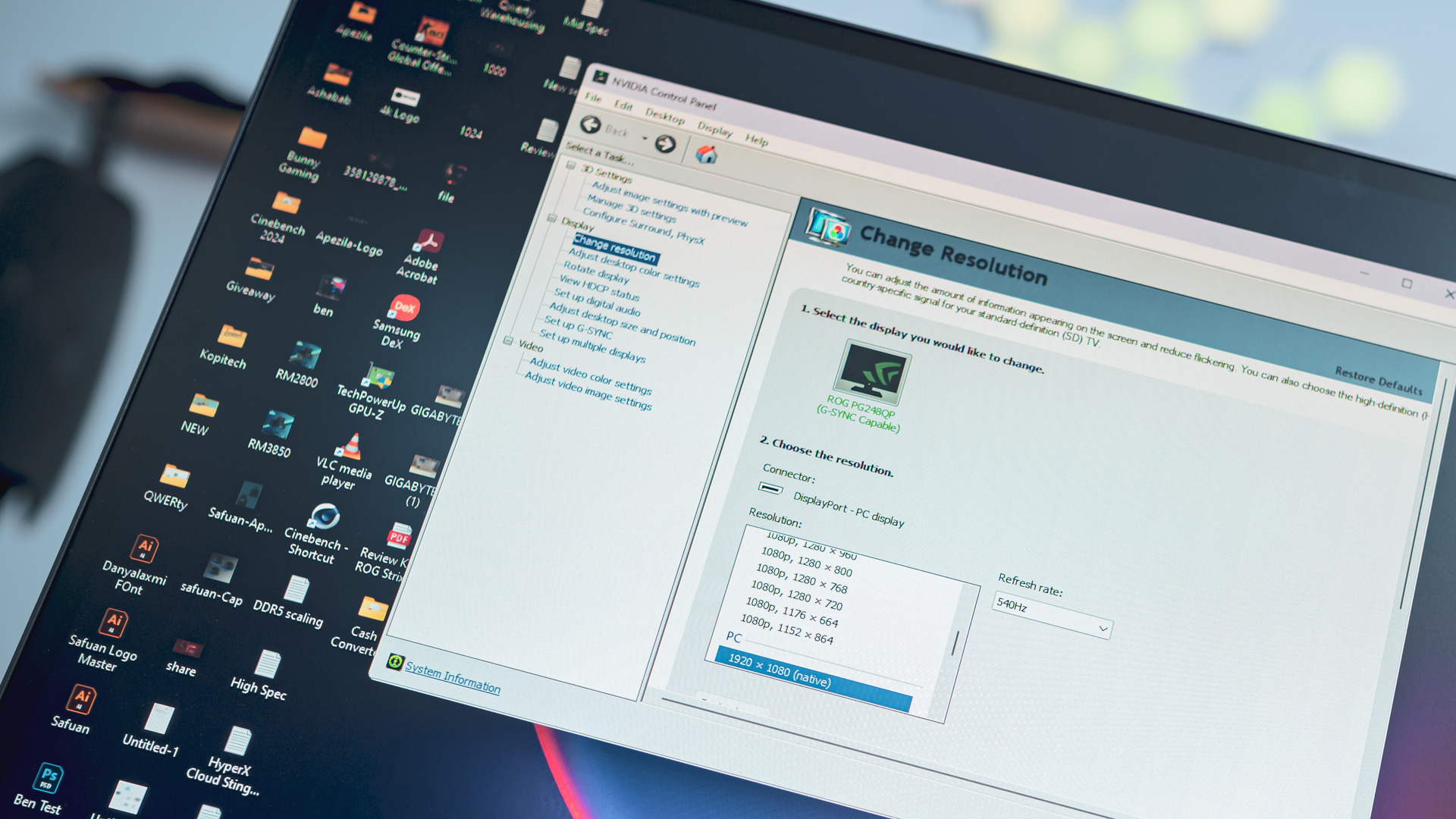 The 540Hz feature is the highlight of this display. I've used and sampled a plethora of monitors, ranging from 60Hz, all the way to 360hz – but never anything above 360Hz, so this is an entirely new experience for me. Moving from a 360Hz display, the difference wasn't that noticeable, so to further test the experience, I've decide to spend a day of gaming at 240hz – and lo and behold, the smoothness of 540Hz is just mind blowing. The smoothness of animation doesn't only improve gaming performance, it improves immersion as well!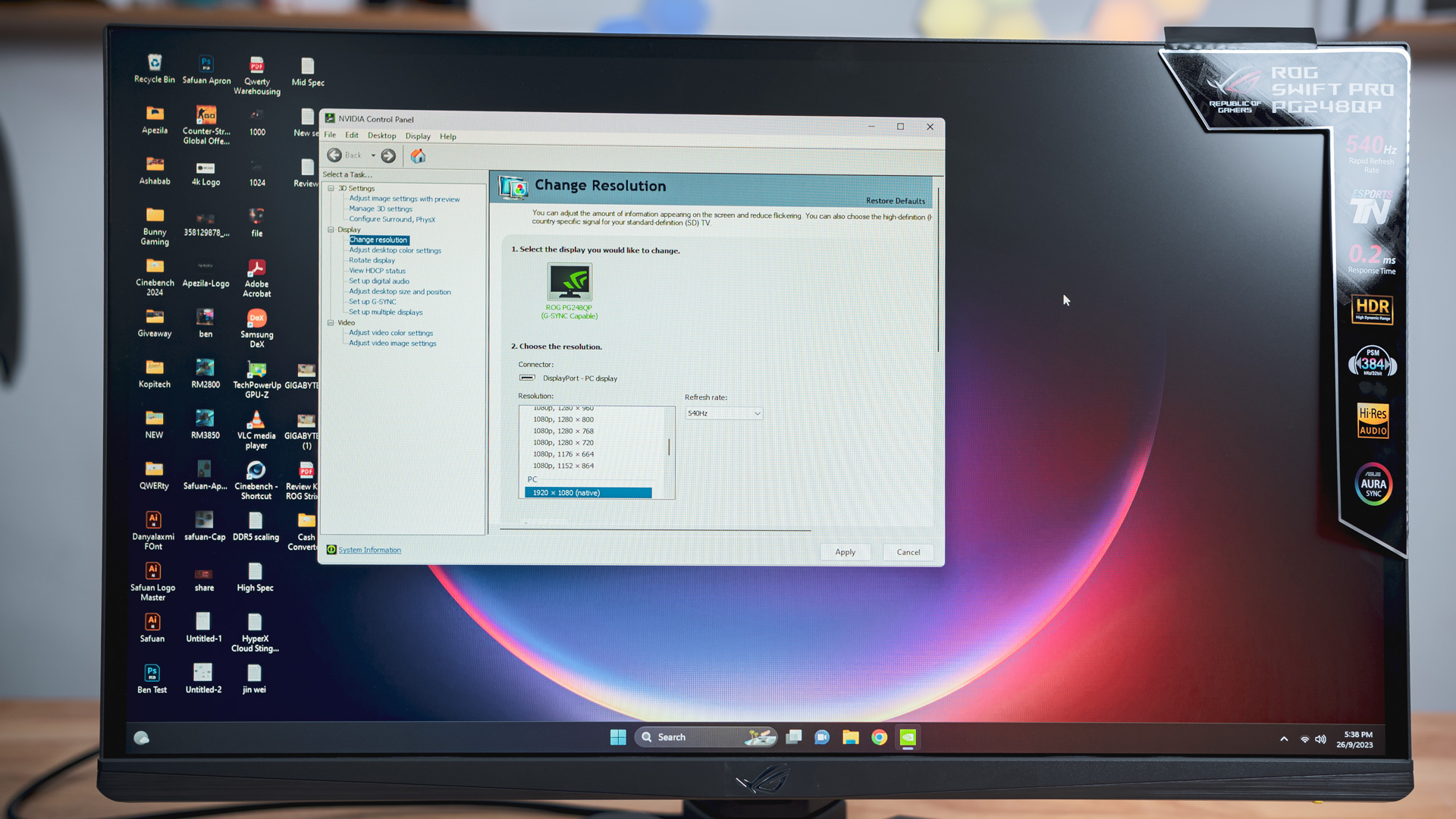 One of the major concerns when it comes to an esports display with a high refresh rate is pixel response time. For those who are unfamiliar, a display's response time determines the time it takes for a pixel to change colors. A high refresh rate display with a low response time will often than not result in image ghosting – which is not good for esports as this will lead to a competitive disadvantage. And kudos to the team behind the ROG Swift Pro PG248QP – low motion blur with sharp images. Tested on Overwatch 2 and Valorant, the gaming experience is as smooth as it gets, and every single battle was sharp and clear without any form of pixel trailing from the fast paced environment. The experience was further enhanced with G-SYNC ULMB switched on, further improving motion clarity and sharpness.
NVidia Reflex Analyzer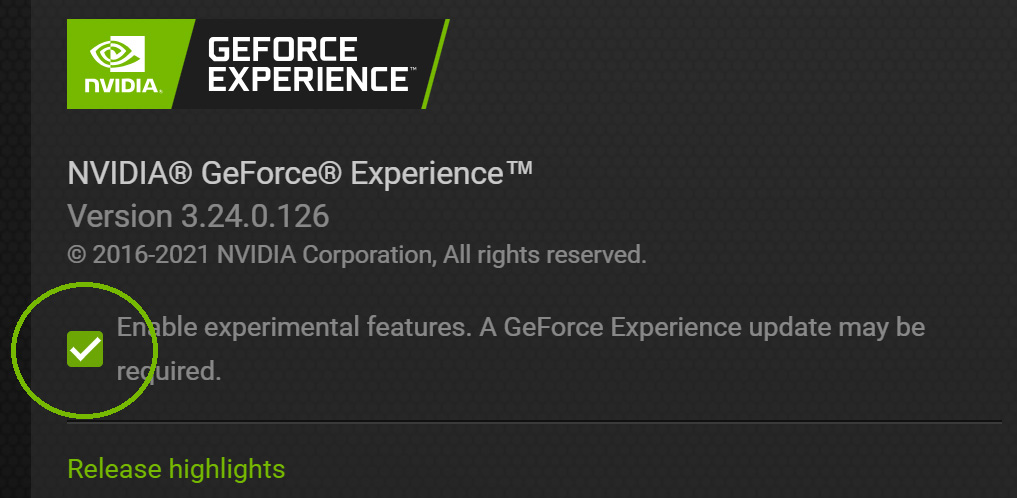 Packaged together with the ROG Swift Pro PG248QP is NVidia Reflex Analyzer. NVidia Refllex Analyzer captures the exact moment the mouse is clicked to when the pixels on the screen update, in this case when the latency flash indicator (tiny square on the far left of the screen) changes from dark gray to white. The time between the mouse click and the pixels changing on the screen is known as System Latency. Lower latency is known to improve player competitive performance.
Setting up a gaming build with NVidia Reflex Analyzer display is slightly different from the usual PC setup. For this setup, the mice is directly connected to the display for Reflex Analyzer to capture a mouse click, while the display requires an additional USB connection from the display to the motherboard. Furthermore, the experimental feature option on GeForce experience is required to be switched on.
---
What I Love about the ASUS ROG Swift Pro PG248QP
Ridiculously impressive refresh rate
High Contrast Ratio
Impressive DCI-P3 rating for a TN panel
Fast Response Time
G-Sync Ready, ULMB 2 and NVidia Reflex Analyzer
What I Wished Was Better
FHD (1080p) makes it too esports focused while gamers in general would prefer a minimum resolution of 1440p
---
Verdict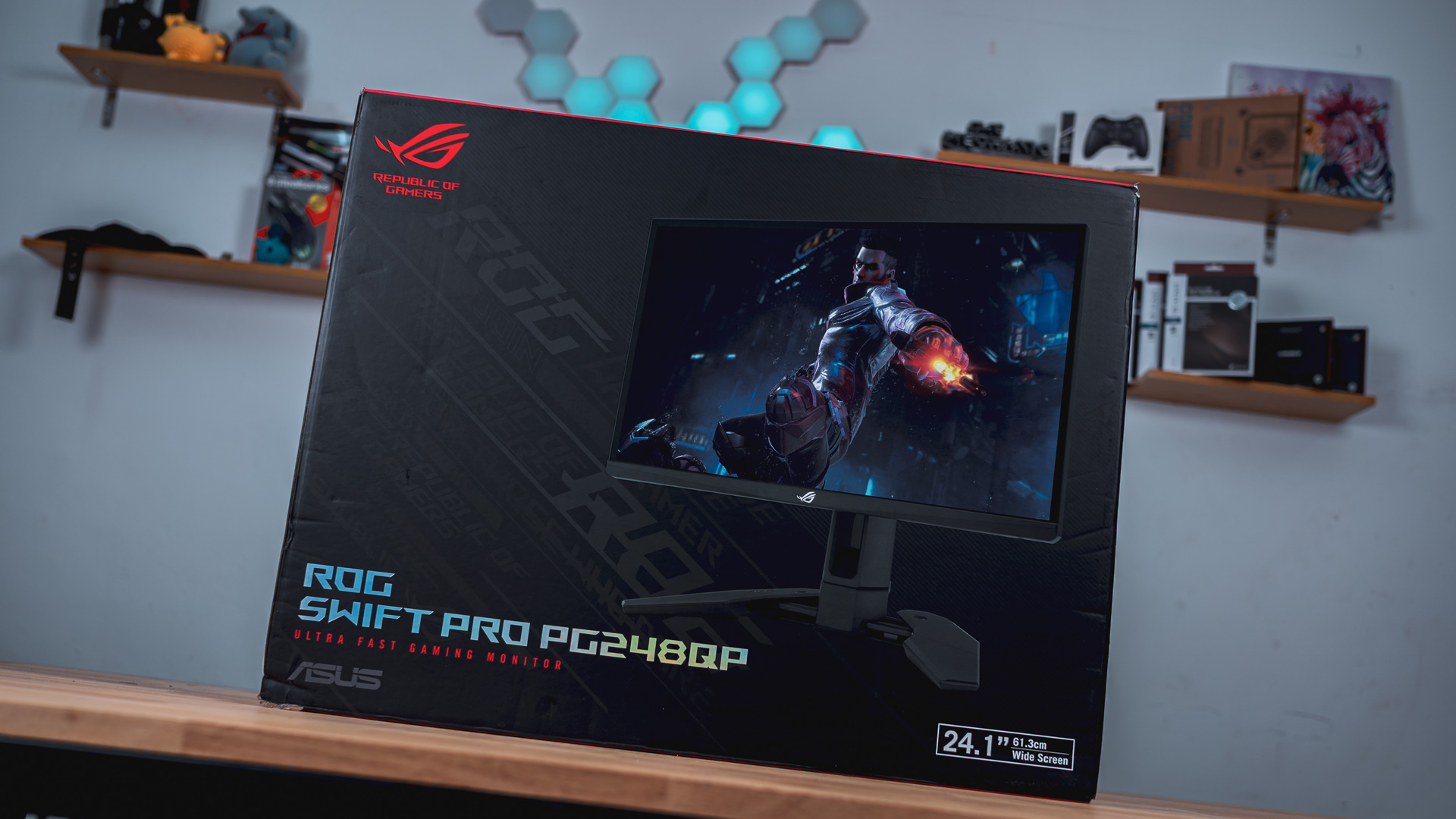 In the ever-evolving landscape of gaming monitors, the ASUS ROG Swift Pro PG248QP has proven itself to be a compelling contender, particularly for esports professionals. It's in this realm that the PG248QP shines most brilliantly, boasting an extraordinary 540Hz refresh rate and an astonishing 0.2ms response time, attributes that redefine the very concept of speed and responsiveness in gaming. For professional esports players and competitive enthusiasts who demand nothing short of the best, this monitor is your beacon of hope, promising a competitive edge and a smoother gameplay experience that's second to none.
Display quality is another area where the PG248QP pleasantly surprises. With a high DCI-P3 rating of 90% and an unexpected 1000:1 contrast ratio for a TN panel, it elevates visual clarity and color vibrancy, defying the conventional limitations of its panel type. This translates into more immersive and captivating gaming sessions, where every detail matters. Performance-wise, the monitor's E-TN panel technology catapults it to the forefront of the market, outpacing even 360Hz IPS and 360Hz TN panels by impressive margins.
Not for casual gamers
However, it's essential to view the PG248QP through a slightly different lens when considering the needs of regular gamers. Its 1080p resolution and 24-inch size, while offering a crisp image, may not align with the current trends of larger screens and higher resolutions. Additionally, its TN panel, though excellent for speed and response, comes with limitations in terms of viewing angles and color accuracy, which may be more noticeable in non-competitive, immersive gaming scenarios.
Summary
In essence, the ASUS ROG Swift Pro PG248QP is a specialized tool crafted for the esports elite, where split-second decisions and lightning-fast reflexes are paramount. Its remarkable capabilities in the realms of esports, display quality, and performance make it a noteworthy addition to the gaming world. However, for the broader spectrum of gamers who seek versatility and broader usage scenarios, the PG248QP might be seen as a specialized tool that excels in its niche but may not cater to every gaming preference.
FINAL SCORE : 9/10 (for esports)
---
Product link : https://rog.asus.com/monitors/23-to-24-5-inches/rog-swift-pro-pg248qp/