Samsung Malaysia Electronics has announced that they will be launching the Odyssey Neo G9, the revolutionary 57-inch Dual UHD resolution gaming monitor that won 2023 Best of Innovation Award at CES this year.
The Odyssey Neo G9 is Samsung's first Dual UHD gaming monitor, boasting a resolution of 7680×2160 and a massive 57-inch curved screen with a 32:9 aspect ratio. This ultra-wide display provides an immersive and cinematic gaming experience, allowing gamers to see more of the game world and react faster to in-game events. It is equipped with Quantum Matrix Technology, which utilizes Quantum Mini LEDs to deliver incredibly precise and controlled lighting. This technology ensures that every scene is displayed with stunning detail and clarity, even in the darkest or brightest environments!
The monitor also supports VESA DisplayHDR 1000, which means it can produce a peak brightness of 1000 nits, providing a truly HDR gaming experience. With DisplayPort 2.1 input, the Odyssey Neo G9 can handle even the most demanding games with ease.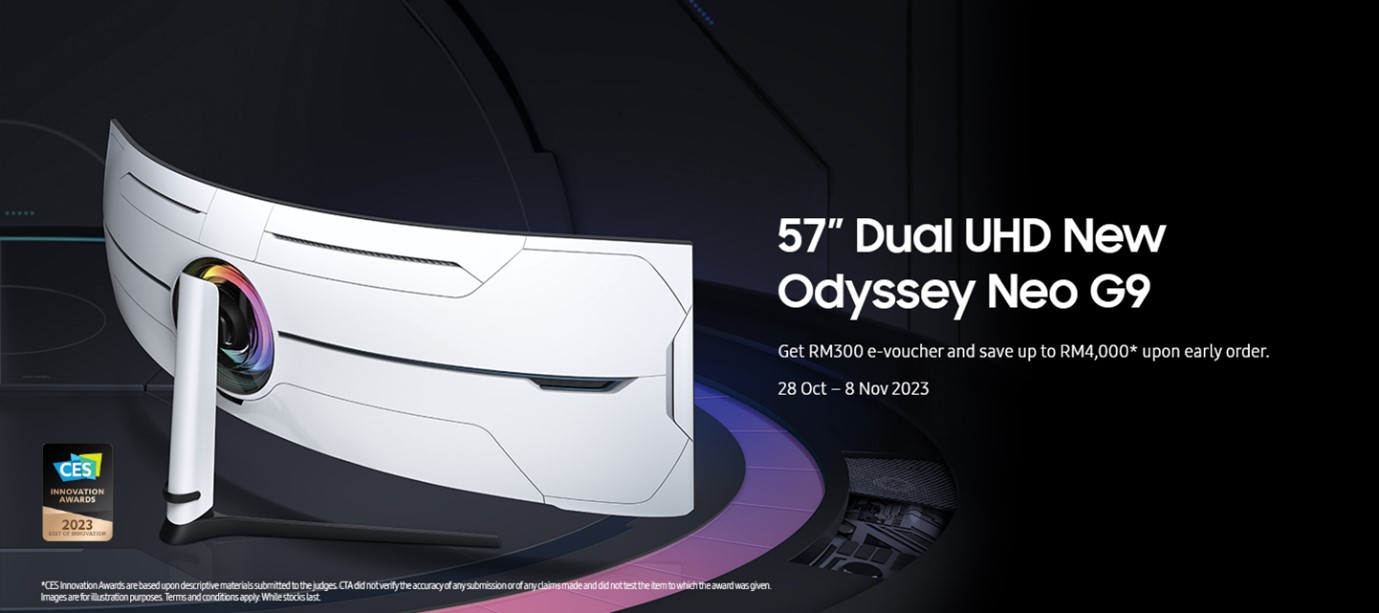 To celebrate the launch of the Odyssey Neo G9, Samsung is offering a RM300 e-voucher and savings of up to RM4,000 to customers who register their interest between 28 October to 8 November 2023. The e-voucher can be used to early order your brand new monitor from 9 November to 13 November 2023.
Here's How to Get Your Exclusive RM300 E-Voucher:
Step 1: Login to https://www.samsung.com/my/new-odyssey-g9-registration
Step 2: Register your interest by completing and submitting the online form between 28 October to 8 November 2023.
Step 3: You will receive a RM300 e-voucher code and entitlement of savings up to RM4,000 via email.
Step 4: On 9 November 2023, add the Odyssey Neo G9 to your cart and check out.
Step 5: At the confirmation page, enter the code in the promo code box and select "Confirm" before checkout. The RM300 discount and savings will be automatically reflected in your cart.
Step 6: Checkout and make payment accordingly.
The Early Order e-voucher and savings up to RM4,000 are available on a first-come, first-served basis. It's an exclusive offer for customers nationwide who register their interest. Make sure you don't miss out on this opportunity to enhance your gaming setup.