ASUS Republic of Gamers (ROG) today announced the second project in its ongoing collaboration with ACRONYM, a leading technical apparel company, to create the ROG Flow Z13-ACRNM RMT02 — bringing together the world of fashion, art, tech, Web3 and gaming in a powerful tablet.
ROG x ACRONYM
ACRONYM co-founder Errolson Hugh has been a pioneer in the technical-apparel industry since the company's founding in 1994. In the decades since ACRONYM has built an extensive design portfolio dedicated to fusing advanced functionality with high-end technology. Whether they're collaborating with Nike or BE@RBRICK, appearing in the Death Stranding game, or creating apparel under its own flag, ACRONYM has a proven track record as a visionary in the apparel industry with a commitment to sourcing top-notch materials to engineer hyper-functional designs that go beyond style. The ROG Flow Z13-ACRNM RMT02 is the second product in the company's ongoing collaboration with Republic of Gamers.
"The design idea of the RMTO2 seeks to make a new proposition. We're trying to reimagine how users interact with the world around them, together with their machine, and do things in a new way. We chose to partner with Republic of Gamers because it has a completely open-minded approach. Its engineers were willing to go into unknown territory, and they had the know-how and the competence to deliver those ideas."

Errolson Hugh – ACRONYM Co-Founder
To design the RMT02, Hugh called on experts with unique design experience, starting with industrial designer and feature film concept artist Phil Saunders, best-known for designing the iconic Iron Man suit. Saunders took a visionary approach to the project, having spent his career literally designing for future worlds. The project was spearheaded by Rod Chong, an LA-based creative director and long-time collaborator with Hugh. Working alongside ROG engineers and staff, Hugh's team entered a years-long design and prototyping process that pushed even ROG's considerable expertise.
"Working with the ACRONYM team is a process of understanding how we can look at things from a different angle, and approach customer experiences from different perspectives. ACRONYM takes design to a whole new level of thinking how humans interact and use the things around them."

Shawn Yen – ROG Vice President of the Gaming Business Unit
This human-first approach made ACRONYM a natural design partner for the Republic of Gamers. ROG is committed to making premium gaming hardware that's powerful enough for pro-level work and play, while also being customizable enough that every gamer can express themselves. ACRONYM designs consistently embody their belief that good design is a form of freedom. Through style, audiences can share their story, their way.
Ultra-versatile
The ROG Flow Z13-ACRNM RMT02 is part of ROG's 2023 Flow series, which aims to offer ultra-versatile gaming with ultra-thin devices that can adapt to any scenario. The Flow Z13 was the perfect platform for ACRONYM and ROG to expand this versatility to other uses that require pro-spec processing and graphics in a multi-functional hand-held device.
The integrated carry system and stabilized grips aid use on the go, and the integrated kickstand easily transforms the RMT02 into a traditional laptop form factor that's perfect for gaming, creation or viewing content. The kickstand can also be used when the machine is in a portrait orientation, making it the only Z13 capable of hands-free use from both angles.
Breathtaking performance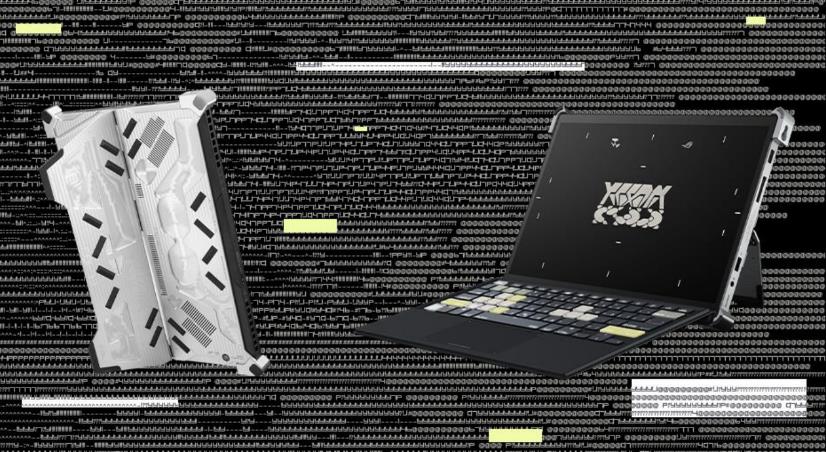 The ROG Flow Z13-ACRNM RMT02 features an Intel Core i9-13900H processor and NVIDIA GeForce RTX 4070 Laptop GPU. ROG has also added a MUX Switch and NVIDIA Advanced Optimus to the device, along with a total thermal capacity of 80 W. The ROG Intelligent Cooling system has added a vapor chamber here with 50% mainboard coverage.
Liquid-metal and arc-flow fans ensure 0 dB ambient cooling. The device supports XG Mobile and sports the ROG Nebula display with a 16:10 aspect ratio. Other features related to the display include a 165 Hz refresh rate, 500 nits brightness and 100% DCI-P3 touchscreen panel with Corning Gorilla Glass DXC.
The device is equipped with Type-A, Type-C, and microSD connectivity options. It also comes with Thunderbolt 4 and WiFi 6E. It has a full CNC-milled metal chassis and supports 130 W fast charging through a Type-C port.
Redefining portability and interaction
Starting from the ROG Flow Z13 base and incorporating functional elements and the design philosophy of their apparel design, ACRONYM radicalized the compact portability of the Flow Z13-ACRNM RMT02. The device effortlessly transitions between high-end tablet, a powerful, mobile desktop for gaming and an on-the-go creative workstation. The ACRONYM design philosophy advocates 'open agency', allowing the user multiple ways to interface with, and use the product — an approach that is obvious throughout the RMT02. Design elements are driven by how the device feels in the user's hand and how they encourage use in new scenarios.
"The thing that is immediately noticed when picking up an RMT02 up is that everything is extremely tactile. The strap system gives the user as much agency as possible in the ways that they can interact with their device: it becomes its own bag. It can be slung over a shoulder. There's a mode that frees both hands, so the user can interact with it on the go."

Phil Saunders – Product Designer
Driven by the mission to deliver genuine innovation, the collaboration pushed the limits of what's possible in manufacturing. The machined aluminium, embedded rubber-grip elements, protective corners, strap system and precision etchings throughout reinforce the notion that this is a precise tool that also took great technical care to make. Designed to be its own carrying case, the robust aluminium chassis undergoes an intensive machining process that presents as both beautifully refined yet raw, displaying evident CNC-path marks. A closer look at the device reveals striking touches, like laser-etched graphics, and customized typefaces and iconography.
The Flow Z13-ACRNM RMT02 comes with a custom ACRONYM pouch designed to house the power supply, power cables and pen.
The Flow Z13-ACRNM RMT02 will be accompanied by the launch of the WRKGRP BEACON Web3 program, which reimagines the brand-community relationship, adding to the ownership experience with an additional layer of digital and physical collectables.
ACRONYM and ROG are proud to take this step together toward a radical new vision of what users' experience of personal devices can be.
Availability and Pricing
PRICING AND AVAILABILITY FOR MALAYSIA (AS OF 31/MARCH/2023)
For more info, visit: https://rog.asus.com/my/laptops/rog-flow-series/