To celebrate the 2nd anniversary of Ace Combat 7: Skies Unknown on 17 January 2021, BANDAI NAMCO Entertainment Asia announced the Ace Combat 7: Skies Unknown 2nd Anniversary Update" which will be released on 19 January 2021.
Enjoy the gameplay with a total of 10 different aircraft skins, including the Glowing Skin that makes your aircraft glow brilliantly, along with previous protagonist and comrades aircraft skins from the Ace Combat series.
In addition, 10 new emblems, including a newly designed trigger emblem, will be added.
In addition, this title has sold over 2.5 million units worldwide, and to commemorate this milestone, we have released an illustration on our special website to show our gratitude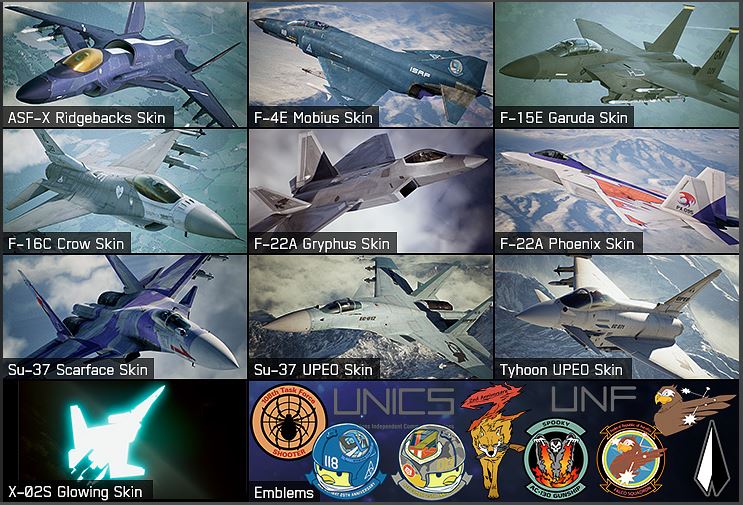 Release Date: 19 January
【Contents】
10 New Skins
X-02S Glowing Skin, F-22A Phoenix Skin, F-4E Mobius Skin, F-15E Garuda Skin,
ASF-X Ridgebacks Skin, F-16C Crow Skin, Su-37 Scarface Skin, Typhoon UPEO Skin,
F-22A Gryphus Skin, Su-37 UPEO Skin.
10 New Emblems
25th Anniversary Nugget -Mobius 1-, 25th Anniversary Nugget -Yellow 13-,
Ace Combat 7 2nd Anniversary, Shooter (emblem), Spooky (emblem), Falco (emblem),
UNF, UNICS, Arrows (Low-Vis), Falco.