It's time to dive in once again into the exciting game reveals from the September 14th, 2023, State of Play event, and I must say, some of the announcements below pretty much lived up to the hype and got my heart pumping to get my hands on it.
---
Unicorn Overlord
Nothing is more exciting than to see another Vanillaware project unfold as you traverse the vibrant world of Fevrith and cultivate a grand army with over 60 unique characters in this tactical fantasy RPG. The adventure begins on March 8, 2024.
---
Marvel's Spider-Man 2
Hyped to jump around and back as Spider-Men Peter Parker and Miles Morales join forces to save the city once again as well as adding on Venom and the dangerous new symbiote threat.
Details as shared on Youtube
In Marvel's Spider-Man 2, Spider-Men Peter Parker and Miles Morales face the ultimate test of strength inside and outside the mask as they fight to save the city, each other, and the ones they love, from the monstrous Venom and the dangerous new symbiote threat.
Marvel's Spider-Man 2 Digital Deluxe Edition includes:
Marvel's Spider-Man 2 full game for PS5
5 unique Miles Morales suits o EnC0ded Suit design by Kris Anka
Biomechanical Suit design by Jerad Marantz
Tokusatsu Suit design by Julia Blattman
Agimat Suit design by Anthony Francisco
Red Spectre Suit design by Sweeney Boo
5 unique Peter Parker suits
Aurantia Suit design by Raf Grassetti
Apunkalyptic Suit design by Jerad Marantz
Tactical Suit design by Joel Mandish
Stone Monkey design by Victoria Ying
25th Century Suit design by Anthony Francisco
Additional Photo Mode items
+2 Skill Points
Also includes pre-order incentive items:
• Arachknight Suit for Peter early unlock (includes three color variants)
• Shadow-Spider Suit for Miles early unlock (includes three color variants)
• Web Grabber gadget early unlock
• +3 Skill Points
Marvel's Spider-Man 2 Senior Creative Director Bryan Intihar narrates a first look at the newly expanded Marvel's New York and what you can expect from its next-gen open-world gameplay.
---
Final Fantasy VII Rebirth
Continuing Cloud's journey is a must as the release date has been finally announced on February 29th, 2024 for the PlayStation5 (PS5) console. Looking forward to this.
Details as shared on Youtube
The Unknown Journey Continues… After escaping from the dystopian city of Midgar, Cloud, and his friends set out on a journey across the planet. New adventures await in a vibrant and vast world – sprint across grassy plains on a Chocobo and explore expansive environments. Players wishing to experience the Final Fantasy VII remake project so far can pre-order the Twin Pack, which includes Final Fantasy VII Remake Intergrade, the graphically enhanced and expanded version of Final Fantasy VII Remake.
---
Tales of Arise – Beyond the Dawn
I am stoked to hear that there is also a continuation of this jaw-dropping JRPG with pure anime combo actions and a cinematic adrenaline-pumping rush. Tales of Arise – Beyond the Dawn will be set to be released on November 9th, 2023.
---
Helldivers 2
Dive back and take out alien trash as Helldivers is fighting for freedom across a hostile galaxy and this time not in isometric view but in a third-person shooter instead. Helldivers 2 is coming to PS5 and Steam on February 8th, 2024.
Details as shared on Steam:
FIGHT FOR SUPER EARTH
Freedom. Peace. Managed Democracy. Your Super Earth-born rights. The key pillars of our civilization. These are under attack from deadly alien civilizations, conspiring to destroy the Super Earth and its values. You'll step into the boots of an elite class of soldiers whose mission is to spread peace, liberty, and Managed Democracy using the biggest, baddest, and most explosive tools in the galaxy. Team up with up to four friends and wreak havoc on the alien scourge that threatens the safety of your home, Super Earth.
The Helldivers must take on the role of galactic peacekeepers in this Galactic War and protect their home planet, spread the message of Democracy, and liberate the hostiles by force.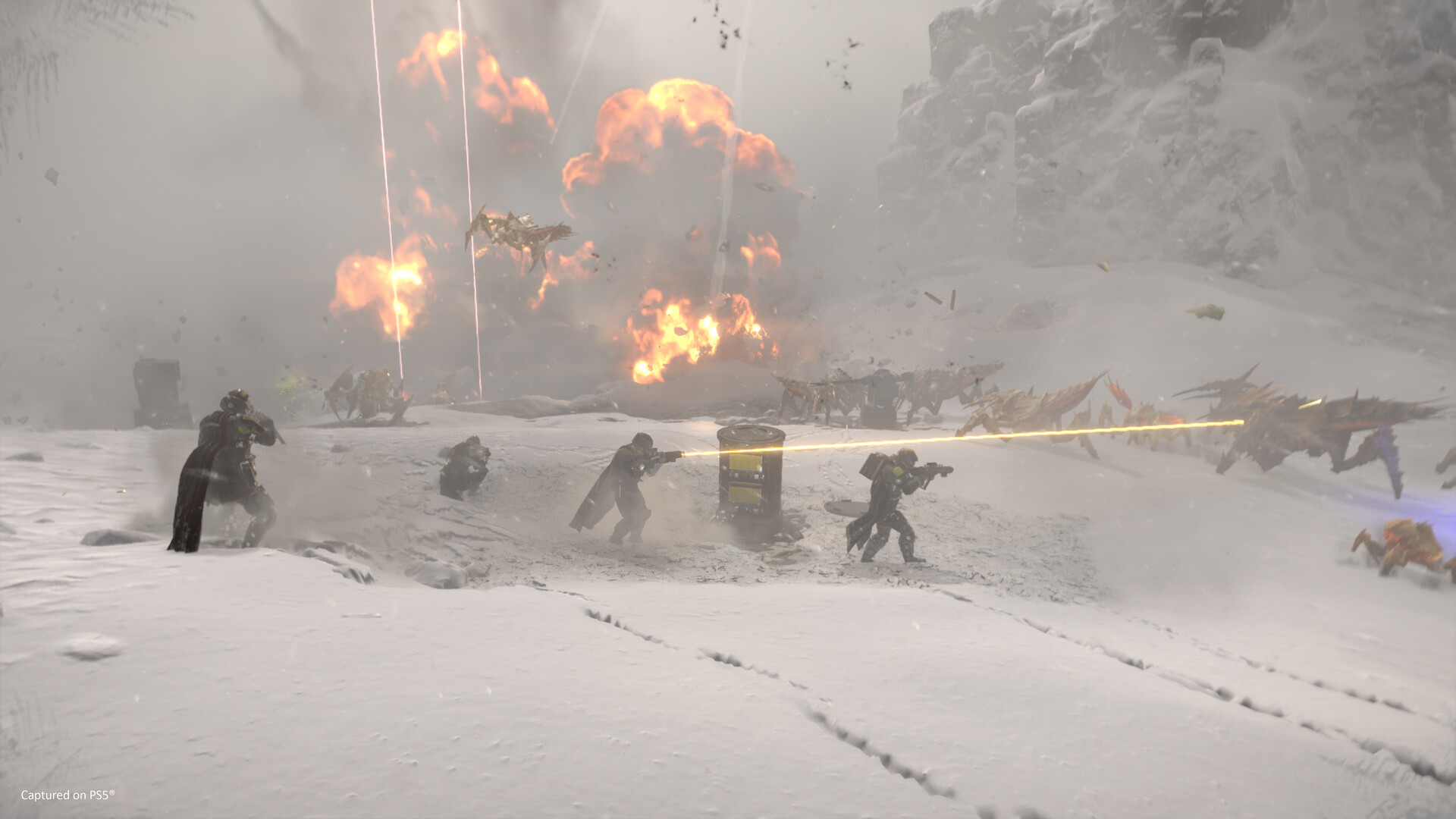 OVERPOWERED WEAPONS & OVERWHELMING FOES
They don't send their Helldivers planet side without proper back up, but it's up to you to decide how and when to call it in. Not only will you have a host of superpowered primary weapons and customizable loadouts, you also have the ability to call on stratagems during play.In the heat of the battle and your squad needs to take out a massive onslaught of Terminids in one go? You can have an Eagle drop a 500KG bomb, leaving behind only liberated bug corpses. Need to lay down a defensive perimeter? You can call for the Anti-Personnel Mine Deployer to layer the battlefield with deadly mines.
Players can decide how to take down each enemy surge using a multitude of offensive and defensive tools. As you complete missions, you'll be able to upgrade your ship and build an even more impressive arsenal. Everything from shield generators to turrets to large-scale airstrikes can be used to give your team the upper-hand.
YOU'VE GOT BACK-UP
They say everything is better with friends. Especially when it comes to raining destruction down on the enemies of Liberty! True to their co-op roots at Arrowhead, they've made sure HELLDIVERS 2 has their best cooperative gameplay yet. Collaboration will be vital: teams will synergize on loadouts, strategize their approach for each mission, and complete objectives together. But for maximum challenge and collaboration, friendly fire is always on. Communicate with your squadmates and make sure those stray bullets and mines take down the real adversaries. Remember that you will return home celebrated as heroes, whether you're dead or alive.