Wizards SEA has announced a weekend long event for fans of Magic: the Gathering. The event promises a variety of activities to cater to all levels of players who are keen to immerse themselves into the fantasy world of Magic over two weekends.
There will be guided learn-to-play sessions for newcomers, meet-and-greet cosplayer activities, and a new 2v2 player format that pairs new and experienced players into formidable allies. These exciting activities are sure to keep everyone entertained throughout the two weekends.
In conjunction with the upcoming launch of its latest set, March of the Machine, Wizards SEA has also planned a series of fun carnival-styled activities that will be available at two selected Local Game Stores from 8-9 April. These activities are free and pre-registration is recommended on Magic: The Gathering's Facebook event page (links below).
All the fun activities will lead up to the Pre-release weekend from 14-16 April. This is where new and seasoned players can be the first to try the new set ahead of the official set release date on 21 April 2023. Whether you're a veteran or a newbie, there's no better time to explore the magical world of Magic: The Gathering.
Details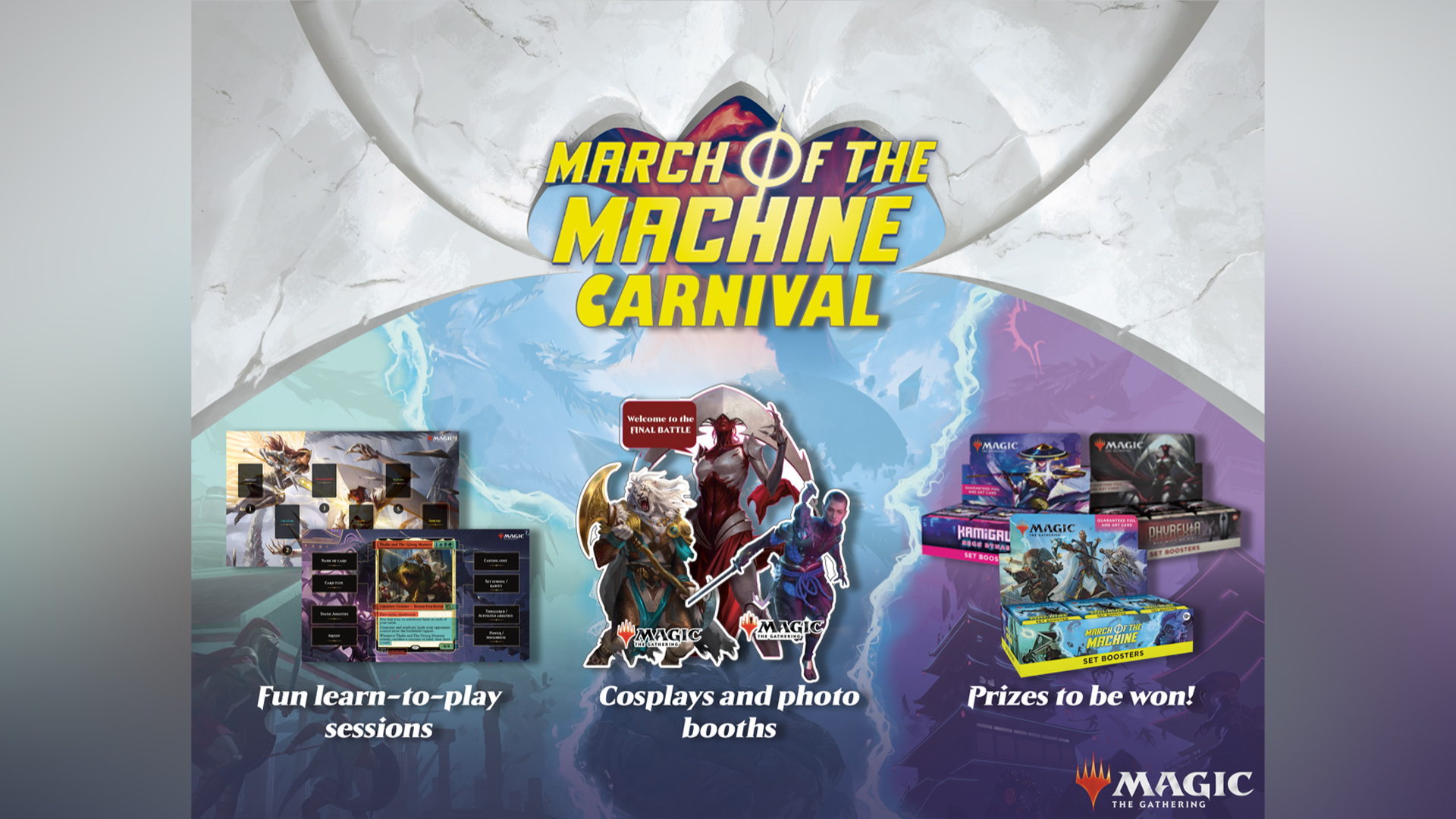 Local Game Stores will be transformed into planes that will be featured in March of the Machine, the latest set for Magic: The Gathering. This new set is centered on a multiverse theme, where heroes from different locations band together for the ultimate fight of good versus evil.
Players can expect to explore these newly transformed planes and experience the thrill of battling it out against other players as they immerse themselves in the world of Magic: The Gathering. With the new set launch just around the corner, players will get to be a part of this epic battle and experience the magic for themselves.
Curated activities aimed to provide a fun and relaxing learning experience for new players await. New players who pre-register will receive 2 themed booster packs to start their journey as Planeswalkers.
Highlights of the activities include:
Learn to Play in 3 simple steps: Trained staff will be on hand at dedicated learning corners to share the ropes of the game with new players. Using specially-developed educational tools, step into the world of Magic through bite-sized lessons on how to identify basic colours of the game, read a card, and understand the types of cards available.
Meet and Greet sessions: Choose your alliance as the heroine Elspeth comes alive with
special appearances at the stores on 8 April. Timings are (subject to change):
– 1:00pm – 3:00pm: Classroom Café Uptown
– 4:00pm – 6:00pm: Cards & Hobbies
Snap away as you claim your first win: A photo booth invites you to step into a different plane(or hop across stores to try out different planes), as players and their friends create cherishedmemories of their exciting experiences. They can walk away with 2 free Jumpstart Booster Packs by sharing the photos on their social media platforms and tagging their friends with the inclusion of hashtags #MOMCARNIVAL, #MTGMachine and #MTGMachineSEA.
First chance to play with the cards from the new March of the Machine set – Pre-release weekend: 14 – 16 April
Pre-release weekend awaits all on 14-16 April! A week before the March of the Machine set is released, new and veteran players can head to their favourite local WPN (Wizards Play Network) member game store to crack open some packs, build a deck, and try out the exciting new cards and mechanics.
New to the pre-release event is the 2 Headed Giant format. With this 2v2 setting, each new player will pair up with a seasoned player, who can offer personalised guidance and share strategies and tips as they enjoy the game together.
Attendees dressed in the store's theme can receive a free themed booster pack. Veteran players can also receive a booster pack for teaching new players at the pre-release event.
---
For more information on March of the Machine, visit https://magic.wizards.com/en/products/march-of-the-machine and follow us on Facebook at https://www.facebook.com/MagicTheGathering.apac
Find your nearest Local Game Store and to play at Prerelease or learn to play the game:
https://locator.wizards.com/.