HUAWEI Malaysia has recently announced the HUAWEI MateBook 14s and HUAWEI nova 9, which are set to redefine the standards of intelligent products for consumers. The excitement does not end there. Malaysians can expect a newly upgraded and improved line-up of HUAWEI wearables – HUAWEI Watch GT 3 Series available in 46mm and 42mm this coming 20 November.
HUAWEI also introducing its newly designed wireless earbuds, specifically for sophisticated and luxury-loving consumers – the HUAWEI FreeBuds Lipstick. With consumers' needs for comfortability, aesthetics, and functionality in mind, HUAWEI's upcoming Watch GT 3 Series and FreeBuds Lipstick is equipped with state-of-the-art technologies that will elevate users' experience in their daily lives.
Aesthetically Curated Designs
HUAWEI has always been passionate about the design of the products, bringing architecturally and aesthetically curated designs across all its products. The HUAWEI Watch GT 3 Series is designed to be evergreen – complementing the wearers' styles with various material of straps including black fluoroelastomer for Watch GT 3 46mm and 42mm, brown leather for Watch GT 3 46mm and white leather for Watch GT 3 42mm. It also supports customised watch faces and various themes for users to match with any occasion whether it is a casual outing or for a black-tie event.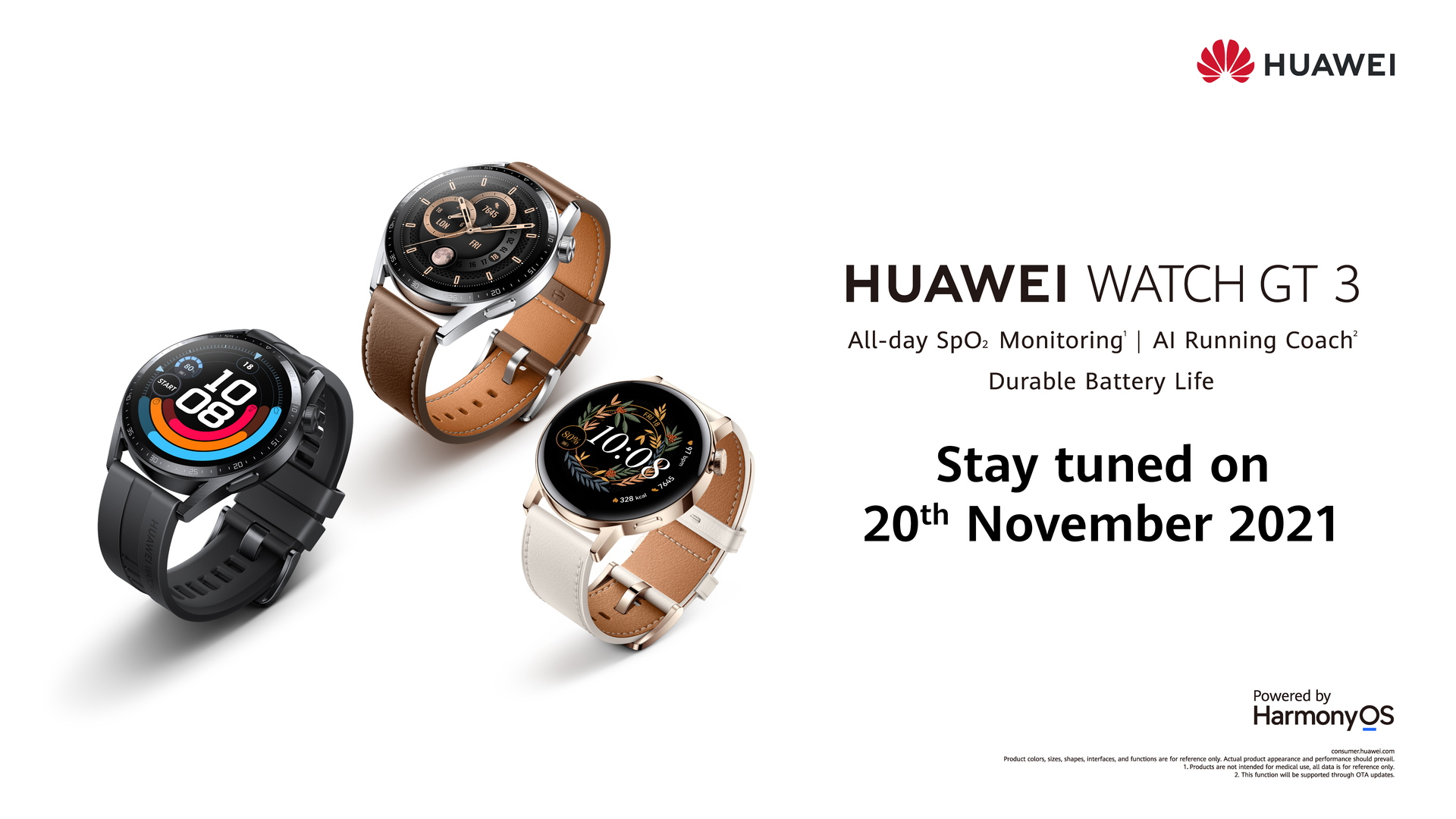 Designed to provide comfortability for users, the HUAWEI Watch GT 3 Series features a curved bottom design with precise curved protrusions which sits perfectly on the wrists of the wearer. Not only that, but the HUAWEI Watch GT 3 Series is also now equipped with a 1.43-inch and 1.32-inch larger AMOLED screen for 46mm and 42mm, respectively. Coming with a larger screen will also offer users a better resolution. Users can enjoy viewing every detail of the watch with absolute clarity.
Live the Fullest with the Health Monitoring
Nowadays, smartwatches are doing more than just telling the time. HUAWEI has revolutionised how smartwatches work with the HUAWEI Watch GT 3 Series, which comes with enhanced monitoring features that allow users to live life to the fullest. With the new and upgraded HUAWEI TruSeen 5.0+, the watch can obtain more channels of signal combination to provide users with a more accurate heart rate and Spo2 monitoring experience[1]. With personalised settings on the HUAWEI Health App, the HUAWEI Watch GT 3 Series is able to set personalised daily goals and reminders to help users develop healthy habits such as daily water intake, exercise and even sleep reminders.
The Perfect Workout Companion
For those who spend most of their time exercising and working out, the HUAWEI Watch GT 3 Series is the perfect workout companion. Featuring more than 100 workout modes, GPS track and Route Back Navigation, users can enjoy any exercises with navigation guidance wherever they go. The HUAWEI Watch GT 3 Series also provide a Periodic Training Plan and Intelligent Dynamic Adjustment Plan for users. These features are set to develop a suitable training plan for users to improve their workout ability by adjusting training intensity and volume,
Having some rhythm during a workout is fun! Comes with a sufficient amount of storage, users can store up to 500 songs on the watch[2]. If that does not seem enough, just pair the watch to your smartphone and play your favourite music with just a touch of the watch's screen. Offering powerful battery life to users, the HUAWEI Watch GT 3 46mm supports 14-day[3] long battery life and the HUAWEI Watch GT 3 42mm offers 7-day of long battery life to save users' hassle while on the go.
[1] This device is not a medical device and is not intended to diagnose, treat, cure, or prevent any disease.
[2] iOS does not support music syncing.
[3] Based on results from HUAWEI lab tests. The actual usage may vary depending on product differences, user habits, and environment variables.
HUAWEI FreeBuds Lipstick – Fashionably Sophisticated
Integrating fashion and technology to further improve users' experience, the HUAWEI FreeBuds Lipstick is the epitome of luxury and exquisite workmanship. Designed by the aesthetic research centre in Paris, the FreeBuds Lipstick comes with a black and gold case with rich glamourous red earbuds within.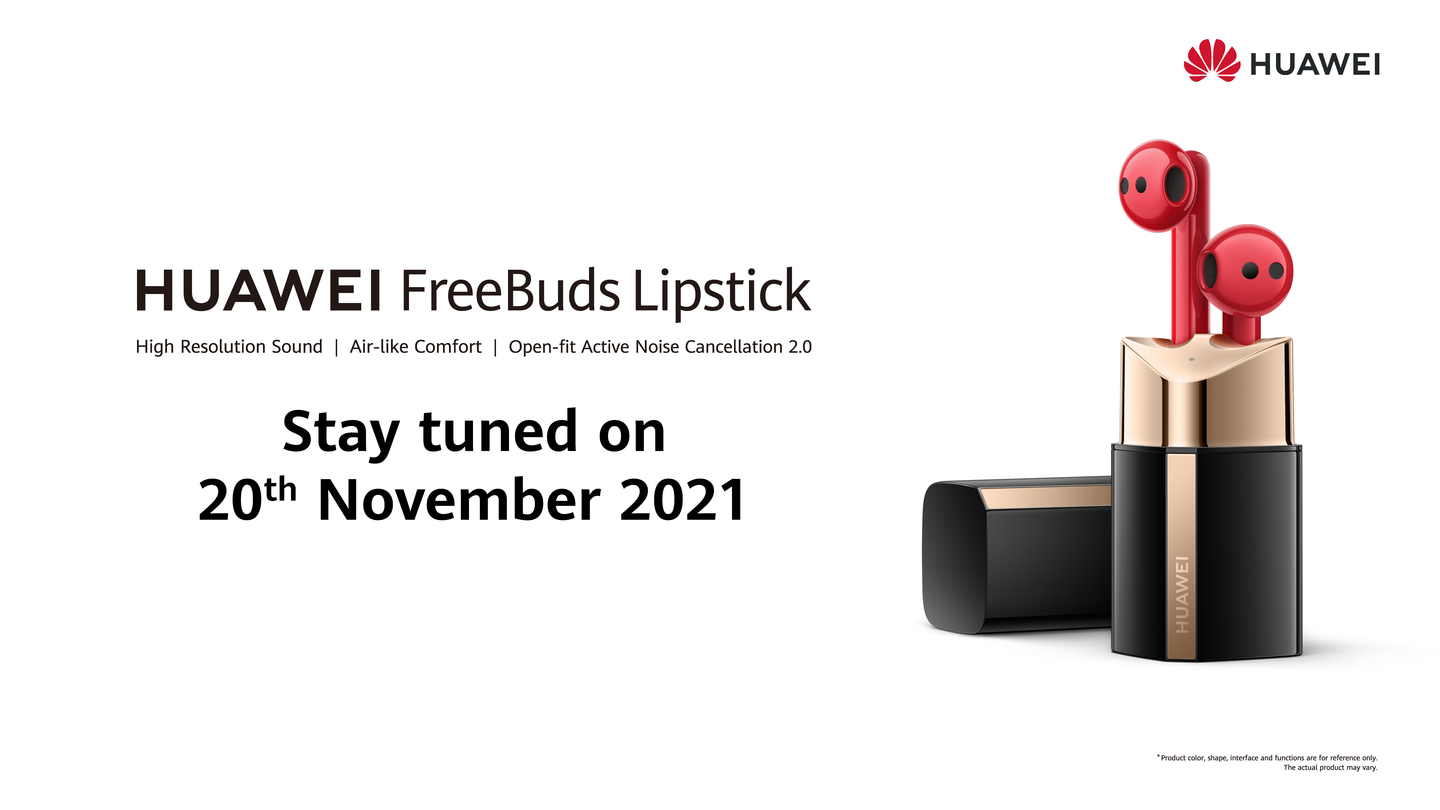 Inheriting open-fit Active Noise Cancellation (ANC) 2.0 technology paired with Adaptive Ear Matching (AEM), the HUAWEI FreeBuds Lipstick is more than a fashion statement but earbuds that offer an immersive sound experience to bring noise cancellation to a whole new level. The FreeBuds Lipstick is capable of automatically detecting the user's ear shape, delivering customised comfort and audio experience for different users.
To further strengthen the user's experience with seamless and smooth connectivity, the HUAWEI FreeBuds Lipstick is able to connect with the HUAWEI Watch GT 3 Series. The pair between the devices can manage noise cancellation modes, monitor battery life, and even control the music playback, all with a touch of a screen on the watch.
For more information about the HUAWEI Watch GT 3 series and HUAWEI FreeBuds Lipstick, stay tuned for more information on 20th November 2021.