The King of Photography Flagship smartphone – vivo X90 Series is the first flagship smartphone in Malaysia that utilises the powerful MediaTek Dimensity 9200. Working together with vivo's newly self-developed V2 chipset, the vivo X90 Series is a flagship smartphone that utilises a dual chip system, and is the most powerful flagship smartphone by the brand to date.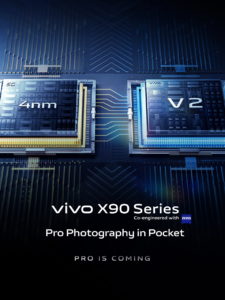 vivo X90 series is the only smartphone to date that uses the MediaTek Dimensity 9200, a new TSMC 4nm process, 8-core flagship CPU with incredible performance and intelligent power efficiency that offers users greater smartphone experience with more processing power, better power management and new photography features. vivo collaborated with MediaTek in the early development phase of the platform, and introduced five major functions that enhances the processor's capabilities, including:
MCQ Multi-Cycle Queue: supporting up to 8 channels of CPU-to-UFS data transmission, making application switching faster and smoother daily usage performance.
APU Framework Fusion: by storing the MediaTek Dimensity 9200's capabilities in the V2 chipset, it allows the platform's algorithm to be coordinated across multiple processors, bringing significant energy efficiency improvements, and enabling features such as camera ultra-clear documents and live text.
chip-level eye protection technology: to reduce blue light and better screen colour effect. self-adaptive image quality mode: allowing close to full 120Hz frame rate experience when playing the popular game – Honor of Kings, and reducing the power consumption by 18% after running for an hour with extreme image quality.
AI airport mode: provides an average of 30% energy saving during flight mode, and quickly restoring network connectivity in 1.52 seconds after flight mode is turned off.
On the other hand, vivo's new self-developed V2 chipset opens a new chapter of mobile imaging with better image quality and photography experience. It introduces a new-generation noise reduction algorithm for improved low-light performance, and supports MEMC Frame Interpolation, enabling a smoother video capturing experience. The V2 chipset also features a dedicated SRAM (Static RAM) cache unit that reduces the maximum power consumption by over 99% and the power efficiency ratio to 200%, compared to classic RAMs.
The V2 chipset and the MediaTek Dimensity 9200 perform well together thanks to the FIT dual-core connectivity technology on the V2 chipset, allowing both chips to achieve high-speed communication for smoother and better performances. With the dual chip system, the vivo X90 series offer users a flagship experience of high-performance, high-energy efficiency and better imaging quality.
Designed for the ultimate performance and photography experience, the vivo X90 series is also the first in Malaysia equipped with ZEISS 1-inch main camera, enabling users to capture detailed images even in low light settings. The series takes advantage of the advanced technologies to enable better night shooting capabilities, featuring innovative functions including 4K Ultra-Sensing Night Video, 4K HDR Night Video, Nautical Blues Portrait, ZEISS Cine-flare Portrait and much more.
For more information about the vivo X90 series, and to join the vivo X90 series launch live stream on 3 February 2023, please follow vivo Malaysia's official Facebook Page.