Put your chivalry skills to the test and fight for your life as MORDHAU officially launches on Xbox and PlayStation consoles. Choose between fighting in either first or third person on a hectic battlefield of up to 64 players. With crossplay exclusively for console players, it will be an equal playing ground for all to enjoy and rise up in the ranks to become the top combatant.
Create a mercenary and charge into battle and create your own playstyle. Despite how vicious enemies may be, there will always be multiple ways of claiming victory. Engage in free-form melee attacks or resort to weapons for ranged combat. Warriors will be able to interact with the environment around them to give them the upperhand in battle. There will be opportunities to fight on ladders and operate siege engines to secure the win.
Character creation will return in the MORDHAU console edition. With an in-depth customization system, players will be able to sculpt the face of their warrior, pick out individual pieces of armor, and create their weapons. With a huge arsenal of weapons and equipment, all players are sure to have a unique experience. Take on enemies with different swords, rain arrows from above, or even build walls to provide the ultimate defense.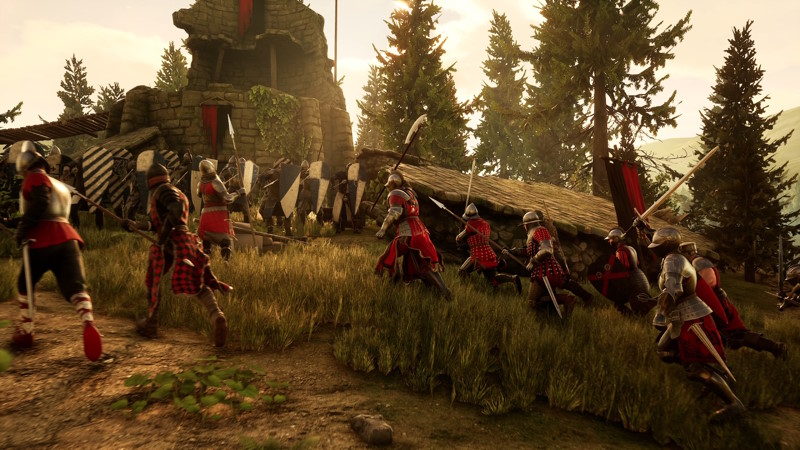 Features Include:
Massive battles: From small-scale engagements to 64-player all-out war in modes such as Frontline and Invasion.
Cooperative & offline play: Fight waves of enemies alongside your friends in the cooperative Horde mode, or practice your skills offline against AI.
Free-form melee and ranged combat: Take complete control over your character, timing attacks, and develop your unique style.
In-depth character customization: Sculpt your character's look, create your weapon from various parts, and pick out individual armor pieces to create the perfect warrior.
Huge arsenal of weapons & equipment: Take on enemies in hand-to-hand combat with a greatsword, rain arrows from above, or sit back and build fortifications.
Fight anywhere: Experience cavalry charges, fight on ladders, and operate siege engines such as catapults and ballistas.
Visceral and gory combat: Feel the impact of every blow, and send limbs flying as you wreak havoc upon your foes (blood & gore are optional).
Believable fights: A game where fights look believable, balancing between gameplay and realism.
MORDHAU is now available on Xbox and PlayStation consoles for $39.99 USD.