Numerous CAPCOM titles on Steam and PlayStation Store are now in limited time offers!
The "Ace Attorney Turnabout Collection", which contains a total of 5 titles from "The Great Ace Attorney Chronicles" and "Phoenix Wright: Ace Attorney Trilogy" is now available at a discounted price!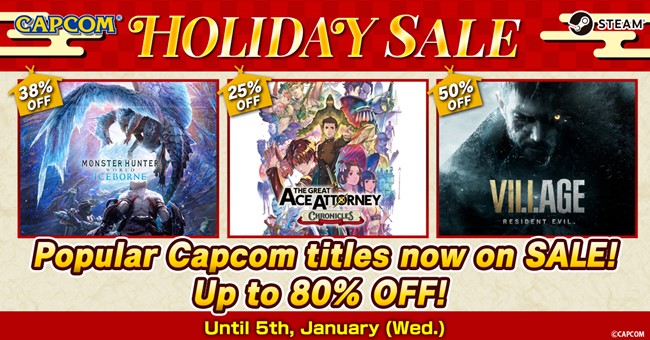 Also, other titles like;
One of the most iconic games of this year that not only won praise from game fans but also won numerous game awards in 2021: "Resident Evil Village"
The game which is still fascinating to many players: "Monster Hunter World: Iceborne"
"Street Fighter V", which has released Season 5, and its DLC: "Character Pass" & "Champion Edition Upgrade Kit" are on SALE as well!
In addition, "Monster Hunter Stories 2: Wings of Ruin", the best multiplayer game to play with family and friends, is also on the list of discounts. Don't miss this opportunity!
CAPCOM Holiday Sales, for Steam PC: Until January 5th 2022, and for PlayStation Store PSN: Until January 7th 2022)