From 29 November to 1 December, the world tuned into the PUBG MOBILE Club Open (PMCO) 2019 Fall Split Global Finals in Kuala Lumpur, Malaysia to witness one of the largest competitions ever held to-date in mobile Esports. The tournament ended as Bigetron RA from Indonesia outscored the other 15 competitors around the globe to win the championship with a grand prize of $180,000 USD. TOP ESPORTS from China came in second place winning $90,000 USD and MEGA Esports from Thailand earned third place honors with a prize of $45,000 USD.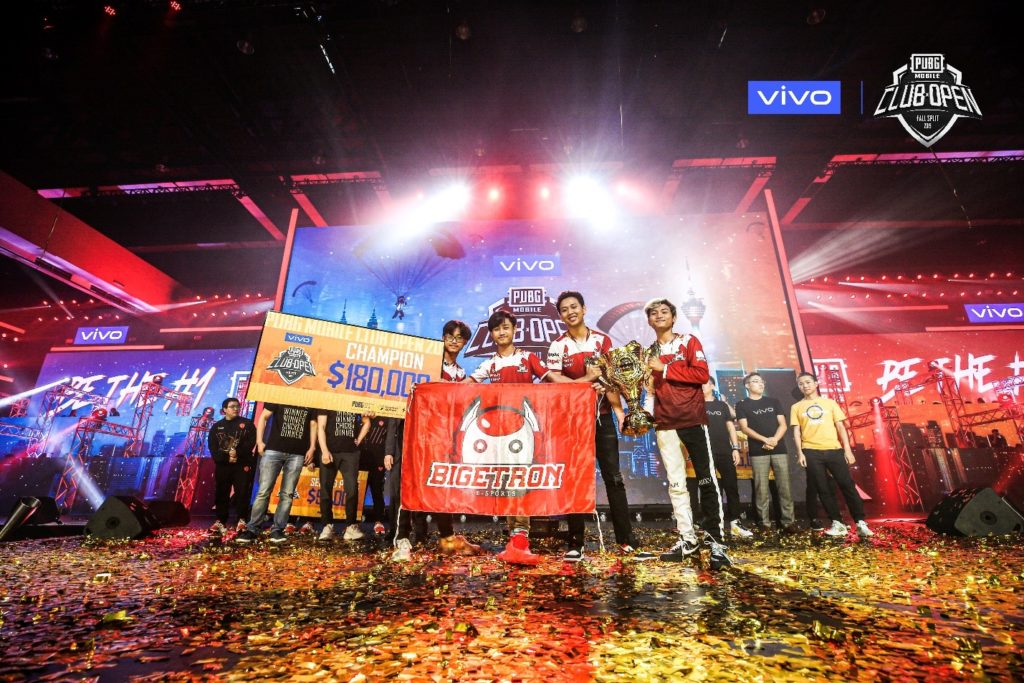 The PMCO 2019 Fall Split Global Finals marked the culmination of more than three months of rigorous qualification tournaments around the globe. The event witnessed the 16 outstanding pro and semi-pro teams from 10 regions battling for the title of grand champion.
"After months of competition leading up to the championship and three intense days here in Kuala Lumpur, we're thrilled to crown Bigetron RA the champions of the PMCO 2019 Global Finals this year," said Vincent Wang, General Manager of Global Publishing Center, Tencent Games. "We congratulate all the teams that made it to the finals and for showing the gaming community that PUBG MOBILE is more than just a game, where players can have fun, challenge themselves, keep in touch with friends and family, and meet new people."
In addition to the official competition, PUBG MOBILE teamed up with renowned artists, Naim Daniel, Henry Lau and Badshah as special celebrity performers during all three days of PMCO 2019 Fall Split Global Finals. A highlight video from day three of the global finals can be seen here. Additional highlight videos from the three-day tournament can be found in PUBG MOBILE Esports YouTube channel.
The PMCO 2019 is divided into Spring and Fall Split, with a total prize pool of $2.5 million USD. PMCO 2019 provides a path for aspiring semi-pro clubs to pave their ways to become Esports professionals, which represents the start of PUBG MOBILE's eSports ecosystem and pros to show off their skills.
As announced by James Yang, Director of PUBG MOBILE Global Esports at Tencent Games, the total watched hours of PMCO 2019 have surpassed 50 Million (excluding platforms of mainland China). With the breakthrough success, PUBG MOBILE was nominated as eSport Game of the Year in Golden Joystick Awards 2019. Also, the PMCO 2020 Spring Split registration was announced to start in January 2020.
In 2020, the structure of PUBG MOBILE global esports ecosystem is completed as amateur-semipro-pro level and country-regional-world level. Besides PMCO for pro and semi-pro players, it is announced that World League for pro players will start in May and October in 2020. The competition will start with Pro Leagues in selected countries and regions including Indonesia, Malaysia, Thailand, and Vietnam, as well as South Asia and the Americas. The Pro leagues will finally culminate in the World League, where top pro teams from around the world will represent their respective regions to compete in the World Championship for an even bigger prize pool. The total prize pool of PUBG MOBILE Esports tournaments in 2020 will be $5 million USD, which is double the totalling of PMCO 2019.
Leading global technology company Vivo is the official title sponsor of the PUBG MOBILE Club Open 2019, providing smartphones to empower players' conquest at the competition. Vivo's fast performing and powerful smartphones provide a seamless gaming experience, making it a special weapon loved by tech-savvy consumers globally.
A new milestone announced by Vincent Wang during PMCO Global Finals is that PUBG MOBILE has more than 600 million downloads (excluding mainland China). As part of its effort to make PUBG MOBILE a more inclusive platform, it was also announced that PUBG MOBILE will feature a "colourblind mode" in 2020 to make the game as open and accessible to as many players as possible. In addition, "Project: Ban Pan" was announced as an initiative for all players to help protect the game environment of PUBG MOBILE together. Project: Ban Pan has two main components: an internal security system continuously updating the coverage and accuracy of security component and new out of game resources called "the Safety Station" website.
PUBG MOBILE is available to download for free on the App Store and Google Play. For more information about PUBG MOBILE Club Open 2019, click here and stay tuned for the latest updates on the PUBG MOBILE Esports YouTube channel.