ASUS Republic of Gamers (ROG) Malaysia today has announced the local pricing, specifications and availability for its new 2023 lineup of Zephyrus gaming laptops.
New chips power ultraportable gaming
All four Zephyrus laptops have been upgraded with powerful chips from Intel, AMD, and NVIDIA, ready to power the next generation of thin-and-light gaming. The 2023 Zephyrus M16 comes packed with up to an Intel Core i9-13900H processor and up to an NVIDIA GeForce RTX 4090 Laptop GPU, with a maximum TGP of 145 W and a MUX Switch featuring NVIDIA Advanced Optimus. Its sibling, the Zephyrus G16, comes with the same Intel Core i9-13900H processor and up to an NVIDIA GeForce RTX 4070 Laptop GPU with a MUX Switch featuring NVIDIA Advanced Optimus and a maximum TGP of 120 W.
The ultra-compact Zephyrus G14 has also been upgraded, sporting up to an AMD Ryzen 9 Zen 4 processor with up to an NVIDIA GeForce RTX 4090 Laptop GPU capable of a 125 W maximum TGP with Dynamic Boost. The G14 also contains a MUX Switch with NVIDIA Advanced Optimus for intelligent switching between maximum frame rates while plugged in, and better on-the-go battery life.
Finally, the Zephyrus Duo 16 retains its position as a dual-screen powerhouse, with a second 4K touchscreen that rises to meet the main display as the laptop is opened. AMD's all-new processors push this machine's power further than ever, featuring up to an AMD Ryzen 9 Zen 4 processor with 16 cores, which is overclockable with Precision Boost Overdrive. When combined with up to an NVIDIA GeForce RTX 4090 GPU and ROG's exclusive Active Aerodynamic cooling system, this machine reaches new heights of thin-and-light horsepower.
An all-new Zephyrus M16
Built with gamers and creators in mind, the Zephyrus M16 has been redesigned from the ground up with an even more refined feel and upgraded performance. The new chassis design allows for a larger, full-width heatsink into the machine paired with ROG's Tri-Fan Technology, which routes air from three fans through precisely calculated cutouts toward the heatsink for more efficient cooling. This allows the 2023 Zephyrus M16 to reach 20 W higher than last year's model, allowing ROG to push the top-tier Intel Core i9-13900H processor and NVIDIA GeForce RTX 4090 Laptop GPU as far as possible.
ROG pushed the craftsmanship to new heights on this year's M16 as well, with a new mirror-polishing technique created with over ten steps of grinding on the sidewalls for a luxurious finish. Combined with the new Off Black color, which uses an exclusive nano-sandblasting finish for fingerprint resistance, the 2023 Zephyrus M16 is the height of boutique quality.
Lastly, the Zephyrus M16 is the second laptop ever to feature ROG's iconic AniMe Matrix Display. The larger, 16-inch canvas of the M16 allows for larger, more beautiful animations than ever, shining through thousands of precision-milled holes in the lid of the chassis for a customizable one-of-a-kind look.
Beautiful new displays across the lineup
In 2022, ROG introduced the Nebula Display badge, ensuring users wouldn't have to wade through countless specifications to ensure their laptop's panel was top-notch quality. All Nebula Displays must have a high refresh rate with a response time of 3 ms or less, at least 500 nits of brightness, and 100% coverage of the DCI-P3 color space for fast, bright, vivid images. The Zephyrus lineup now has a Nebula Display option available, with a spacious 16:10 aspect ratio and, in the case of the Zephyrus G16, a size increase over its predecessor.
The Zephyrus M16 and G14, however, are also graced with Nebula HDR displays, powered by a Mini LED backlight with individual zones that can brighten and dim individually for stunning contrast. The Zephyrus M16 sports ROG's latest Nebula HDR display with 1,024 dimming zones, up to 1100 nits of peak brightness, and QHD resolution at a 240 Hz refresh rate. The Zephyrus G14 is available with a Nebula HDR Display capable of 600 nits of peak brightness at a 165 Hz refresh rate and with 504 dimming zones. No matter which Zephyrus laptop users choose, there's an incredible display available.
ROG Malaysia Pre-Order Promotion info: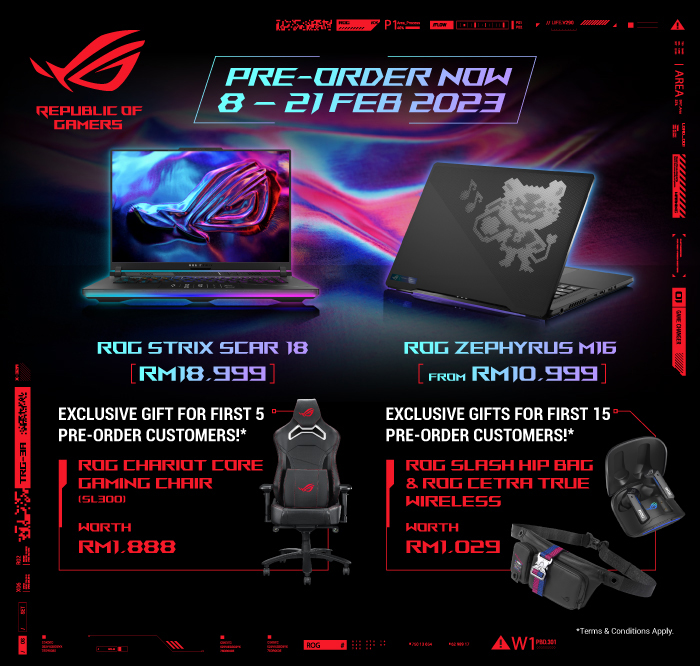 You can now pre-order the ROG Strix SCAR 18 and ROG Zephyrus M16 from 8th February to 21st February 2023 via our official e-store or selected ASUS exclusive stores.
The first 5 pre-order customers of ROG Strix SCAR 18 will bring home a ROG Chariot Core Gaming Chair worth RM1,888, while the first 15 pre-order customers of ROG Zephyrus M16 can complete their gamer look with the ROG SLASH Hip Bag and ROG Cetra True Wireless, worth RM1,029 in total.
Be the first to place your order now HERE and be one of the first to own these new gears.