ASUS has announced the availability of new Intel® Z790 motherboards, including the ROG Maximus Z790 Apex, TUF Gaming Z790-PLUS WiFi and ProArt Z790-Creator WiFi ― all of which provide DDR5 memory module support and PCIe® 5.0 slots for video cards and storage.
ASUS Z790 motherboards offer tremendous value to anyone assembling an Intel 13th Gen machine that includes AEMP II, AI Overclocking, AI Cooling II, PCIe 5.0 M.2 slots, Thunderbolt™ 4, WiFi 6E, Quick Charge 4+ technology and comprehensive connectivity. Overall, new ASUS Z790 motherboards are ideal solutions for any user who wants to build a next-gen machine or upgrade their existing system.
First up is the ROG Maximus Z790 Apex. The ultimate option for memory overclocking enthusiasts, this motherboard boasts a cutting-edge feature set. Then, for creative professionals of all kinds, ASUS offers the ProArt Z790-Creator WiFi. This motherboard offers premium connectivity and bespoke style, and it's fully ready for next-gen graphics cards and ultra-fast PCIe 5.0 storage. Finally, ASUS is bolstering its TUF Gaming lineup with the TUF Gaming Z790-Plus WiFi, which brings DDR5 support to the family.
Ascend to new heights with the ROG Maximus Z790 Apex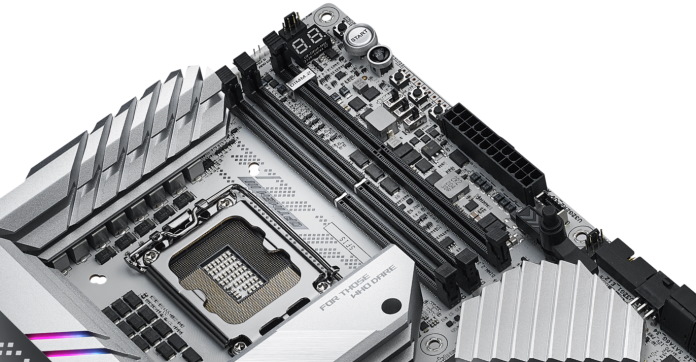 Overclockers know that Apex motherboards are primed and ready for record-breaking memory performance. The ROG Maximus Z790 Apex continues that tradition with its two DIMM slots ready to overclock DDR5 RAM up to 8000 MT/s. To ensure that users have all the tools they need for testing and monitoring memory, ASUS includes one-year subscriptions for AIDA64 Extreme and Memtest86.
The ROG Maximus Z790 Apex is already proving its mettle as an overclocking powerhouse — it's earned 14 world records and 13 global first place records. Overclocker Elmor used the Apex to take an Intel CPU up to 8,812.85 MHz, shattering a record achieved with an AMD CPU and held since 2012. Using an Intel Core i9-13900K CPU, overclocker lupin_no_musume was able to achieve a new DDR5 memory overclocking frequency record of 5564.8 MHz, which translates to 11,130 MT/s. That's nearly 2.3x faster than baseline JEDEC DDR5 RAM speeds. And safedisk set new records in both Cinebench R23 and SuperPi 32M, achieving 56722 points and 3 minutes, 4.054 seconds respectively.
Users may not have a liquid nitrogen pot in their shopping cart for their next build, but the Apex's proven overclocking performance will help ensure that they can run their high-end CPU and memory kit at fast, stable speeds.
This motherboard's robust power solution provides a high-end platform for exceptional performance. Raw power enters the board through 8+8 ProCool II power connectors. The solid pins in these connectors offer better contact with PSU plugs, improved heat dissipation and better reliability over common hardware. 24+0 teamed power stages rated for 105 amps deliver stable power to the CPU, and enlarged VRM heatsinks keep the circuitry cool under pressure.
For those using a liquid cooling loop to keep temperatures low, the ROG Water Cooling Zone puts them in command. The ROG Water-Cooling Zone's dual water-temperature headers and flow-rate header feed information straight into ROG's intuitive Fan Xpert 4 utility, letting users stay on top of the heat and stay cool in every game.
ASUS-exclusive intelligent controls make it easy for users to optimize their experience. AI Overclocking fine-tunes the CPU for high-end performance with just a couple clicks. It uses dedicated onboard microcontrollers to track temperature and frequency telemetries, and then it passes data through an advanced algorithm to overclock their system. AI Cooling II monitors the CPU and uses the data from its stress test to calculate the lowest fan speed required to effectively cool a system — while keeping noise levels low.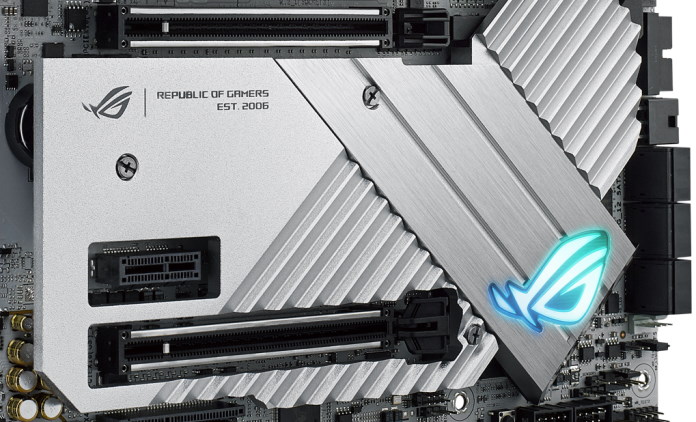 For those looking for a platform that will give them access to the fastest components of today and tomorrow, the ROG Maximus Z790 Apex offers a pair of PCIe 5.0 x16 slots ready for next-gen graphics cards. The PCIe Slot Q-Release button makes it a breeze to release a graphics card from the slot. Through the included PCIe 5.0 M.2 card, one can install a blazing-fast PCIe 5.0 SSD. Users will find two PCIe 4.0 M.2 slots, both with dual M.2 heatsinks with embedded backplates, and they can install two more M.2 SSDs through the DIMM.2 add-in card. The ASUS M.2 Q-Latch system lets users install drives without worrying that they might lose a tiny M.2 screw.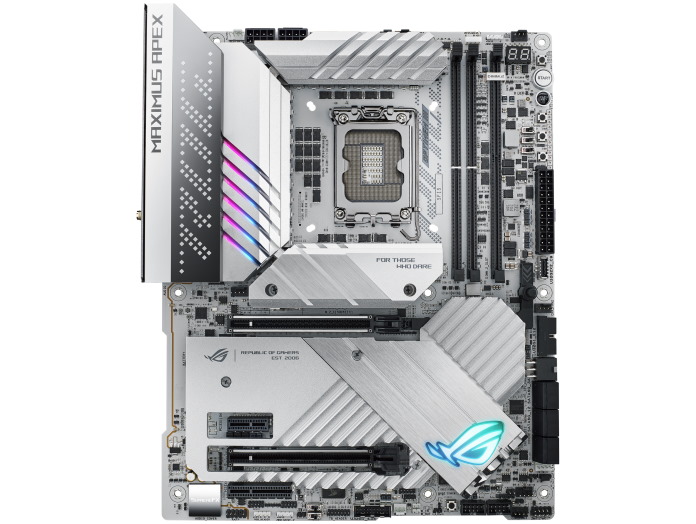 High-end connectivity rounds out the ROG Maximus Z790 Apex's feature set. Intel 2.5 Gb Ethernet and WiFi 6E give users fast wired and wireless networking. There is an ultrafast USB 3.2 Gen 2×2 Type-C® port on the rear I/O panel, plus a header that makes it possible to connect another Type-C port with up to 60-watt Quick Charge 4+ support on the front panel of the case.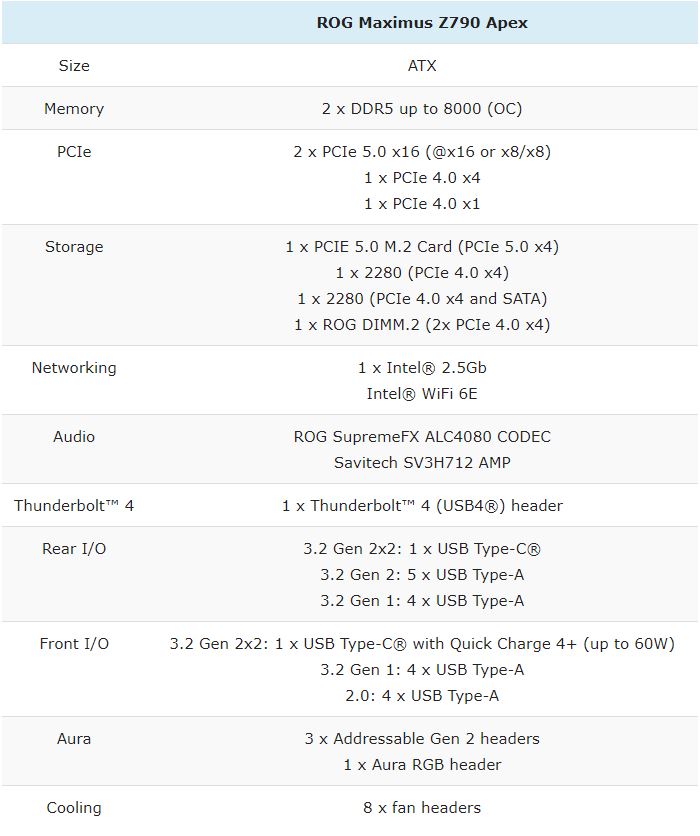 Jump into the fray with the TUF Gaming Z790-Plus WiFi
With a TUF Gaming motherboard, users know that they are getting essential gaming features, battle-hardened reliability and an understated aesthetic that fits in a wide range of builds. Now they are also getting DDR5 memory module support with the introduction of the TUF Gaming Z790-Plus WiFi.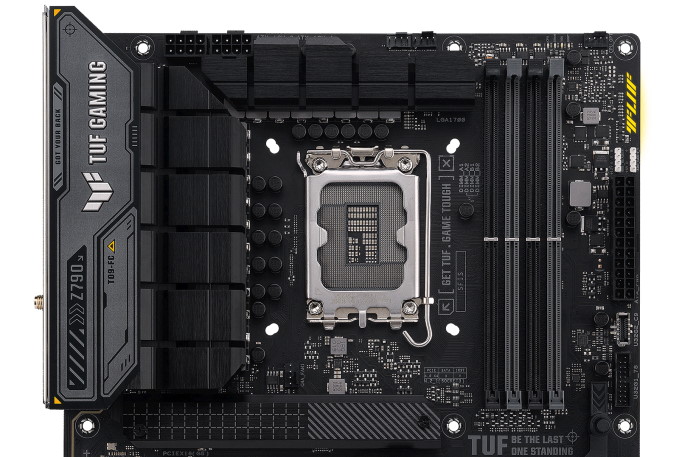 This board is ready for action with the latest 13th Gen Intel Core CPUs with an upgraded power solution. It boasts 8+8 ProCool II power connectors, and its 16+1 DrMOS power stages — up from the 14+1 arrangement in the TUF Gaming Z690 family — augment the VRM's ability to deliver stable power while staying cool under pressure.
The TUF Gaming Z790-Plus WiFi features the ASUS PCIe Slot Q-Release button, which makes it easy to remove a graphics card, even if it is a high-performance option with a thick cooling solution and a hefty backplate. AEMP II makes it easy to optimize DDR5 modules for exceptional performance — just a couple of clicks in the BIOS enables the memory profile, then users have stable RAM speeds up to 37.5% faster than baseline DDR5 specs.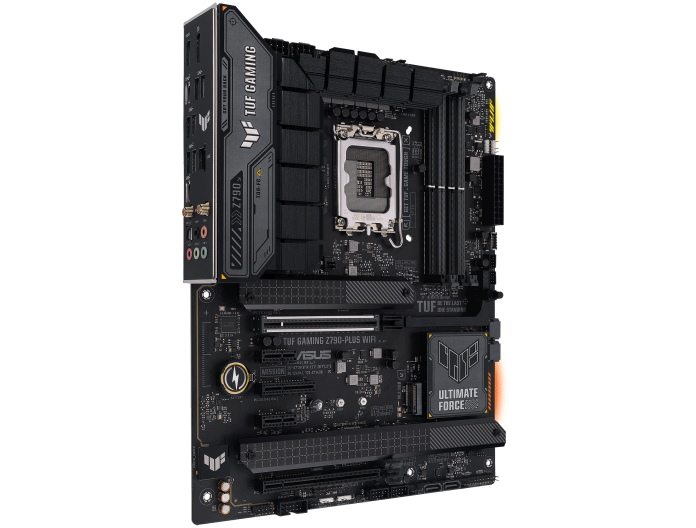 A PCIe 5.0 x16 slot lets users access the fastest graphics cards of today and tomorrow. Four onboard M.2 slots, three for PCIe 4.0, make it easy to set up a large and speedy gaming library. Networking comes courtesy of an Intel 2.5 Gbps Ethernet controller, and an Intel WiFi 6E radio lets users connect to a compatible router over the wide-open 6 GHz band in selected regions. A suite of USB ports, including a speedy USB 3.2 Gen 2×2 Type-C port on the rear I/O panel, lets users connect all their favourite gaming peripherals.
For those looking to complement their TUF Gaming motherboard with an array of components and peripherals with the same aesthetic, the TUF Gaming Alliance is a collaboration between ASUS and trusted PC component brands to ensure compatibility across a wide range of parts, such as PC cases, power supplies, CPU coolers, memory kits and more. With new partnerships and components being added regularly, the TUF Gaming Alliance will continue to grow even stronger.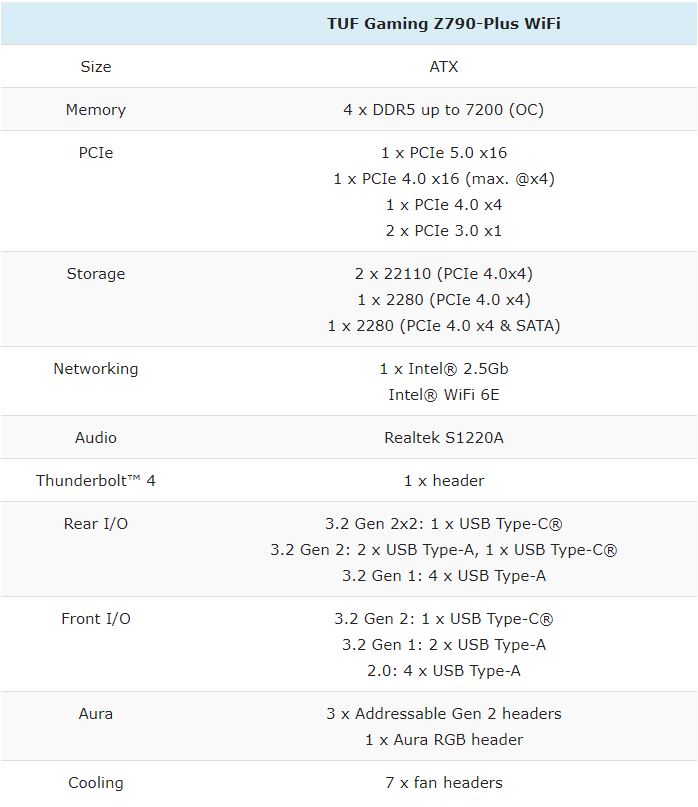 The ProArt Z790-Creator WiFi calls to creators
Users building a content-creation machine ready to harness a 13th Gen Intel CPU need look no further than the ProArt Z790-Creator WiFi. With a sophisticated style rooted in clean lines, graceful angles, and precise symmetry — and a cutting-edge feature set — this is the motherboard they are looking for.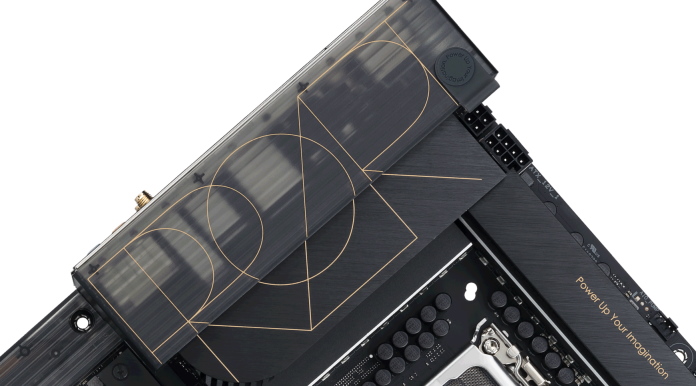 For those with creative workflows that scale with high-end memory kits, the ProArt Z790-Creator WiFi accelerates projects with the massive bandwidth, lightning-quick speeds, and exceptional power efficiency offered by next-generation DDR5 RAM. With data rates 50% faster than previous-generation DDR4 memory, DDR5 unleashes a new tier of performance, and this motherboard offers a host of hardware and firmware optimizations that enable users to overclock capable kits to the absolute limit.
With PCIe 5.0 connectivity, the ProArt Z790-Creator WiFi gives users access to the fastest next-gen graphics cards. This motherboard boasts two PCIe 5.0 x16 slots. They can operate in an x8/x8 configuration so that users can take full advantage of a pair of graphics cards. Four onboard M.2 slots let users set up a speedy storage array.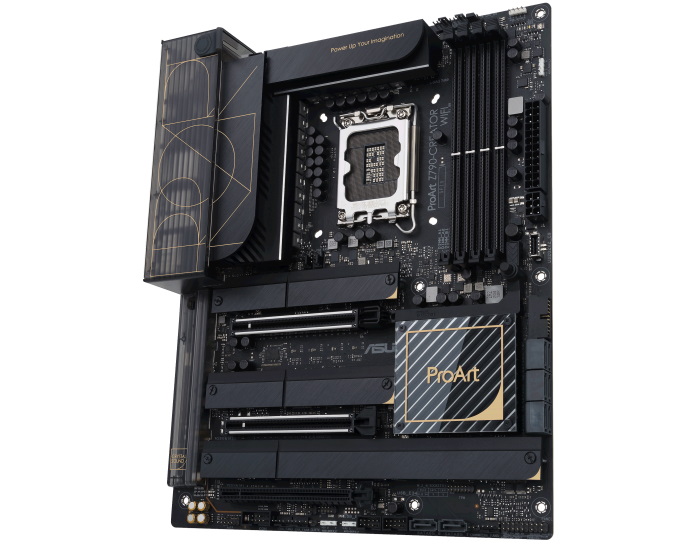 Users will also find a comprehensive selection of high-speed ports ready to connect their full creative workstations. A versatile pair of Thunderbolt™ 4 USB Type-C ports on the rear panel give users many options for connecting peripherals and displays. Flexible front-panel connectivity is essential for many workflows, so the ProArt Z790-Creator WiFi offers a front-panel USB 3.2 Gen 2×2 connector with support for up to 60-watt Quick Charge 4+. Pairing this motherboard with a case featuring a front-panel USB Type-C port will ensure that users have convenient access to 60-watt charging.
High-end networking options keep users productive. With a compatible router, this motherboard's WiFi 6E radio lets people tap into the freshly opened 6 GHz spectrum in select regions for truly unhindered wireless connections. Intel 2.5 Gbps Ethernet provides rock-solid and reliable wired networking, while a Marvell AQtion 10 Gbps Ethernet port opens up even more options, such as connecting to blazing-fast network-attached storage.