Bandai Namco's Ace Combat 7: Skies Unknown took off yesterday and by now some of you may have reached the conclusion that "Imma need lotsa MRP (in-game currency) to unlock everything lol". This is true considering all the parts and planes can only be unlocked by using MRP. Other than unlocking aircraft, weapons, and parts; there are 3 obtainable PlayStation Trophies that are related to MRP.
In this guide, we'll share with you 3 ways you can try to get some quick MRP that you can do with your friends or even solo. The fastest method only takes 5 minutes per cycle while the longest one is around 15 Minutes average. Find one which one suits you best!
---
OPTION 1
Re-doing Missions. [15-20 Minutes]
After completing a mission in the main campaign, players get to re-do the same mission as many times as they want to earn some MRP. However, this method only yields little and often takes too long (15 mins average +/-) to complete. If you are gunning for obtaining an S rank, however, this could be a good way to also earn some extra MRP.
An example of how this works. Re-doing Mission #6 nets you 85K MRP per completion (S Rank). Every completion takes 15 minutes.
This method works but is not the most efficient way.
---
OPTION 2
Multiplayer – Public Matches [Team Deathmatch] [5 Minutes]
The Multiplayer mode is available early on and any reward you gain from your MP games are shared with your campaign mode (vice versa). Go onto Multiplayer, search a room or create one, and make a Team Deathmatch (TDM )session. Every TDM round only lasts a maximum of 5 minutes, or if one of the two teams hit the score limit and wins the round.
Being on the winning team nets you at least 100k MRP (you don't even have to top the table). Being on the losing team gets you 75-85K MRP still. You don't really need skills to get MRP.
This method gets you a lot of MRP but has a downside. Starting an MP game isn't always a smooth affair with people leaving and joining the lobby after every match's end.
---
OPTION 3
Multiplayer – Private Matches [Battle Royale] [5 Minutes]
The Battle Royale can be easily exploited if you have friends. This is because unlike TDM Matches where you need a fair number on each side before you can start a game, e.g 2v2, 3v3, 4v4, the Battle Royale can start even if you only have 3 odd players.
When you create a room, be sure to set the room to private and manually invite your friends inside. We did this method with 5 people (More people gets you more money) and we did a rotation system. In every round, assign 2 Players to be the killers and the other 3 players just literally AFK and chit-chat.
When the round ends after 5 minutes, this is what you get. The 3 AFK-ers will get 65-70k MRP and the 2 Killers get 100k+ MRP. Rotate their roles after every round's end.
This method is best if you'd like to avoid the competitive landscape of the game and have some friends to play with. 5 Minutes, at least 65k MRP in the pocket, unlocking MP trophies along the way, a process that can be repeated in quick succession, how is this not a win?
---
Parts That Give Additional/Bonus MRP
Open up your Aircraft Tree and cruise to the bottom. You will see 2 rows of Multiplayer Related Parts. There are 2 parts here that will improve your MRP take after an MP game.
Note: If you can't find the MP tree, they are beneath the Lock Sign. You just need to play one round of MP game to unlock this part of the tree.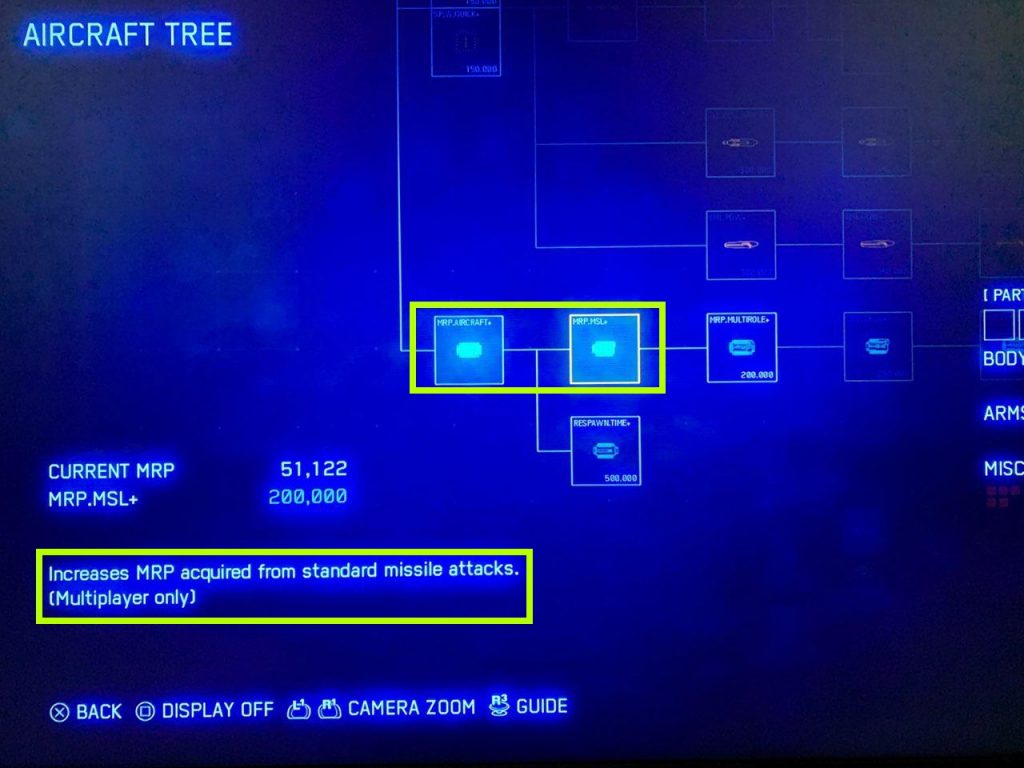 You would want these if you want some additional MRPs. It is worth noting that the parts only give a small amount of MRP boost ( 5k-10k) and requires 350K if you wish to get both parts.
---
So there, a proven quick money guide tested by us and our community. We hope you enjoyed reading and wish you all the best in getting the MRPs you want. I personally netted 1.3 million MRP last night after spending lesser than 2 hours doing this. The first hour was mostly finding out the best way to do this.
Got a better method you wish to share? Just pm us on our Facebook Page and if we find it reasonably good, we'll add your method into here and credit it to you!