Ace Combat 7: Skies Unknown on the PlayStation VR.
I still remember how everyone cheered in 2015, watching the announcement trailer that revealed Ace Combat 7 was coming. Everybody's favourite Flight-Action game was making a return, and not as a spin-off, but an official sequel to the numbered series. Needless to say, the news was well received, and for good reasons.
The thirst was real back then, because not only was Ace Combat 7 coming, it was the fact that the game was coming with PlayStation VR (PSVR) features. The latest Ace Combat game ready to run with Sony's latest VR technology? You don't need to be a rocket scientist to know why this announcement pushed all the right buttons with the fans. It was very fanboys/girls' dream back then to see a 'VR Future' come true. And, there it was, one of the most iconic games of all times promising VR involvement. It got everyone talking about it for years to come, even today.
The last main Ace Combat game that came out on the PlayStation was Ace Combat 5 (excluding spin-offs, non-numbered) and that was on the PlayStation 2 back in the year 2004. Ace Combat 6 was released as an Xbox 360 exclusive (because of reasons?). It took 15 long years for fans to finally be able to get their hands on Ace Combat 7: Skies Unknown which launched this January 2019.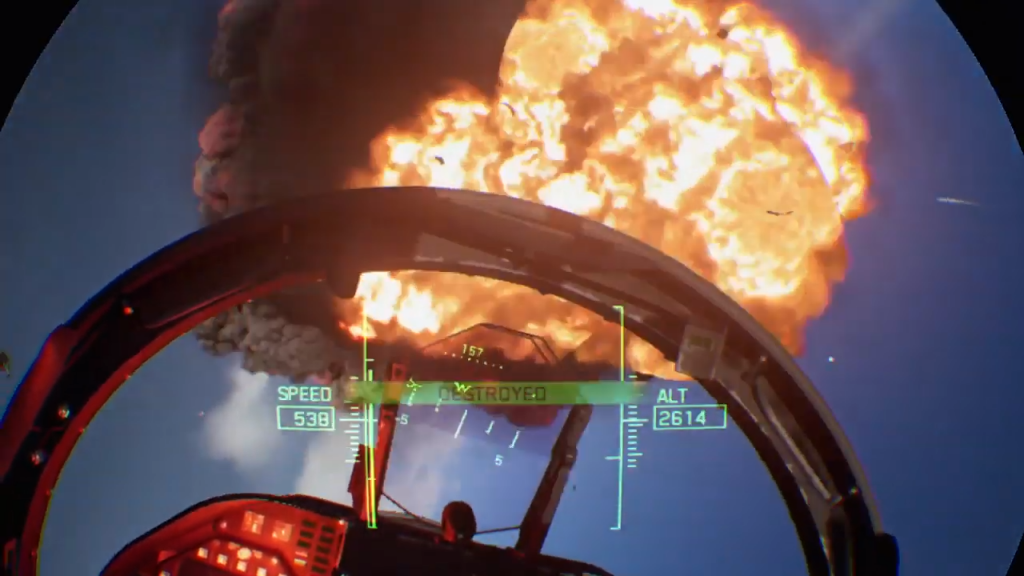 Ironically, I was actually reluctant to try the VR Mode.
Before I got my hands on a copy of the latest Ace Combat 7: Skies Unknown, my PSVR unit was with a friend of mine. And, I didn't get my PSVR back from him until I finished the campaign and my replay of it. Truth be told, I wasn't in a hurry to experience the VR part of Ace Combat 7 at all. I was afraid I'd be disappointed.
The game was supposed to come out in 2017 but didn't come out until 2019 due to delays. I couldn't help but feel that whatever the developer's planned for the VR experience, must have been outdated by now. Before the PSVR was launched, everyone had this wild idea that the PSVR would literally let us play the game from the in-game POV's perspective.
Not many stopped to consider the PSVR's hardware limitation and the fact that it couldn't reproduce the same level of graphics we'd see on our Monitor or TV. My experience with Drive Club VR and Gran Turismo Sport VR reinforced my worries even more. The VR experience in both games flopped and didn't deliver, or at least in my opinion they didn't.
Nevertheless, while hoping for the best, I put on my VR headset and gave it a go.
I knew the PSVR experience in Ace Combat 7: Skies Unknown was limited to a 3-hours worth of gameplay. I went in hoping for the best anyway.
My character spawned inside a hangar, giving me a full view of the plane I was supposed to pilot. The graphical downgrade was not as bad as I'd imagined it to be. It was almost as if I could walk towards the plane and touch it with my hands.
When the first mission briefing began, my imaginary pilot instincts kicked in and I was ready to fly. Eagerly wanting to pull those High-G moves I've mastered so well in my normal gameplay. I was fully expecting motion sickness to kick me in the head but I hoped I could at least last long enough to enjoy the first mission.
Sitting inside the cockpit of a fighter jet that is preparing to take off from an aircraft carrier, left me in awe with 3 words – "This is Awesome!". I examined the view inside my cockpit and was astonished by the level of detail, feeling like I was in a real jet plane. The ground crew's movement on the landing/take-off strip was believably human-like. Sure there were graphical downgrades here and there, but no big deal.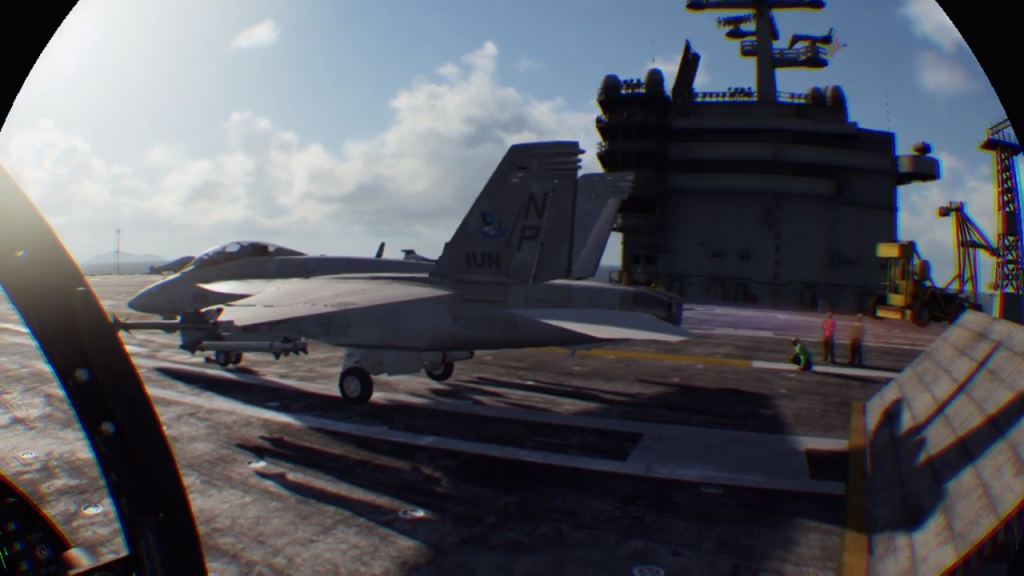 Taking Off
There was another aircraft in my squadron that would take off before me, callsign Omega-11, I watched him go first. His plane's engine went turbo, emitting a faint blue light/fire and almost in a blink, he sped off and was now in the air. I expected my take off to look similarly cool. When my turn came, I obliged and hit it, and before I could count to 3, I was already flying. So far, everything was just like how I imagined it – Perfection.
---
Note: This article you are reading only contains the writer's thought on the VR Aspect of the game. Check out our Ace Combat 7: Skies Unknown Full Review Here.
---
Flying and Fooling around.
No one in their right mind wouldn't fool around in this game, especially while in VR mode. I was determined to make the most out of it and did a 360-degree barrel, followed by some High-G maneuvres. I wanted to see if my brain could handle the game throwing me around like that. No incoming vomiting sensation or noticeable strain caused by motion sickness, everything turned out better than I expected.
After finishing Ace Combat 7's campaign, I'd developed a habit of finding my targets via the radar/map. In the VR Mode, however, the radar is now part of my cockpit and I'd have to navigate my eyes to look down from time to time to get my information. The same goes to my aircraft's health and the remaining missiles I carry, all tracked via the control panel in my cockpit.
Looking out my canopy, I feasted my eyes to the beautiful sky and clouds that are now within my reach. The ocean was realistically beautiful, reflecting the sunlight like a boss. The draw distance is impressive. I flew by an island on low altitude, trying to see what the graphics would be like. Buildings and ships looked like they were rendered on a PlayStation 2. But the trees and sceneries, I'd say they are nicely done.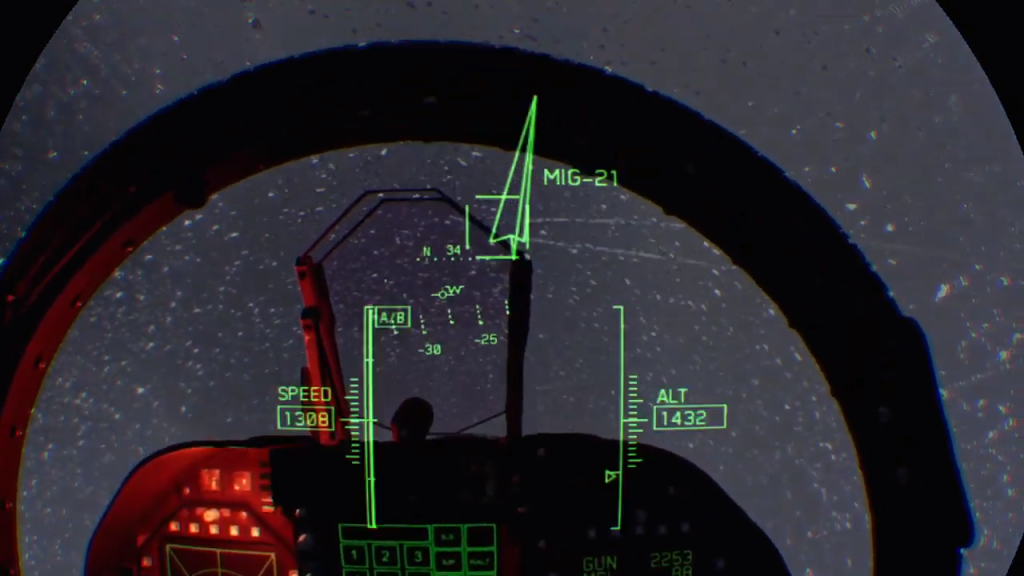 Then it was Pew Pew Pew time.
Dogfighting in VR mode was much tougher than I imagined, I have always played on the third-person view in the campaign, but in the VR mode, I can only use the cockpit view. Tracking an opponent who constantly pulls quick turns got my neck sore, and it wasn't long before I felt the strain on my head. As if something was pressing against my skull, "Damn, motion sickness kicking in". I had to level my plane from time to time to regain my composure before I could continue.
Minus how the VR Combat Experience was affecting my body physically, the whole combat experience in VR was actually pretty solid. These are the reasons why I think that Ace Combat 7's PSVR experience is good;
There's an overwhelming sense of satisfaction when I shoot down an enemy aircraft and fly through the ensuing fireball resulting from the wreckage, yes this is dramatic, but I love it.
The air-slicing sound effects a fighter aircraft make when they flew past me in high-speed. This really sets the right mood.
The realistic sun glare that blinds me when I faced it in a dog.
The aircraft's warning system that kept spamming "Missiles, Missiles!" really got me on my toes most of the time. I find myself turning my head around quite frequently, trying to find the incoming missiles and the idiot who shot them at me. Being able to do this is a major plus on the entire VR experience.
I can finally make good use of the aircraft's machine gun. It was so much easier to use it on VR mode than flying it normal in the campaign mode. It feels really good shooting an enemy down with the machine gun.
I've always been able to pull up safely when doing a nose dive in the campaign mode. In the VR mode, however, I've lost count how many times I crashed my plane and died. I've often misjudged the distance between my aircraft and the ground due to the speed I was diving at. Another good touch of realism here.
Trying to keep an enemy aircraft locked within sight and keeping hot on their tail requires great determination on the VR mode. I was racing against the stress in my head and the incoming puke from my stomach, whenever I tried to keep a stubborn enemy locked. Almost as if I was a real pilot experiencing the hardship of having the High-G pressure crushing my body, albeit in a super miniature scale.
My Conclusion on the VR Experience.
I walked away from the VR Experience a dizzy, but happy man. It was more than I could hope for. All my early doubts and worries were eliminated in just the first VR mission itself. I've played Eve Valkyrie, also a VR Flight-Action game, and although Eve Valkyrie was a full VR game, it was nowhere as thrilling as Ace Combat 7's VR brief mode.
My only complaint is that there are only so few missions for the VR Mode. It would be great if the developer could work on to implement the VR Mode for the entire existing campaign missions. This is how the entire game should be played in the first place.
Being able to fly and experience combat from what closely resembles a real pilot's perspective is something you don't get to do every day. Not unless if you have a copy of Ace Combat 7: Skies Unknown, on your PlayStation 4, and a unit of PlayStation VR to go with. It has been a great experience so far, one that I know will be remembered and spoke about fondly in my discussions with other gaming friends.