The wait is finally over as HUAWEI has officially launched the HUAWEI WATCH GT 3, HUAWEI WATCH GT Runner, and HUAWEI FreeBuds Lipstick today. Appealing designs and packed with advanced technologies, the all-new improved smartwatches and earbuds are set to redefine the standards of users' experience.
Starting from 20 November 2021, consumers can pre-order the HUAWEI WATCH GT 3 and HUAWEI FreeBuds Lipstick, priced starting from RM999. Where the HUAWEI WATCH GT Runner is priced at RM1,399. Wondering if you should upgrade to the all-new improved smartwatch? Check out some reasons below:
Your Own Intelligent Workout Coach
Exercising and working out may be fun for some enthusiasts, but to those who are getting started, your motivation may not be consistent especially when you do not know how to start and not tracking your progress. Fret not! With the HUAWEI WATCH GT 3 packed with the right intelligent features, it will be like having a personal trainer by your side.
The HUAWEI WATCH GT 3 comes with an upgraded workout monitoring feature, offering consumers more than 100 workout modes to choose from. With its Periodic Training Plan and Intelligent Dynamic Adjustment Plan, the HUAWEI WATCH GT 3 is able to record, analyse, and intelligently adjust the training intensity and volume based on the wearer's performance and body feedback. Thus, you will never have to worry about your performance and progress! The HUAWEI WATCH GT 3 is also compatible with third-party health and fitness apps, giving options to consumers to decide where to store their workout data.
24/7 Health Monitoring at Your Wrist
As the saying goes, prevention is better than cure, and it is true. Nowadays, most of us are occupied with our daily activities to a point that we sometimes forget to properly care for and nourish our bodies. Equipped with an upgraded HUAWEI TruSeen™ 5.0+, the watch provides wearers' a more accurate heart monitoring and SpO2 monitoring experience in real-time. That's not all. The HUAWEI WATCH GT 3 features HUAWEI TruSleep™ 2.0 which not only monitors the wearers' heart rate but automatically monitor sleep breathing and assess the wearers' sleep quality each night, giving feedback to the wearer to improve the overall sleep quality.
Also, with personalised settings on the HUAWEI Health App, the HUAWEI WATCH GT 3 is able to set personalised daily goals and reminders to help wearers' develop and improve their daily habits – whether it is daily waiter intake, exercise and even sleep reminders. Now, you do not have to worry about your health as the HUAWEI WATCH GT 3 is able to intelligently and automatically monitor for you regardless of what you do.
Battery Lasts for Days
HUAWEI knows that consumers are always looking for devices or products that have long battery life. Imagine having to charge your smartwatch every few hours – would not that be a hassle? Packed with durable battery life, the HUAWEI WATCH GT 3 46mm supports a 14-day long battery life and the HUAWEI WATCH GT 3 42mm gives a 7-day long battery life. Now, wearers' do not have to worry if the watch goes out of battery when they are on the go.
Have you ever gone out and realised you forgot to bring your charger? Well, equipped with reverse wireless charging, HUAWEI smartphone users can simply place the watch on the phone and wait for it to be fully charged. The HUAWEI WATCH GT 3 also supports fast wireless charging, so the watch will be ready in no time!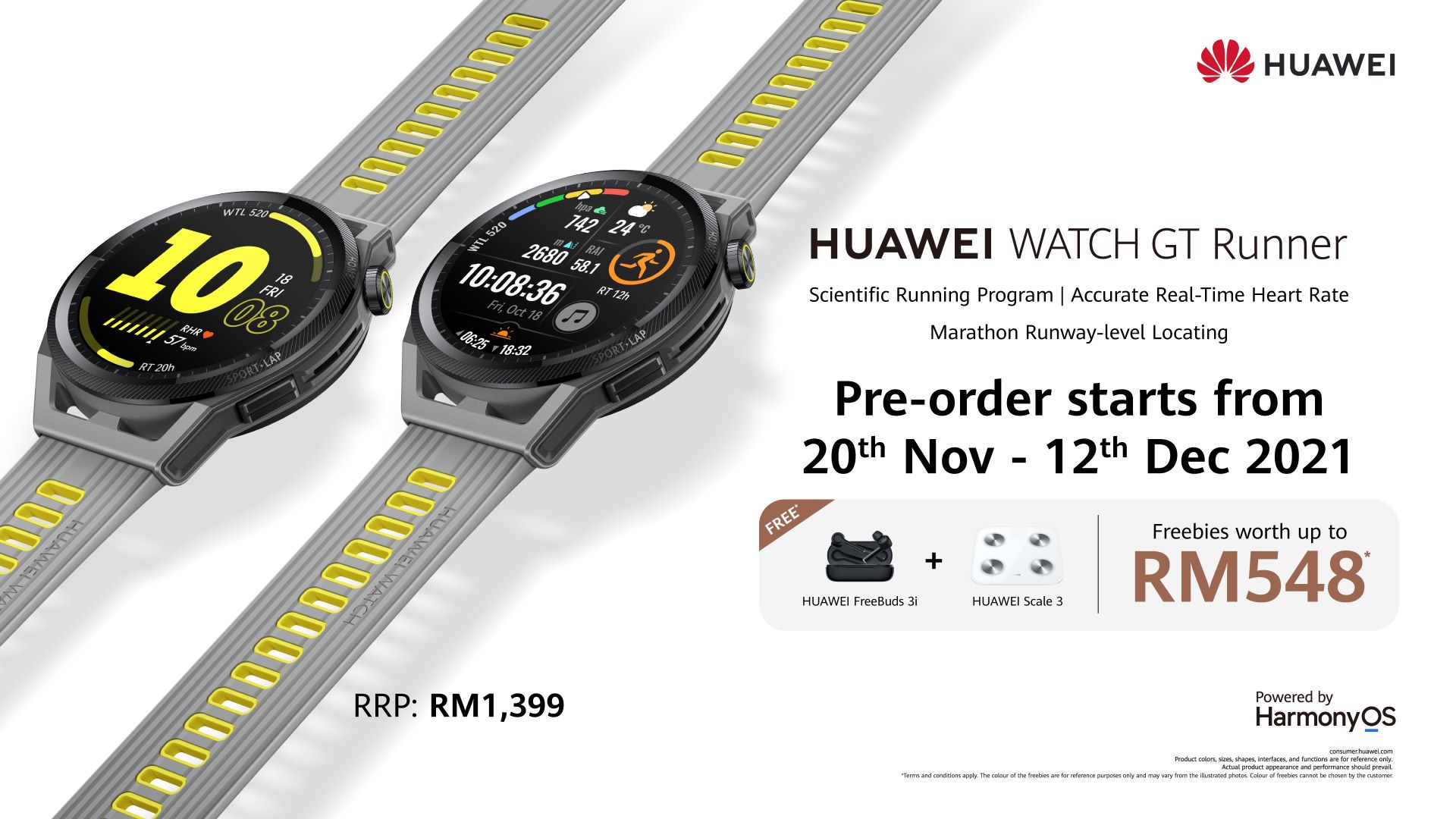 HUAWEI WATCH GT Runner – Coach at Your Wrist
HUAWEI is introducing the all-new HUAWEI WATCH GT Runner, dubbed as your personal coach on your wrist. Packed with state-of-the-art features, the HUAWEI WATCH GT Runner possesses the HUAWEI TruSport™ and Running Ability Index (RAI) which measure accurately the wearers' performance as well as a technique based on the heart rate, distance and other data, providing accurate feedback to the wearer. Fitted with the Data Synchronisation feature, wearers can synchronise training plans to the HUAWEI WATCH GT Runner and the watch is able to perform real-time voice reminders of current training goals and training status to further improve wearers' training efficiency.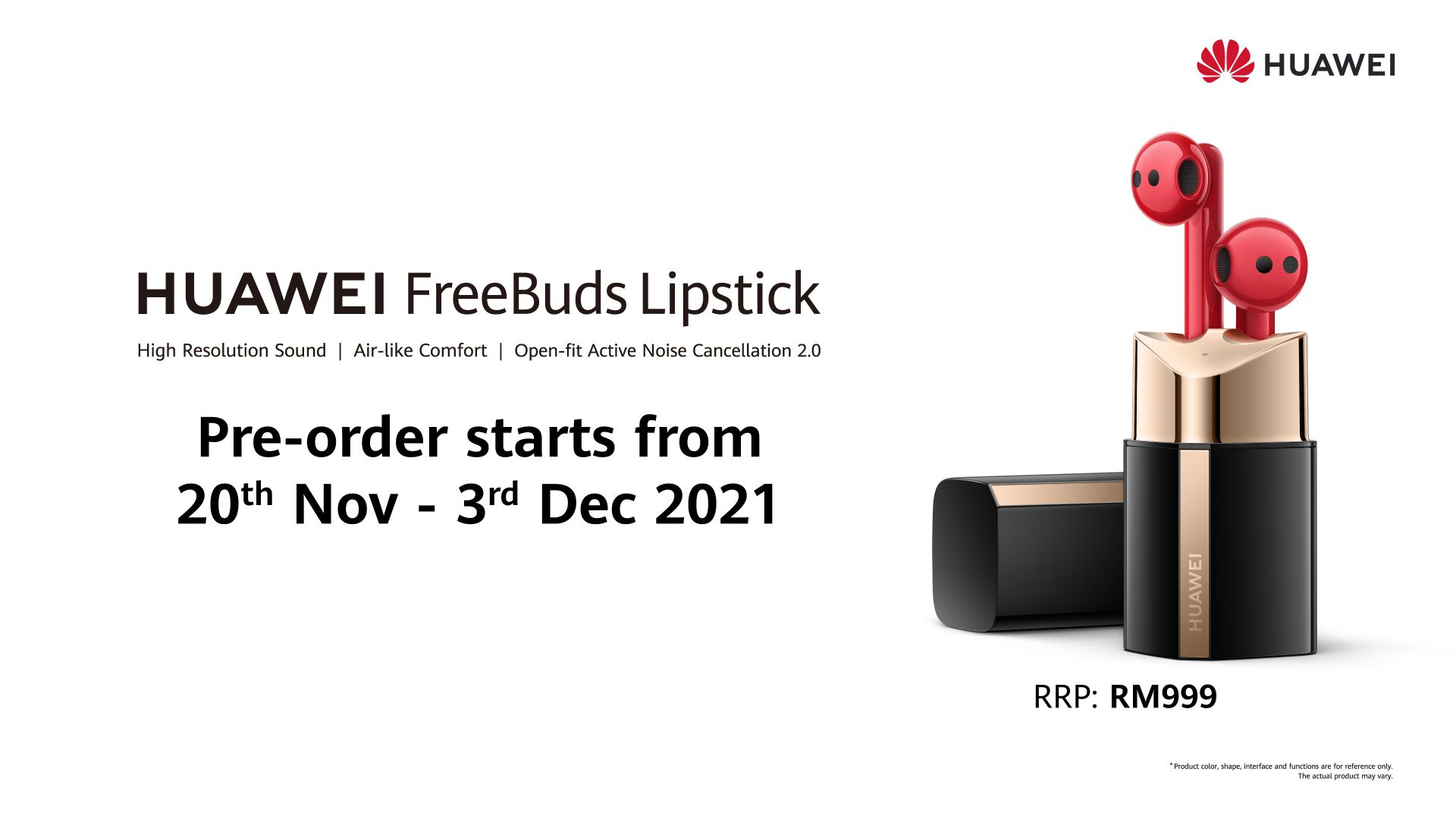 HUAWEI FreeBuds Lipstick – The Ultimate Earbuds for Ladies
Fusing technology into fashion, the HUAWEI FreeBuds Lipstick is the perfect earbuds that symbolise luxury and aesthetics. Equipped with Adaptive Ear Matching (AEM) along with open-fit Active Noise Cancellation (ANC) 2.0) technology, the earbuds automatically detect the users' ear shape to customise noise cancellation modes for each user – delivering an elevated audio experience to the user. Love to hear music wherever you are? The HUAWEI FreeBuds Lipstick delivers an astounding 14 hours of music playback from a fully charged case. So, you would not have to miss a beat when you are out and about.
Price and Availability
The HUAWEI WATCH GT 3 will come in two sizes – 46mm and 42mm and it will be available for pre-order along with HUAWEI FreeBuds Lipstick from now until 3 December 2021. Where the HUAWEI WATCH GT Runner will be available for pre-order from now until 12 December on HUAWEI Experience Stores, HUAWEI Store Online, HUAWEI Official Store on Shopee and HUAWEI Flagship Store on Lazada.
With every pre-order made, consumers can bring home amazing freebies worth up to RM548*.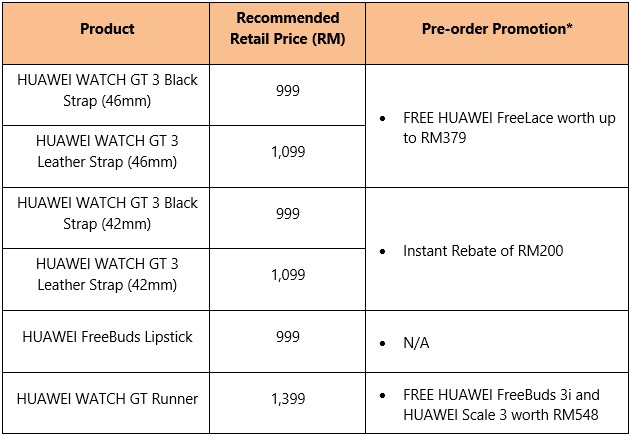 As part of the coming Christmas season, HUAWEI is also offering an instant rebate of RM 300 when one purchases the GT 3 (42mm) and FreeBuds Lipstick together as a bundle. The original price for these two together is RM 1998, but with the RM 300 instant rebate applied, becomes a rather tempting RM 1698 Christmas gift option.