The Cooler Master MM731 Mouse is the jewel that was announced during Cooler Master's 2021 Summit. The mouse is available in Matte Black and Matte White with Gray accents and it screams Lightweight and Ultrafast in all marketing materials. Now, thanks to Cooler Master, we are sent a Matte Black unit to scrutinise or champion at our discretion which you'll soon find out but first, let's take a look at the box and what it comes with.
What's in the box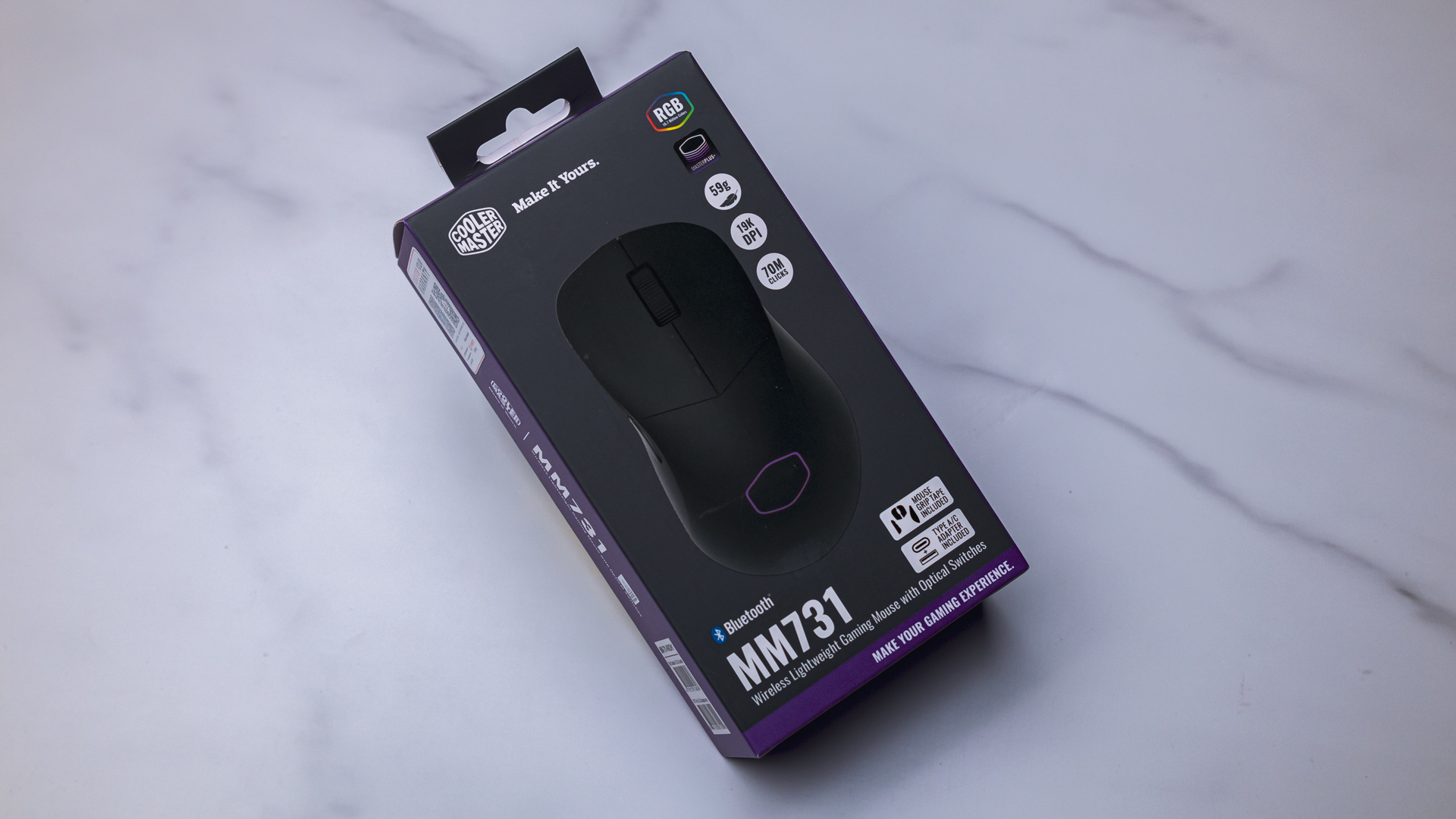 Included in the box are the MM731 mouse itself, a USB type A to C cable, grip tapes, and a USB type A to type C adapter. I thought it was nice that Cooler Master has included grip tapes as part of the contents.
Technical Specifications
Body material

Matte ABS plastic, optional rubber grip tape

Sensor

PixArt PAW3370




400 IPS




50G acceleration




< ~2mm cut-off distance (adjustable)

DPI

100 ~ 38 000 DPI, 100 DPI increments

USB report rate

125/250/500/1000 Hz (2.4GHz / wired)




125Hz (Bluetooth 5.1)

Switch type

LK Optical switches, 70 million clicks

Cable

1.8m Ultraweave cable, USB-A to USB-C, gold-plated connectors

Battery

500mAh




Up to 190 hours (Bluetooth, no LED) / Up to 72 hours (2.4GHz, no LED)

Weight

58 gram excluding cable

Dimensions

122.3 x 69.0 x 39.1 mm
First Look
What really strikes a chord is the RGB subtlety and absence of holes. I swear mice with holes are such a turnoff. Coming back to the RGB lights, the only visible light source is the Cooler Master crest, giving it a very minimalistic and clean look. A huge shout out to Cooler Master for setting this mouse far ahead in the line of competition and for being direct to the point when it comes to design.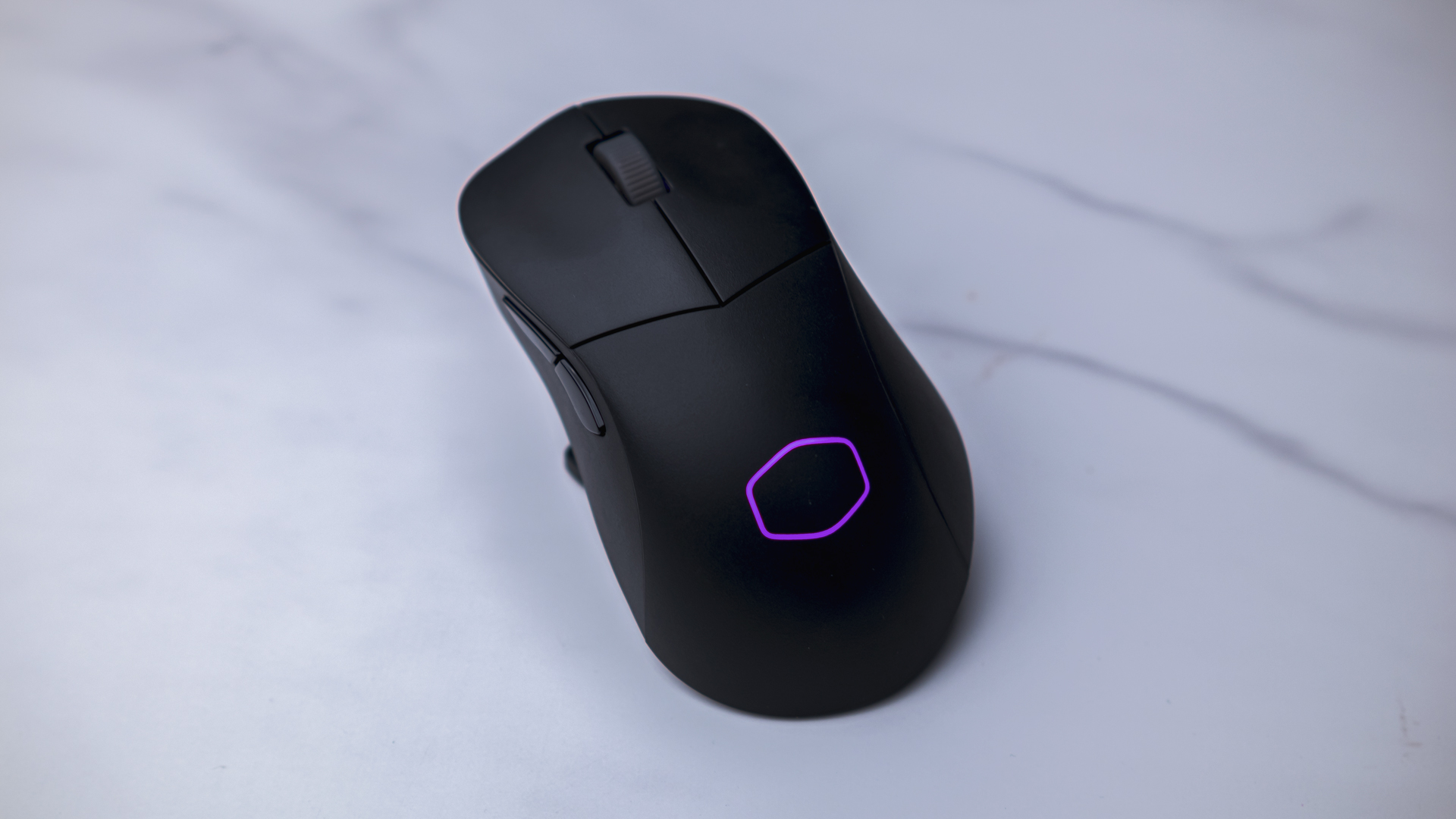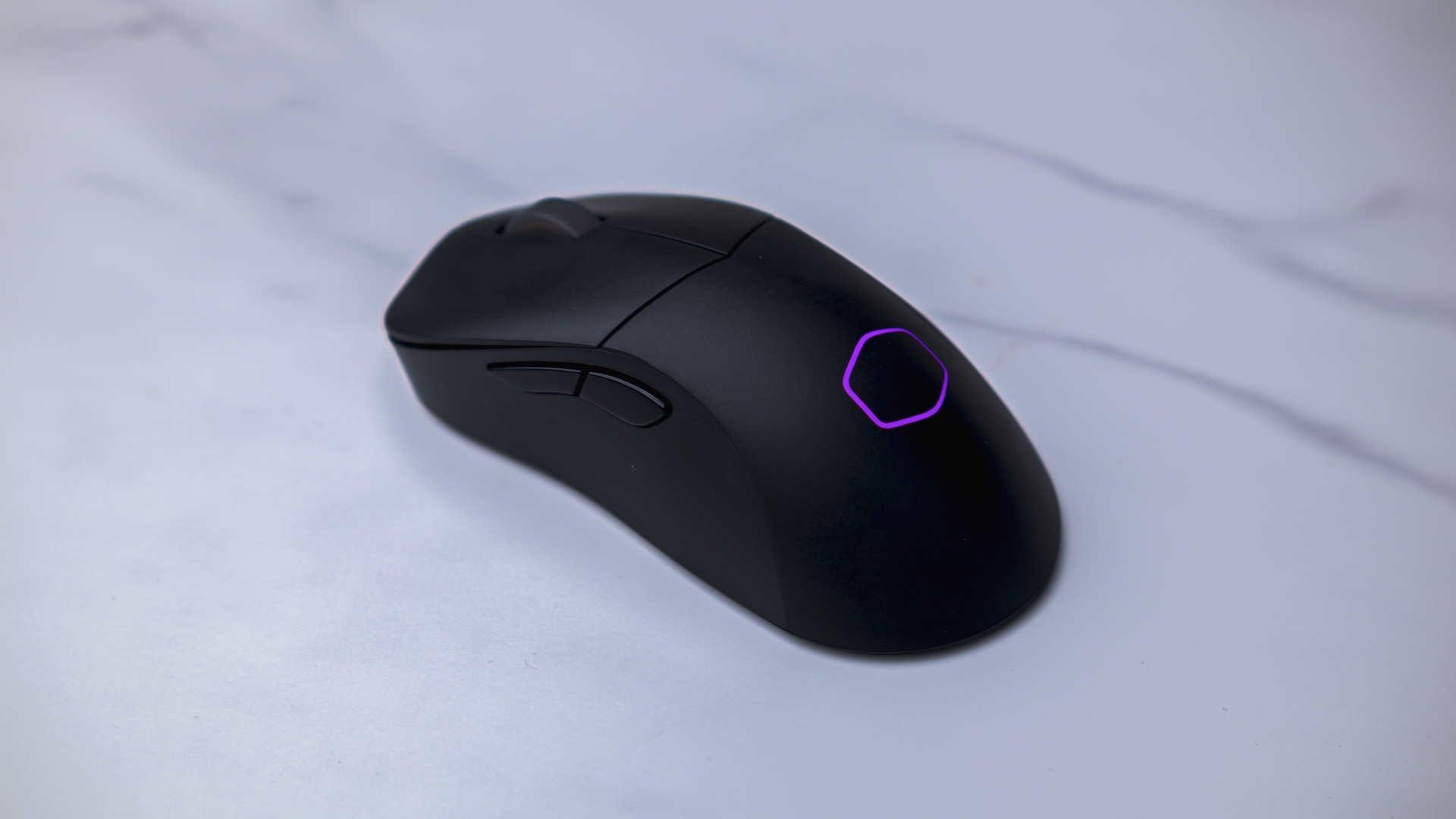 At the top, you'd notice the left and right-click buttons and the scroll wheel, whereas on the left side are the 2 side-click buttons where your thumb sits. Another element to note is the difference in click feelings of the left and right buttons against the other buttons. The left/right buttons are in fact optical switches (LK 2.0) while the other buttons are regular switches.
Moving to the underside of the mouse, there's a trap door that hides the 2.4GHz USB module on the left. On the right, there is a toggle to switch between the 2.4GHz, Bluetooth (pairing button right above the toggle) and wired modes. The sensor is placed quite upwards while the lower side has a button to adjust your desired sensor levels. Personally, I find the sensor toggle placement a bit awkward as conventionally it is placed right below the scroll wheel. I guess a few sacrifices had to be made to make this mouse as lightweight as possible.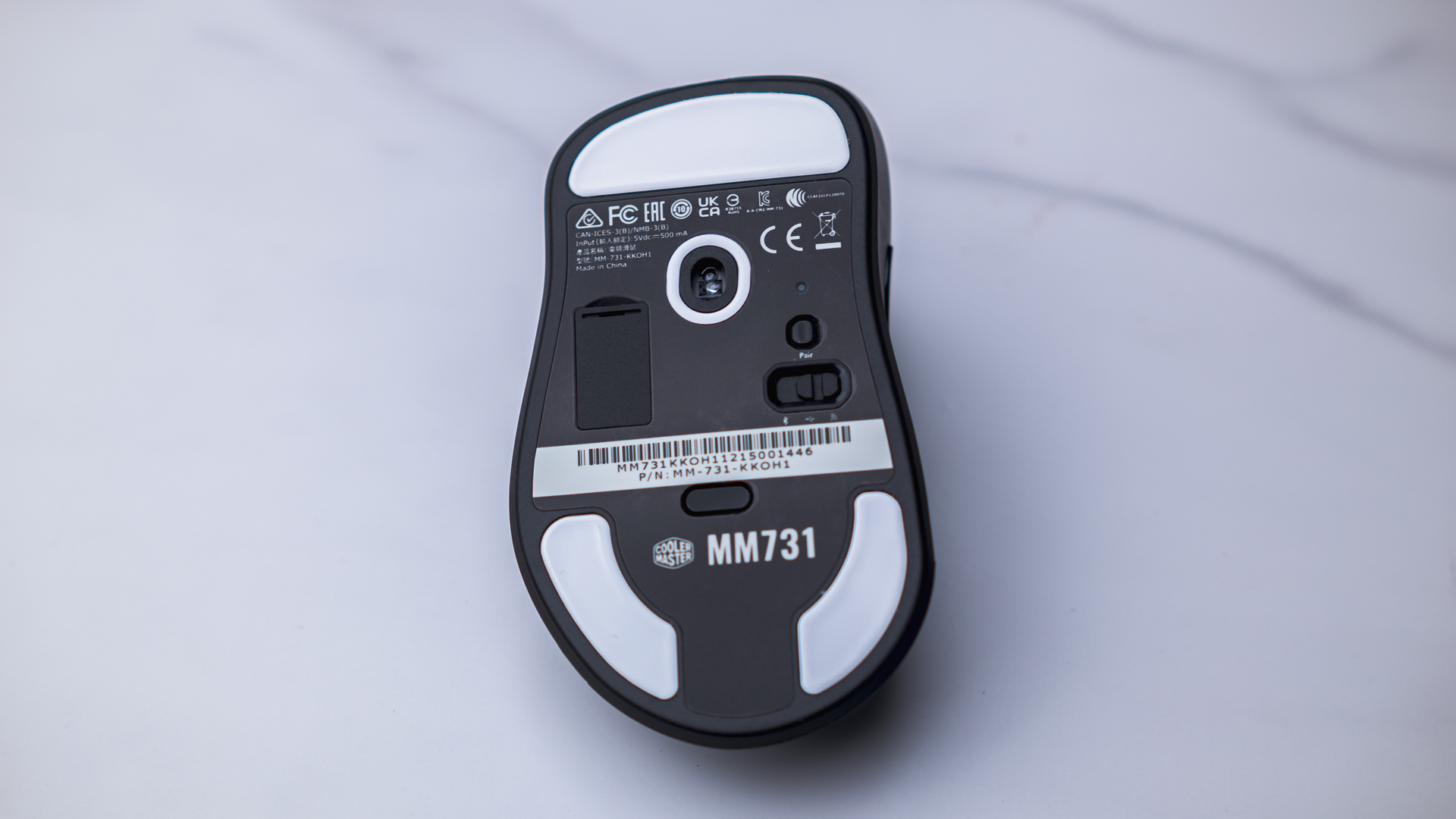 User Experience
The first thing you'd notice is the mouse suits those with a palm grip or fingertip grip. Being a palm gripper, I dare say that this particular mouse really feels comfortable in my grasp.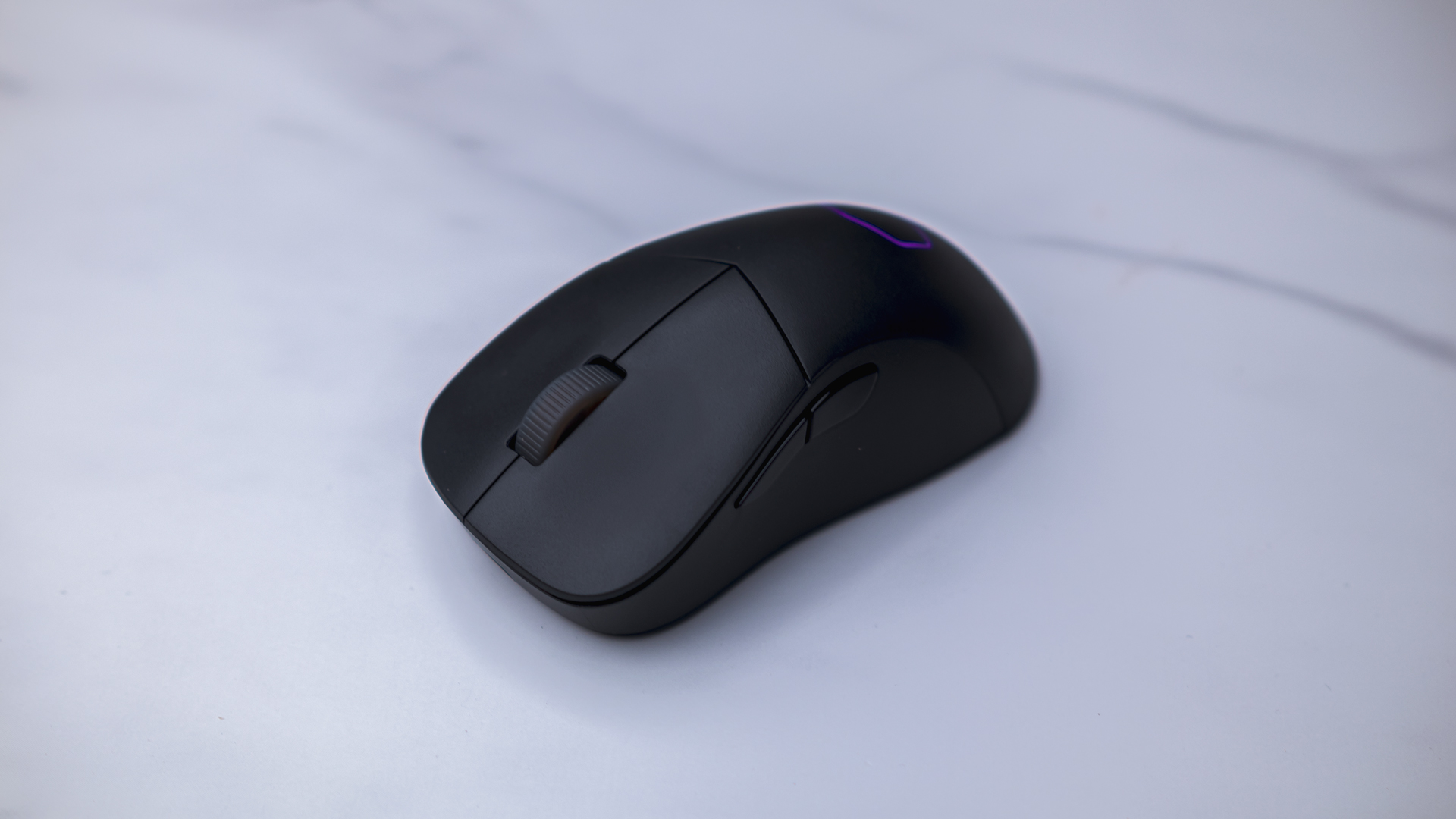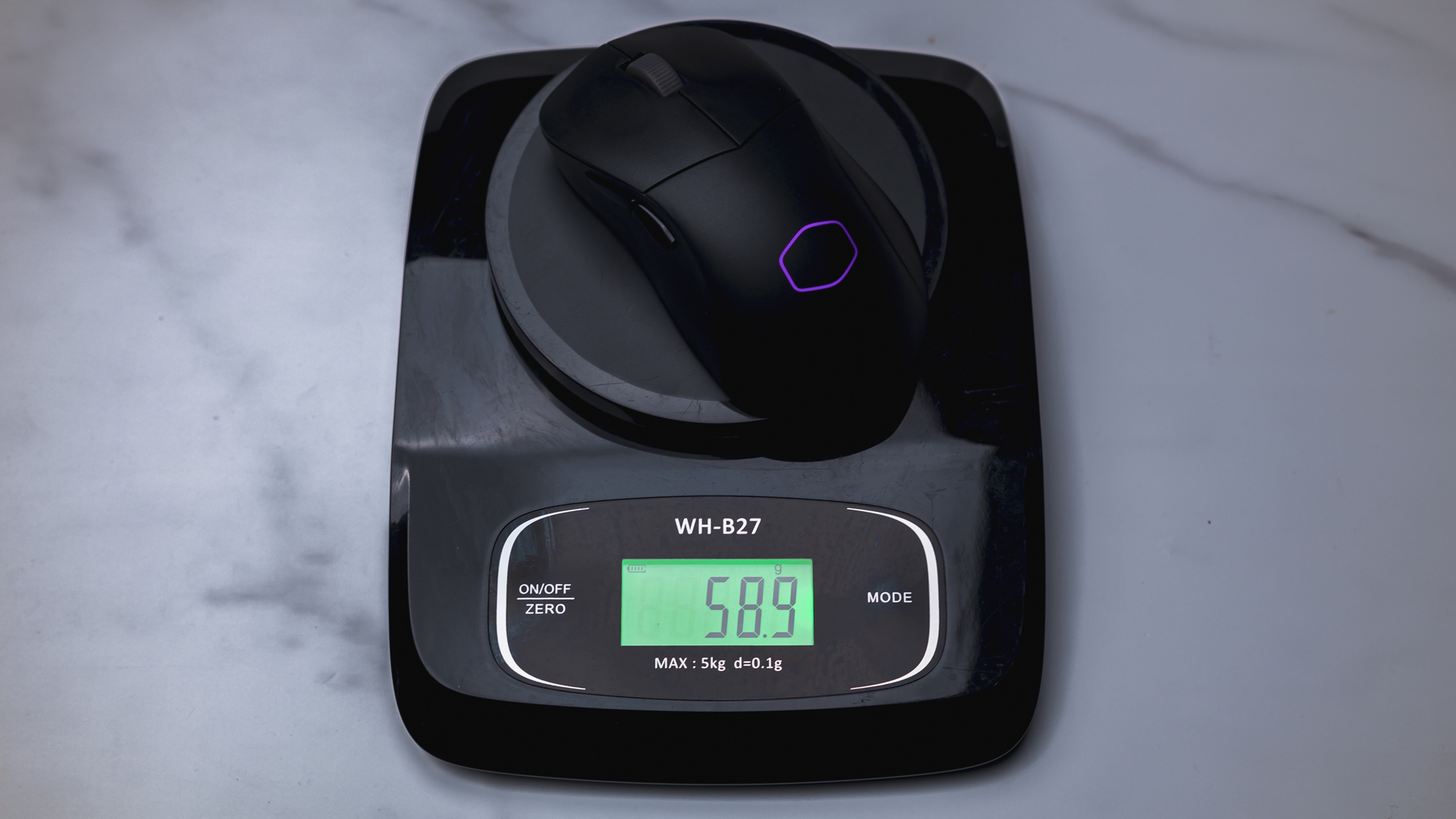 In the weight category, the mouse is as light as advertised. Being merely 58.9g, I found it to be extremely light, way off my past experiences in fact. In relation to this, I personally recommend anyone to take a couple of days to get used to it. Consequently, after precisely a week of using the mouse, all doubts about build quality and durability were put to bed as this MM731 is an overall solidly built mouse. There were no rattles or quirky issues that were faced as there were no compromises in the build.
Battery life, with extensive use of almost 14-16 hours a day, the battery life is pretty darn good. A full charge (observable via the Masterplus software) lasted me a solid 79-82 hours, even more than the advertised 72 hours. This was done without turning on the low power mode and without disabling the RGB function of the mouse. At its price point, one is really not left wishing for a longer durability period.
---
What I Liked About The Cooler Master MM731
Optical Micro Switches.

Good and premium feel build quality.

Hybrid, 3-way connectivity(Bluetooth, 2.4GHz Wireless, USB).


No input lag or delays via 2.4GHz connection.

Grip tapes included

The weight and design feel comfortable under the palm.

Impressive battery life.

Easy to tap and responsive side buttons.

Minimalistic Design! NO HOLES PRESENT!

Braided (ultra weave) cable.

Cheap price tag. RM239
What I Wished Was Better
No extra PTFE feet.

No charging dock(Too much to be asking I guess for the price tag).

Awkward positioning of the sensor toggle.


Extra Weights.
---
Verdict
After using it for precisely 2 weeks, the Cooler Master MM731 in my honest opinion is indeed the best bang for your buck (RM239 Only) at this current point of time for a wireless gaming mouse that serves a multitude of purposes for gamers, content creators and casual users out there.