The availability of the NVIDIA GeForce RTX 4070 now provides access to midrange 40 series graphics cards for consumers. With its designation as a true midrange option within the 40 series, expectations are high for its performance and accessibility, particularly given recent community comparisons to the RTX 3080. In this review, we will provide a preliminary assessment of the ASUS TUF Gaming GeForce RTX™ 4070 OC Edition, examining its key features and performance, as well as assessing its strengths and weaknesses in comparison to its predecessors. Additionally, we will address the community's question of how the RTX 4070 compares to the performance of the RTX 3080.
Here's a feature build of the ASUS TUF Gaming GeForce RTX™ 4070 OC Edition by our friends at Kopi&Tech
Specifications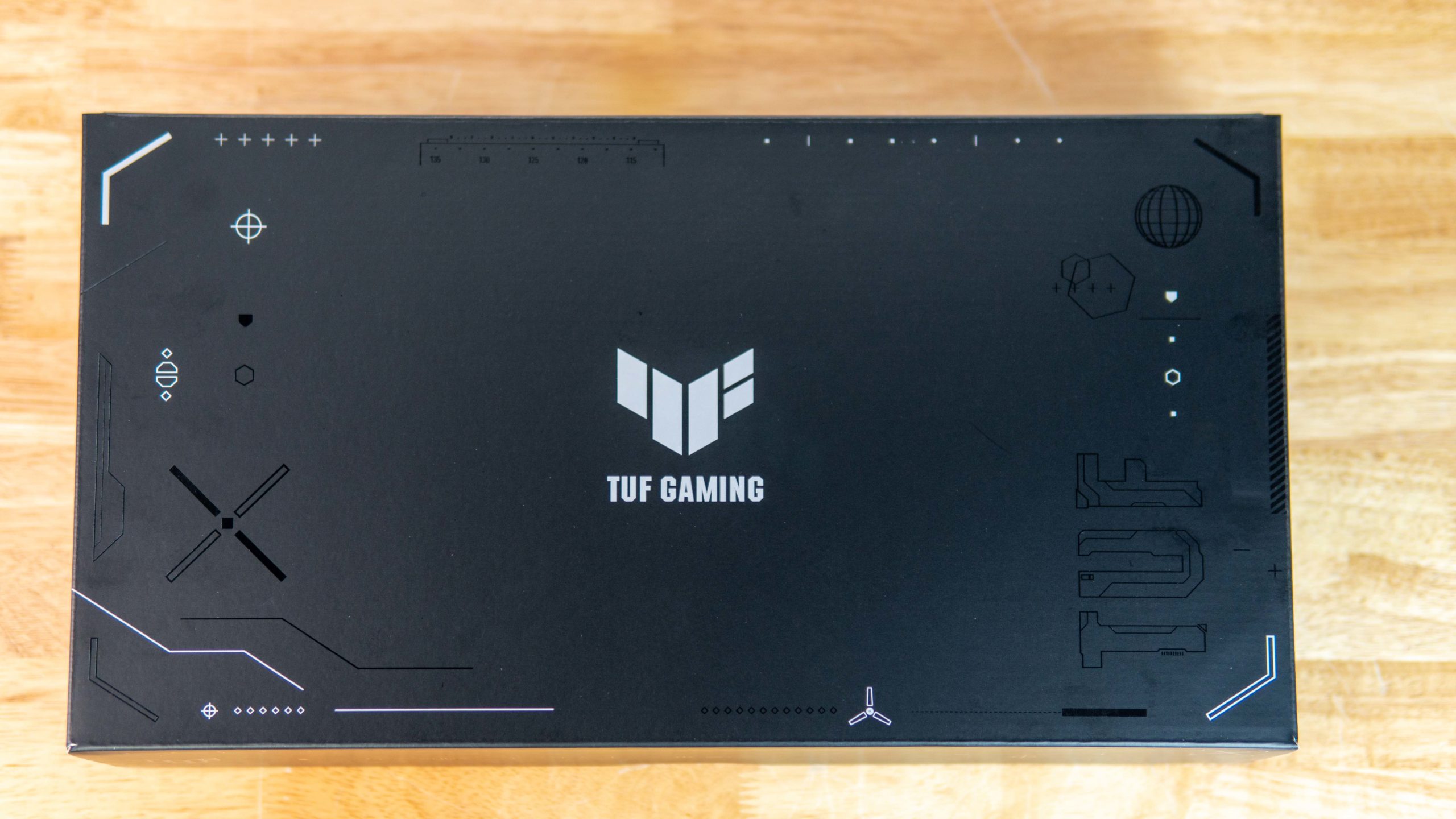 Graphics Engine
NVIDIA GeForce RTX™ 4070
CUDA Cores
5888
OpenGL®
OpenGL® 4.6
Engine Clock
OC Mode : 2580 MHz
Default Mode : 2555 MHz (Boost Clock)
Memory Interface
192 bit
Video Memory
12GB GDDR6X
Memory Speed
21GBps
Power Connectors
1 x 8 Pin
I/O
1 x Native HDMI 2.1
1 x Native DP 1.4a
HDCP Compliant
HDCP 2.3
Digital Max Resolution
7680 X 4320
Maximum Supported Displays
4
Recommended PSU rating
650W
BUS Standard
PCIE 4.0
Package Contents
1 x Collection Card
1 x Speedsetup Manual
1 x Thank you Card
1 x TUF GPU Holder
1 x TUF Velcro Hook & Loop
1 x TUF Gaming Certificate
Bundled Software
ASUS GPU Tweak III & GeForce Game Ready
Driver & Studio Driver
All softwares are downloadable from the support site
Slot Width
3.25 slots
Dimensions
313 x 133 x 64 mm
MSRP
RM 3449
Features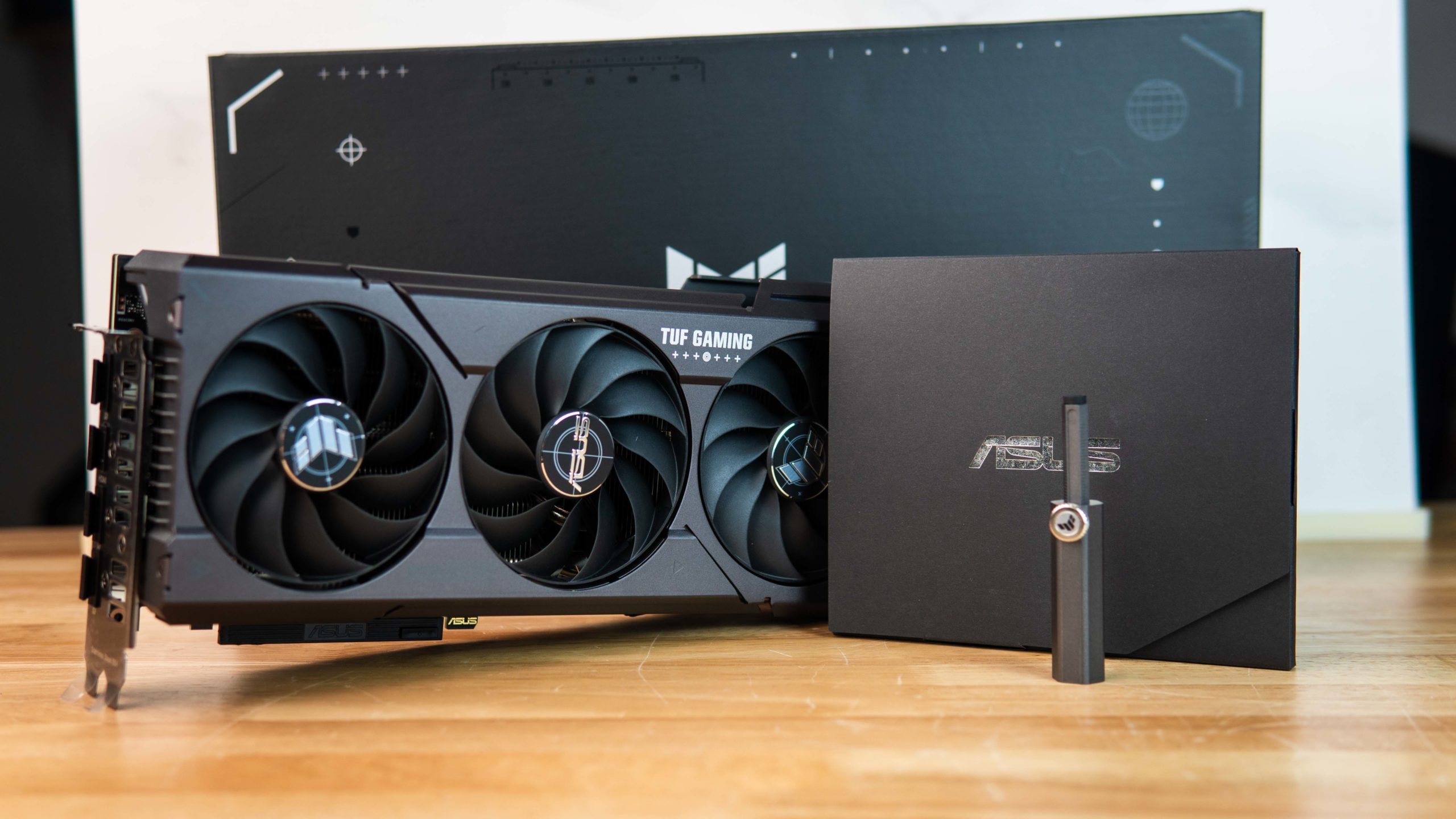 The ASUS TUF Gaming GeForce RTX™ 4070 comes with few accessories in its packaging. Included are a setup manual, a collectible card, a thank-you card, a graphics card holder that also functions as a screwdriver, and a Velcro strap.
Design
At first glance, the ASUS TUF Gaming GeForce RTX™ 4070 appears smaller compared to its other siblings in the 40 series. It measures at 303mm(L) x 133(H) x 64mm(D), which is slightly shorter than the 4070Ti by 2mm in length and 5mm in height. Like the 4070Ti, the RTX 4070 will take up to 3.25 slots on PCIE placement. The RTX 4070 also has one less HDMI port on the IO side, featuring support for only one HDMI 2.1 port and three DisplayPort 1.4a ports.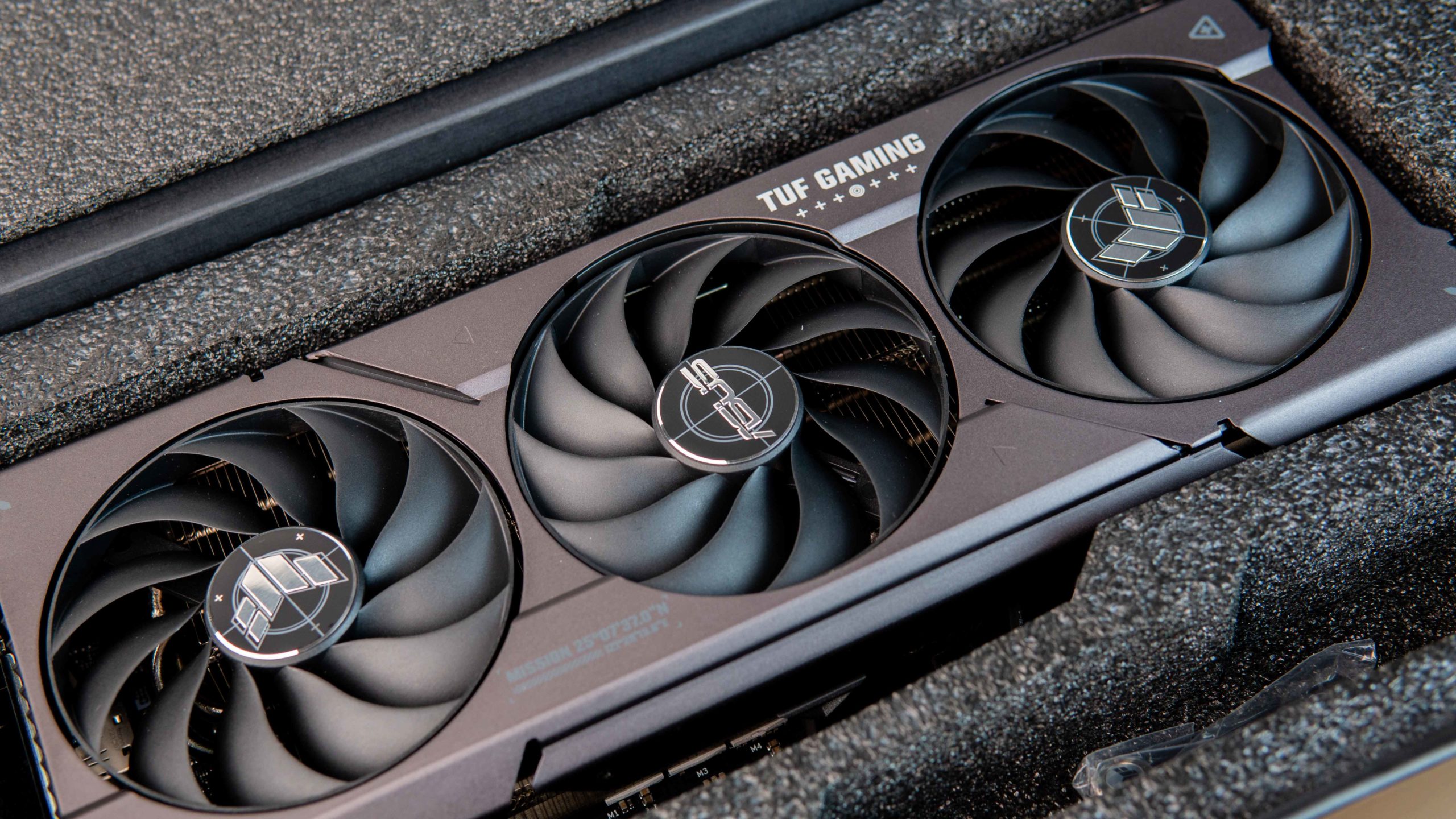 While the RTX 4070 may appear slightly smaller in size, it still carries the signature rugged TUF Gaming design with a few subtle differences. It comes in a sturdy gunmetal grey plastic shroud and a triple fan configuration. The RGB elements can be found on the bottom right segment, illuminating the TUF Gaming logo and an aesthetic bar underneath it. The back plate is a solid matte gunmetal gray metal piece with design aesthetics printed on it.
OC & Cooling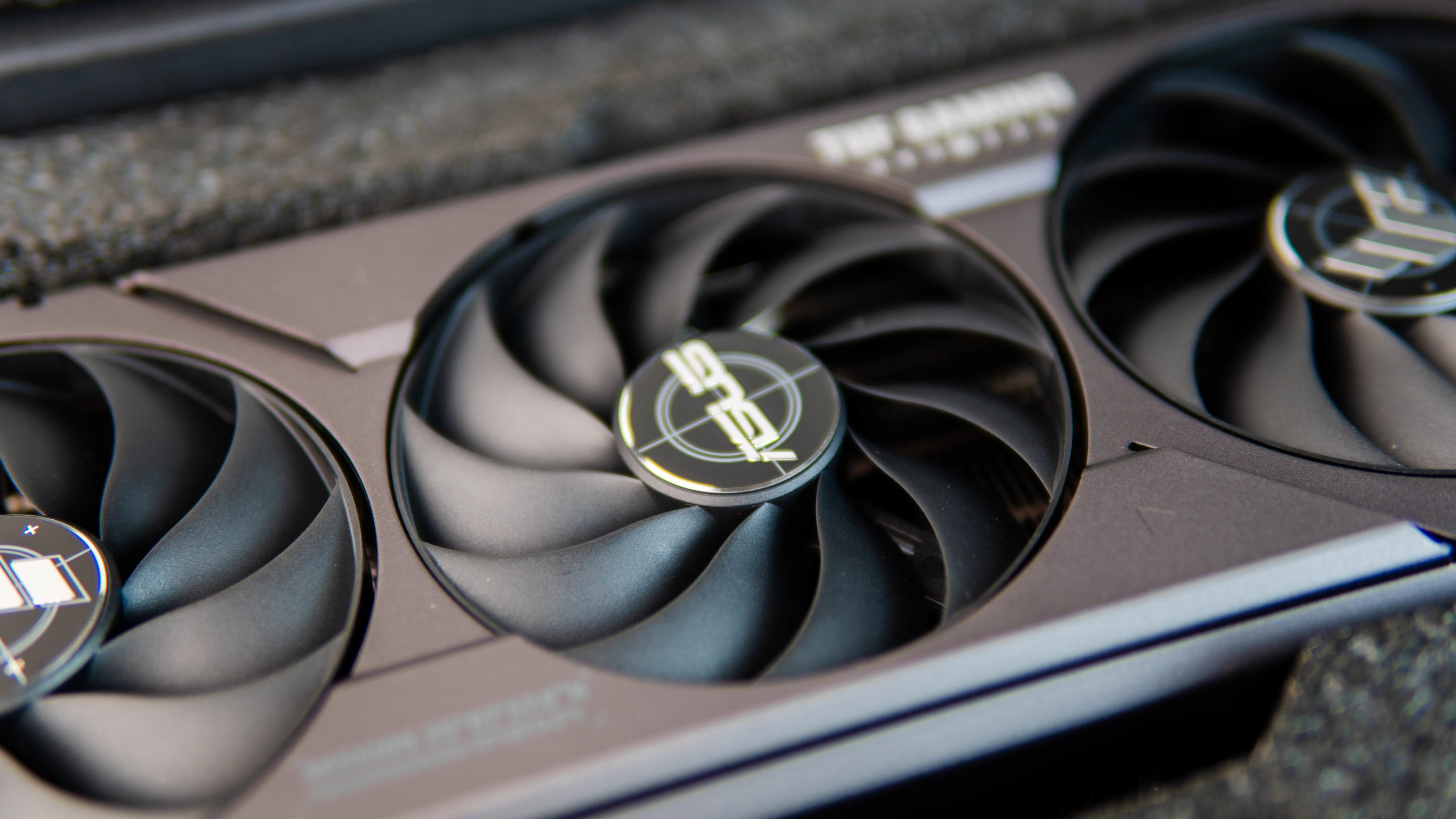 The shroud on the ASUS TUF Gaming GeForce RTX™ 4070 OC Edition has strategically placed cutouts for ventilation, which is important for efficient heat dissipation during demanding applications. The large heat sink underneath it spans across all three fans, suggesting that the RTX 4070 can handle high loads without overheating.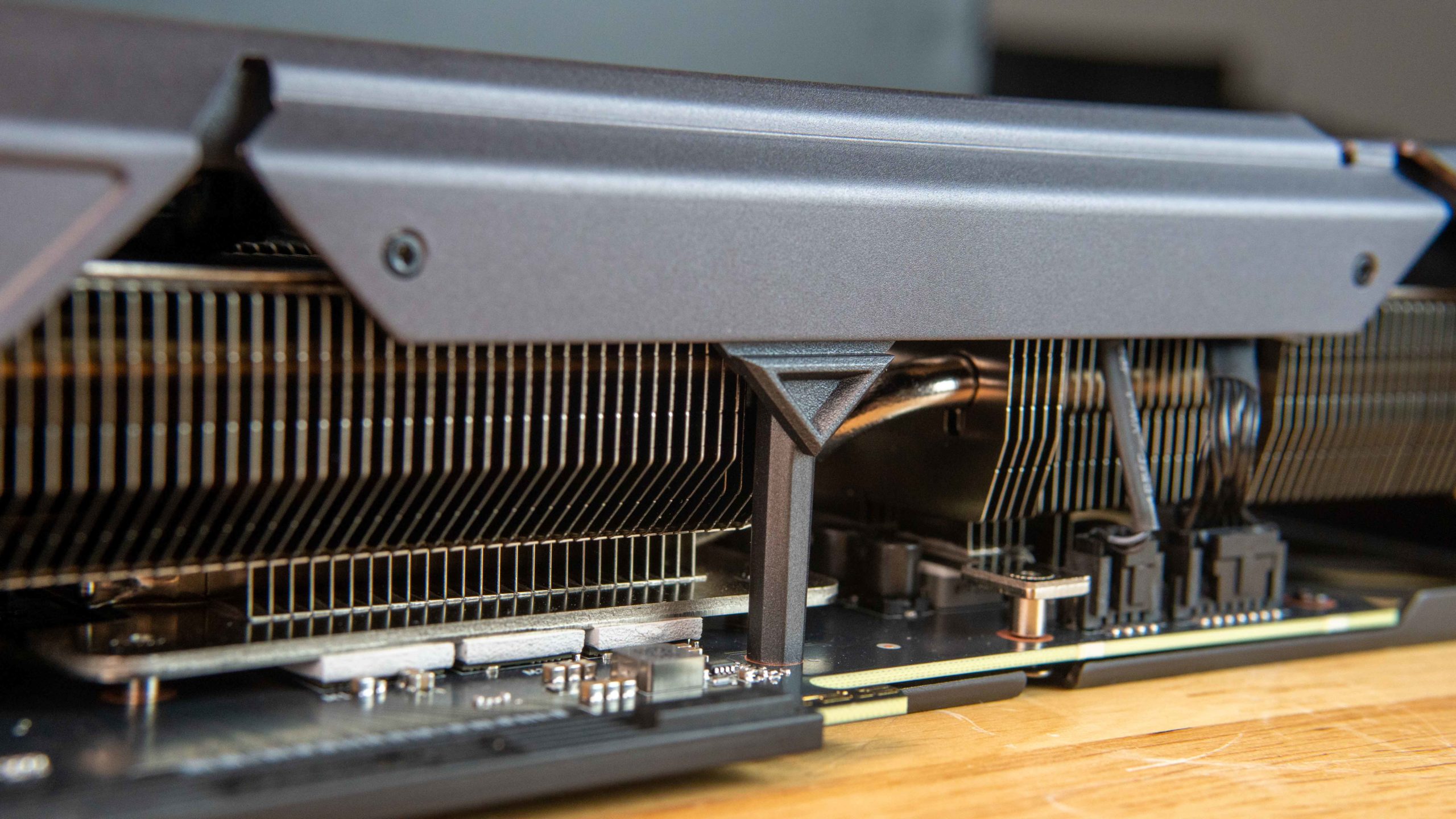 The size of the heat sink is well-suited for the GPU's needs as the GPU is equipped with an OC mode. Similar to its predecessor, the dual bios OC switch is located at the back of the GPU. The switch allows users to choose between two modes, Performance mode(OC) and Quiet mode(Default), with the former capable of reaching speeds up to 2580 MHz and the latter running at 2550 MHz. To handle the increased performance and heat generation in OC mode, the fans on the RTX 4070 are dual ball bearing axial-tech fans, which reportedly provides up to 21% more airflow through the large heatsink.
Hardware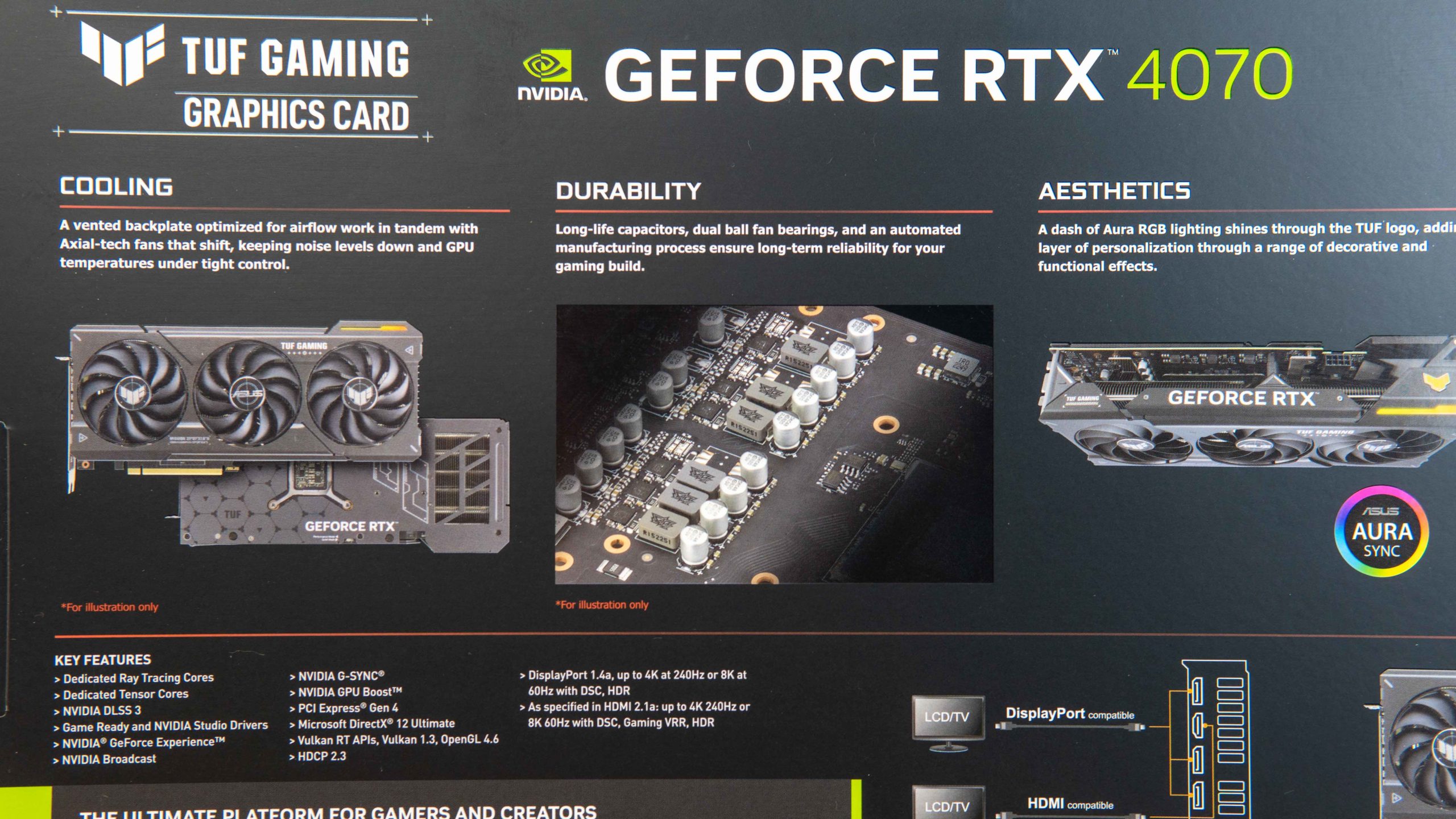 In addition, the GPU is designed with military-grade capacitors rated for 20K hours at 105C, and is manufactured using the Auto-Extreme precision automated process, in line with the TUF Gaming's military design concept. These features are important for both performance and longevity, as overheating can cause damage to the components over time.
DLSS3, Ada Lovelace Architecture & Full Ray Tracing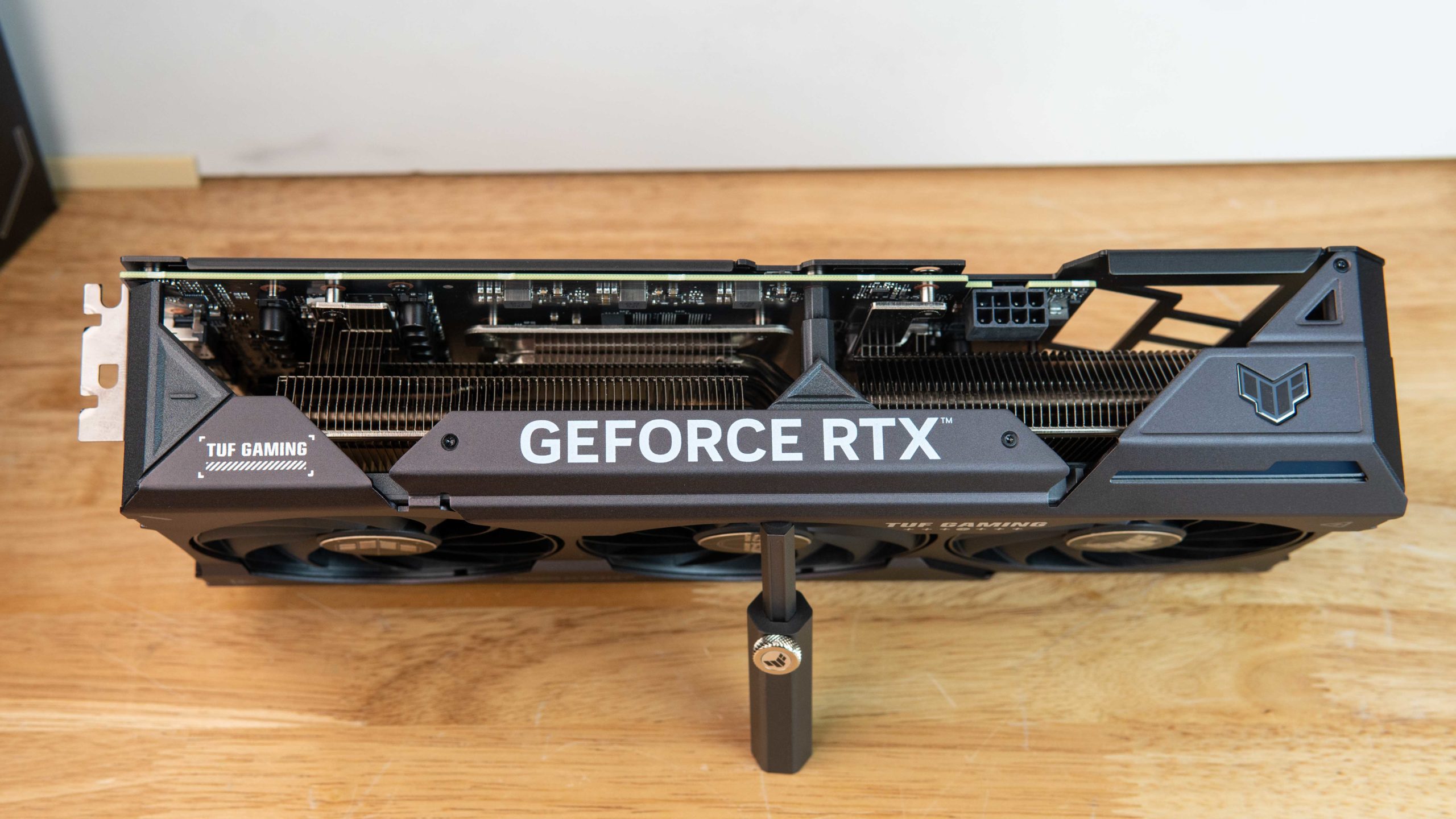 The ASUS TUF Gaming GeForce RTX™ 4070 (both the OC and non) is a part of NVIDIA's 40 series graphics cards family and features a number of key advancements in which are a staple among the 40 series. Built on the Ada Lovelace architecture and featuring DLSS3 readiness, the RTX 4070 is expected to have an improved performance and optimized power draw compared to its predecessors. The GPU features 4th generation Tensor Cores that provide up to 4 times the performance with DLSS 3 compared to brute-force rendering and 3rd generation RT Cores that deliver up to 2 times the ray tracing performance.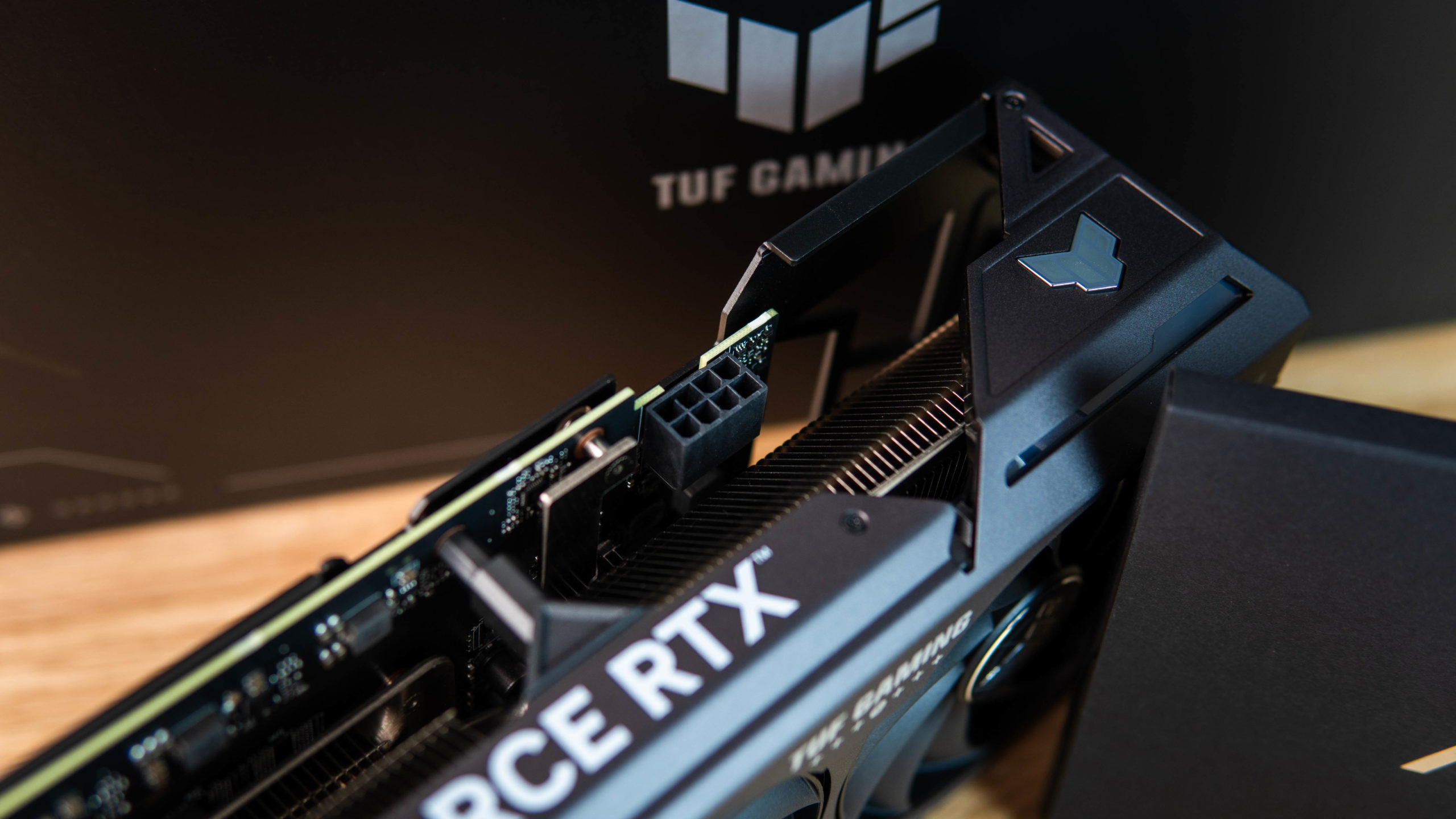 One notable difference in the TUF Gaming RTX 4070 compared to the other 40 series cards is its power pin connector. Instead of using the famed 12VHPWR, the RTX 4070 relies on the 1×8 pin PCIe connector. On top of being a good surprise to consumers, it's also a testament to the flexibility and power efficiency of the Ada Lovelace architecture and the engineering behind it.
Benchmarks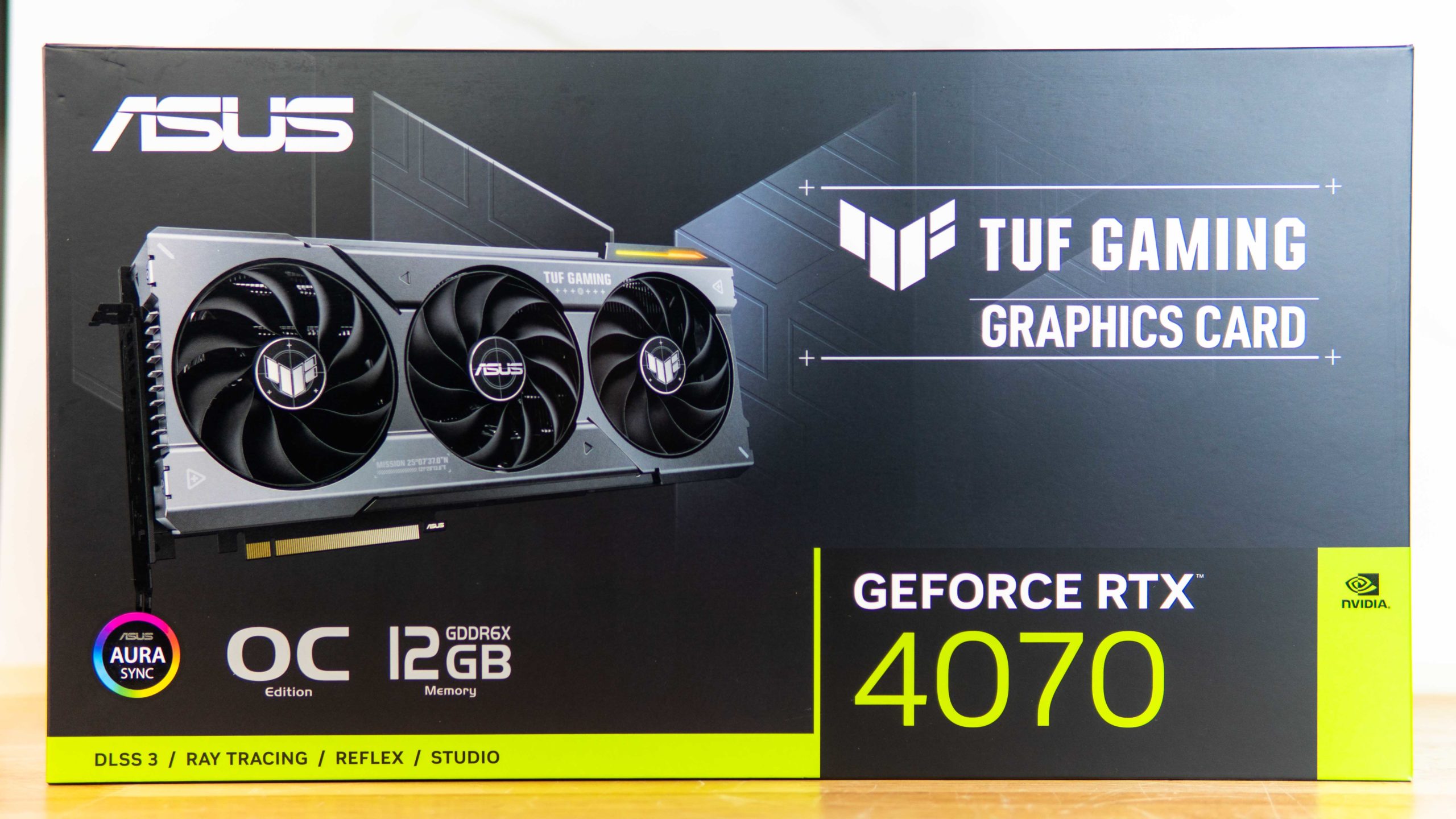 In our benchmark, we paired the ASUS TUF Gaming GeForce RTX™ 4070 OC against the RTX 3070, RTX 3080 and the RTX 4070 Ti. Due to the limited time we've had with the GPU, the results for the ASUS TUF Gaming GeForce RTX™ 4070 OC is based on the Quiet Mode (Default Mode) configuration and with Ray Tracing switched off. The synthetic benchmarks are also designed around gaming performance only.
The benchmark specs are as below.
| | |
| --- | --- |
| CPU | AMD Ryzen™ 9 7950X3D |
| Motherboard | ASUS ROG CROSSHAIR X670E EXTREME |
| GPU | ASUS TUF Gaming GeForce RTX™ 4070 OC, ASUS TUF Gaming GeForce RTX™ 3070 OC, ASUS TUF Gaming GeForce RTX™ 3080, ASUS ROG Strix GeForce RTX 4070Ti |
| Power Supply | Hydro PTM PRO 850W |
| RAM | Kingston FURY Beast DDR5 6000 MT/s |
| Storage | Sabrent Rocket 4 Plus 2TB |
| CPU Cooler | Fractal Lumen S36 RGB |
| OS | Windows 10 Pro (19045.2846 22H2) |
Synthetic Benchmarks
We started with synthetic benchmarks to evaluate the overall performance of the ASUS TUF Gaming GeForce RTX™ 4070 OC. According to Passmark, the card outperformed its predecessors by a significant margin of 8% to 14% on 3D Graphics score. When compared to the RTX 3080 in 3DMark's TimeSpy and Port Royal, the difference was smaller, while still maintaining a considerable 24% to 32% lead over the RTX 3070. Based on the results from these benchmarks, we anticipate that the RTX 3080 will perform similarly to or potentially match the performance of the ASUS TUF Gaming GeForce RTX™ 4070 OC.
Gaming Benchmarks
As preempted by the synthetic benchmarks, both the ASUS TUF Gaming GeForce RTX™ 4070 OC and the RTX 3080 performed similarly in both 1080p and 1440p resolutions. In casesOn average, the RTX 4070 had a performance range that was 20% to 25% lower than that of the RTX 4070Ti, while still maintaining a lead of around 40% over the RTX 3070. It is worth noting that these benchmarks were conducted using the RTX 4070's default mode, and we anticipate that the OC mode will provide even better performance (which we will report on in a subsequent article).
Power Draw & Thermals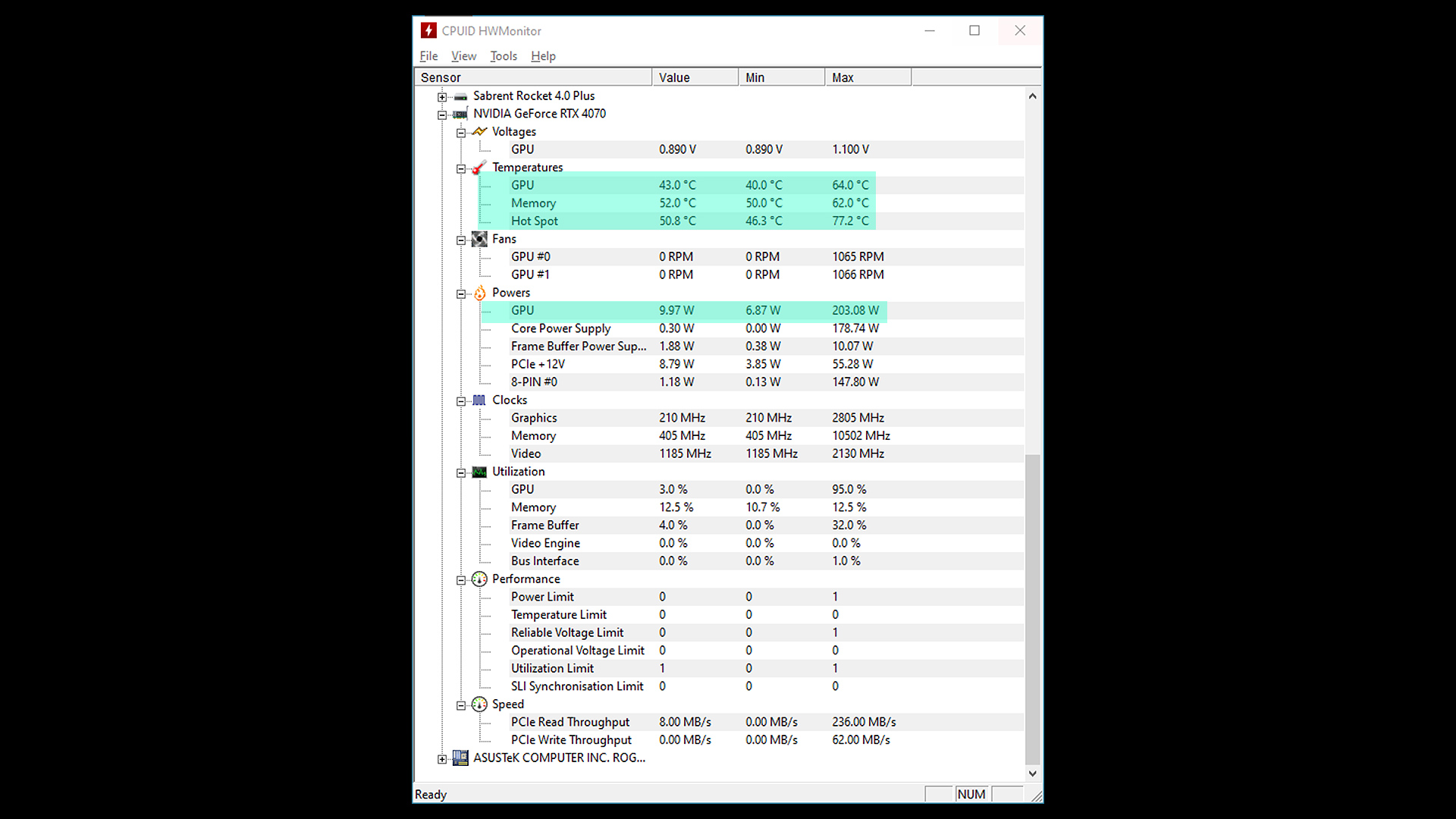 We not only compared the performance of the ASUS TUF Gaming GeForce RTX™ 4070 OC and the RTX 3080, but also examined their thermals and power draw to address concerns about their rumored similar performance. The benchmark comparison showed that the RTX 4070 performs similarly to the RTX 3080 in Quiet Mode.
However, the RTX 4070's superiority lies in its lower maximum power draw of 203W compared to the 350W of the RTX 3080 and its requirement for fewer power connectors, making it more power-efficient.
Additionally, the RTX 4070 runs cooler, reaching a peak temperature of only 65C, while the RTX 3080 consistently breaks the 70C barrier. This superior thermal performance demonstrates the RTX 4070's ability to maintain lower temperatures under load compared to the RTX 3080.
---
What I Liked about the ASUS TUF Gaming GeForce RTX™ 4070 OC
No pesky 12VHPWR and fear of melting cables
Low power consumption and great thermals even at Quiet Mode
I love TUF Gaming aesthetics in general (subjective)
What could be better
---
Verdict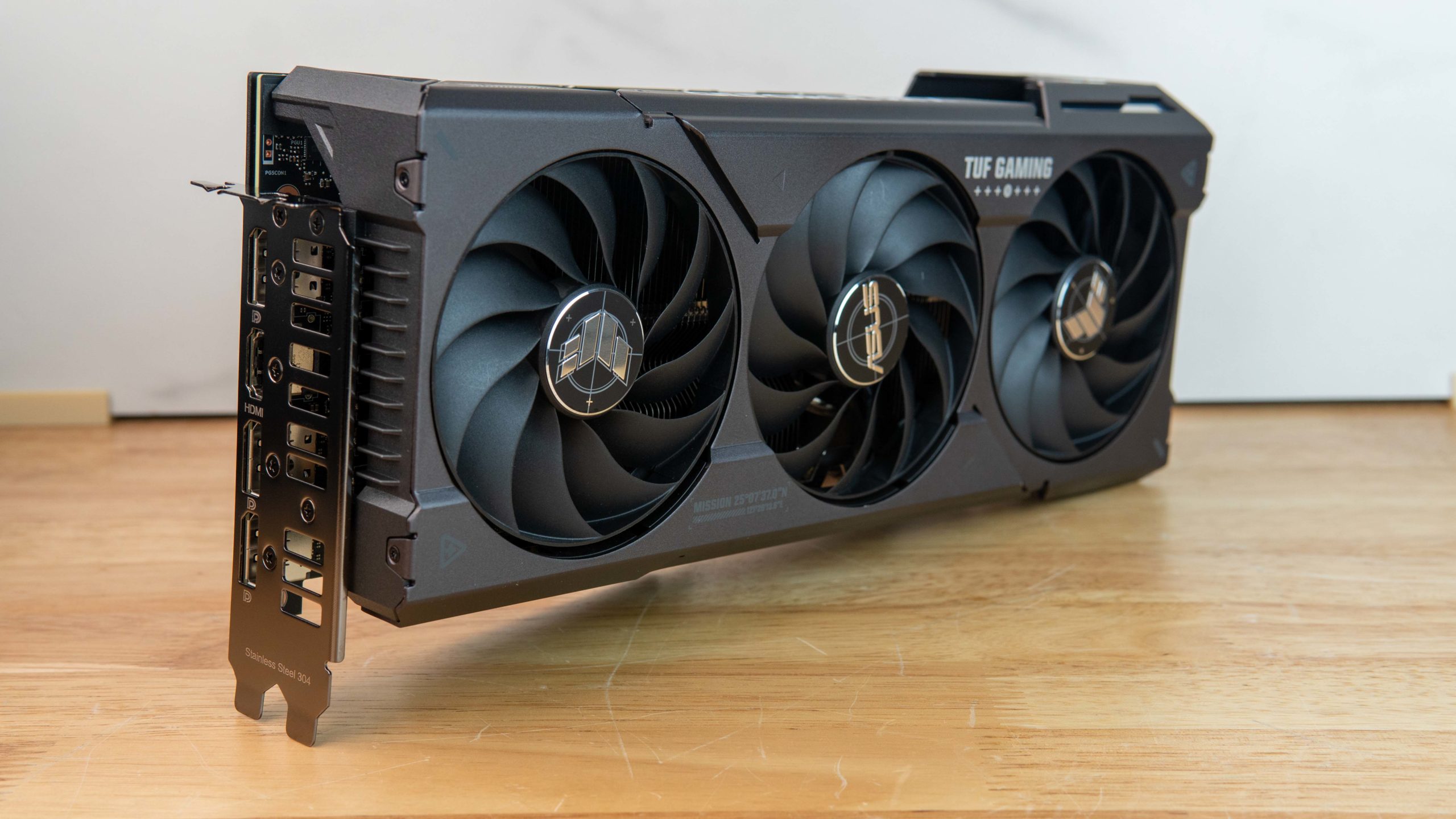 In my opinion, the ASUS TUF Gaming GeForce RTX™ 4070 OC is a superior graphics card compared to the RTX 3080 in many aspects. One of its primary advantages is the availability of DLSS 3, which can significantly enhance frame rates by up to 4 times in full Ray Tracing scenarios. This feature can greatly enhance the gaming experience for users who value high frame rates and realism.
Another notable advantage of the RTX 4070 is its increased VRAM capacity, which is rumored to be in high demand in upcoming games. With a 10GB VRAM, the RTX 3080 may struggle to keep up with the demands of future games, while the RTX 4070 provides a more future-proof solution with its increased VRAM capacity.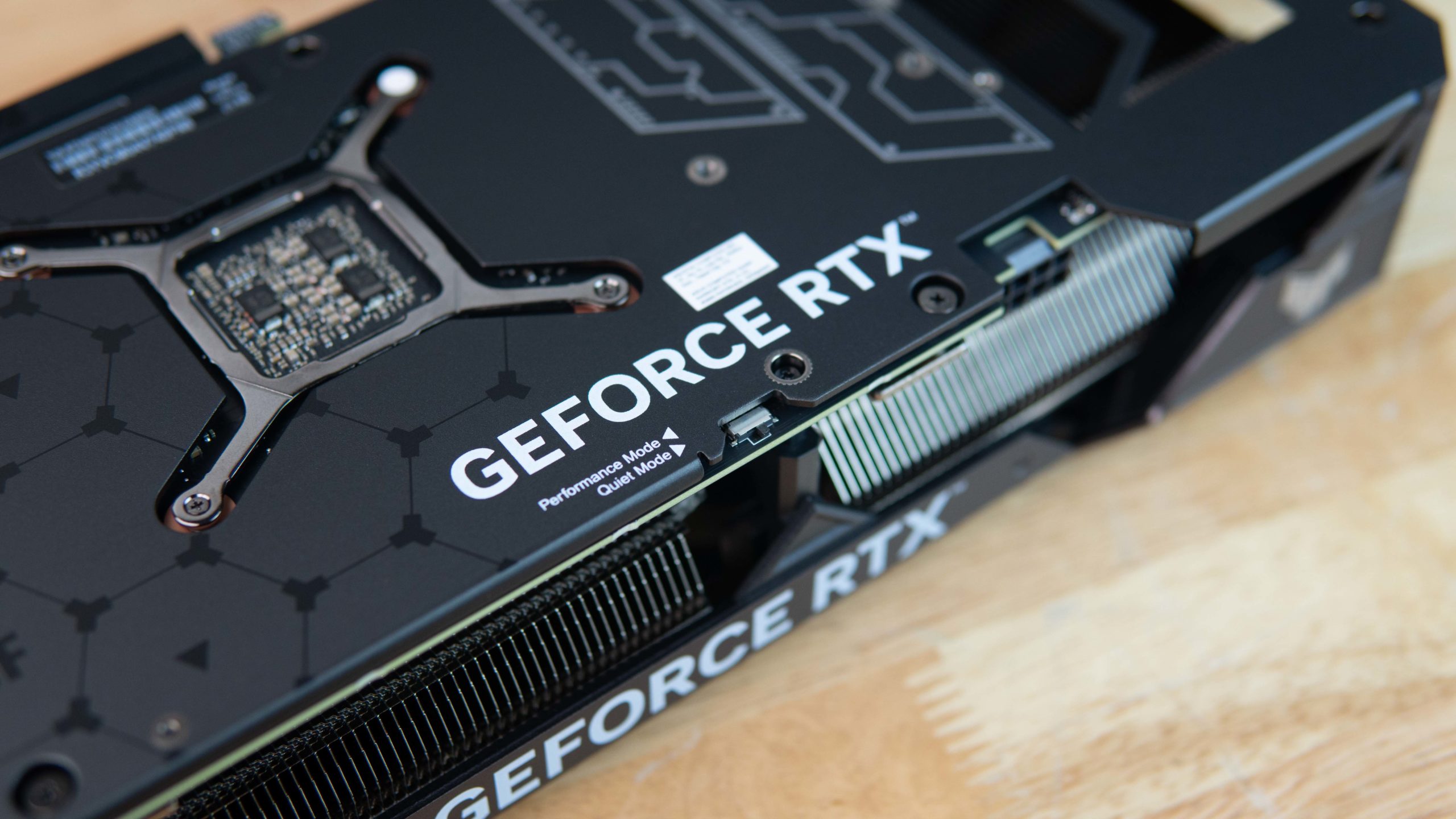 Furthermore, the RTX 4070 has been designed to operate at better temperatures and with lower power draw compared to the RTX 3080. This means that users can expect better performance and longevity from the card, as it will experience less thermal throttling and require less power to operate.
Overall, the ASUS TUF Gaming GeForce RTX™ 4070 OC offers several advantages over the RTX 3080, making it a great option for users looking for a powerful and future-proof graphics card.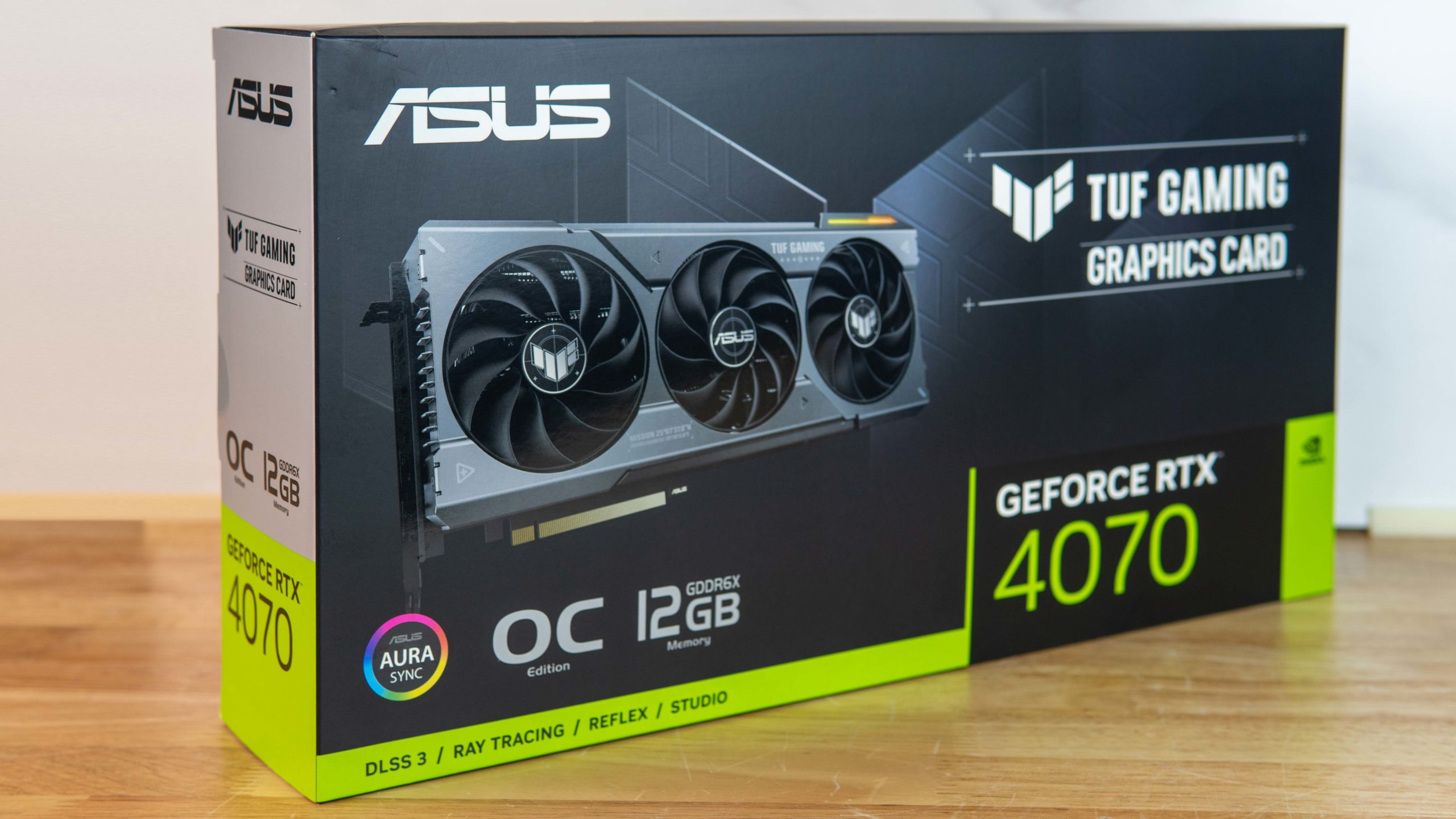 As for pricing, the ASUS TUF Gaming GeForce RTX™ 4070 OC comes with a price tag of RM 3449, which may be considered quite steep for some. However, the premium price point is justified by the features that it offers. One of the key features of the card (or any TUF Gaming OC GPU for that matter) is the preconfigured OC switch, which is a boon for those who prefer not to engage in manual overclocking. The switch enables the user to easily switch between different overclocking profiles, thus allowing them to optimize their gaming experience without having to spend time tinkering with the settings. This is particularly beneficial for gamers who want to get the most out of their GPU without having to invest a lot of time and effort into manual OC.
Additionally, the preconfigured OC switch ensures that the card remains stable even when running at high clock speeds. This is important as instability can lead to crashes and other issues that can ruin the gaming experience. The switch also enables users to easily switch between different power profiles, which can help reduce power consumption and improve the overall efficiency of the card. Therefore, while the price of the ASUS TUF Gaming GeForce RTX™ 4070 OC may be on the higher side, its features and ease of use make it a worthwhile investment for serious gamers who are looking for a hassle-free and mid range GPU with a turbo button.
Final Score : 8/10 (the price is indeed too steep for my wallet)