In its third year running, the TEKKEN World Tour 2019 will conclude in Bangkok, Thailand on December 7th – 8th at the KBANK Siam Pic-Ganesha Theatre, where two days of intense competition will reignite old rivalries and create new ones as world-class TEKKEN players from the Americas, Europe, and Asia come together to battle it out.
Since April, these players have been competing across the globe for a chance to prove their worth and it all converges at the championship finals in Bangkok, to determine who will be crowned the 'King of the Iron Fist'. 20 of the best players will enter the final battle on 8th December, with the freshly emerged Top 19 from the Global Leaderboard and the winner of the Last Chance Qualifier, taking place on 7th December.
With a cash prize of USD$250,000 and eternal bragging rights on the line, the stakes are the highest it's ever been, thanks to prize pool contributors Astro Gaming and NetMarble, making this the largest prize purse for TEKKEN World Tour yet.
Tickets for the event are now available https://twtfinals2019.eventbrite.com and pricing tiers can be found below:
General Admission (2 Days): $10

Preferred Admission: $40; Comes with preferred reserved seating area and exclusive TEKKEN World Tour items including a limited edition cross-body bag and pin set.

Last Chance Qualifiers: $10; Purchase of additional General or Preferred Admission ticket is required.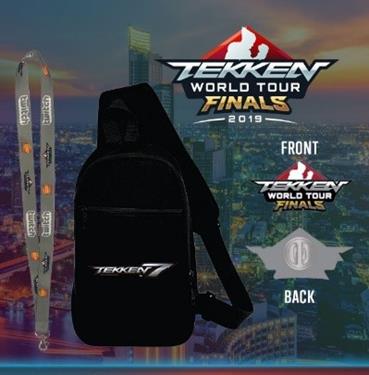 Event attendees will also have an opportunity to meet Katsuhiro Harada, Game Director & Chief Producer for Fighting Games, BANDAI NAMCO Entertainment Inc., as well as TEKKEN Producer & Game Designer, Michael Murray, who will be there to meet fans for autograph signing and photo-ops opportunities. Limited tickets will be available on-site and the event, and will be on a first-come, first-serve basis.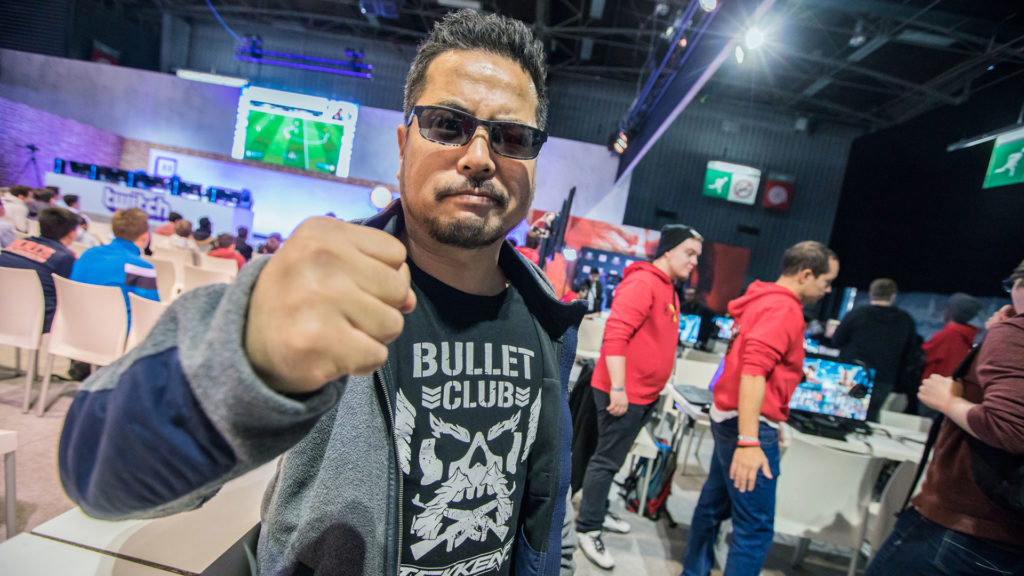 For those unable to attend, the event will be livestreamed worldwide exclusively on Twitch on Twitch.tv/Tekken. Catch all the action starting 12pm on day one, and from 11am on day two.
*All timings are based on Thailand local time
Top 19 Players Qualified
Knee – Leader Board Rank: 1
Considered the most consistent TEKKEN player worldwide, ROX Gaming's Knee has been the top-ranked player on the TEKKEN World Tour Leader Board for 2 consecutive years. The title of TEKKEN World Tour Finals champion has eluded this legendary player thus far, but he looks to correct this in 2019.
Anakin – Leader Board Rank: 2
America's strongest player has qualified for the TEKKEN World Tour Finals three years running. Representing RadianceGG in 2019, this Red Bull Athlete declared he would become the USA's first TEKKEN World Tour Finals champion.
LowHigh – Leader Board Rank: 3
The 2018 Evolution Championship Series champion is looking for his celebrated Shaheen play to bring the TEKKEN World Tour Finals championship home to Team UYU. An impressive win at the Rev Major event in the Philippines during the open season could herald such a victory.
JDCR – Leader Board Rank: 4
One of the most influential players in TEKKEN history, JDCR has won numerous tournaments across the world during his years of travels.
Chikurin – Leader Board Rank: 5
Chikurin is one of a small but elite group of players who claimed multiple Master tournament wins in 2019. His aggressive Geese play has become the common blueprint for the character since release, and Chikurin hopes it will help him bring the championship home to Japan.
Arslan Ash – Leader Board Rank: 6
TEKKEN's most notable story in 2019 came from Arslan Ash, who emerged from Pakistan and became the first twice-crowned champion of the Evolution Championship Series in both Las Vegas and Tokyo. A triple crown including the TEKKEN World Tour Finals championship has never been possible, but the freshly announced Red Bull athlete from Pakistan looks to make history yet again Dec 8.
Kkokkoma – Leader Board Rank: 7
Kkokkoma has travelled the world with a fleet of strong characters at his command, which he has used to claim strong placements throughout the 2019 season. Having recently begun using multiple controller types to best highlight his character's strengths, Kkokkoma now looks to elevate his strong placements into a world championship performance.
Super Akouma – Leader Board Rank: 8
Super Akouma won the season opener in his home country of France en route to qualifying for the TEKKEN World Tour Finals. As the lone representative from Europe, he now finds himself Europe's only hope at claiming the world championship.
Awais Honey – Leader Board Rank: 9
Considered the strongest Akuma player in the world, Genuine Gaming's Awais Honey qualified for Finals by winning the incredibly stacked Master tournament in Dubai. As one of two qualified players from Pakistan, Awais Honey aims to cement his country as the strongest in the world.
Ulsan – Leader Board Rank: 10
One of the world's strongest Kazumi players, Fate Esport's Ulsan was one of the earliest players to lock-in his qualification for the 2019 TEKKEN World Tour Finals. A strong contender in any tournament, Ulsan looks to claim his first world championship in Thailand.
Double – Leader Board Rank: 11
Hailing from Japan, UYU's Double is the world's most successful Marshall Law player. The inaugural OGN OSL Invitational Champion, Double looks to add another impressive championship to his growing list of accolades.
Chanel – Leader Board Rank: 12
One of TEKKEN's most vibrant personalities, ROX Gaming's Chanel brings showmanship to every tournament he enters. His dramatic play styles with Alisa, Eliza, and Zafina make him a threat to any and all players worldwide.
Rangchu – Leader Board Rank: 13
The reigning TEKKEN World Tour Finals champion stunned the world by claiming his title with the uncommon character selection of Panda in 2018. Now, 1 year later, he enters the tournament with the achievable goal of becoming TEKKEN World Tour's first 2-time champion.
Abel Del Maestro – Leader Board Rank: 14
Latin America has never been represented in the TEKKEN World Tour Finals pool of qualifiers, but Abel Del Maestro's skilful Eliza has changed that in 2019. With his teammates from Get Gosu travelling to Thailand to cheer him on, Abel Del Maestro may become Peru's first TEKKEN world champion.
JimmyJTran – Leader Board Rank: 15
America's JimmyJTran is synonymous with the technically challenging character Bryan Fury. Since the inaugural TEKKEN World Tour, JimmyJTran's confidence in his play has seen him qualifying for Finals by competing in seemingly the minimum number of tournaments necessary to secure admission.
Nobi – Leader Board Rank: 16
A former Evolution Championship Series and King of the Iron Fist Tournament champion, YAMASA's Nobi looks to add yet another title to his storied career. With the powerful Dragunov at his command, 2019 may prove the year he brings the TEKKEN World Tour championship home to Japan.
Noroma – Leader Board Rank: 17
Noroma has wielded a wealth of characters en route to qualifying for the TEKKEN World Tour Finals, including his notably strong Jack-7. With the support of COOASGAMES, Noroma looks to claim his first world championship.
Shadow 20z – Leader Board Rank: 18
One of the youngest qualifiers in TEKKEN World Tour Finals history, Chicago's own Shadow 20z looks to bring the world championship home to America. Known for his excellent Claudio play and robot-like focus, Shadow 20z
Saint – Leader Board Rank: 19
A former King of the Iron Fist Tournament world champion, Genuine Gaming's Saint has had a difficult road to the TEKKEN World Tour Finals in 2019. Solidifying his qualifier status at the final tournament of the open season, Saint seeks to demonstrate how great perseverance can lead to great victories.
Attending Commentators
MarkMan
One of the most recognized faces in the TEKKEN community, MarkMan has been the brand & community manager for the series across numerous console generations. His passion for the series and deep connection to the global community will help grow the TEKKEN fandom for years to come.
Aris
One of the largest streamers of TEKKEN, Aris's comedic approach to covering the series has generated a legion of fans worldwide. He is often found beside MarkMan covering many of the series' most iconic moments.
Rip
Purveyor of Level Up You Game, Rip has been bringing TEKKEN entertainment and educational content to the masses for many years. The globally travelled commentator, Evolution Championship Series finalist, and writer is never far away from TEKKEN.
Tasty Steve
Hype personified, Tasty Steve is one of the most energetic and charismatic players to find his way into full-time on-air talent work in recent years. His catchphrases and mannerisms have moved crowds worldwide.
Spag
A walking history of Europe's TEKKEN players, Spag has been pushing to bring new eyes and new ears to the TEKKEN community worldwide. He can always be found at TEKKEN tournaments throughout Europe and works diligently to help establish new tournaments throughout EMEA.
Majin Obama
Co-host of Japan's Fighting Tuesdays, one of the world's largest weekly tournaments, Majin Obama is a fixture of the TEKKEN community in Asia. His works to bring TEKKEN to the masses includes commentary, player management, tournament organizing, and content creation.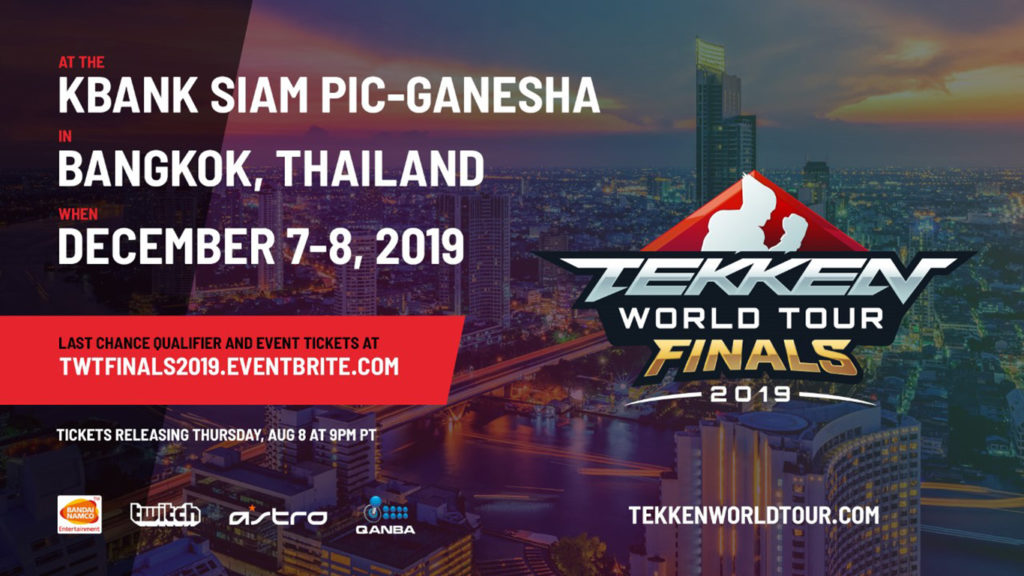 For more information on TEKKEN World Tour 2019, including the full tour schedule, please visit the official TEKKEN World Tour website at https://tekkenworldtour.com/. To find out more about BANDAI NAMCO Entertainment America Inc.'s other products, please visit: http://www.bandainamcoent.com/home.html or follow on Facebook at https://www.facebook.com/BandaiNamcoUS or join the conversation on Twitter at https://www.twitter.com/BandaiNamcoUS. Follow all of the action surrounding BANDAI NAMCO Entertainment America Inc.'s numerous esports leagues at https://twitter.com/BNEAESPORTS