The Grand Finals of the Free Fire Continental Series (FFCS) kicked off on the 28th of November. The 12 Top teams from the three series – the Americas, EMEA (Europe, Middle East, and Africa), and Asia, will come together to compete for the title of the region's strongest team.
The grand prize this time will be a total prize pool of US$900,000, with each series having US$300,000 up for grabs.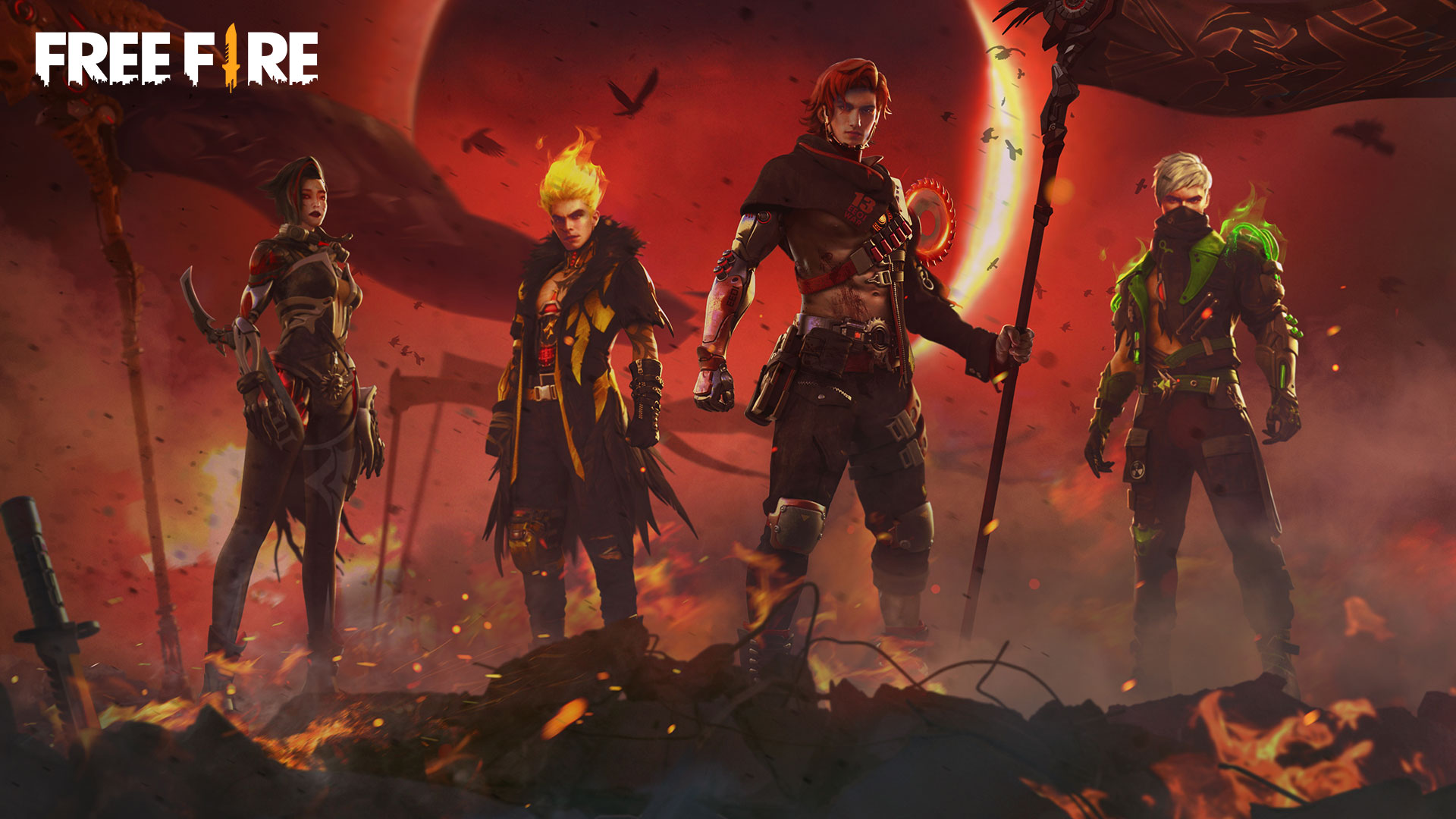 The T.R.A.P squad which is composed of Free Fire's most popular characters will make a return. You will be seeing Moco, Antonio, Miguel, and Kelly performing during the opening ceremony of the FFCS.
Our very own Malaysia team led by Mohammad Akiq "Akiq" Akimi, will be eyeing the trophy of the Grand Finals. The Malaysian team has racked up an impressive 38-point lead during the Free Fire Tri-Nation Cup.
Finalist Teams
Americas Series
SS E-Sports (Brazil)
Vivo Keyd (Brazil)
Team Liquid (Brazil)
Pain Gaming (Brazil)
Ignis Esports (LATAM)
Team Aze (LATAM)
Arctic Gaming (LATAM)
Savage Esports (LATAM)
Cruzeiro (Brazil)
Flamengo B4 (Brazil)Gar
Santos Hotforex (Brazil)
Red Canids Kalunga (Brazil)
EMEA Series
Last Players (Pro League CIS)
Silence (Pro League CIS)
VASTOMUNDO (EU Premier League)
Irmandade (EU Premier League)
INS (Arab League)
SHIFT.FF (Arab Series)
Stay Away (Pro League CIS)
Sbornaya ChR (Pro League CIS)
Bad Smile (EU Premier League)
Over Fear (Arab League)
Esports Orig (Pro League CIS)
Rebirth Unnv (Pro League CIS)
Asia Series
EVOS Esports (Indonesia)
Total Gaming Esports (India)
Geek Fam (Malaysia)
TEAM KNIGHTS (Chinese Taipei)
EV THAILAND (Thailand)
House of Blood (Pakistan)
Heavy (Vietnam)
King of Gamers Club (Thailand)
EXP Esports (Thailand)
Burst the Sky (Vietnam)
RRQ Hades (Indonesia)
V-Gaming (Vietnam)
Competitive format
All three series will follow the same competitive format across both stages of the tournament.
Teams will battle over 6 rounds, across 3 maps: Bermuda, Purgatory, and Kalahari, with points, awarded based on round ranking and the number of kills.
Tuning-in for the matches
Fans will be able to catch the live matches on Free Fire channels including Facebook Live and YouTube Live. The streams will have commentary in 10 languages – Arabic, Bahasa Indonesia, English, Hindi, Mandarin, Portuguese, Russian, Spanish, Thai, and Vietnamese.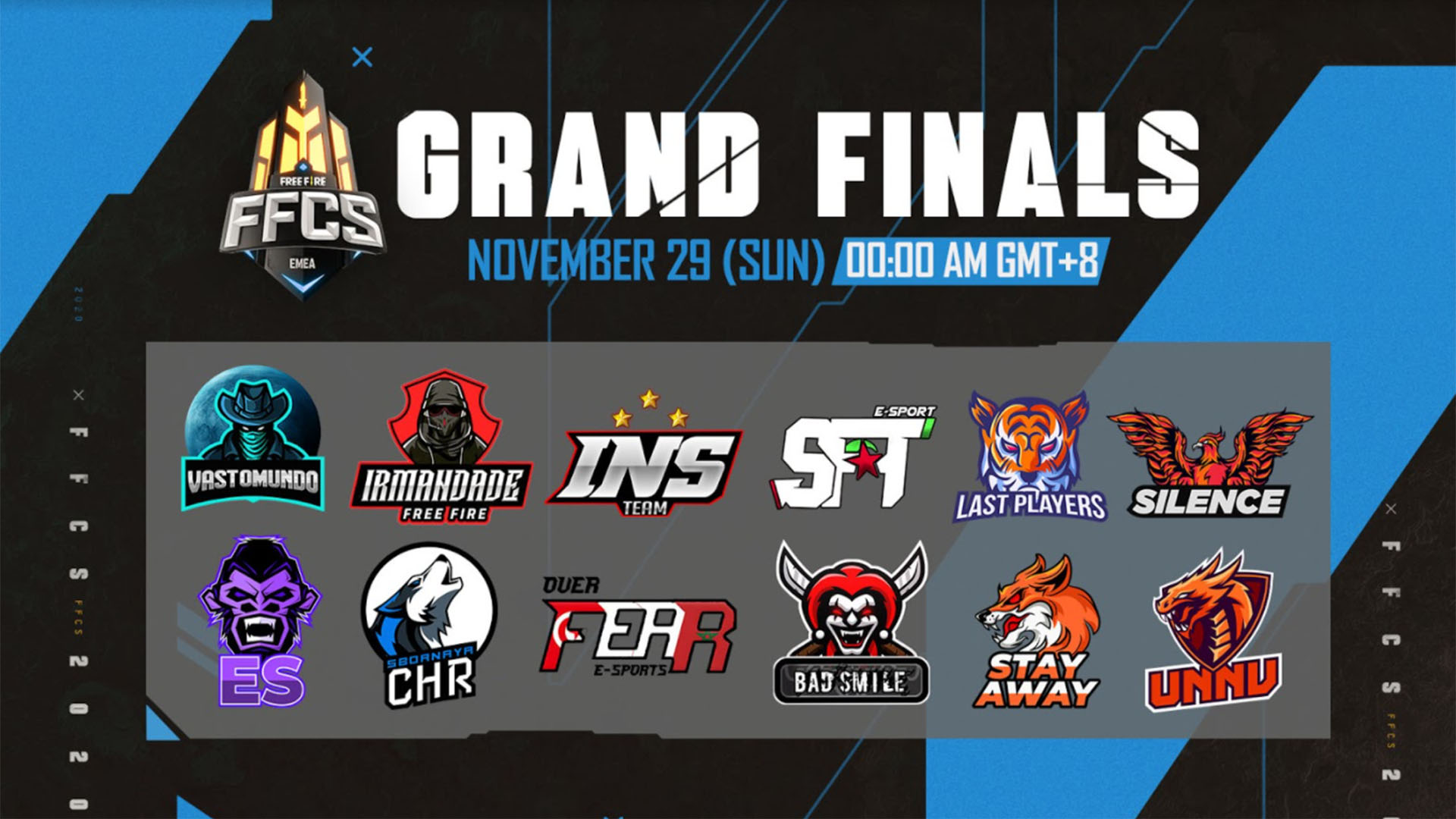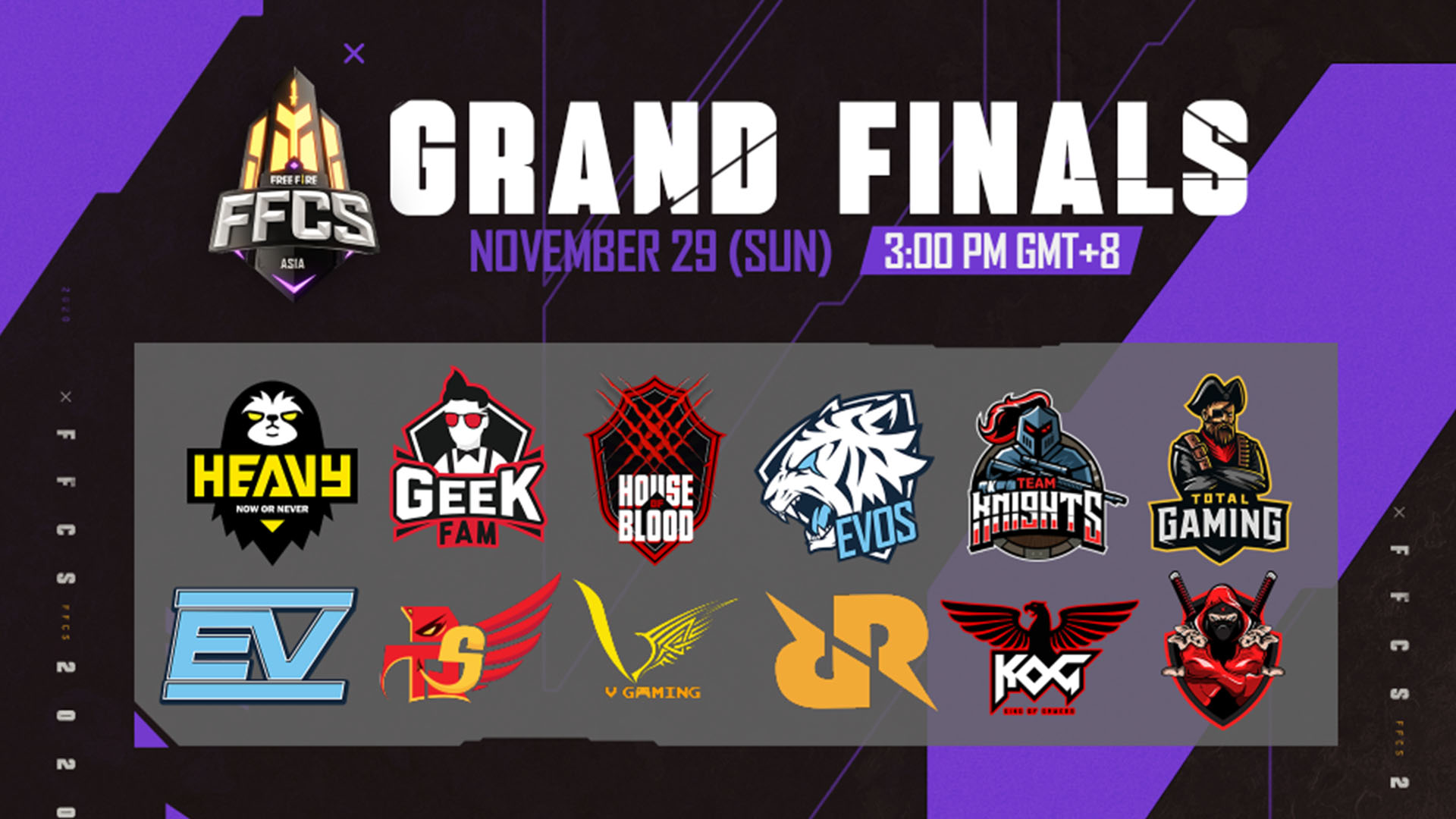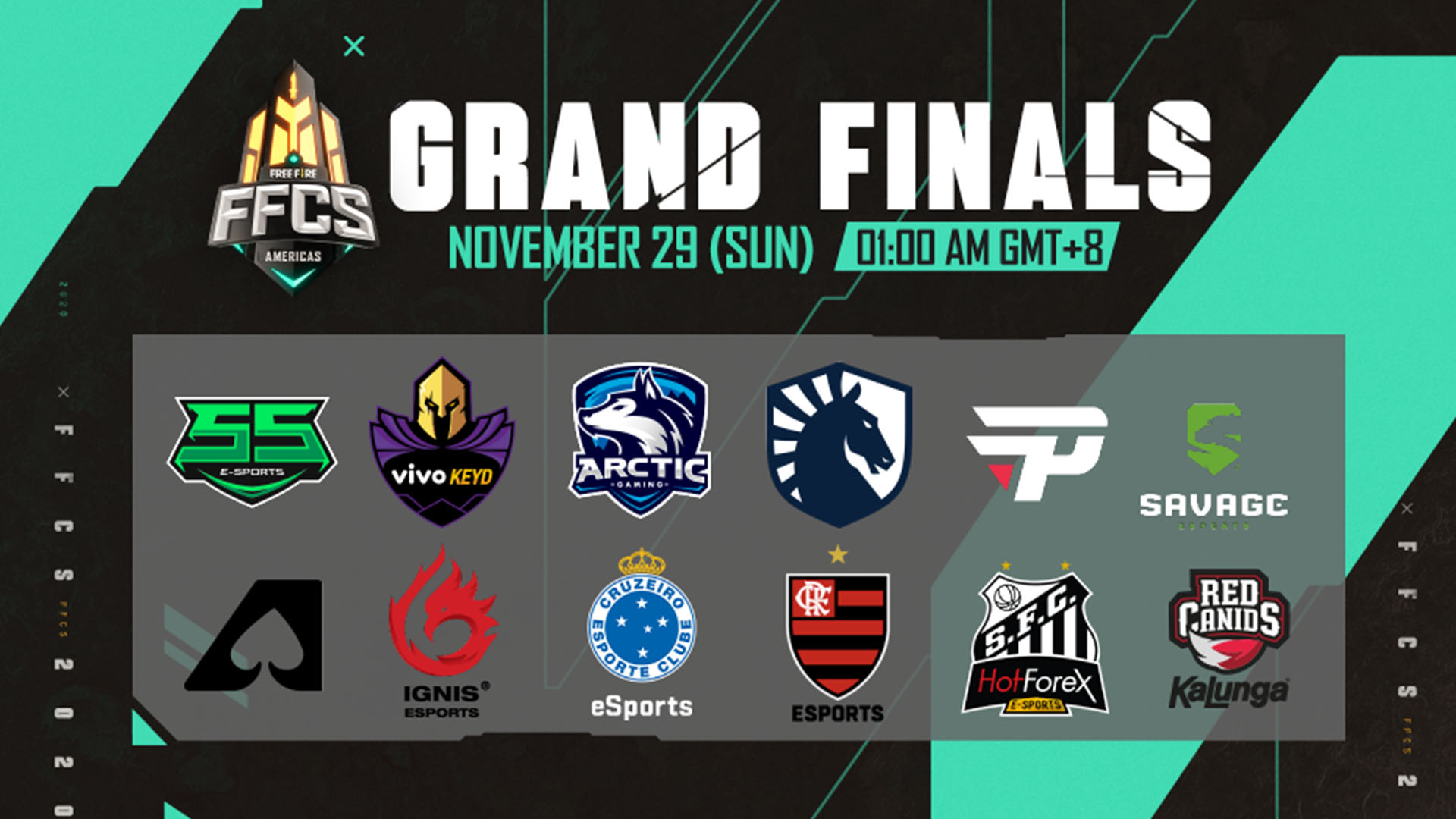 The Asia Grand Finals will begin on the 29th November at 15.00PM Malaysia Standard Time (+8).
Exclusive in-game FFCS events
Survivors have also been enjoying plenty of in-game activities leading up to the Grand Finals since 20 November.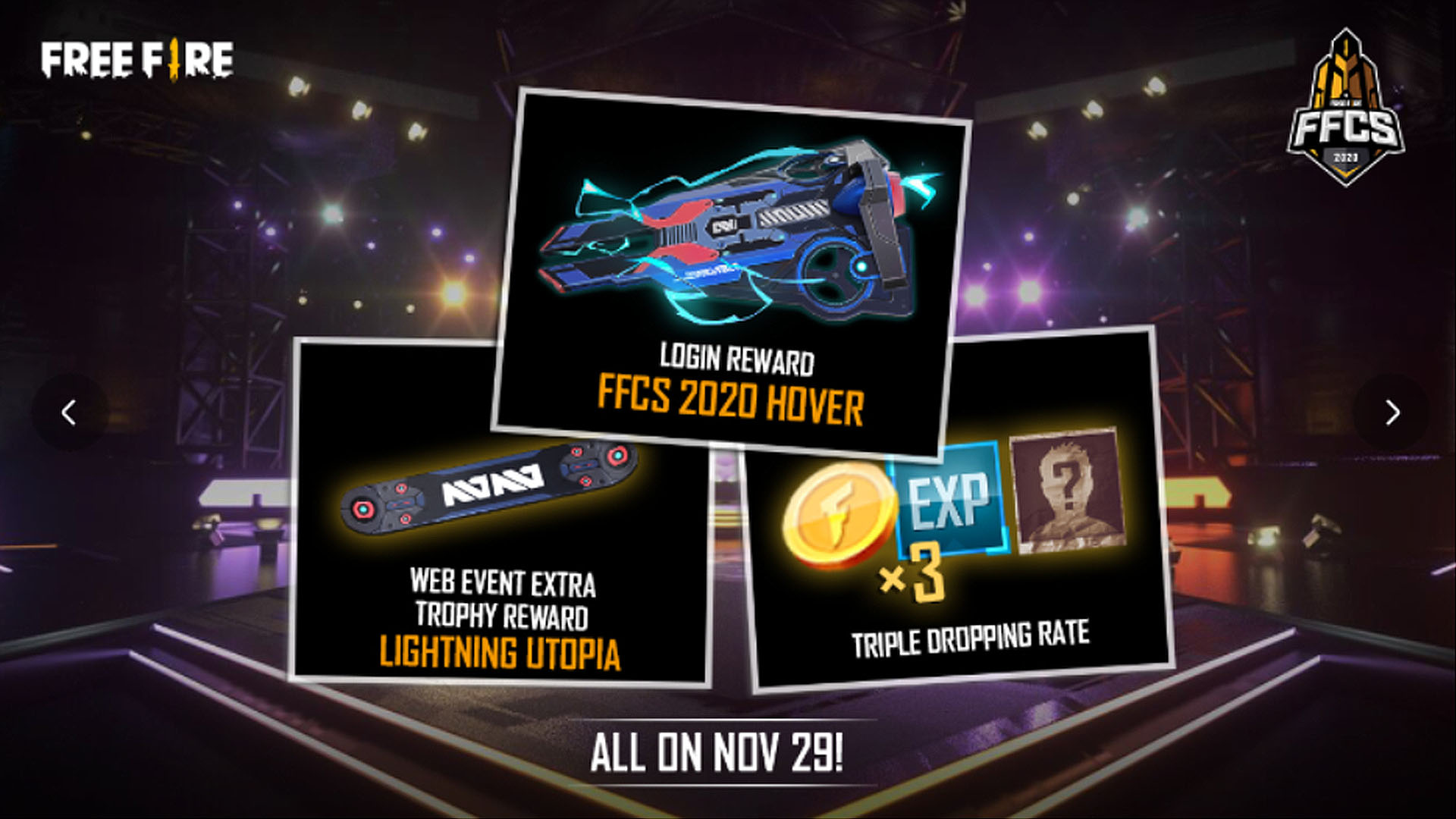 This includes a revamped Free Fire lobby and the introduction of a host of exclusive FFCS-themed events and rewards, including the FFCS 2020 Hover and Lightning Utopia.
And with Peak Day coming up on either 28 November (Americas and EMEA) or 29 November (Asia), Survivors will get the chance to earn even more rewards and experience!