Inspired by Pokemon, Temtem is a massive multiplayer creature-collection adventure by developer Crema and publisher Humble Games. The game will release with version 1.0 in digital and physical stores on September 6th, 2022 on PlayStation 5, Xbox Series, Nintendo Switch, and PC.
Source: Humble Games
Temtem: let's get physical
Additionally, a Temtem's Collector Edition's Bundle crafted with care by Crema, Humble Games, and Final Boss Bundle, contains a lovely diorama statue and a set of enamel pins of our oldest partners, the starters. Including a Temcard replica of fan-favorites Kinu, Gharunder, and Shuine, and a set of three irresistible embroidered patches that will make you feel like you're part of the Narwhal Crew. You can preorder (without the game) already!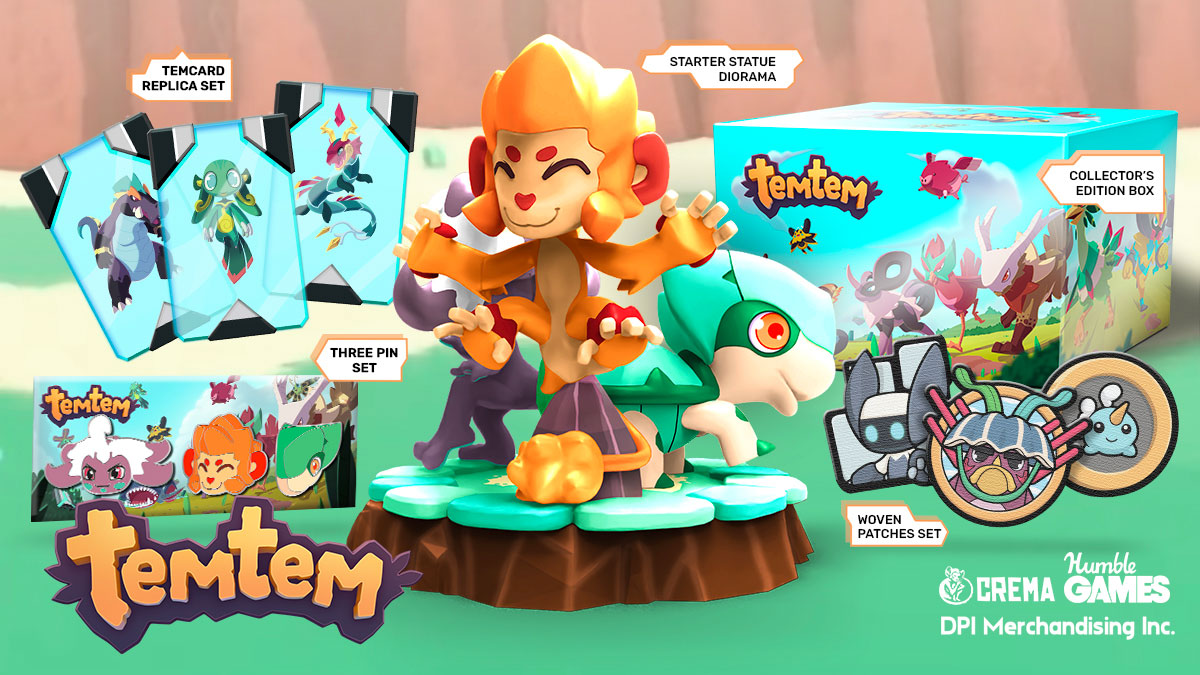 Features as shared on Steam:
Story Campaign: Journey across six vivid islands and embark on the adventure of becoming a Temtem tamer while fighting against the evil Clan Belsoto.
Online World: The days of traveling solo are over; in Temtem the world is a massively multiplayer one. Tamers from around the world can join and you will be able to see them around you, living the adventure with you and fighting to become the best Temtem tamer.
Co-Op Adventure: You will be able to join forces with a friend any time and work together towards your next goal. Catch new Temtem, complete a Route, or face off against a Temtem Leader; all while fighting alongside your friend in dual battles!
Housing: Buy your own house at Atoll Row and decorate it your way. Buy new furniture, color your walls and you'll be ready to invite your friends over!
Customize: Customize your character to stand out from the crowd and get new cosmetics while you battle other tamers. Pick a silly hat, a comfy sweatshirt, some pants and you're ready to go! Or maybe you prefer to wear a full-on cosplay of your favorite Temtem?
Competitive: Start by choosing 8 Temtem and the pick and ban phase will begin. Take turns with your rival to pick your Temtem and ban theirs. When all the decisions are made and the turns are ended, you will end up with a squad of 5 Temtem and the battle will begin.