Hello Stadia.
Earlier this year at the Game Developers Conference (GDC) in San Francisco, USA, Google announced its new cloud gaming service, Stadia, that would allow players to stream games directly to their Google Chrome browser, Chromecast, and Pixel devices.
Google's Stadia will be powered by a custom built AMD GPU that will deliver 10.7 teraflops of power making it more powerful than a PS4 and Xbox One combined. Google's new gaming service will come with 4K HDR support with a targeted 60 FPS at launch, with plans to increase it to 8K resolutions and 120 FPS in the future.
With Stadia, there will be zero need for owning the hardware because everything is cloud-hosted. There'll be zero downloads and installation for your games because, again, everything is online. All you need is a good internet connection and a chrome browser, and you'd be gaming like an Elite PC Master Race, in an ideal situation that is.
How much?
At the recently concluded Stadia Connect, a program dedicated to showcasing news about Stadia, events, new games, and bonus features, Google has revealed the most important piece of information that everybody has been waiting for – How much?
The program revealed that Google has several subscription packages ready for those wanting its services. The fees shown are only for using Stadia's streaming service, players have to buy their games separately (no indication yet on the pricing range of games)
STADIA PRO
9.99 USD Per Month
Gets regular content added for free each month
Streams at 4K, HDR, 60 FPS, 5.1 Surround
Destiny 2: The Collection [Free]
Stadia Pro exclusive discount on selected games.
STADIA FOUNDER'S EDITION
Costs 129 USD
Includes a 3 months free Stadia Pro subscription
1 Limited Edition Nightblue Stadia Controller
1 Chromecast Ultra For Streaming to TV
A 3 months buddy pass for a friend
Gets to pick an Exclusive Stadia Name
Only available in these 14 countries.
Belgium, Finland, Canada, Denmark, France, Germany, Ireland, Italy, Netherlands, Norway, Spain, Sweden, UK, USA. More countries to be included in 2020.
STADIA BASE
Free
No Free Games
Can Buy Games that you want and play
What about the games?
With the question on the price now addressed and the option of having 4K HDR 60 FPS on the table without needing to invest for a goliath PC system, the next question that needs to be answered is – What about the games?
The first wave of games that'll be available on the Stadia at launch are;
Baldur's Gate 3 – Larian Studio
Tom Clancy's Ghost Recon Breakpoint –
GYLT
Get Packed
Tom Clancy's The Division 2
Assassin's Creed Odyssey
Destiny 2
FFXV
Doom Eternal
Darksiders Genesis
Wolfenstein Youngblood
Power Rangers Battle For the Grid
Samurai Showdown
The Crew 2
Football Manager 2020
Trials Rising
Rage 2
Thumper
Tomb Raider Trilogy
Borderlands 3
The Elder Scrolls Online
NBA 2K
Mortal Kombat 11
Just Dance 2020
Farming Simulator 19
Metro Exodus
GRID
Dragon Ball Xenoverse 2
Internet Connection Speed Required.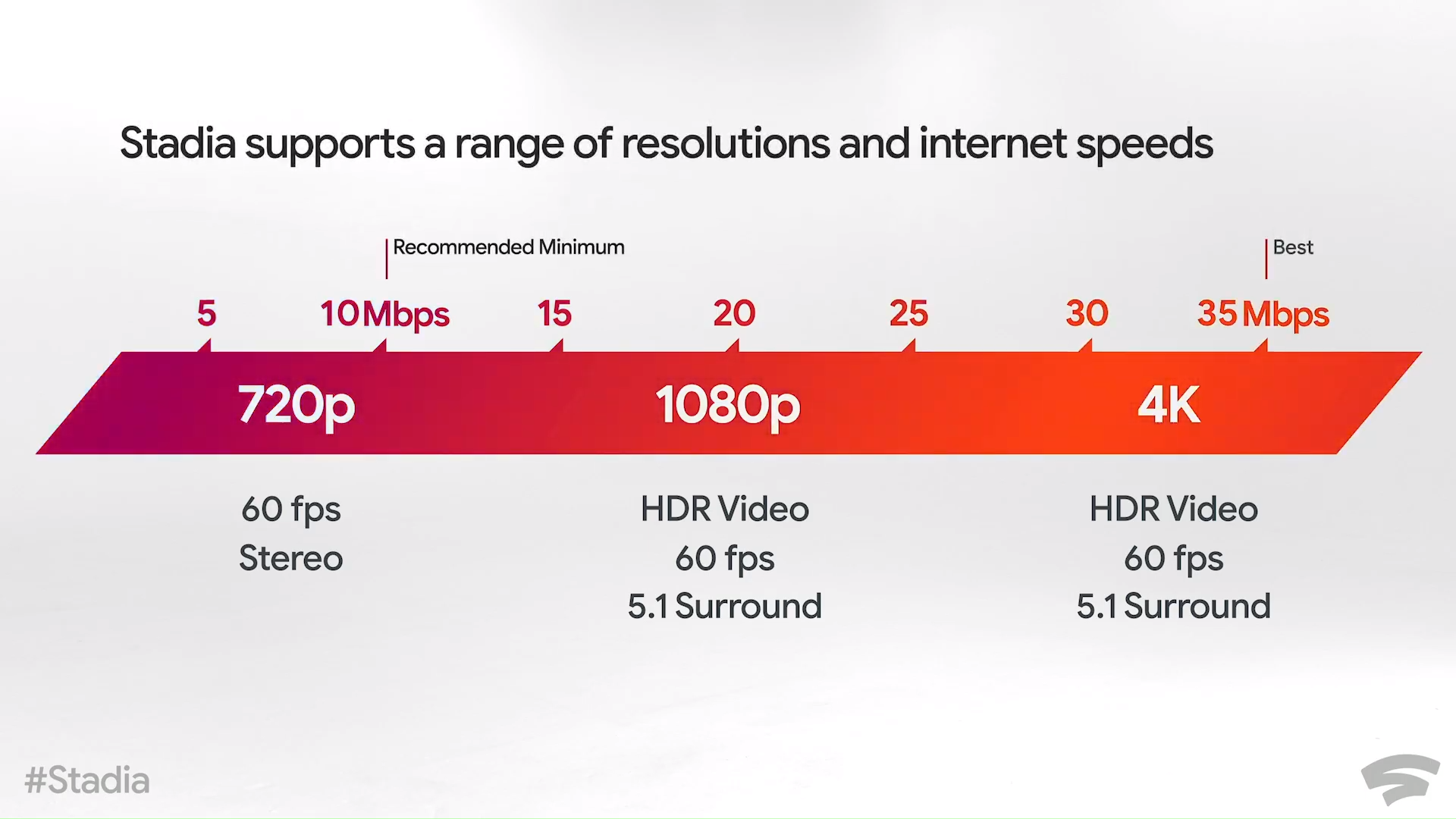 Google recommends a minimum of 10Mbps speed that would allow streaming a game up to 720p, 60 FPS, and Stereo sound in quality. At 20Mbps, the game streams at 1080p, HDR Video, 60 FPS, and at 5.1 Surround quality. The best quality follows at 35Mbps speed that delivers 4K resolution, HDR Video, 60 FPS and 5.1 Surround.
When will it be launched?
Google will start shipping Stadia Founders Edition to its owners in November 2019. No words yet on whether Stadia Pro will be made available at the same time.