The Galaxy Z Fold Series is Samsung's take on what the future entails and with the Z Fold 3, the company is setting both the pace and trend towards it. What truly blew me away was I actually expected consumers to be more sceptical about a phone that folds itself into half despite the Z Fold 3 marking the 3rd entry of Samsung's foldable tablet-liked smartphone in the market now.
But apparently, I was wrong. Not only were people not sceptical, but the response was so great the Pre-Order of the Galaxy Z Fold 3 in Malaysia sold out in a matter of days.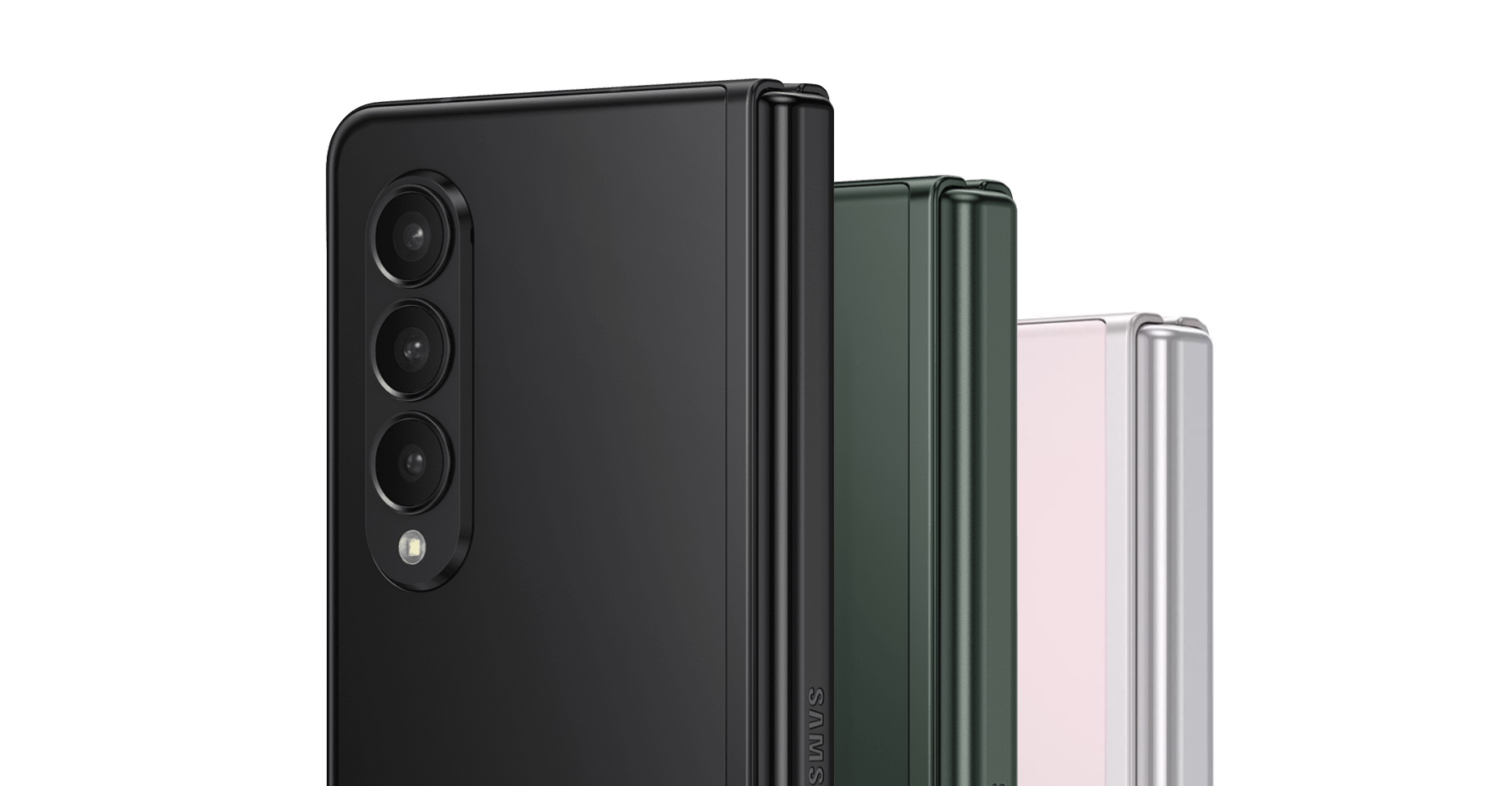 It runs on an Android 11 OS and comes armed to its teeth with a 5nm 64-bit octa-core Qualcomm Snapdragon 888 5G chipset with a max clock speed of 2.84GHz and carries a 4,400 mAh battery with 25W Fast Charging and Fast Wireless Charging. RAM wise, Galaxy Z Fold 3 carries 12GB of it and comes in two variants in Malaysia, the 256GB storage and 512GB.
Not only is the Z Fold 3 times more durable than its predecessors, but weighing at only 271 grams, it is also lighter, has a more refined display, and is water-resistant. And for the first time ever, Z Fold 3 is the first amongst the Z Fold series to also support stylus use.
The phone comes accompanied with a USB-C cable that I wished was longer, and like Samsung's other recent launches, the Z Fold 3, despite its steep price tag does not come with a power brick, nor a pair of earphones.
The 265GB|12GB RAM costs RM 6699 in Malaysia, whereas the 512GB|12GB RAM variant costs RM 7099.
Design, Look and Feel
As I've said in my early impression piece, it's hard not to feel pampered with the Galaxy Z Fold 3 in my hand. I've been using the Galaxy Z Fold 3 for 2 weeks now and the experience has been brilliant. In Malaysia, the phone comes in 3 colours – Phantom Black, Phantom Green, and Phantom Silver. What I've got with me is the Phantom Black, a traditional colour that can rarely go wrong on any device.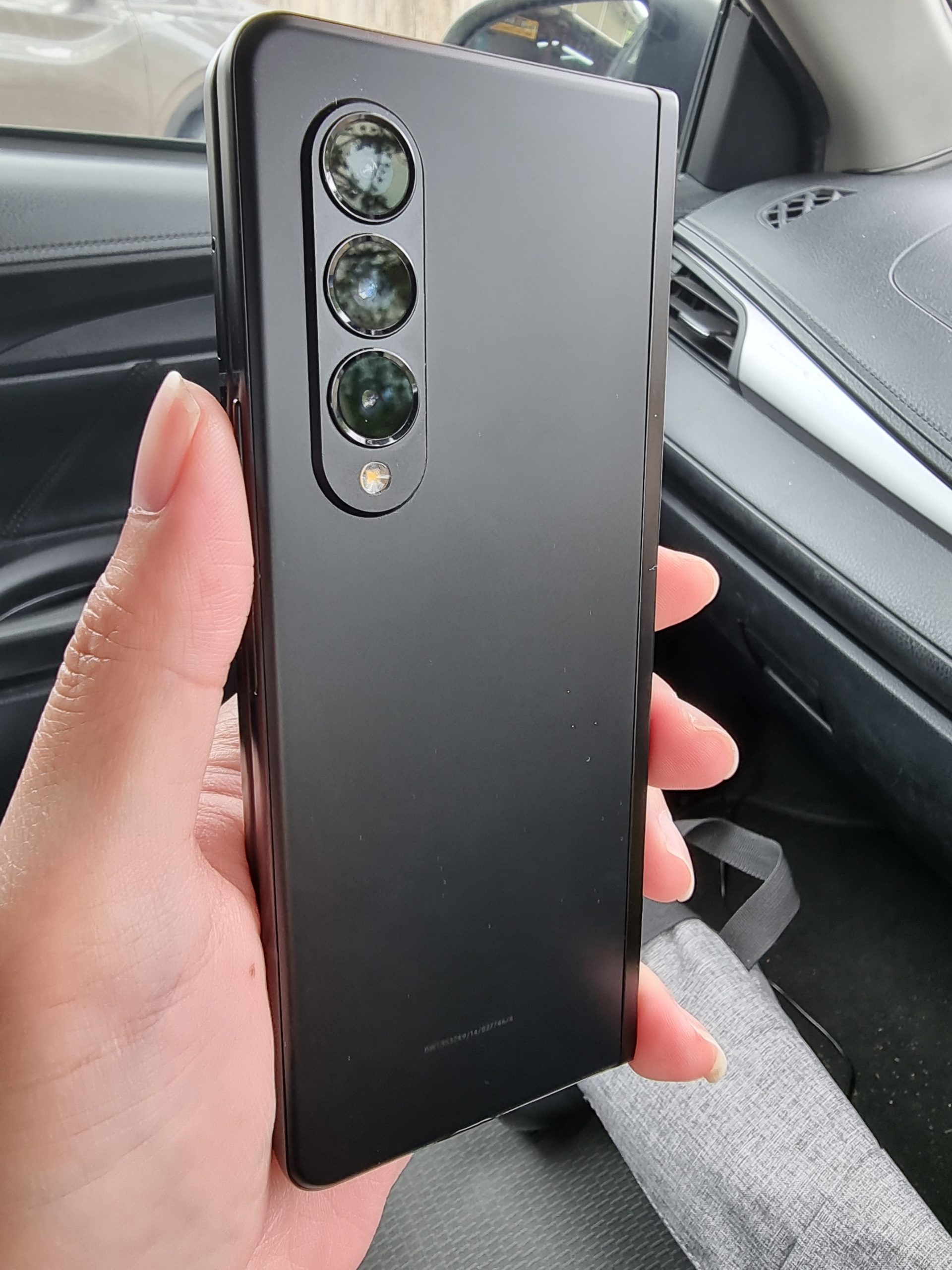 When folded, the 6.2″ Cover Display is slightly smaller than the conventional screen sizes but still usable. Moreover, the phone's slimmer body also meant a solid and confident grip when holding it in one hand and my thumb easily stretches across the horizon of the panel.
I had to dedicate some time to getting used to the smaller Cover Display because some websites weren't showing properly when you surf them on the Cover Display. Keyboards also appear smaller hence requiring a more delicate touch when typing. There are also the occasional times I have to zoom in and out of the screen trying to read the miniature fonts on the smaller screen.
But thankfully, the problems could all be solved by simply unfolding the phone, revealing the marvel that is the 7.6″ tablet-quality display that the Z Fold 3 is good for. The phone is beautiful to look at, comfortable to hold, and most importantly it feels durable enough to convince me that it could very well take some hits (not literally).
Durability and 2,000,000 folds
According to Samsung, the hinges of the phone are reinforced to ensure the folding process stays undisturbed by worries that it could break from the folding/unfolding process. The phone could take 2,000,000 (that's 2 million) folds before things become presumably problematic.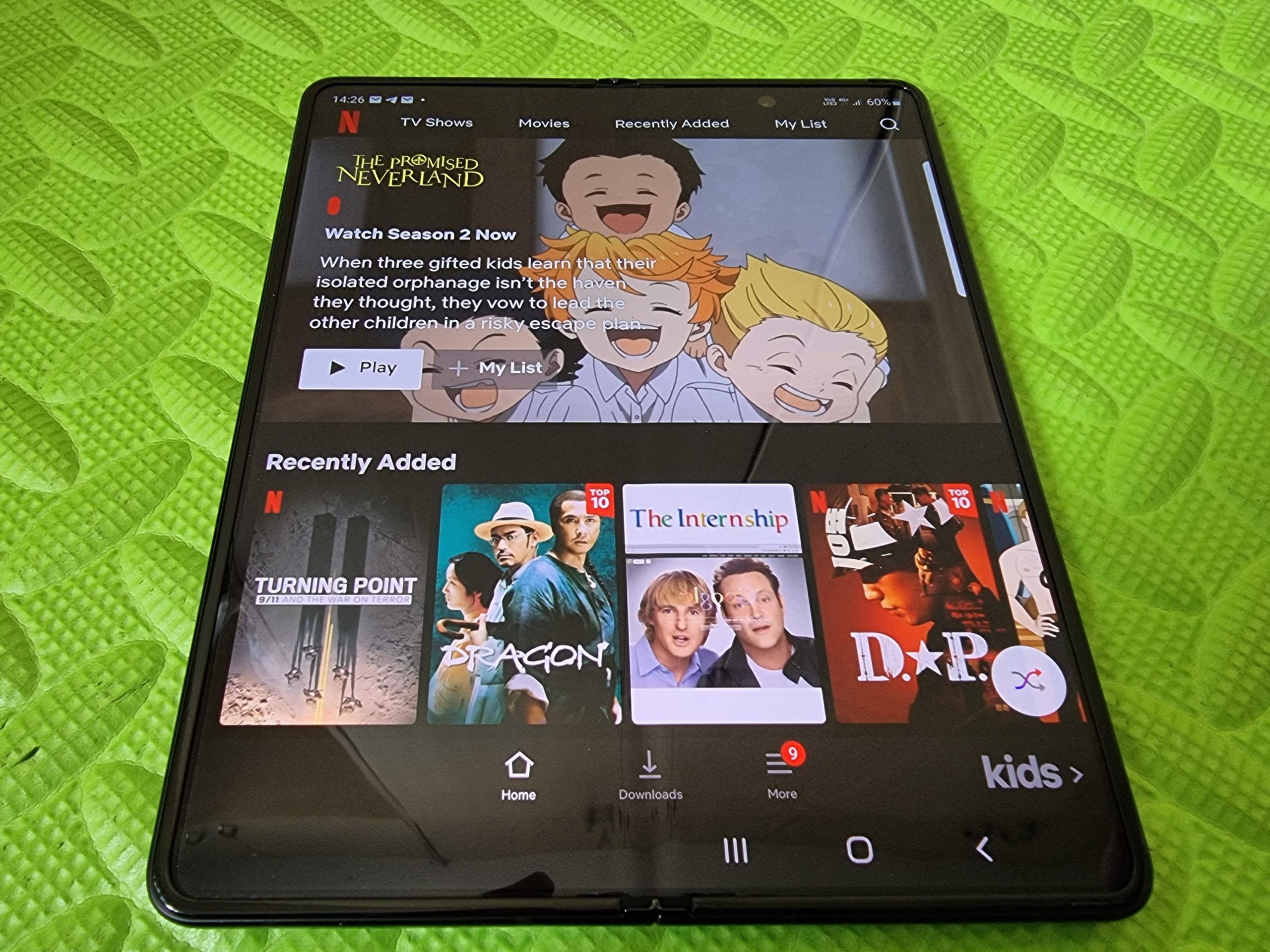 So, to see how long it will approximately take for me to hit that 2 million folds milestones, I've kept count on my daily folds and unfolds to see what the numbers come up to.
On normal working days, I ended up folding/unfolding my phone an average of 35 times a day doing the following activities –
Mostly Reading/Replying Emails
Browsing Social media on the bigger screen
Checking photos/images that I received
Watching tutorial videos
Playing World Flipper and Genshin Impact
To show off to my friends and colleagues by pretending that what they showed me on their phone is too small for my now upgraded viewing taste, and they should therefore send it over to mine so that I can then turn a normal viewing session into a god damned presentation.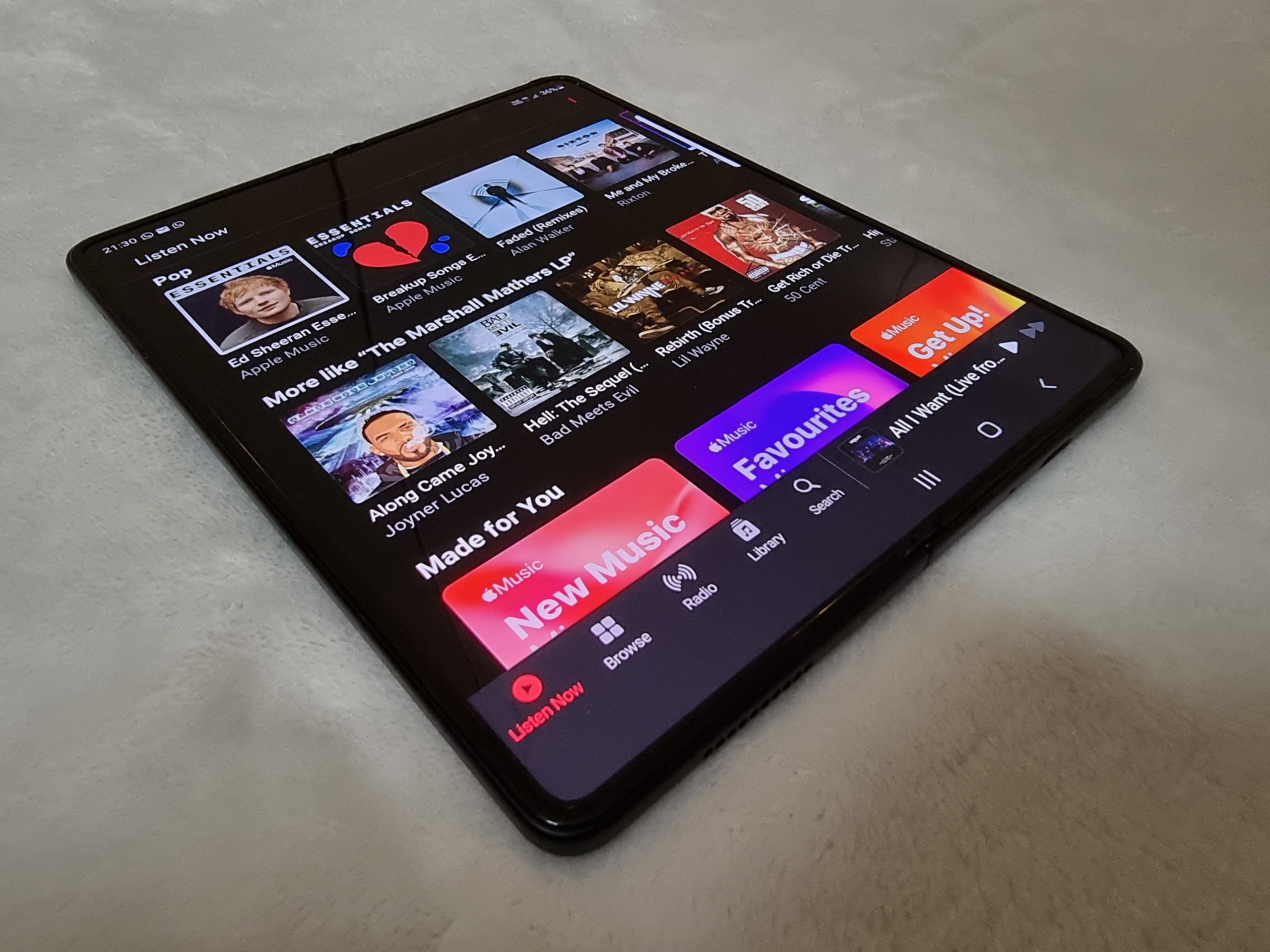 On a typical weekend, I actually unfold the phone less though I do use it for a longer time. Weekends for me involve watching countless videos, catching up on past conferences, e-books, and of course more video games. The phone stays unfolded for a longer period of time and thus only amounts to 20 folds on average.
Netflix and Prime
World Flipper and Genshin Impact
Leaving it open while I browse Apple Music catalogues like a boss
E-books because I now feel like I have a Kindle on my phone.
Occasional email reading and replying
For all my weekdays and weekends combined, I ended up folding/unfolding the phone up to 215 times per week, and that makes 860 times per month on average or 10,320 times per year. So, going by Samsung's guarantee of up to 2,000,000 folds before any risk of the hinges giving up occurring, I would say the numbers are on my side that the hinges won't fail me so soon.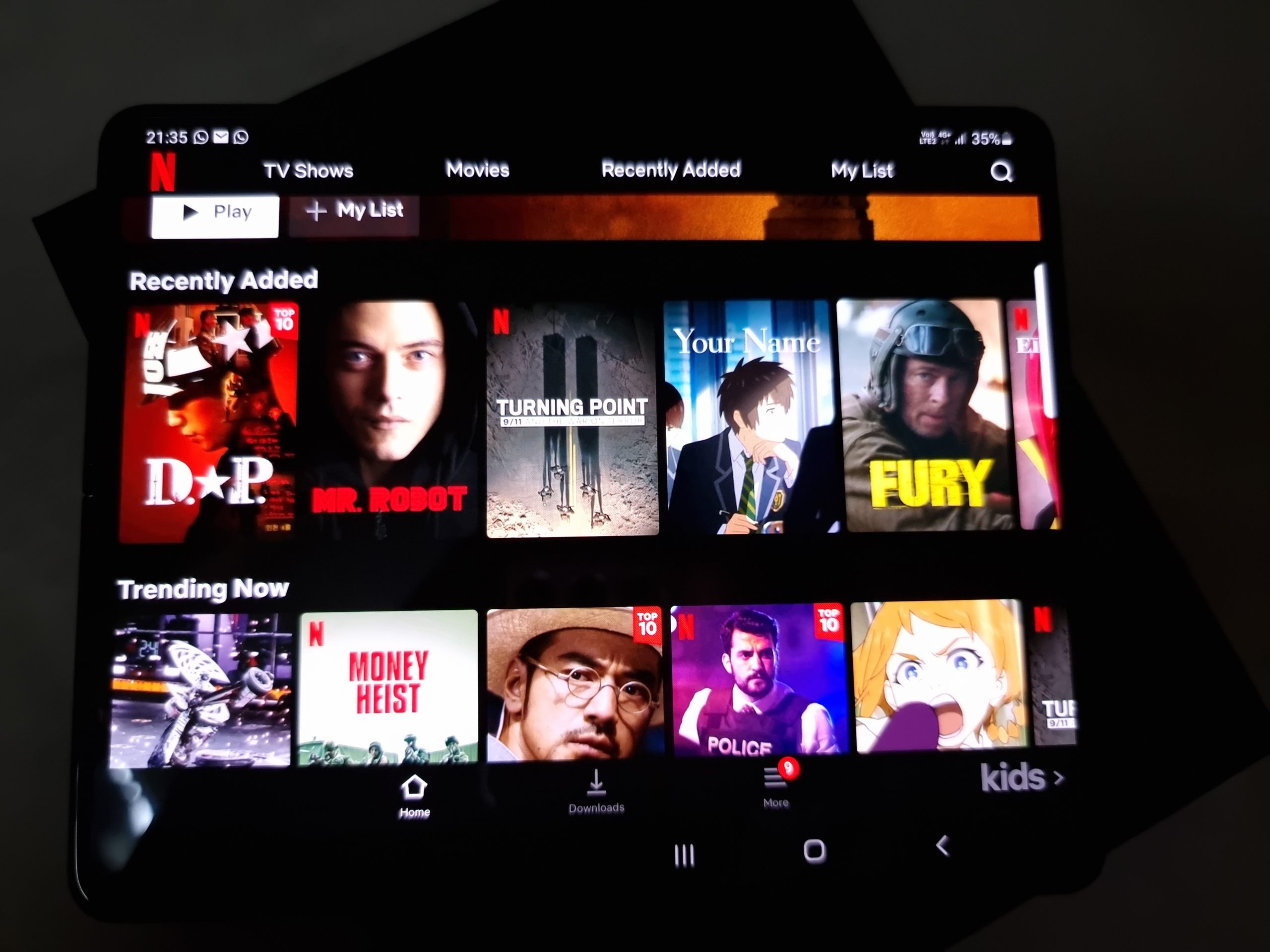 Apart from the sturdier hinges, the Z Fold 3 enjoys the toughest glass on the Galaxy Z series so far, with both its exterior screen and back cover equipped with the Corning Gorilla Glass Victus that Samsung boasts could survive drops up to 2M (I'm not going to test this) and is four times better in scratch resistance than competitive aluminosilicate.
The phone's IPX8 rating meant the phone is water-resistant, protecting it even in submersion for over to 1m deep in freshwater. However, the rating also means the phone is not tested and probably wouldn't do well against dust and grains (e.g sand).
Display
In its folded form, the Z Fold 3 stands proud in its 120Hz refresh rate 6.2″ HD+ Dynamic AMOLED cover display, looking almost like a normal phone albeit with a slimmer screen and a thicker body. When unfolded, this beauty and the beast (two-in-one) spreads its wings like a proud butterfly hatching from its cocoon the first time, into a 7.6″ QXGA+ Dynamic AMOLED with 120Hz refresh rates providing a whole new experience that is the uniquely Fold series.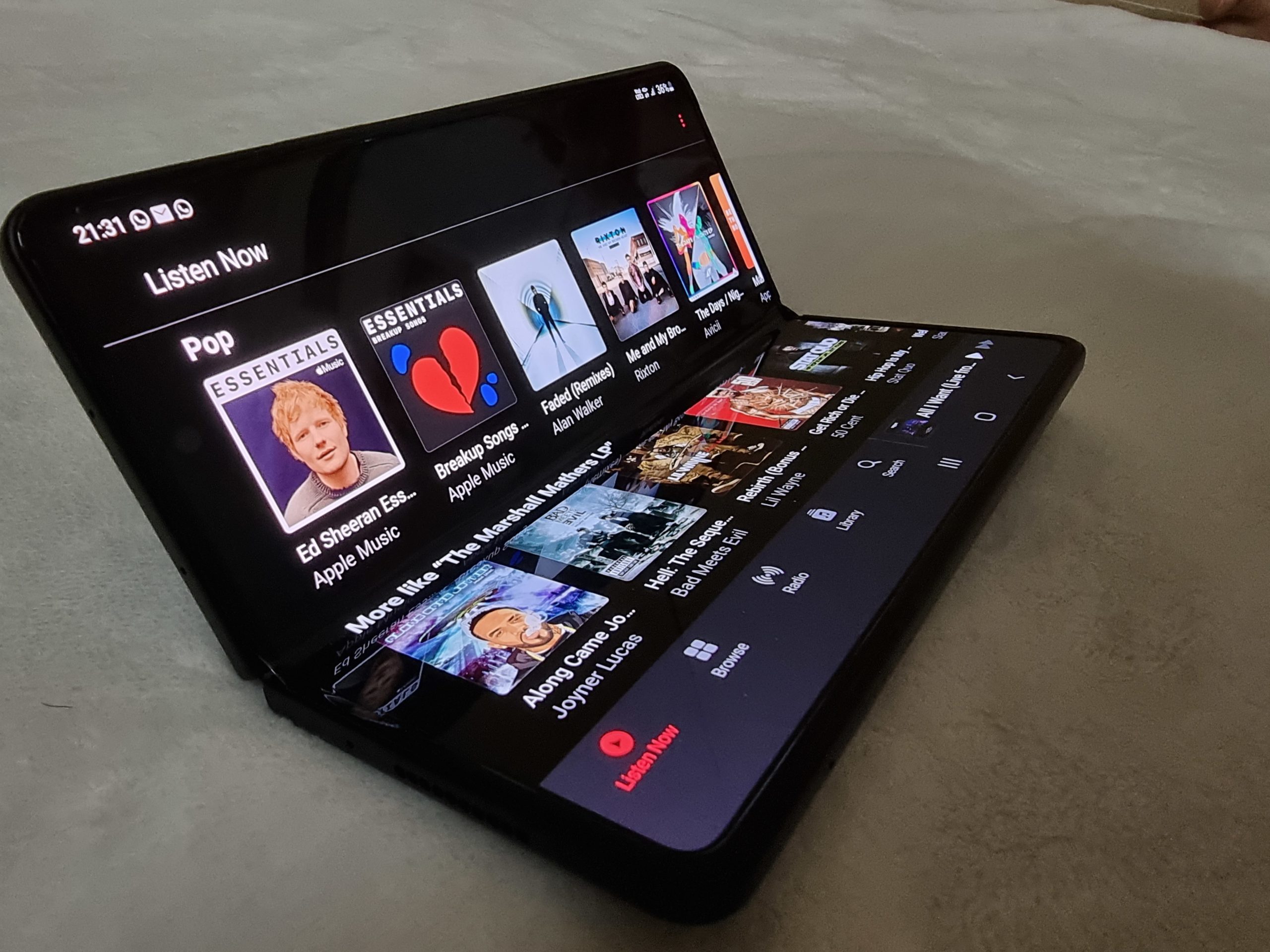 The crease in the middle surprised me the first time I unfolded the phone. I knew it was there but I wasn't expecting it to look so prominent and sticking out like a sore thumb. But fortunately, it didn't bother me for long – Just like how we don't smell our own perfume or cologne anymore after the first hour or two, my eyes quickly adjusted to ignore the crease after a while.
The bigger screen definitely provides lots of conveniences and helps in saving time. Browsing my emails have never felt more convenient on a mobile phone. My emails are neatly lined up on the left panel with the content preview showing up on the right panel. Unlike before this, I didn't need to click into each email to read what is what before hitting the back button to return to the list to check the next. I can now just hit whichever in the list and read what I want before moving on.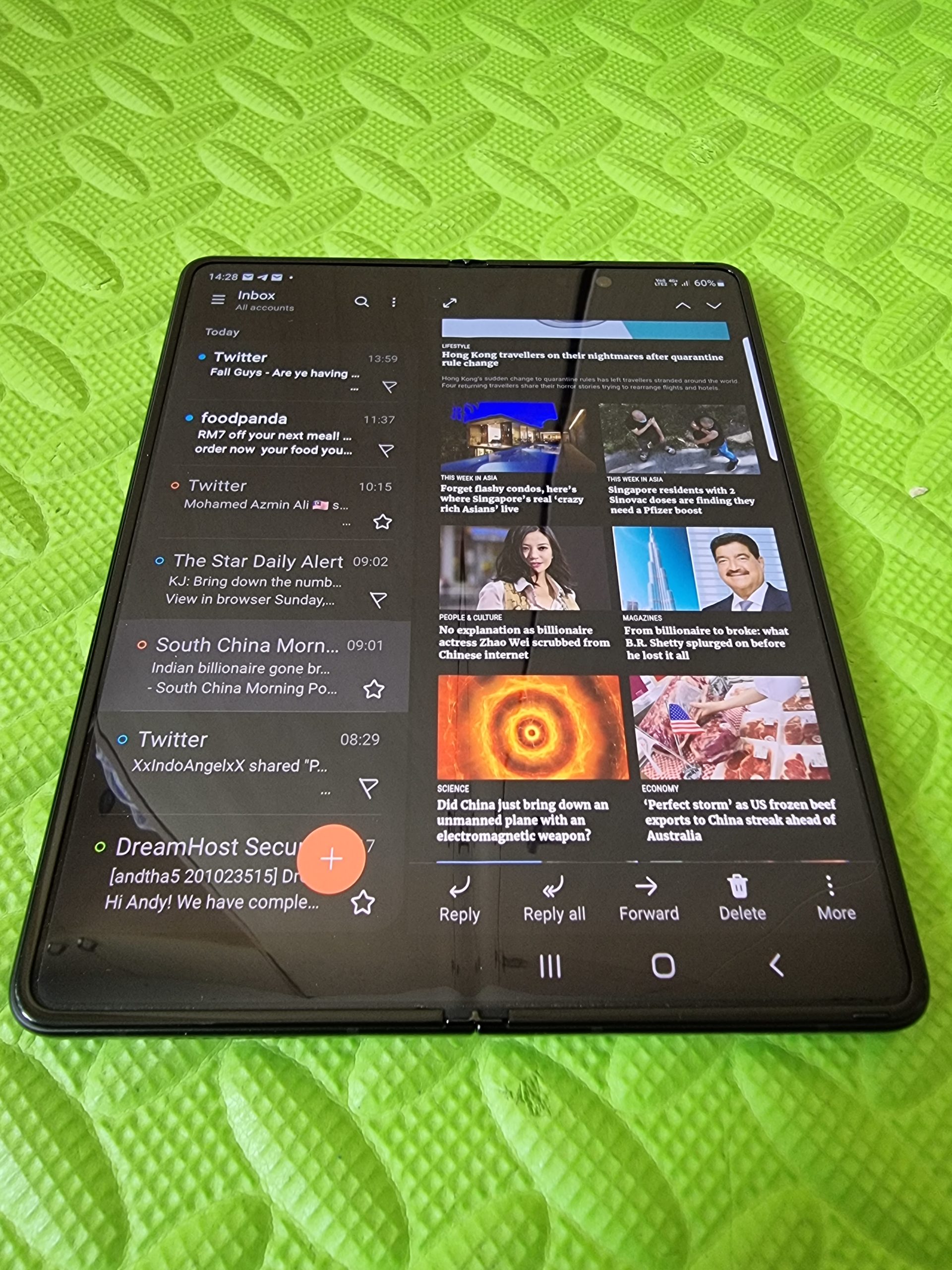 Like the Galaxy Note series and the S21 Ultra, the Z Fold 3 supports Stylus Pen use but the device does not come with a slot like the Note series does to house the S-Pen. Any housing of the S-Pen will rely on the type of casing that you get. And oh, although it supports S-Pens, the older S-Pens cannot be used with the Z Fold 3, a special Z Fold 3 S-Pen is needed.
I haven't got the Pen myself and couldn't test it, but I can only imagine the convenience that comes with it for those who have. I didn't need the phone for any note-taking for now but I can imagine that as life return to normal and when I start attending events and conduct interviews again, the stylus-ready Z Fold 3 and its tablet-liked body will serve my needs handsomely.
Five Cameras and Two Speakers
There are 5 cameras in total with the back 3 cams being a 12MP Telephoto, 12MP Wide-Angle, and a 12MP Ultra-Wide camera. One of the five is a 4MP Under Display Camera that's cleverly hidden like its name suggested – Under Display – doing its best to not deny me a total full screen viewing pleasure when I'm enjoying the phone unfolded. On the front side, there's a 10MP Cover Camera for any selfie, wefie, or backup mirror purposes.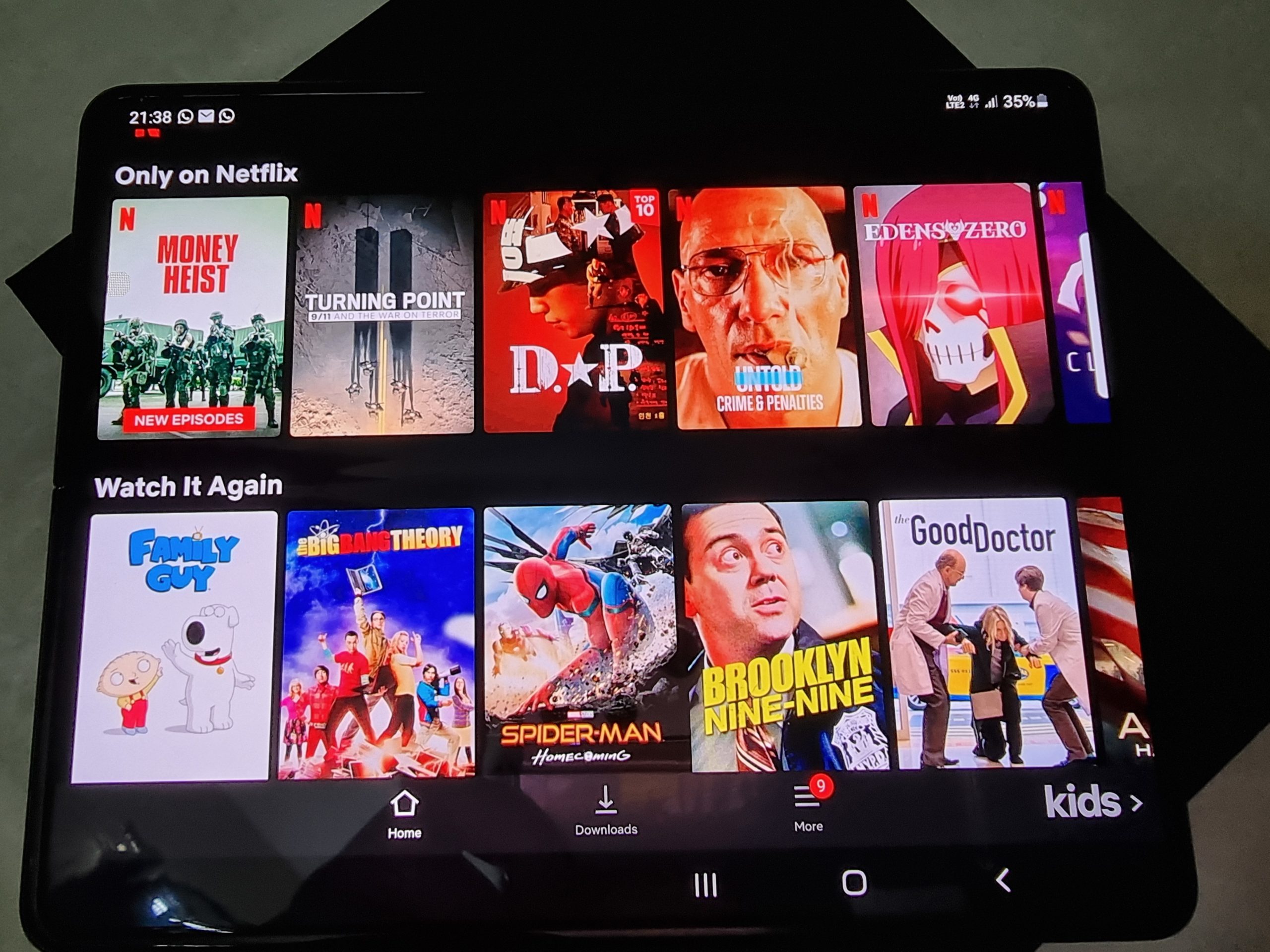 Here's a challenge. Do you see where the 'Under Display' camera is hiding in the photo above? Instead of a black hole sticking out of your screen, the Under Display camera in the Z Fold 3's full display is cleverly hidden and tries its best to stay out of sight. You will see it if you look for it, and when you don't go looking for it, you won't even know it's there.
On photo qualities, the phone couldn't match up to the likes of Samsung's Galaxy S21 Ultra nor iPhone's 12 Pro Max series but that isn't to say the Z Fold 3 takes ugly photos. It's just that the Z Fold 3's camera department hasn't really gone through any revolutionary mode since the Z Fold 2. If you want the best Samsung camera phone, you'd want the S21 Ultra.
The two Dolby Atmos and stereo capable speakers are located at the top and bottom of the phone. They are loud and clear and good enough for every basic need – Music, Movies, and Games though I wouldn't say there was anything groundbreaking here to really sing about.
Gaming on the Galaxy Z Fold 3
With a big screen, comes big hopes and expectations especially when it comes to video games (at least for me). When I was waiting for this phone to arrive, I had all sorts of wild ideas and imaginations on how wonderful my gaming life would be with this tablet-liked phone. So when it came, I wasted no time in installing and trying out games I thought I'd enjoy playing on it.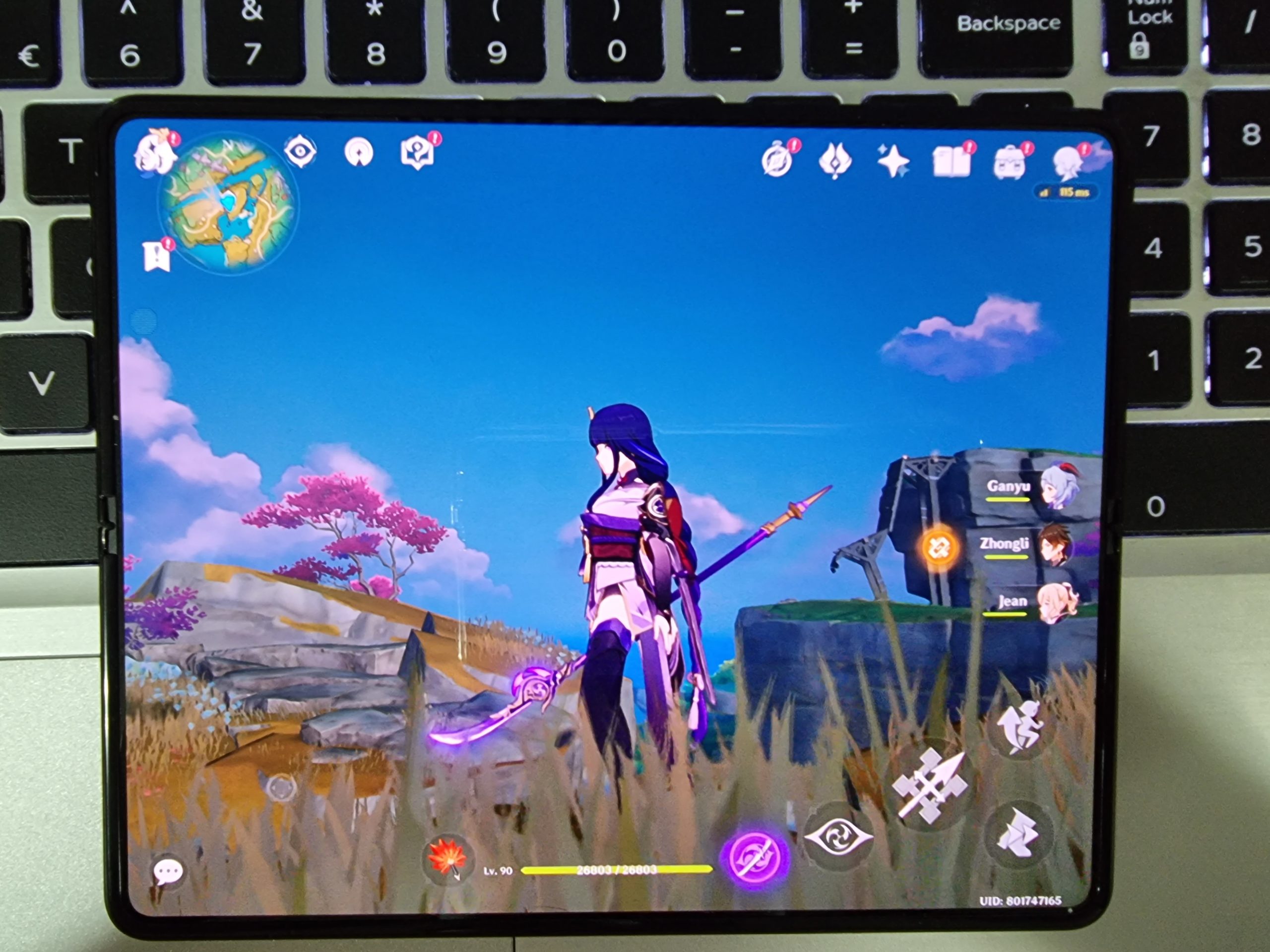 When I fired up Genshin Impact on the phone, I set the game to run on its highest settings, pushing the Overclock gauge to its fullest and see what happens. The phone handled the game well for 2 minutes before its body got into a high fever mode and the whole device just feels so uncomfortably warm.
The game continued to run smoothly for some more before I decided to tone down my demand for its performance and the heat came down. The whole experience didn't make sense to me but then it hit me – maybe it wasn't the phone that was the problem, perhaps it was the game's because it hasn't been optimised to run on this device.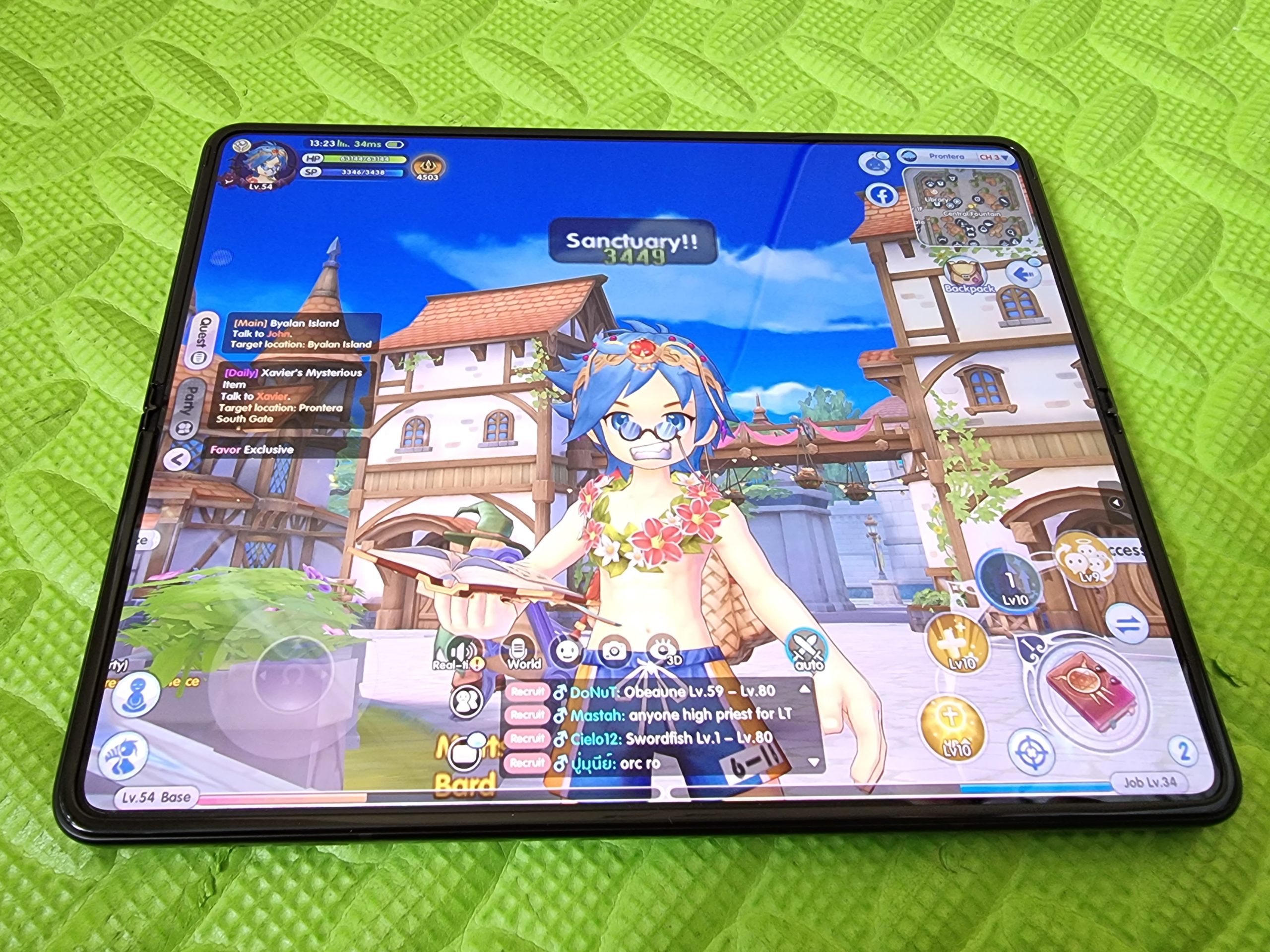 So, I tried another title and launched an MMORPG game, Ragnarok X Next Generation (ROX) pushed everything to the max as well, just to see how the phone reacts and to compare the two games. But amazingly, while the phone did run as smoothly as it handled Genshin Impact, it did not produce the same amount of heat the first game did. It was warm, yes, but it wasn't getting worse and this is a game where multiple players throw their skills at the same time and where visual effects are richer in numbers and far more flamboyant than those in Genshin.
This kind of reinforced my earlier suspicion that perhaps the performance issue came from the game not fitting well with the new hardware, rather than a problem with the hardware itself.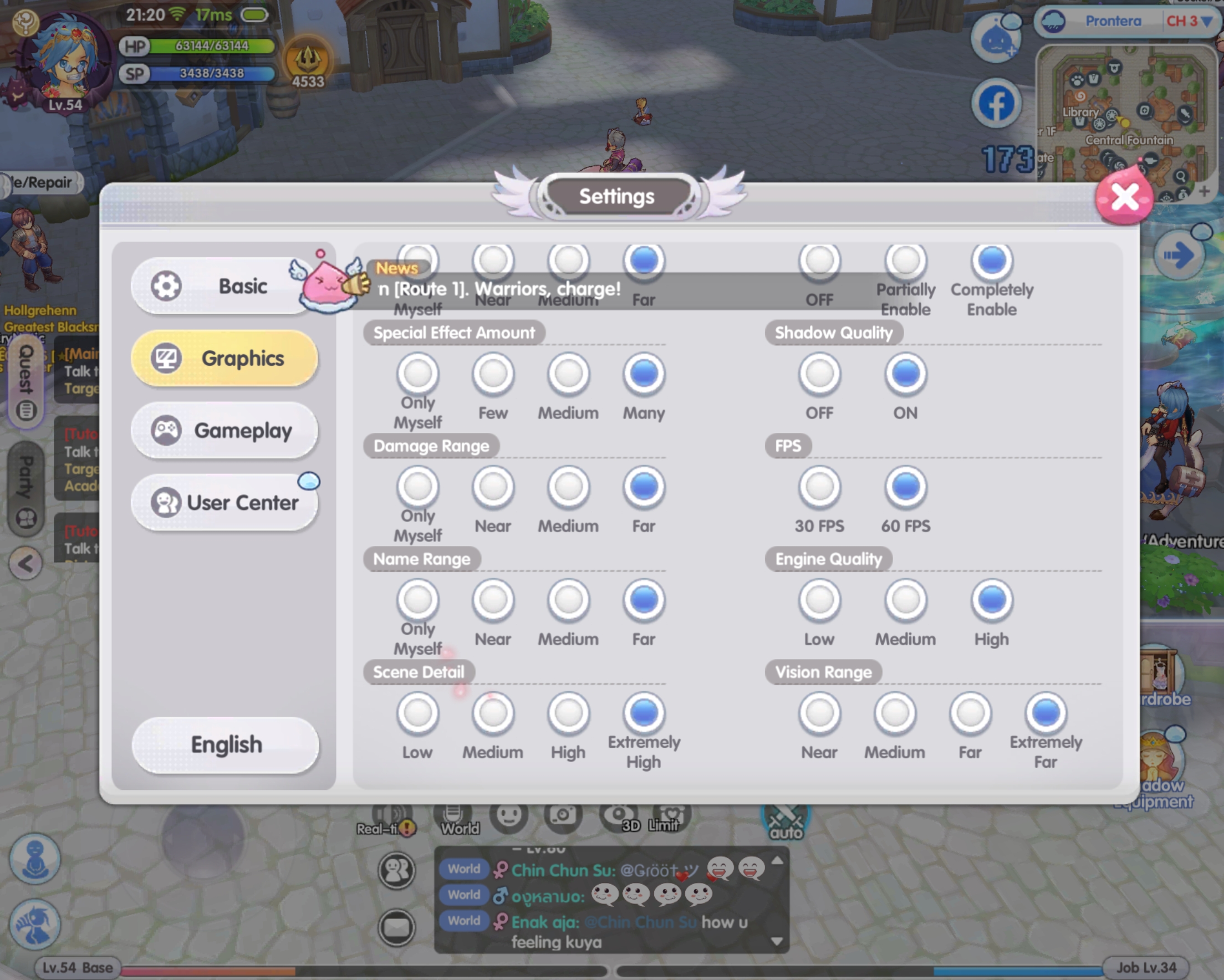 The Galaxy Z Fold 3's large tablet-liked screen can be a game-changer (pun intended). For example, Stardew Valley looked brilliant on the larger screen due to our ability to zoom in/out for better views. Previously, the viewing experience deteriorates when we zoom out because everything then became too small for us to see properly, but check this one out yourself.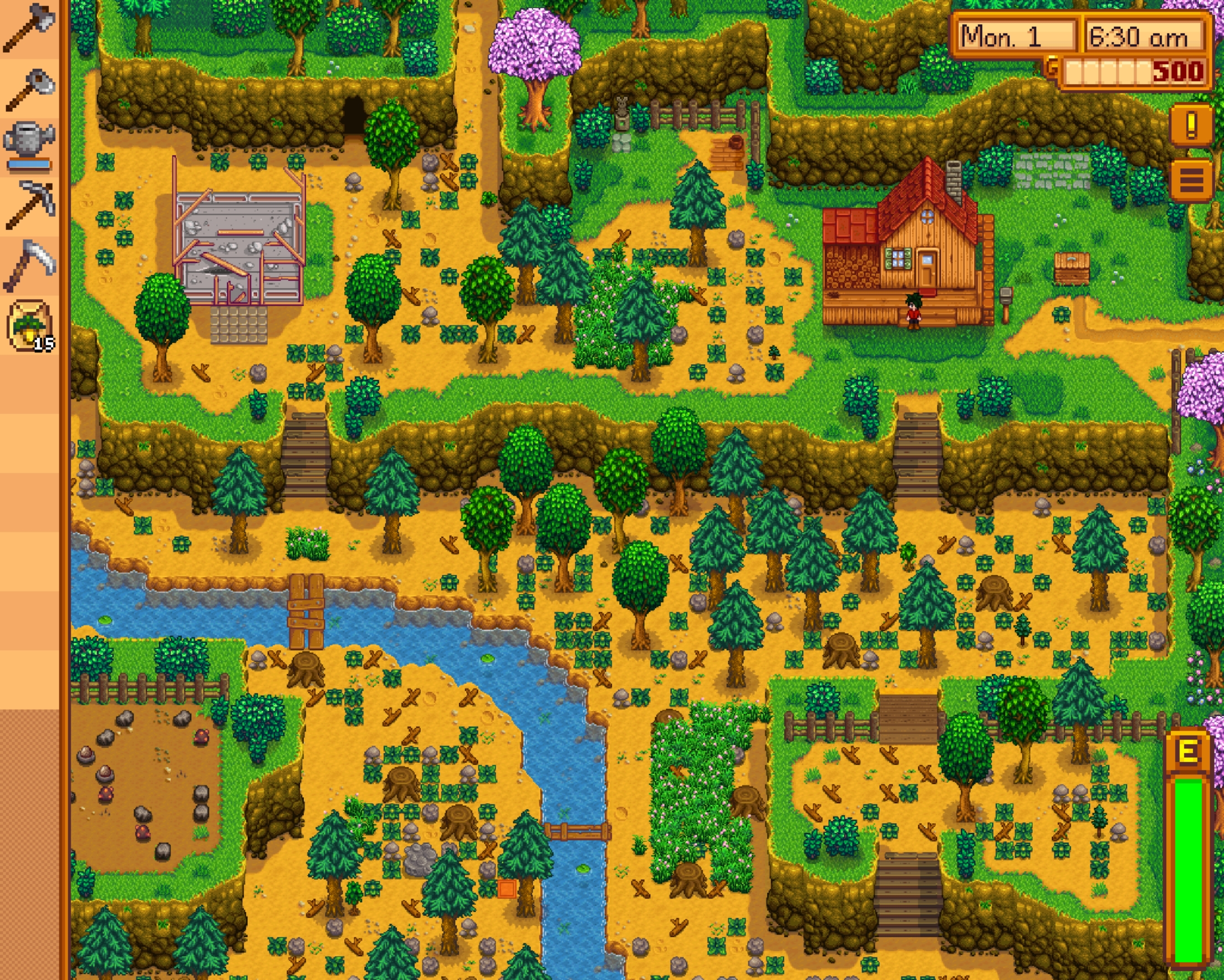 It instantly changed the whole experience for me. To have zoomed out and still be able to see everything so clearly plus being able to navigate my character from here, was just wow! I never knew Stardew Valley could be so convenient. I'd understand if we are speaking of a tablet gaming experience, but for a mobile phone to have this was hard for me to imagine before this.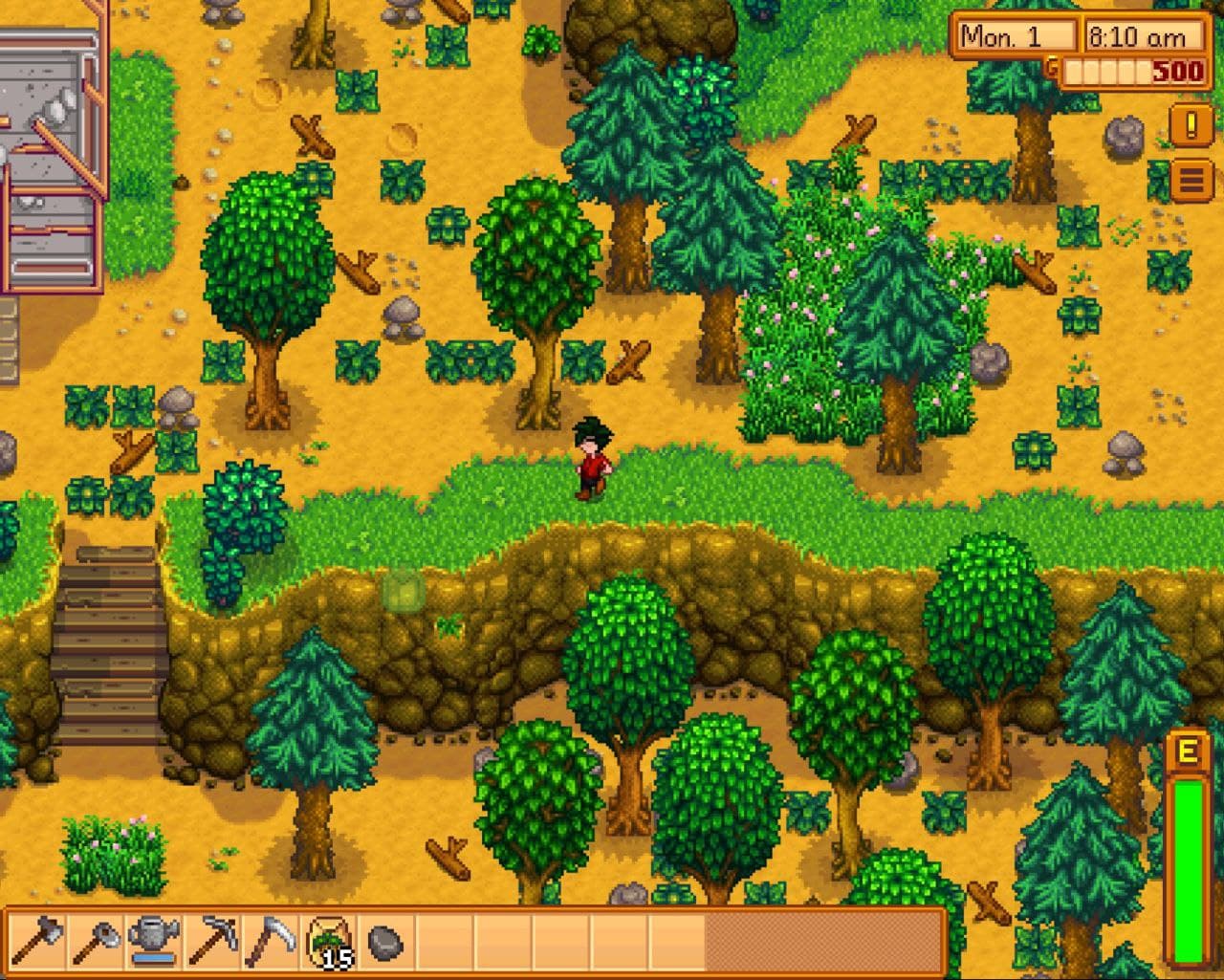 I'd never used the earlier Z Folds before and the closest I've gotten to this experience was gaming on my iPad Pro 11-inch but the Z Fold 3 delivers this tablet experience while weighing significantly lesser plus having all the conveniences and functions of a phone.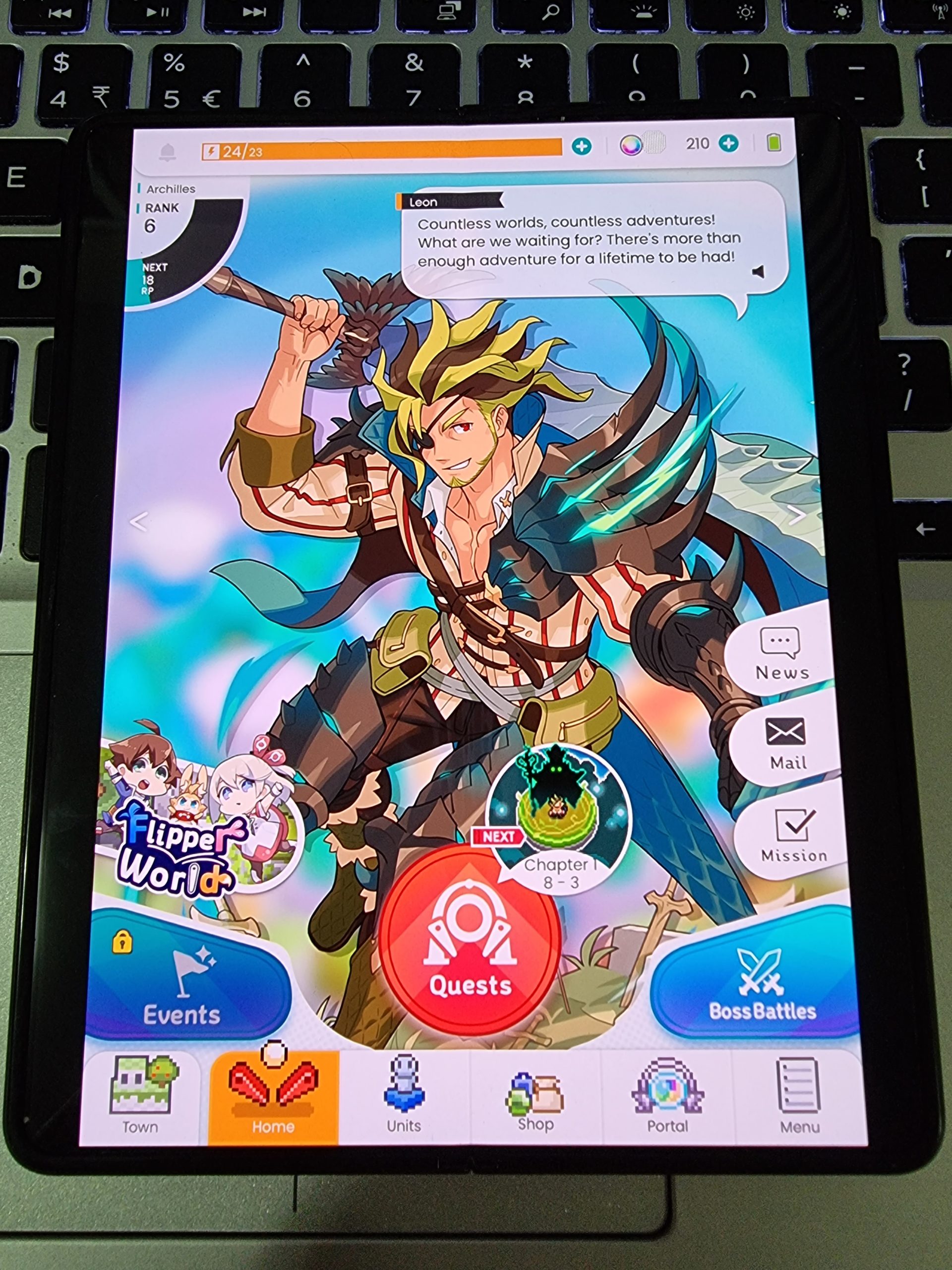 While a 120 Hz big screen is good for gaming, vertical games could see their sides be cut off a little as seen here with World Flipper. And because vertical gameplay titles are generally designed to be comfortably playable via one hand, playing them on the Galaxy Z Fold 3 might require more effort from the user. The wider screen meant you might need both hands instead of one.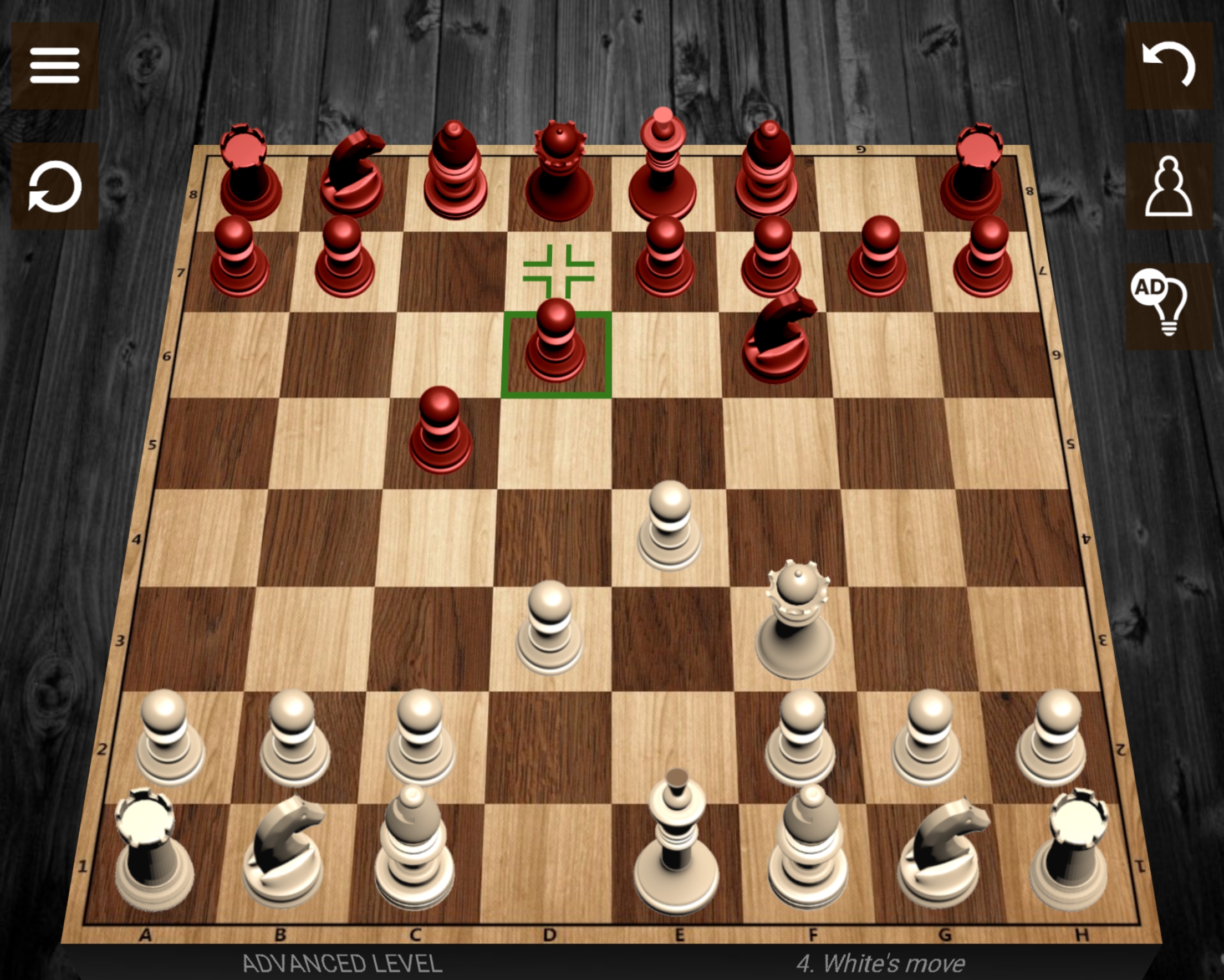 Rhythmic games are always tricky. Your thumbs need to land at the precise moment the note hits the bar and lift up again to hit the next note. On a tablet, the bar will usually be too long or wide, causing our thumbs to travel further hence taking longer before we could hit the next note. This is one of the reasons why playing rhythmic games on a tablet is a nightmare. Sure, it's bigger and nicer to look at, but it's also heavier and more torturous to hit those far and wide notes on time. On a typical mobile phone, however, the opposite is true. Too often, the bars are too short resulting in our thumbs crashing on each other when we struggle to hit the middle note and that one immediately next to it at the same time.
But when I got the Z Fold 3, a device that is a compromise between the two 'Tablet-Phone' in terms of screen sizes, I wondered how it'd work and tested it on Deemo. While I dare not say the results were astounding, I did, however, enjoyed it more than I did on just a tablet or phone. The Z Fold 3 is light enough to not cause any trouble when I had to hold it for a long period of time, and its screen is wide enough to create a comfortable gap between the keys/notes for our thumbs to land those hits and I didn't need to worry about needing to travel far for the next one.
While the overall gaming experience is good on this phone, there is one problem with it that cannot be overlooked and that is its battery life. The Galaxy Z Fold 3 is armed up to its teeth with state-of-the-art features but unfortunately, it doesn't come with enough juice to fuel long journeys. With a 4,400 mAH battery capacity, the phone cannot provide super long gaming sessions, and depending on which game you play, you may very well find yourself needing a recharge sooner or in some cases later. But as long as you keep an eye on your juice meter and keep a power bank close to you when you anticipate long gaming sessions, you should be fine.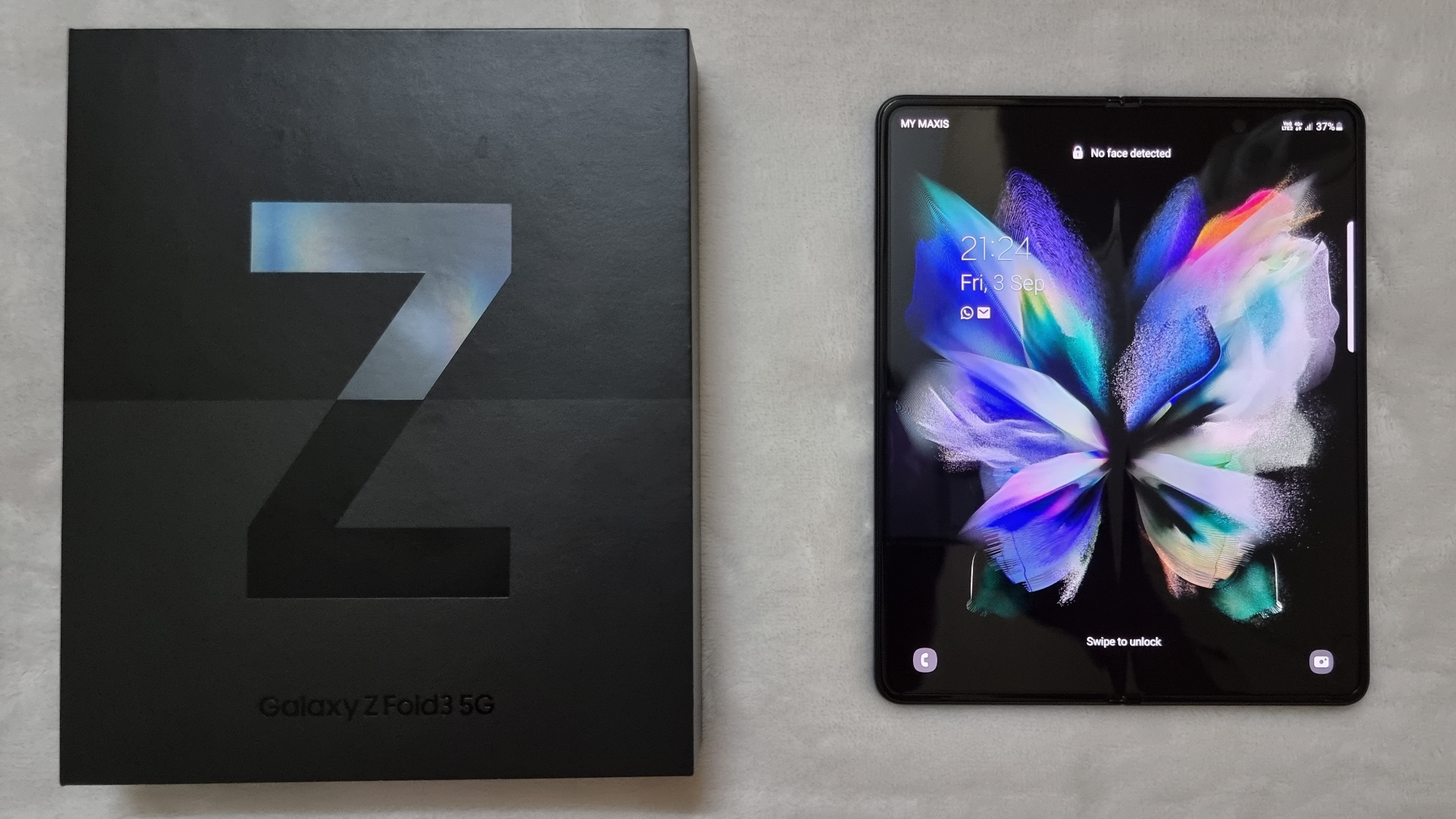 Verdict
There's a saying that goes – Look at the bigger picture! The Galaxy Z Fold 3 lets me do just that and not just a blown-up version of the same picture, but like in my Stardew Valley experience where it lets me zoom out and just see more. Be it on Apple Music, Netflix, Emails, News, Books, etc – I see more things at once without the hassle of scrolling as much and that helps me make quicker decisions.
To be honest, after the amount and quality of pampering the Galaxy Z Fold 3 has afforded me so far, it is hard for me to return to using the conventional smartphone. It does better in some areas what a normal phone does, and though I admit it isn't the best at everything it isn't far from the top either.
My only two complaints are the steep price tag that may cause Samsung's vision of the future to remain inaccessible to a vast majority of people, and the battery capacity that obviously needed a bigger tank.