Early bird ticket sales are now live for PUBG MOBILE Club Open Fall Split Global Finals (PMCO 2019). Starting from today till Tuesday, November 05th, all fans and community members can grab a special Early Bird Registration ticket price of 20% off. Aside from the early bird ticket, official ticketing period will be open from November 06th to December 01st. The Global Finals event commences from November 29th – December 01st, 2019, located at the Putra World Trade Centre (PWTC) in Kuala Lumpur, Malaysia.
PMCO 2019 is the global competitive season for the world's highest-grossing smartphone game, PUBG MOBILE. Pitting over 100 players to be parachuted onto an island to scavenge gears and weapons fast before getting into an intense fight of survival. Since it's release back in 2018, PUBG Mobile has garnered over 400 million installs across more than 100 countries; accumulating many numerous industry awards, including Google Play's "Best Mobile Game of 2018".
The inaugural Fall Split Global Finals of PMCO 2019 will be the largest mobile esports tournament to be ever held in the world to date. The Fall Split is the second season of PMCO this year, following the Spring Split that took place in Berlin, Germany back in July 2019. Both of these seasons represent the start of PUBG MOBILE's esports ecosystem, providing an environment for skilful players to cultivate their growth into professional teams. With over 16 pro and semi-pro teams from 10 regions around the globe battle it out to be the next champion that deserves a "chicken dinner" prize pool of USD$2.5 million and be crowned the winner of all winners. As of October 20th, few of the best teams from the Regional Finals have already qualified, including Cloud9, Team Queso, and Yoodo Gank. The schedule for the remaining slots and regional finals are as follows:
South America (1 slot at Global Final): 26th – 27th October 2019
Europe (1 slot at Global Final): 26th – 27th October 2019
Southeast Asia (2 slots at Global Final) *: 01st – 03rd November 2019
South Asia (2 slots at Global Final): 05th – 09th November 2019
*If one of the top 2 teams at the Southeast Asia Regional finals is from Malaysia, the Global Final seat will be given to the next not yet qualified team
Adding on to that, runners-up from each of the region including the third-place team from North America will be competing at the PMCO Preliminaries scheduled from 23rd – 25th November 2019. The top three teams at the preliminaries will also secure their place at the Global Finals spots too.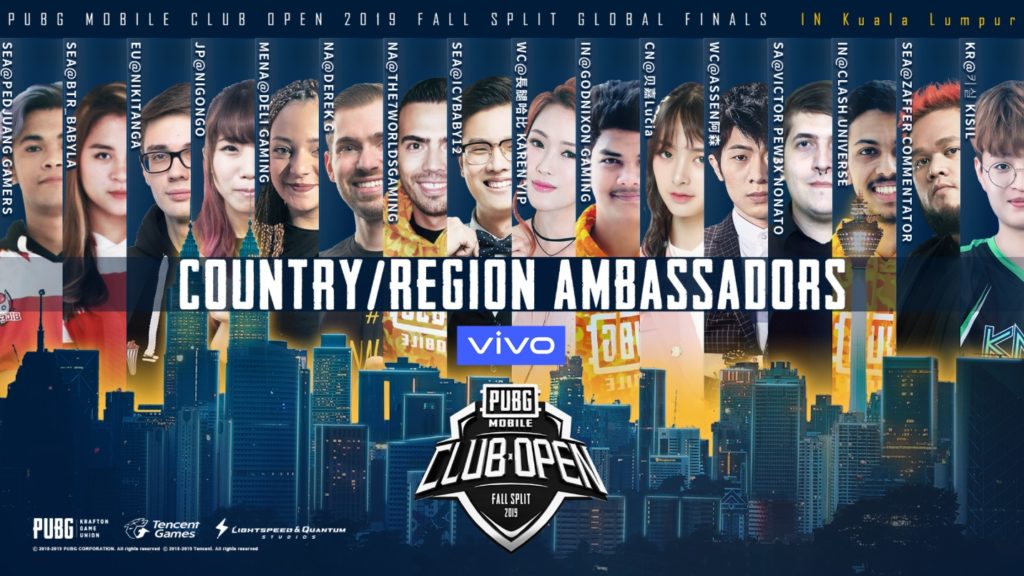 The image revealed above shows the identity of 16 Country/Region Ambassadors, selected to represent their respective country or regional team for the PUBG MOBILE Club Open 2019 Fall Split Global Finals. They will be providing timely updates about the teams from their region throughout November leading up to the finals. Viewers and community fans can stay tuned for the updates through their social channels and also the PUBG MOBILE Esports channel as per following list below:
For more info about the PUBG MOBILE Club Open 2019 and participating teams, click here. For more latest updates, check out their respective channel on PUBG MOBILE Esports YouTube channel.
For those who are new to PUBG MOBILE, the app is free to download on the App Store and Google Play. The leading global technology company, Vivo, is the official title sponsor of PMCO 2019, empowering players conquest at the competition with ultra-smooth gaming experience.