Tilting Point, a leading global publisher of free-to-play games and game developer Whaleapp, under license from Nickelodeon and Paramount Consumer Products, has opened pre-registration for the upcoming mobile game SpongeBob Adventures: In a Jam! coming to iOS and Android. In this hilarious mobile builder title, Bikini Bottom is in quite a jam, literally, as the whole town is smothered in Jellyfish Jam, leaving SpongeBob to save the day again.
In SpongeBob Adventures: In a Jam!, players will experience an epic adventure under the sea as they help SpongeBob, Patrick, Sandy, and more fan-favorite characters restore order to Bikini Bottom following another failed attempt from Plankton to steal the Krabby Patty formula. In order to rebuild Bikini Bottom, they will travel to other popular locations such as Jellyfish Fields, New Kelp City and Atlantis. They will craft items from Krabby Patties to Jelly Jars, and they will farm and harvest crops to help SpongeBob on his quest. Along the way, players will meet new and old friends including Mr. Krabs, Squidward, King Jellyfish, Kevin C. Cucumber, and they will unlock and interact with animal pals such as Gary and Pete the Pet Rock.
SpongeBob: Krusty Cook-Off, Tilting Point's previous SpongeBob SquarePants game under license from Nickelodeon and Paramount Consumer Products, has been a massive success as it garnered over 17 million pre-registrations and over 50 million downloads. The mobile game's first week at launch secured 2.2 million daily active users and received the Players' Choice Award at the 2021 Mobile Games Awards. The game debuted on the Nintendo Switch digitally in 2021, with a physical launch this past February 2023.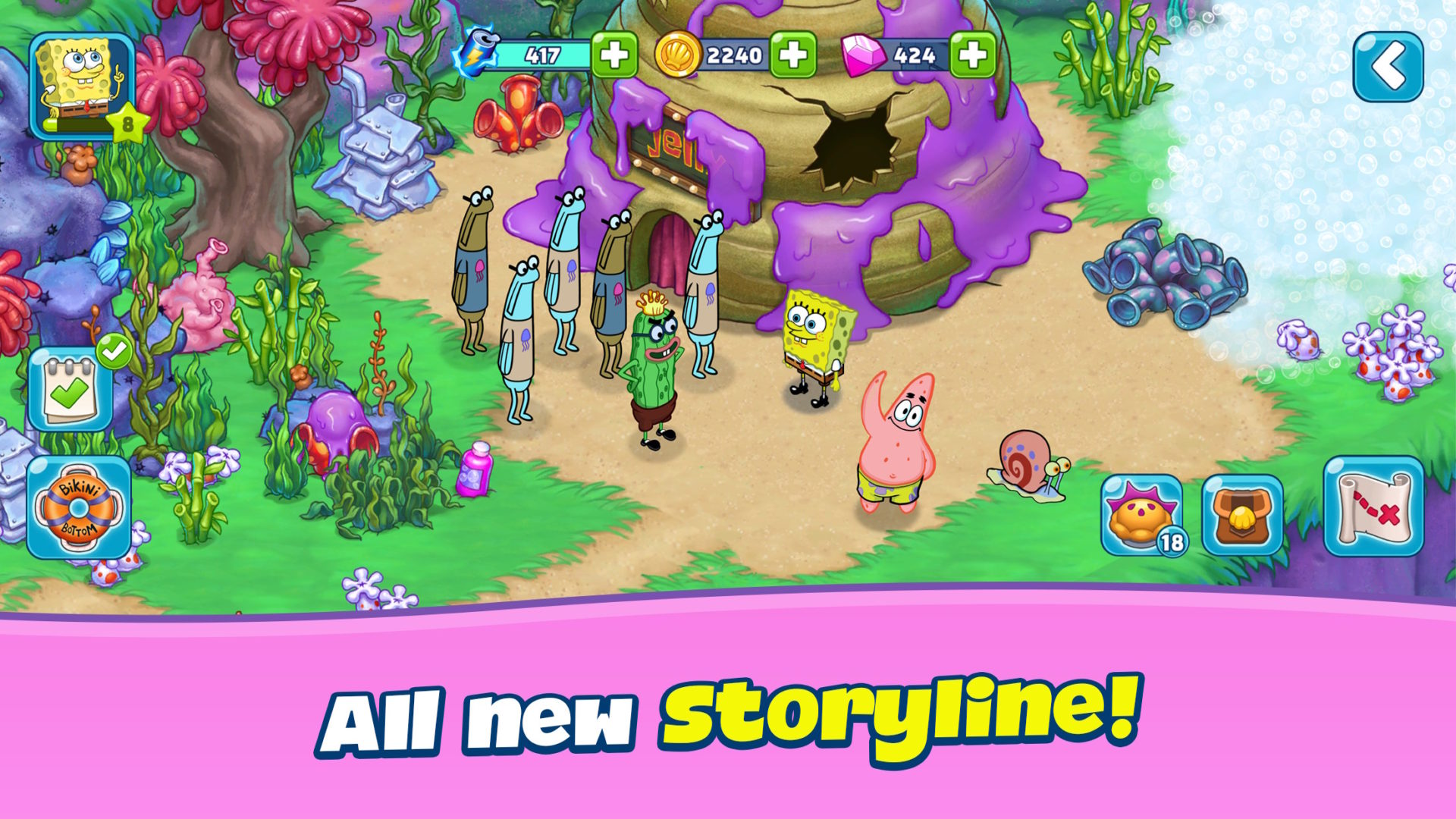 To help players get a head start in the game at launch, Tilting Point and Whaleapp are offering in-game launch rewards if player registration numbers hit specific milestones:
One million – 10 Gems

Five million – 150X Energy

10 million – 300X Energy and 1 Exploding Pie

15 million – 20 Gems, 400X Energy and 2 Exploding Pies
SpongeBob Adventures: In a Jam! is the newest game in Tilting Point's world-class portfolio of games, which includes WhaleApp-developed games Doctor Who: An Unlikely Heist and Hidden Hotel: Miami Mystery.