A snaky tile-based dungeon puzzle adventure. Deep in her lair slumbers an avatar of the goddess Snek, guardian of her secret and mysterious temple. When raiders and grave-robbers come seeking ancient treasure, the stern priestesses sound the alarm and Snek awakens to defend the temple, monch the infidels, and grow and grow and… grow?
Temple of Snek takes the rhythm and reaction-based mechanics of the traditional Snake-like games and coils them through an interconnected puzzle dungeon with interactive music. You control Snek, a giant snake who starts off small, and guide her through a dungeon, growing each time you munch on a looter. Sometimes the challenge is needing to grow a bit longer in order to progress, and sometimes it's knowing what to do with all that tail. As the world unlocks, Metroidvania-fashion, you'll encounter new puzzle types and NPCs, and puzzles that seemed impossible become solvable as you learn about how Snek moves and stacks in three dimensions.
The story is presented wordlessly. The Temple is in the forest of a fantastical pre-Hispanic world. To begin with, Snek is defending the temple from press-ganged indigenous raiders, but before long it becomes clear that the real villains are conquistadors, who are here to not only take gold but to ravage the environment. Snek's ultimate goal is to deal with the conquistadors and protect her world.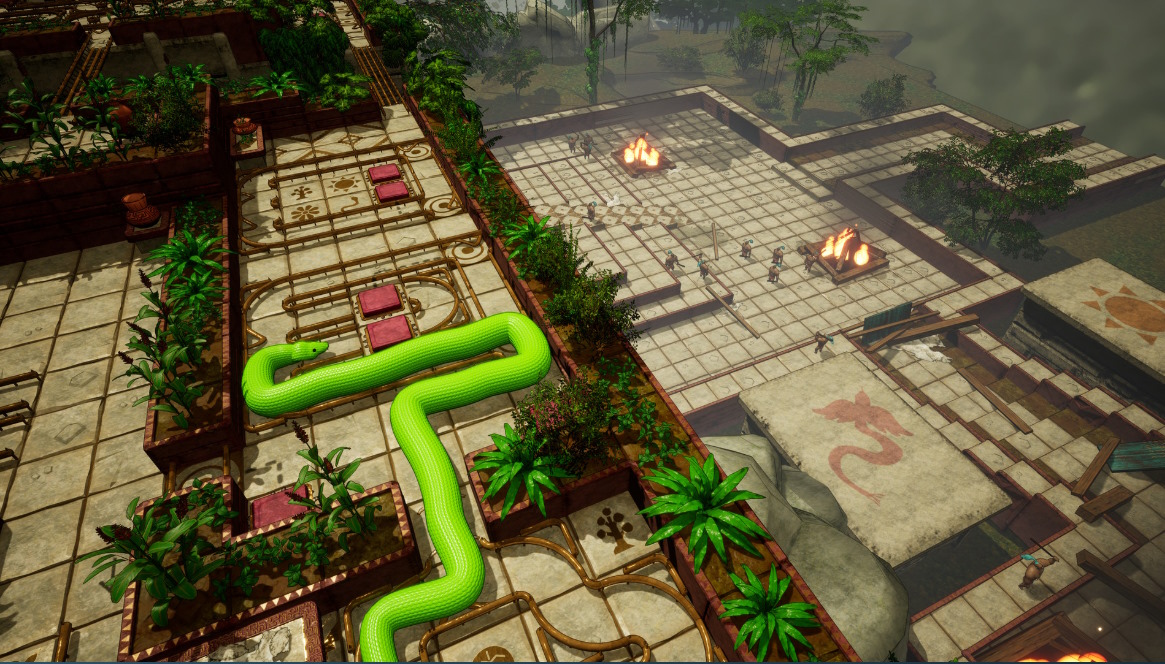 As well as Story Mode, the game also features a lot of accessibility options. Classic Mode (a twist on more traditional snake play), Mek-a-Snek (for designing your own snek-skin patterns), and Snek Workshop (a level editor for making and sharing snek-puzzles on Steam).
wait! it is?
omgomgomgomg! https://t.co/hqeOGkB12I

— Snek (@TempleOfSnek) February 11, 2023