Bandai Namco has recently confirmed it's highly anticipated game One Piece: World Seeker for Western release complete with a new bundle as well.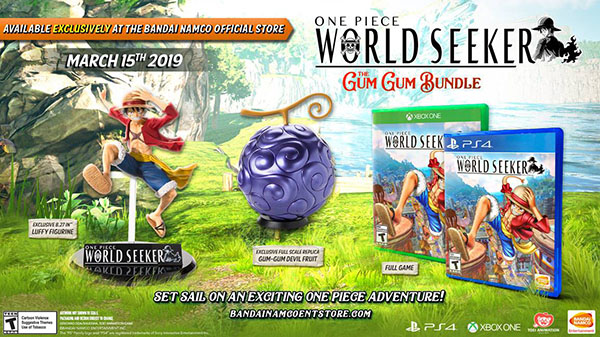 It has its own humble bundle
A Gum Gum bundle (above) has been announced for North America release while Europe gets the Pirate King Collector's Edition (Below). Priced at $129.99 USD (estimated to about RM544.37) which includes the game, Luffy Figurine, and Gum-Gum Devil Fruit replica.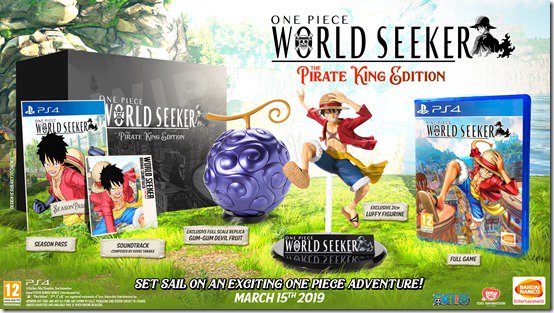 While Europe's Pirate King Collectors edition, comes with the following:
A game copy
Exclusive 21cm Luffy figurine
Replica of the Gum-Gum devil fruit
The Season Pass
The original soundtrack of the game composed by Kohei Tanaka
Addition to that, those who pre-order a digital copy, gets the following:
Military Costume and Swim Suit for Luffy
Strange Island Rocks Mission for special equipment
A few more bits of info
In addition to that, the trailer shows Luffy's combat abilities and skill tree, including his fourth gear form: Bound Man.
This affects his movement and traversals throughout the game.
Luffy is also able to operate in 2 modes, such as "Haki", allowing more raw power or "Observation Haki" allowing wall-hacking or time slowing powers, with a more stealth approach as well.
Crafting and cooking are available as well with Franky, Sanji and Usopp. They will help craft or cook various items when you bring them the resources found in the world.
The release date has been confirmed for both North America and Europe for PS4, PC and Xbox One on March 15, 2019