An epic finale at Malaysia's biggest MLBB esports league this weekend at KL Live
This finale will determine which teams get to represent Malaysia and Singapore's in the inaugural M1 World Championship for Mobile Legends: Bang Bang
The Mobile Legends: Bang Bang Professional League for Malaysia and Singapore Season 4 is supported by Legendary Sponsor Black Shark and presented by Moonton
18 October 2019, Petaling Jaya – The Mobile Legends: Bang Bang (MLBB) Professional League Season 4 (MPL-MY/SG S4) Playoffs, supported by Legendary Sponsor Black Shark, is set to happen this weekend (19 and 20 October) at KL Live. The Playoffs is a free event for all fans to attend.
The RM418,000 (US$100,000) total prize pool tournament will culminate after months of competition between Malaysia and Singapore's best Mobile Legends: Bang Bang (MLBB) teams, with the final eight teams set to clash for the top spot. This season's top placing teams from Malaysia (2 teams) and Singapore (1 team) will get to represent their country in the inaugural M1 World Championship.
---
Early Bird Giveaways for visitors early and lucky enough!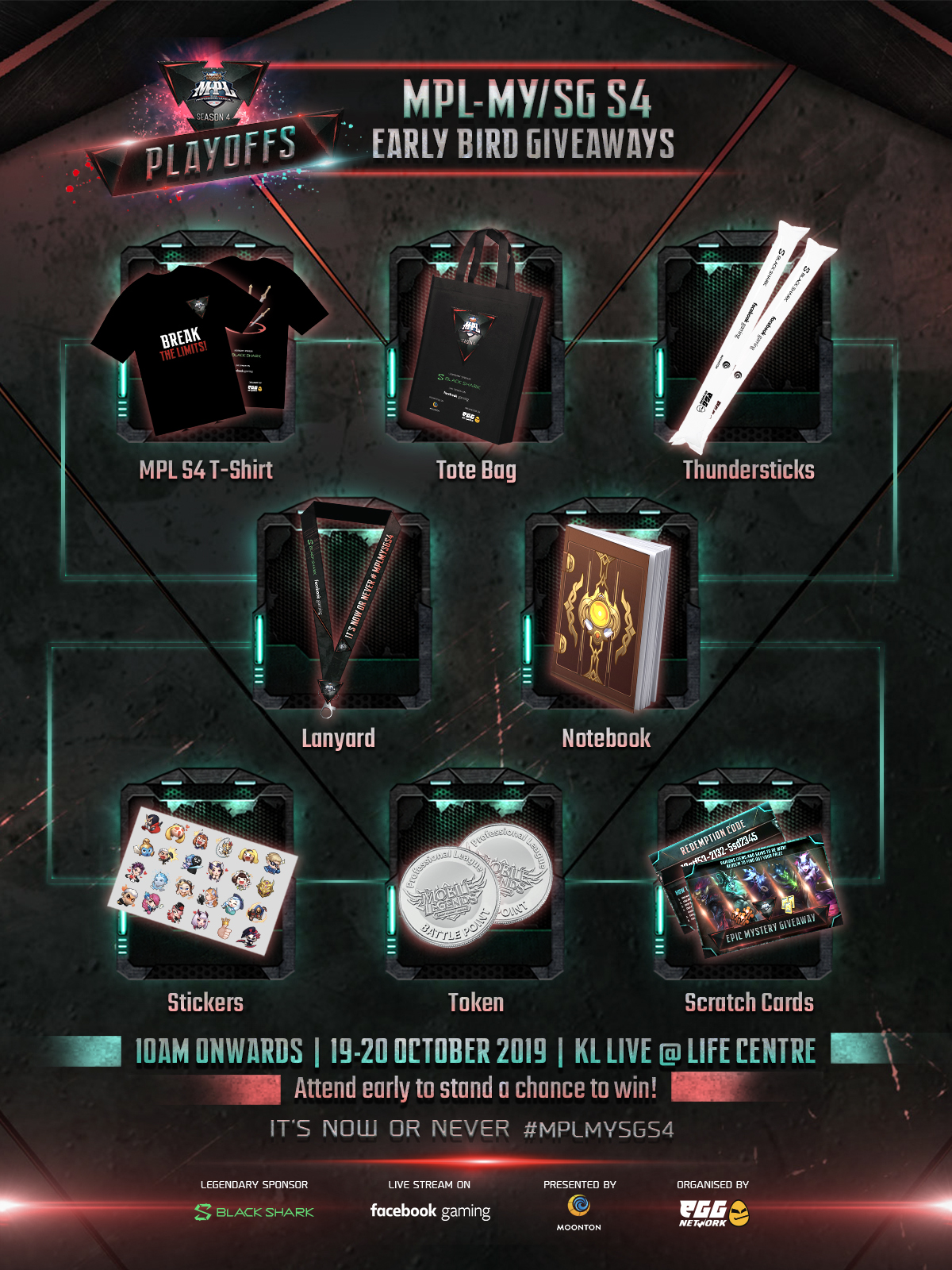 Stand a chance to win a Black Shark 2 Pro!
---
"MPL-MY/SG has come a long way since its inception in early 2018. The MLBB esports ecosystem is now bigger than ever, with the very first M1 World Championship offering a total prize pool of RM1,050,000 (US$250,000) for 16 teams from 14 countries. We wish the Malaysian and Singapore teams all the best as top placing teams at the MPL-MY/SG-S4 Playoffs will get to carry their country's flag at the M1 World Championship. For all fans in Malaysia, be sure to come out and support your favourite teams at the Playoffs this weekend," said Logan Shaw, Tournament Director of Moonton.
Eight Teams, One Goal.
The eight final teams who have made it into the Playoffs are Malaysia's Axis Esports, Geek Fam, Shopee Bosskurr, Todak, and XPAX X-Assins, alongside Singapore's Notorious Villains, EVOS Esports SG, and Resurgence. With over RM205,000 (US$49,000) from the total prize pool already paid out as incentives and win bonuses over the Regular Season last month, the remaining prize pool of RM214,000 (US$51,000) will be up for grabs at the Playoffs.
Teams will battle it out in the upper and lower brackets of the Playoffs over the course of two days. Top placing teams from the Regular Season EVOS Esports SG, Todak, Axis Esports, and Resurgence occupy the upper bracket and will compete in a double-elimination format. The bottom-placed teams in the standings Geek Fam, Shopee Bosskurr, Notorious Villains, and XPAX X-Assins will compete in the lower bracket in a single-elimination format.

"This season has been full of unpredictable events and it looks like anything can happen at the Playoffs. Last season's champion Geek Fam has been inconsistent and only managed to secure a lower bracket slot. EVOS Esports SG, the most consistent team who won first runner up twice over the past two seasons, managed to top the Regular Season standings. The Singaporean powerhouse is hungry for a Champion title, but Malaysia's Todak and Axis Esports are the local favourites standing in their way. Fans can expect the Playoffs will be a truly exciting affair," said Andriyana Mohamed Ghazali a.k.a. ChuChu, caster, and analyst of MPL-MY/SG S4.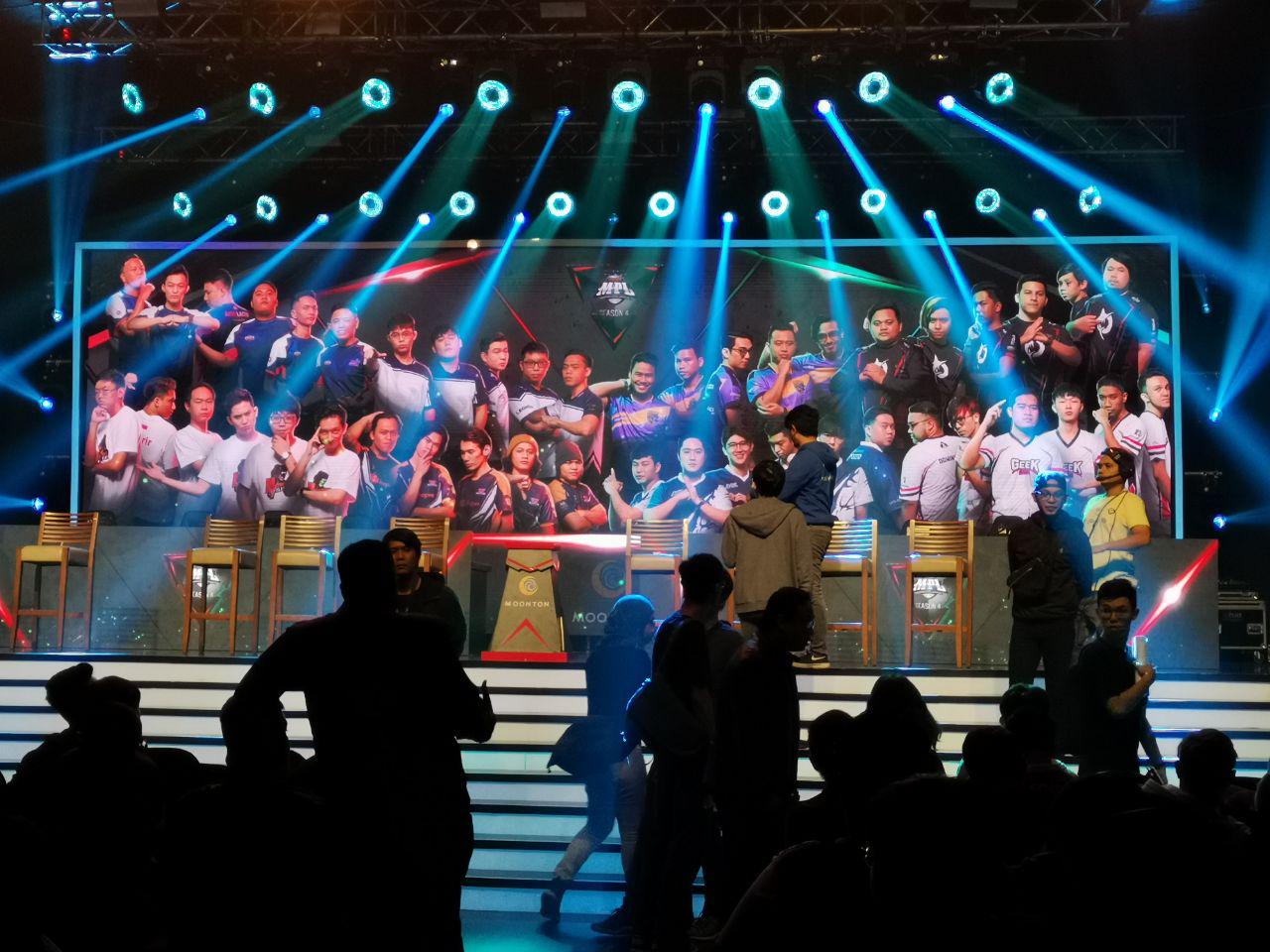 "With Season 4 coming to an end, we would like first to congratulate all players who participated and made this season a memorable one. All our gratitude goes to Moontoon and MPL for this enjoyable partnership. Black Shark is very proud to be a legendary sponsor. After a season full of unpredictable results, we are sure that the finale this weekend will exceed our expectations." said SUN Yang, VP Marketing of Black Shark Global
---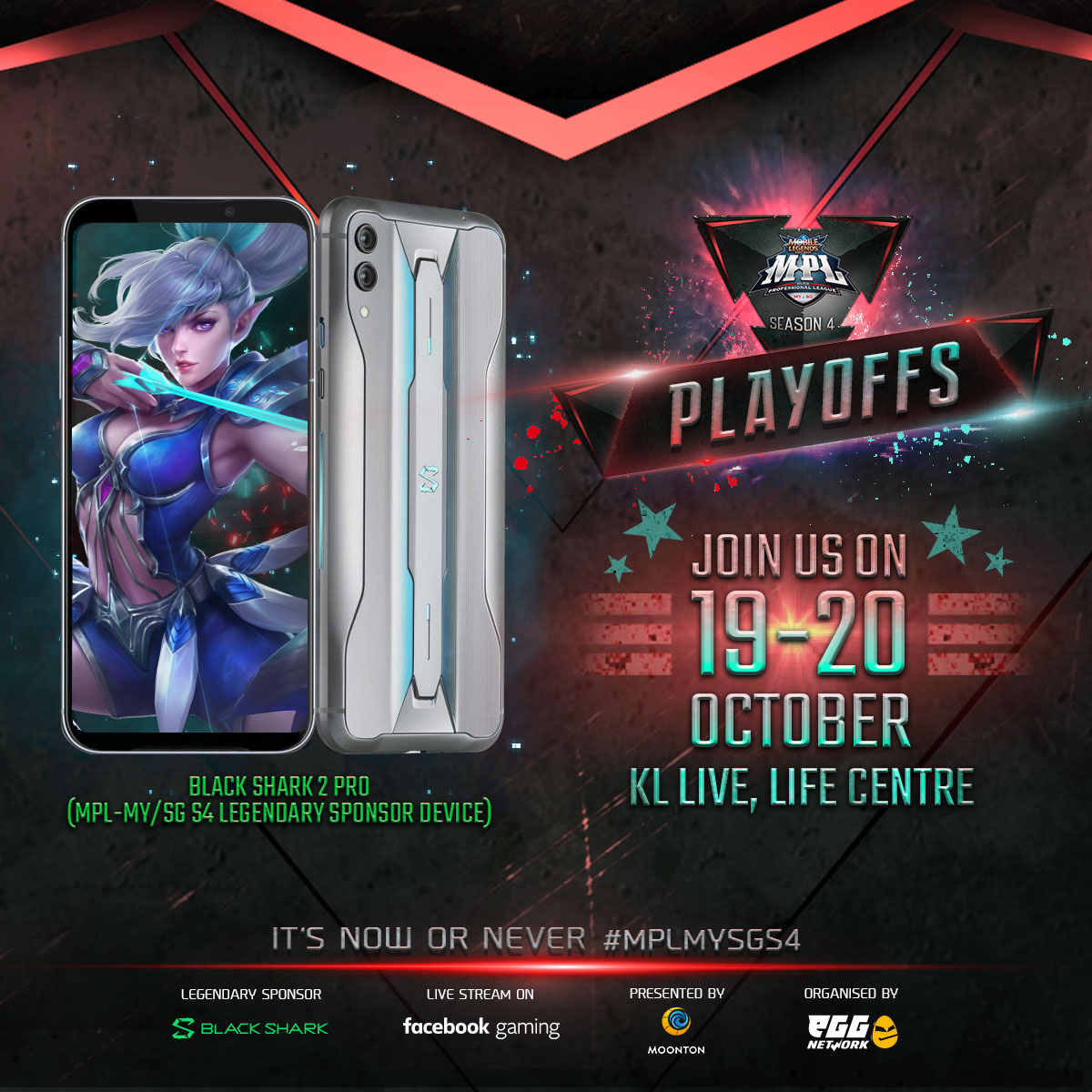 As part of Black Shark's involvement in the grand finale, the cutting-edge gaming technology company created a special offer for MPL fans. Users who purchase of any Black Shark phone from our website will receive a free Legend Skin of MPL worth up to 1000K Diamonds. While an additional left-side gamepad will be given for Black Shark 1 purchases.
This offer is available on Black Shark website: https://my.blackshark.com/pages/mpl
---
Fans who are unable to catch the event at KL Live in Kuala Lumpur can tune in to the MLBB Facebook Page www.facebook.com/MobileLegendsGameMalaysia/ to watch a live stream of the Playoffs. As for the upcoming M1 World Championship, tickets are on sale now at www.m1.mobilelegends.com. To get the Mobile Legends: Bang Bang game for free, download it from the Apple App Store or Google Play.
MPL-MY/SG S4 is supported by Legendary Sponsor Black Shark and presented by Moonton.