Singapore's powerhouse and past season champion EVOS SG has revealed their teams' new line-up as the 5th season of the Professional League draws near. They retain 50% of their roster from last season and remain among the directly invited teams who will be competing in the upcoming Regular Season.
Take a look at the roster details below:-
Chong Ru Chyi aka Soul, Robert Boon Wei Xing aka OhDeerBambi and Akihiro Furusawa aka JPL are the three returning players.
Joining EVOS SG this season are Lim Sheng Lun aka Lun and Javon Ham Kao Yee aka Fossa, who are two experienced players from Resurgence and Notorious Villains respectively. Lun has been competing in MPL-MY/SG since Season 2 whereas Fossa made his debut in Season 3.
The team welcomes MPL-MY/SG debutant Ng Jun Hong aka Pokemon, who is dubbed as a rising star in the Singapore MLBB
Ong Wei Sheng aka Aeon will be joining the team as their new coach, having captained Resurgence to fourth place in the past two MPL-MY/SG seasons.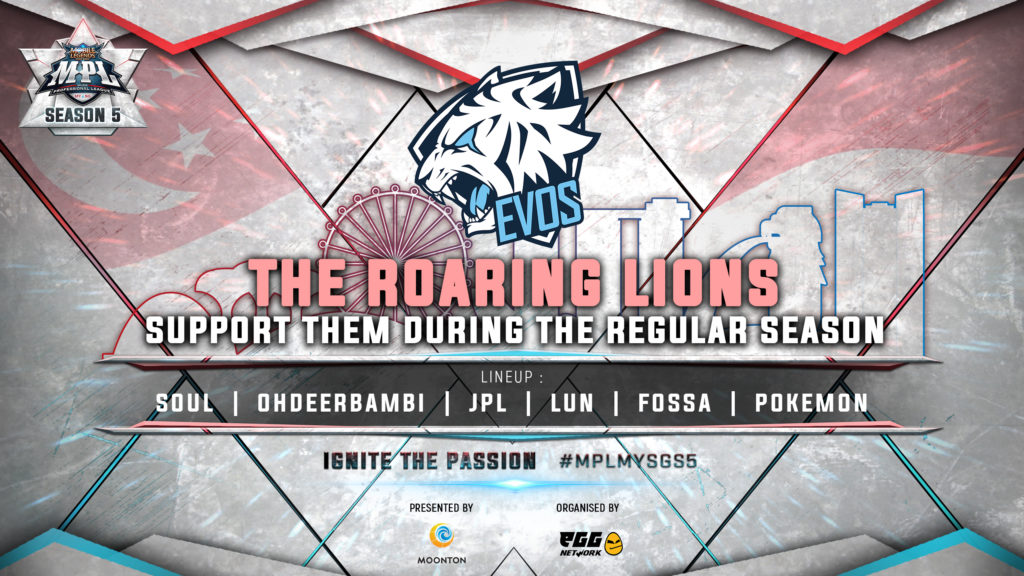 The teams that were brought to compete at MPL-MY/SG Season 5 were confirmed by Moonton themselves on 17 January. The five teams that will gain direct entry into the Regular Season of the upcoming tournament are:-
EVOS SG (Season 4's Champion)
Todak (Season 4's first runner-up)
Axis Esports (Season 4's fourth-place)
Geek Fam (Season 3's Champion, Season 4's fifth/sixth place)
Team Bosskurr (Season 4's seventh/eighth place)
4 Malaysian teams and 1 Singaporean team are making their way into the Season 5's roster. The upcoming qualifiers will determine two qualifiers from Malaysia and three from Singapore. The qualifiers in Malaysia will be held on 7-9 February, while the qualifiers in Singapore will take place on 15-16 February.
For more information on the tournament, follow the MLBB Facebook page here.