Everyone has their own notion and blueprint for success. The path to get there varies, but the soft skills that support them are key, and the tools of your trade are crucial for this. So, why not treat yourself to an effective yet affordable tool, the Galaxy Tab S7 FE, to enhance your skills and soar closer to success?
Stay On Track Proactively with the S Pen
With the Tab S7 FE's S Pen, you can empower your work with on-the-go e-signatures and note-taking with Samsung Notes. If a project requires approvals from multiple departments, you can easily sign and annotate feedback on softcopy PDFs to keep the workflow going. When inspiration strikes, use the Air Command shortcut to scribble down your ideas right away. The Intelligent Search tool allows you to organize and search for your notes easily, so you can remain productive all day, every day.
Unleash Your Multitasking Skills Effectively
The Multi-Active Window[1] experience on the Tab S7 FE's expansive 12.4 inches [2] display lets you multitask with ease with up to three split screens. That means you can unleash your multitasking skills by simultaneously e-meeting with clients, taking notes, and browsing the web for extra information to support your proposal. Even better, App Pair makes it simple to save and activate the combination of your favourite app in Multi-Active Window. And when you prefer typing over writing with S Pen, you can effortlessly convert your tablet to DeX (Desktop eXperience) by connecting it to a Book Cover Keyboard[3]
[1] Certain applications may not support Multi-Active Window.
[2] Measured diagonally as a full rectangle without accounting for the rounded corners. The actual viewable area is less due to the rounded corners.
[3] Available to purchase separately.
The road to success starts with the right tool like the Galaxy Tab S7 FE.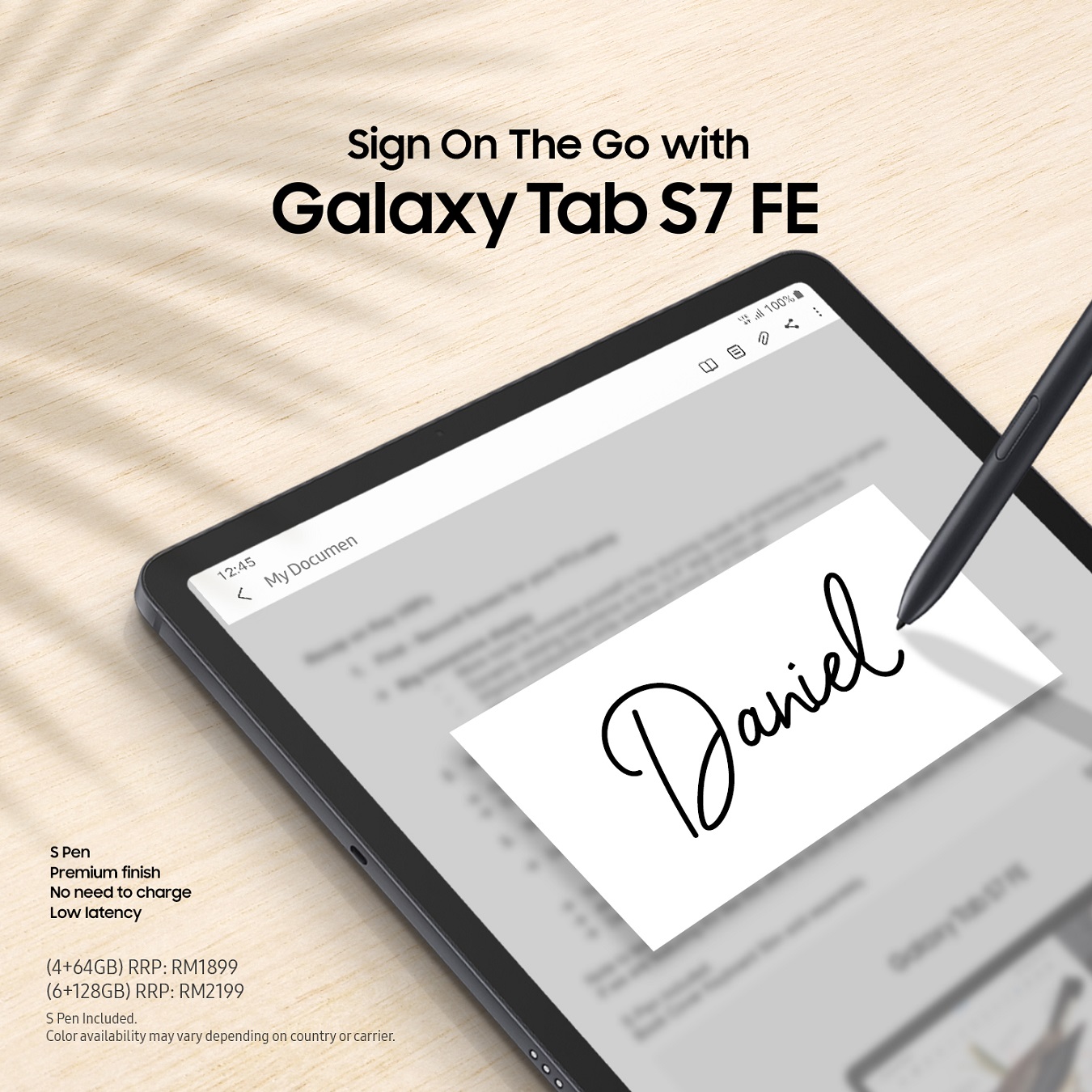 The Tab S7 FE (4+64GB) is available for purchase at the recommended retail price of RM1,899, whereas the (6+128GB) version is retailing at the recommended retail price of RM2,199. With Samsung's trade-in programme, customers can hand in up to five (5) old devices[1] to get a discount off the Tab S7 FE.
From now until 31 October 2021, customers will receive a FREE gift(s)[2] when they purchase a Galaxy Tab S7 FE. For the Galaxy Tab S7 FE (4+64GB), customers will take home a free gift – one (1) Book Cover. For the Galaxy Tab S7 FE (6+128GB), customers will get two gifts – a Book Cover and a Smart Keyboard Trio 500.
Click here to learn more about the Galaxy Tab S7 FE.
[1] Devices include smartphones, tablets and smartwatches.
[2] Free Gift(s) are only available on a first-come, first-served basis and also subject to stock availability. Samsung reserves the right to modify the quantity or the colour of the Free Gift(s) at its sole discretion, without any prior notice.