At CES 2022, NVIDIA announced the launch of over 160 new GeForce RTX 30 Series laptops, with new 4th Generation Max-Q technologies that further enhance efficiency, performance, and battery life.
These new models are built around their RTX 30 Series Laptop GPUs and come alongside the latest generation of processors from AMD and Intel. They include a wide range of form factors, like dual-screen, easels, and convertibles. Plus, there are new 14" portable powerhouses and even more G-SYNC and 1440p displays.
To craft the ultimate laptop experience, Nvidia unveiled new GeForce RTX 3080 Ti and RTX 3070 Ti Laptop GPUs, available from February 1st.
GeForce RTX 3080 Ti Laptop GPUs
The flagship 80 Ti class of GPUs comes to laptops for the first time with the GeForce RTX 3080 Ti Laptop GPU. Featuring 16GB of the fastest GDDR6 ever shipped in a laptop, the GeForce RTX 3080 Ti delivers higher performance than the desktop TITAN RTX. RTX 3080 Ti laptops start at $2499.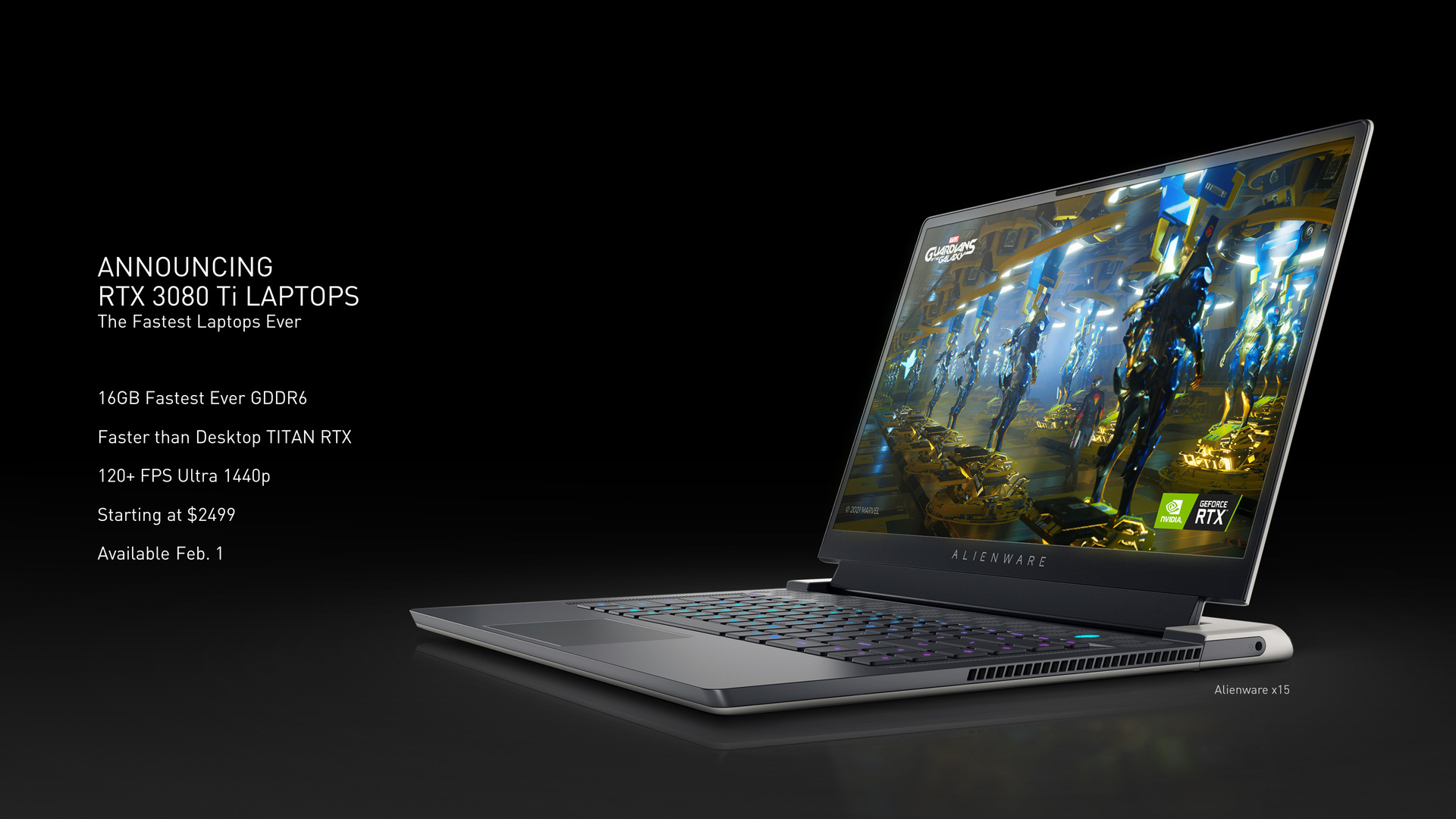 GeForce RTX 3070 Ti Laptop GPUs
Ti is now coming to the fastest growing class of laptop GPUs, with the new GeForce RTX 3070 Ti. Up to 70% faster than the previous-gen GeForce RTX 2070 SUPER, the new GeForce RTX 3070 Ti Laptop GPU offers a significant upgrade for anyone needing excellent 1440p performance. GeForce RTX 3070 Ti laptops start at $1499.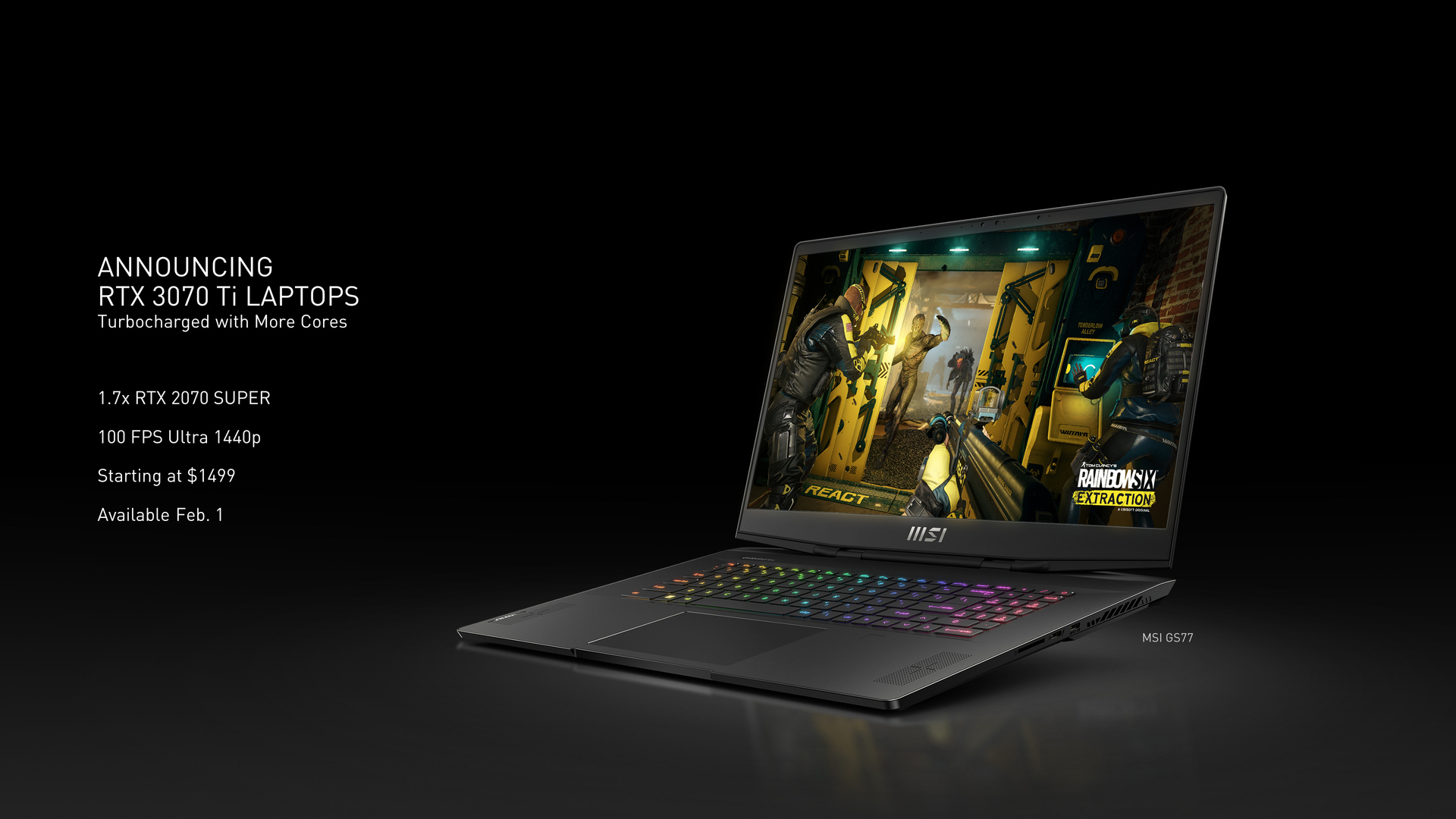 Both the GeForce RTX 3080 Ti and RTX 3070 Ti laptop GPUs will be available starting February 1st in models from Alienware, ASUS, MSI, and Razer with more following in the coming months. If you want the definitive laptop experience, for work, play, or creative endeavours, these are the laptops for you.
GeForce RTX 30 Series Laptops with 4th Gen Max-Q Available Feb 1.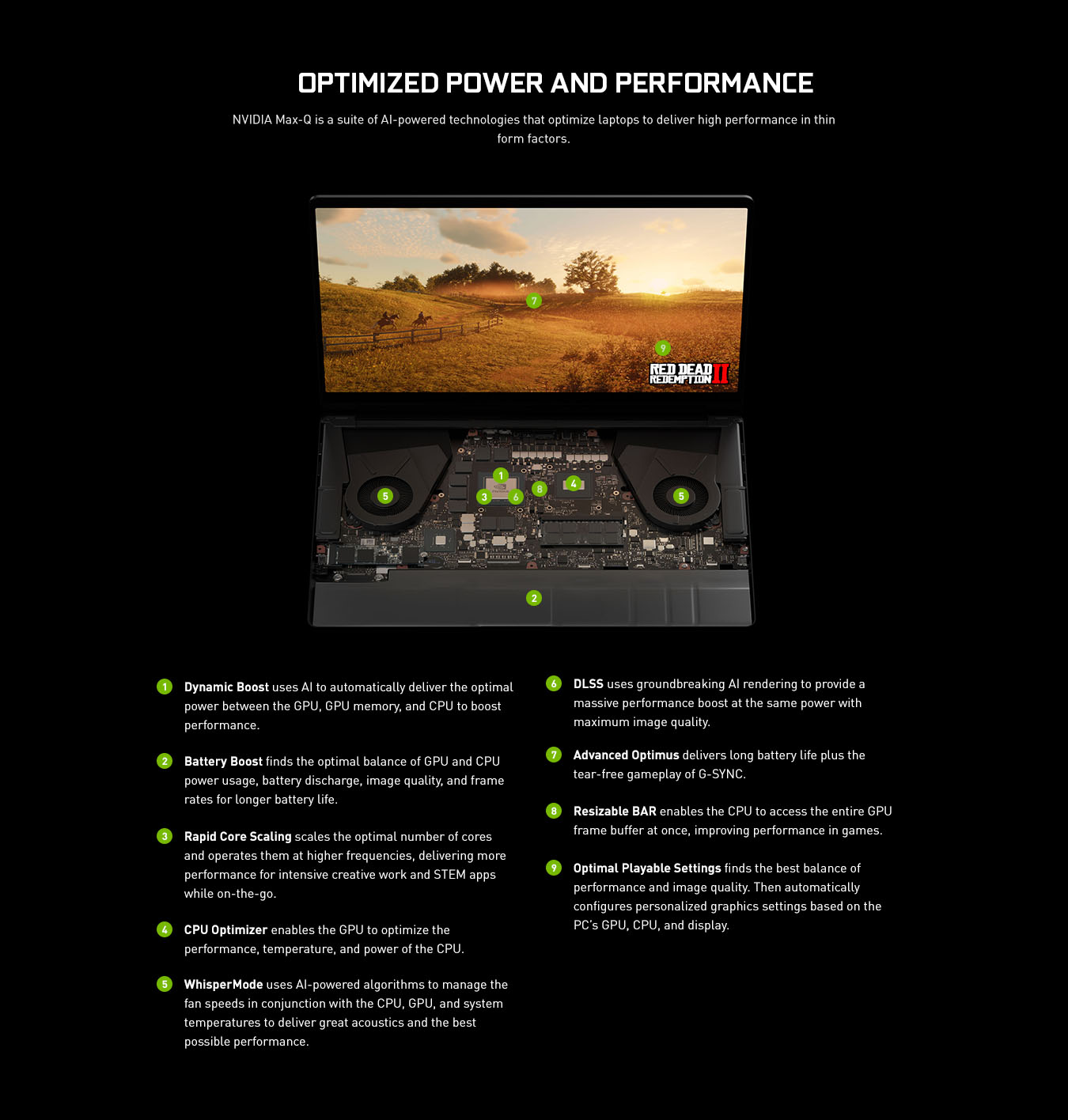 CPU Optimizer
On laptops, power is shared between the GPU and CPU. CPU efficiency is critical for maximizing performance. Nvidia worked with CPU vendors to create a new, low-level framework enabling the GPU to further optimize the performance, temperature, and power of next-gen CPUs. As a result, CPU efficiency is improved and power is transferred to the GPU for more gaming performance.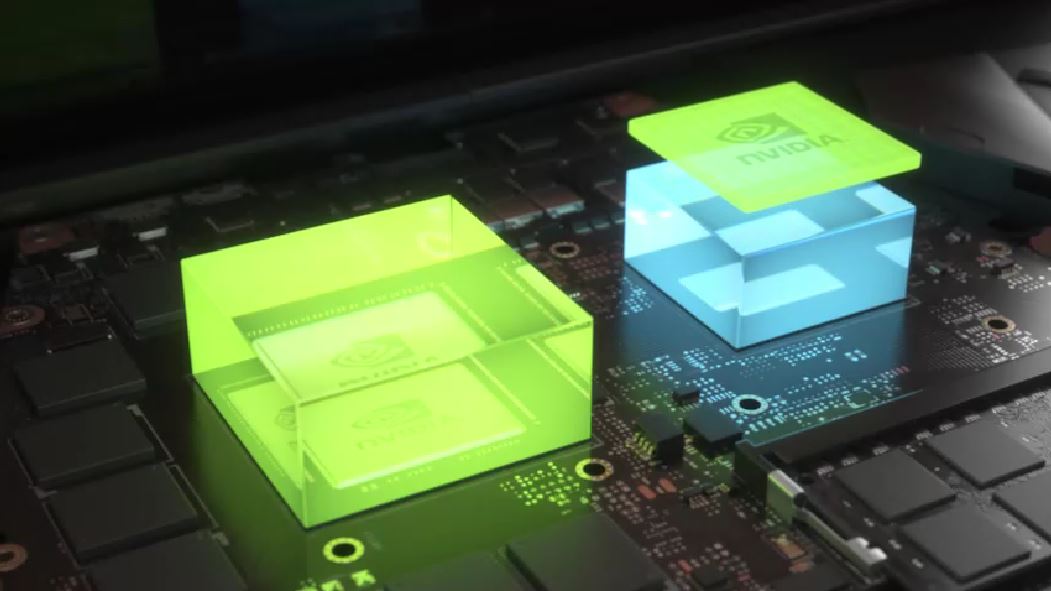 Rapid Core Scaling
For creators and students who rely on compute-heavy apps like Adobe Premiere Pro, Blender, or Matlab, Nvidia developed Rapid Core Scaling.
It enables the GPU to sense the real-time demands of the application and use only the cores it needs rather than all of them. This frees up power that can be used to run the active cores at higher frequencies delivering up to 3x more performance for intensive creative work while on battery.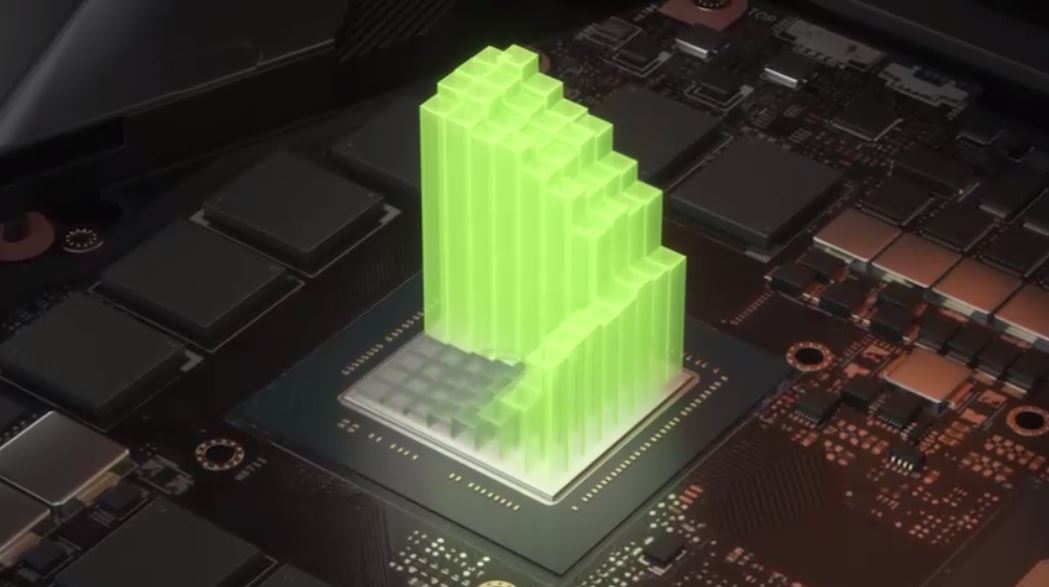 Battery Boost 2.0
On top of great performance, laptop gamers also want more battery life when gaming unplugged.
Battery Boost 2.0 has been totally re-architected. Now with AI controls the whole platform, finding the optimal balance of GPU & CPU power usage, battery discharge, image quality, and frame rates. And all in real-time. The result is great playability on battery, with up to 70% more battery life.
Over 160 New GeForce RTX 30 Series Laptops, Starting At $799
At CES 2022 Nvidia partners at Acer, ASUS, Dell, HP, Gigabyte, Lenovo, MSI and Razer are introducing new and updated GeForce laptops.
Over 160 models, from 14" ultraportables starting at $799 to 17" gaming powerhouses, will leverage the newest innovations to make your experiences even better.
NVIDIA Studio Laptops, The Ultimate Choice for Creators
High-performance GeForce RTX laptops can also take advantage of the NVIDIA Studio ecosystem for creators. Studio benefits include support for more than 75 RTX-accelerated creative applications, exclusive NVIDIA Broadcast and NVIDIA Canvas apps, and today's launch of NVIDIA Omniverse for creators.
They are also announcing new built-for-creator NVIDIA Studio laptops with GeForce RTX 3080 Ti and RTX 3070 Ti GPUs from MSI and Razer. RTX hardware-accelerated ray tracing, AI, and NVIDIA's high-performance video processor make them the perfect tool for any creator workflow.
Featuring the latest GeForce RTX 3080 Ti and RTX 3070 Ti GPUs, these laptops are on average 7 times faster than the latest MacBook Pro 16 M1 Max in 3D renderers. Together with NVIDIA Omniverse, Studio laptops are ready to build the virtual worlds of the future.
There is a reason GeForce laptops are the fastest-growing PC platform. They are powered by the award-winning NVIDIA Ampere architecture, which come with amazing technologies like 4th generation Max-Q, DLSS, ray tracing, Reflex and more. And now, very soon, they will be available in over 160 new designs, which include the new flagship laptop GPU, the GeForce RTX 3080 Ti, as well as the RTX 3070 Ti.