Lenovo is thrilled to announce an all-new ThinkPad X13s developed in collaboration with Qualcomm Technologies, Inc., and Microsoft, as the world's first laptop powered by the premium Snapdragon 8cx Gen 3 compute platform, running up to Windows 11 Pro. The ultra-slim, ultra-light fan-less design delivers the next level of silent always-on, always-connected PC experiences in addition to incredible multi-day battery life rated up to 28 hours, AI accelerated experiences, enhanced 5G connectivity options including mmWave, and application support through the Microsoft App Assure program for seamless productivity, security, and collaboration.
Built with 90% certified recycled magnesium in the top and bottom covers, 97% PCC plastic in the battery Printed Circuit Board (PCB) cover and battery frame, and with recyclable carton and bumpers in the packaging, ThinkPad X13s is designed to consume less energy. Manufactured using Lenovo's low-temperature solder method that can reduce carbon emissions by up to 35%, the ThinkPad X13s also includes low power 13.3-inch 16:10 display configurations, with touch or Eyesafe low blue light options. The reduced need for AC power can help reduce energy consumption.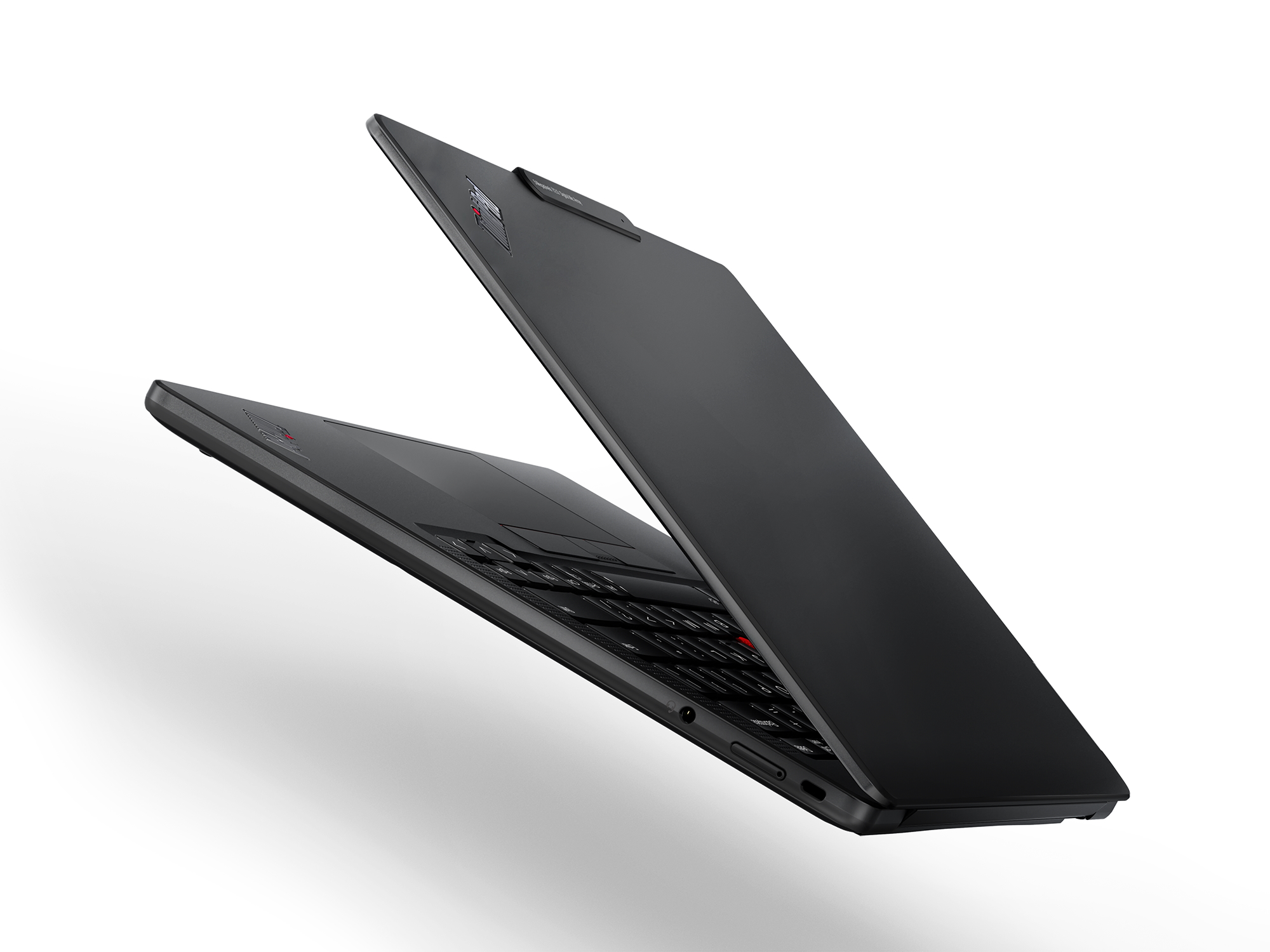 Delight Users
Hybrid workers, global travellers, field technicians, and front-line workers will relish the light 1.06kg (2.35 pounds) laptop and the virtual elimination of daily power anxiety and connectivity issues as they roam between work-from-anywhere locations. Wi-Fi 6E provides a more stable high-speed connection and when unavailable, or a public hotspot is not secure enough, the device can switch to 5G mmWave or sub6 Wireless WAN for lightning-fast, highly secure, on-the-go connectivity.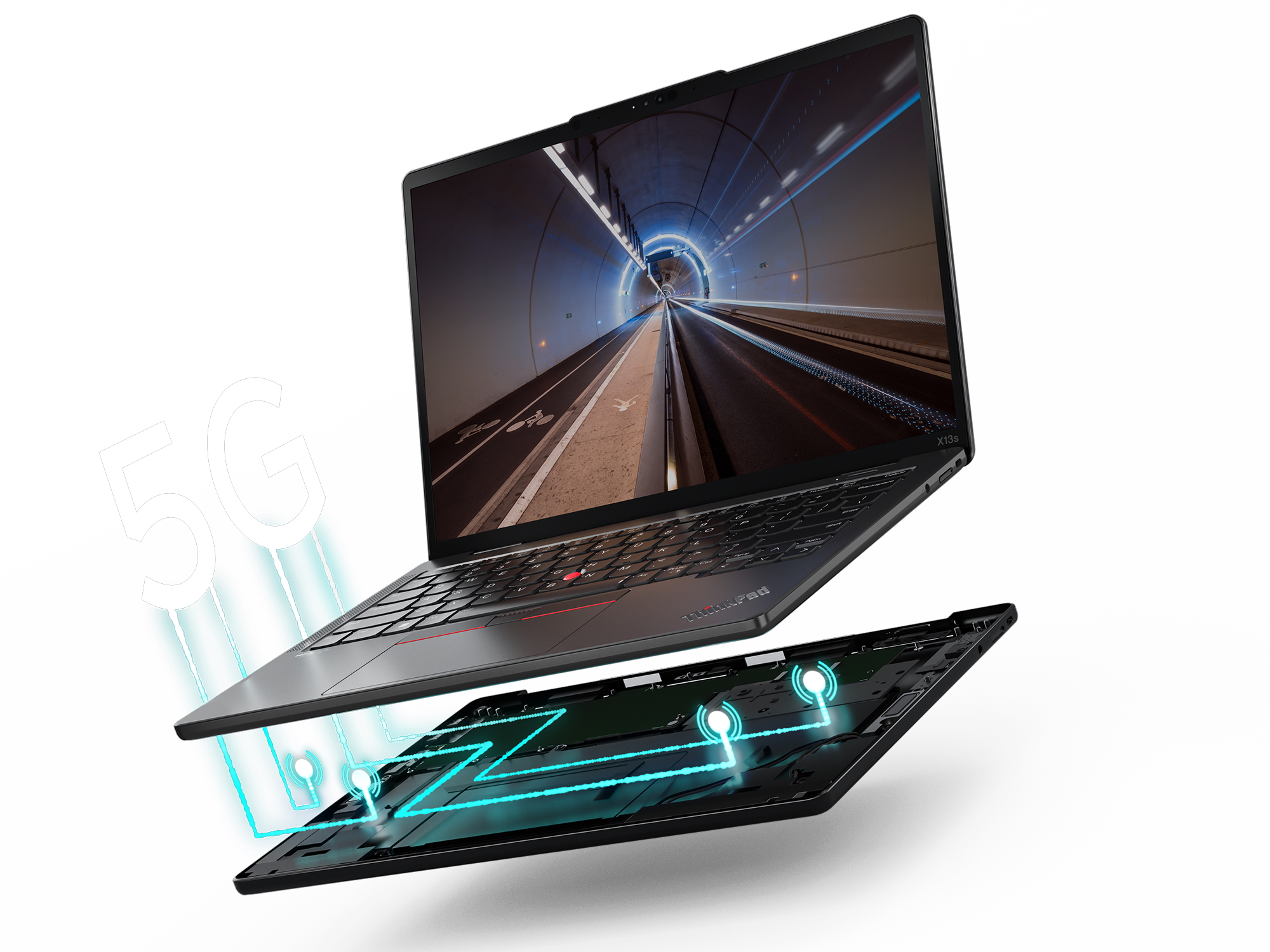 Technology innovation should be seamless and addressing customer insights for a smarter and more productive collaboration experience is paramount. ThinkPad X13s integrates a communications bar with a 5-megapixel camera with AI-based auto framing plus Infrared (IR) camera option and standard triple-array microphones providing intelligent noise suppression during conference calls. Snapdragon 8cx Gen 3 introduces a Computer Vision processor featuring major user experience improvements, from smarter human presence detection for a more convenient user authentication experience to added security, privacy, and power-saving by automatically turning off or dimming the display when the user looks away.
The Snapdragon 8cx Gen 3 compute platform delivers exceptional battery efficiency with the performance expected for a premium business laptop. The world's first 5nm platform for Windows PCs, Snapdragon 8cx Gen 3's superior architecture makes it Qualcomm Technologies' most powerful and efficient connected platform. Designed for use in premium, truly mobile PCs, it delivers processing speeds with system-level performance boosts of up to 57% and handles multi-tasking up to 85% faster for incredibly smooth, responsive performance. Staying always on and always connected is possible with seamless switching between Wi-Fi and ultra-fast 5G mmWave or 5G sub6, or 4G LTE networks. AI accelerated audio and camera capabilities create immersive video conferencing experiences that help users stay productive and engaged.
"Thanks to our collaboration with Qualcomm Technologies and Microsoft, we are excited to bring a new generation of work-from-anywhere device with the flexibility, mobility and security that enterprise customers need. ThinkPad X13s promises to end power anxiety and delight users with AI accelerated collaboration experiences and hyper-speed connectivity wherever they happen to be."

Jerry Paradise –Vice President, Global Commercial Product Portfolio,
Lenovo PC and Smart Devices
Delight IT Staff
Hybrid workstyles are here to stay. ThinkPad X13s has the tools to delight end-users, however IT departments need to ensure their endpoint devices meet the strict needs of a diversified business environment. Lenovo Services can assist in end-to-end lifecycle needs of the transformation to optimized Modern IT through planning, configuration, deployment, management, support and disposal of assets.
Lenovo, Qualcomm Technologies, and Microsoft continuously collaborate with top tier ISVs (Independent Software Vendors) through the Microsoft App Assure program for Windows on Arm to support native compatibility and enhanced experiences of business-critical applications such as Microsoft 365, Zoom, Sophos and many more that are critical to the productivity and collaboration, device and data security, zero-trust network access, and virtualization needs of many enterprise customers. Improved x64 emulation in Windows 11 offers a better experience for legacy applications, allowing software developers to incrementally transition apps to run natively using ARM64EC application binary interface (ABI).
""Protection from advanced attacks is a top business priority for today's hybrid workforce. No matter where work takes place, Windows is designed to offer protection from the chip to the cloud. We are proud to have integrated the Microsoft Pluton security architecture with Snapdragon 8cx Gen 3 compute platform on ThinkPad X13s. This integration will add even more security for identities, data and applications on Windows 11 PCs."

David Weston – Director of Enterprise and IS Security, Microsoft
Furthermore, the ThinkPad X13s is equipped with advanced hardware and software threat protection through ThinkShield end-to-end security platform, and Snapdragon 8cx Gen 3 integrates layered secure boot and Microsoft Pluton architecture implemented on the Qualcomm Secure Processing Unit for chip-to-cloud protection of user identity, data and applications on Windows 11 PCs that meet the Secured-core PC standard.
Forging Ahead to a Brighter, More Sustainable Future
In addition to recycled materials and efficient manufacturing processes, Lenovo also offers bulk packaging which can reduce packaging waste. And by enabling businesses to contribute to specific ecological projects through Lenovo's CO2 Offset Service, customers have offset more than 500,000 metric tons of carbon dioxide across their purchases of Think PCs (desktops, workstations, laptops). That's the equivalent of the number of greenhouse gases emitted from more than 100,000 passenger vehicles driven over the course of one year
ThinkPad X13s will be available starting May 2022