ASUS has announced two new ASUS TUF Gaming F15 and TUF Dash F15 gaming laptops for bringing excellent performance to a broad range of gamers during the Incredible Unfolds at CES 2022.
ASUS TUF Gaming F15 and F17
TUF Gaming F15 and F17 laptops offer the 12th Generation Intel Core i7-12700H processor and up to an NVIDIA GeForce RTX 3070 laptop GPU with 140 W max TGP — a potent combination that delivers incredible gaming performance. For added power and control, a hardware MUX Switch gets around a performance drawback of gaming laptops, which tend to route the GPU's frames via the CPU's integrated graphics to the display. Gamers can use Armoury Crate to fire up a direct GPU mode that reduces latency and improves performance by 5-10% on average. To match these performance gains, the laptops' Arc Flow Fans have an updated 84-blade design. Each individual fan blade has varying thickness and a 0.1 mm tip, which reduces turbulence while improving airflow. The overall design is quieter yet offers 13% more airflow than the last generation. For gaming-grade visuals, all 2022 TUF laptops are equipped with high-refresh-rate display options, including up to FHD at 300 Hz for the fastest FPS gameplay or QHD at 165 Hz for more immersive experiences. To top it all off, F15 and F17 feature new mecha anime-inspired designs and meet MIL-STD-810H specification to ensure their durability on the go.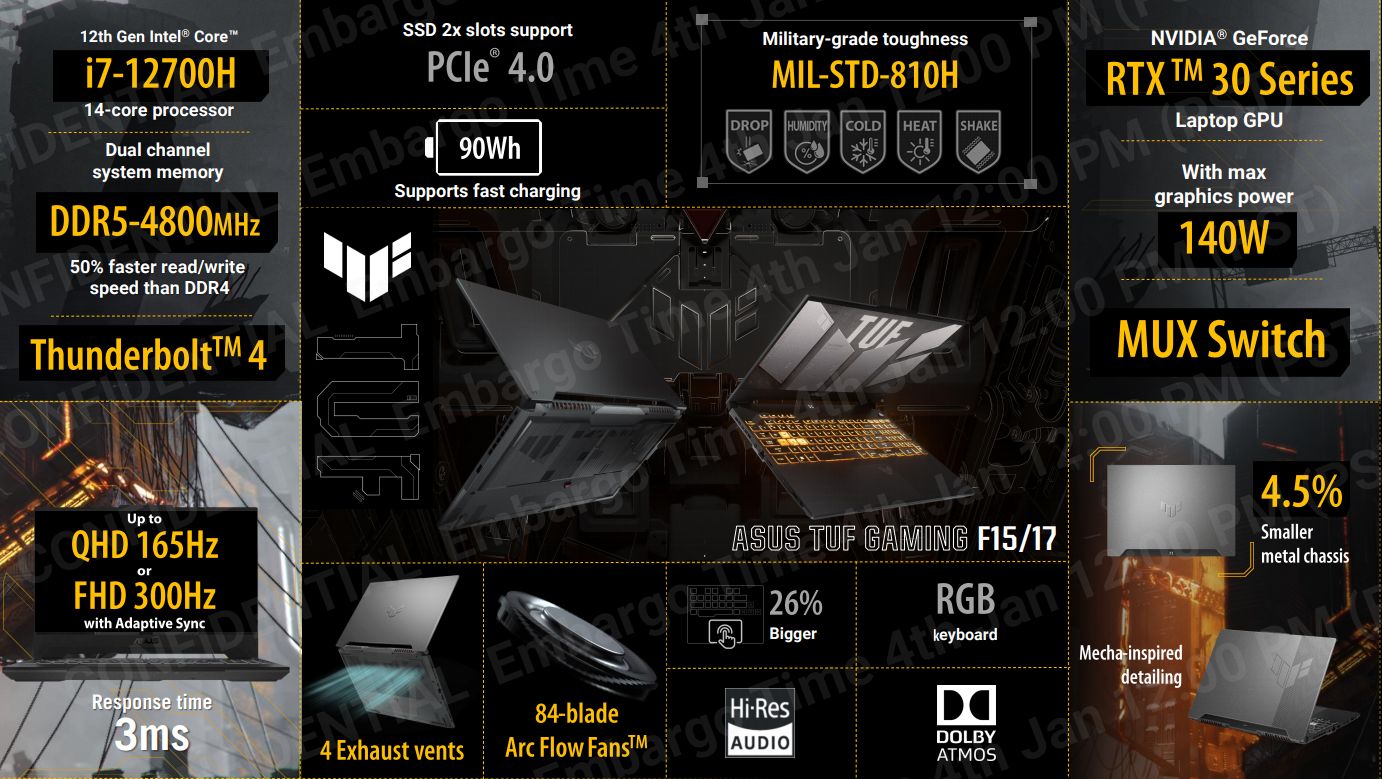 TUF Dash F15
Originally launched in 2021, TUF Dash was created to present a thin and light form factor that was infused with TUF Gaming DNA. Continuing this legacy, TUF Dash F15 — the 2022 model — has been updated and upgraded with the latest hardware, while keeping the thickness of the chassis under 20 mm.
Featuring a 12th Generation Intel Core i7-12650H processor and up to an NVIDIA GeForce RTX 3070 laptop GPU with MUX Switch, TUF Dash F15 is an exceptionally capable gaming machine in a thin, light chassis. Brand-new DDR5 memory running at 4800 MHz easily breezes through even the most intense multitasking, and dual PCIe 4.0-capable SSD slots enable more than enough high-speed storage while on the go. For stunning visuals, a QHD 165Hz panel with 100% coverage of the DCI-P3 color space keeps gamers immersed and provides a color-accurate space for content creation. With Thunderbolt 4 support, adding an external dock or a high-speed storage drive is simple and straightforward. Plus, for peace of mind while on the move, TUF Dash F15 also supports USB Type-C Power Delivery up to 100 W, enabling top-ups through a wide variety of compatible chargers and battery packs.