Champions Berlin is right around the corner! All year long, more than 10,000 teams from around the world battled across regional Challengers and international Masters to earn one of the sixteen spots at Champions, the final event of the inaugural season of the 2021 VALORANT Champions Tour. From December 1-12, qualified teams will compete for the Champions Trophy and the title of VALORANT World Champion!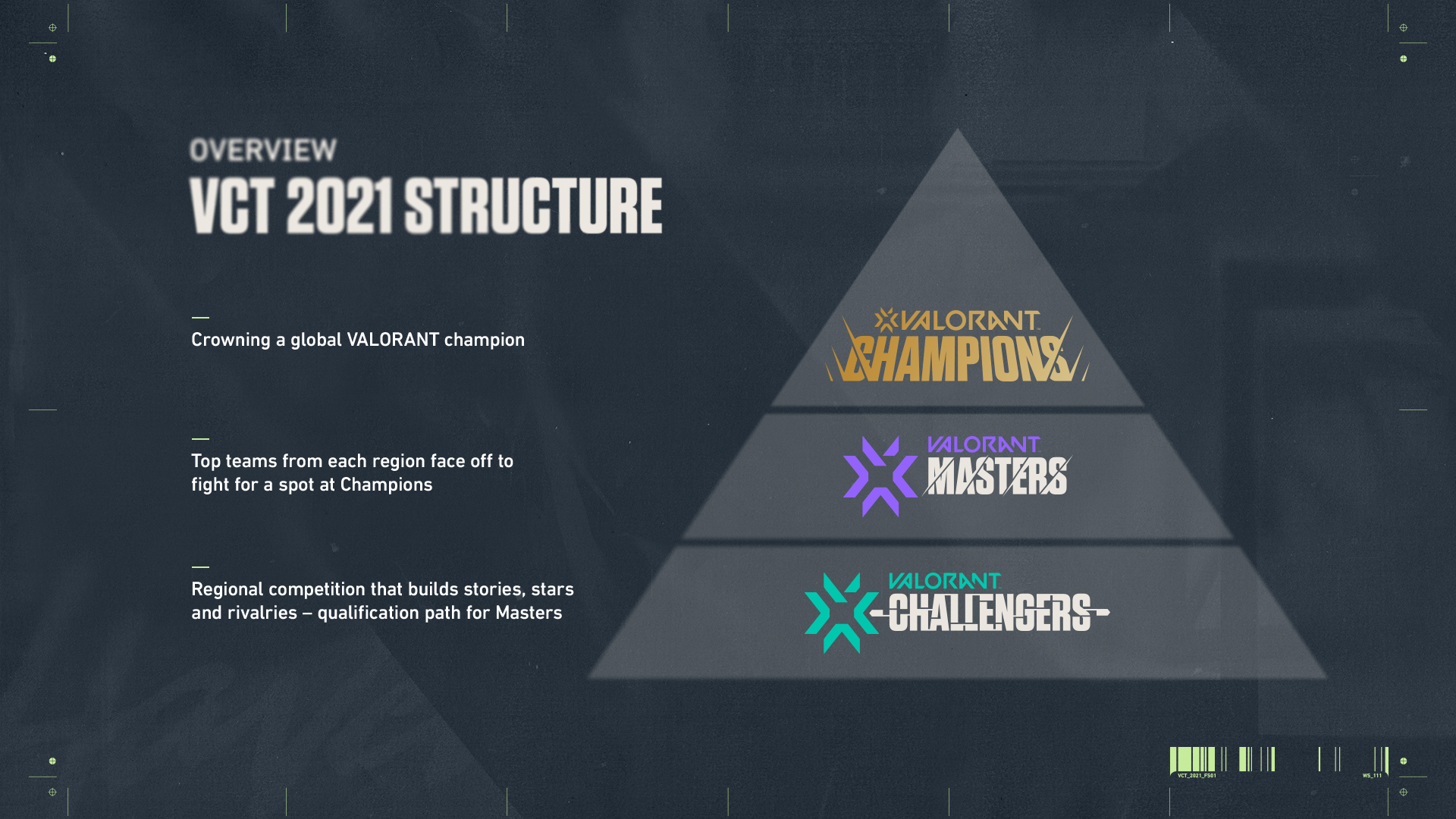 Champions is the final event of the 2021 VALORANT Champions Tour and represents the
culmination of the competitive VALORANT season. The victorious team will write their name in the history books as the first-ever VALORANT Champion.
TOURNAMENT FORMAT:
Champions Berlin will be the largest international tournament to date for VALORANT. Each of the seven participating VCT regions qualified teams into the event through three different methods: VCT Points, victory at the final Masters event, and the 4 Last Chance Qualifiers.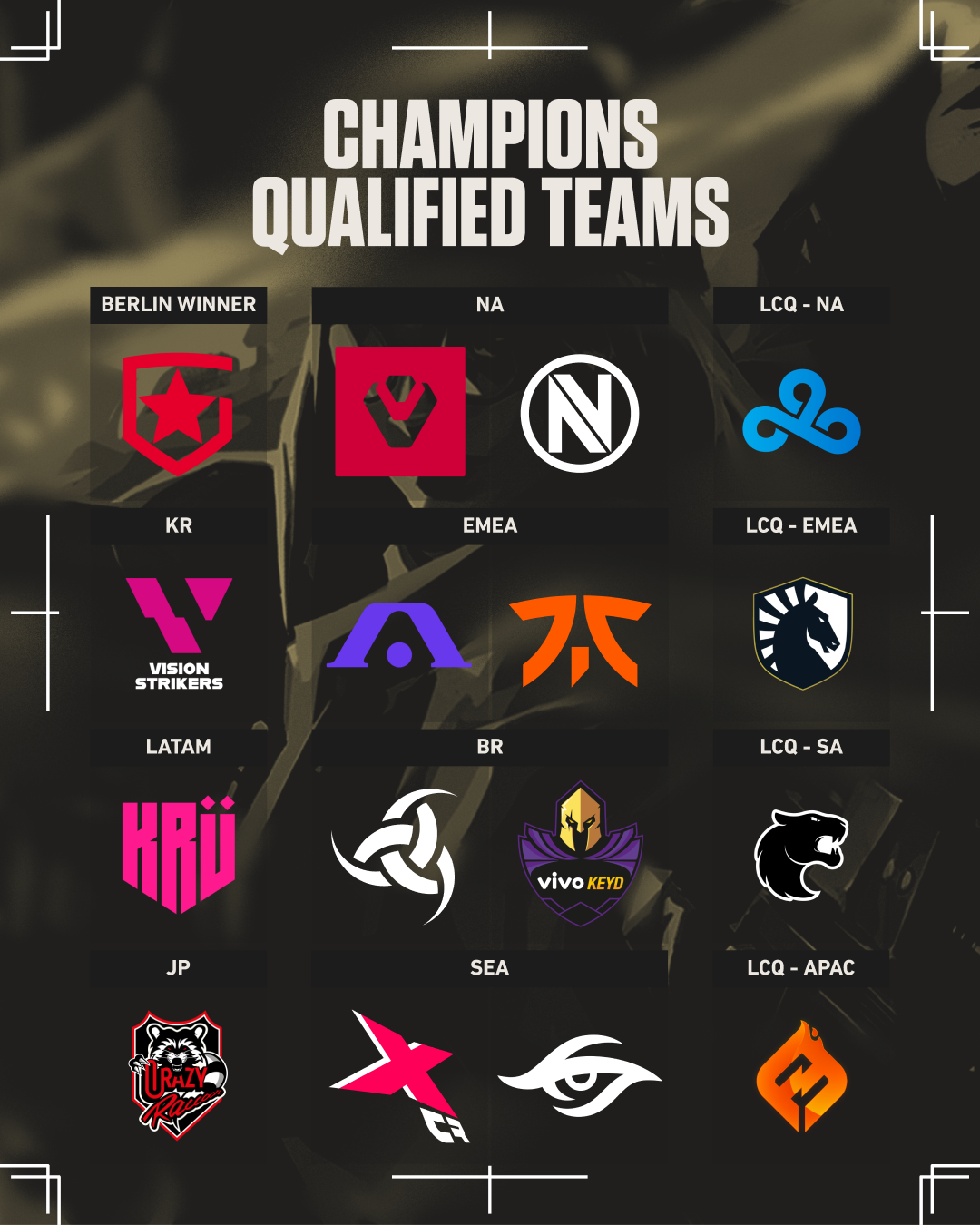 ● EMEA – 4 teams
Acend
Fnatic
Gambit Esports
Team Liquid
● North America – 3 teams
Cloud9
Sentinels
Team Envy
● Brazil – 3 teams
Vivo Keyd
Furia
Team Vikings
● Korea – 1 team
Vision Strikers
● Japan – 1 teams
Crazy Raccoon
● LATAM – 1 team
KRU Esports
● SEA – 3 teams
X10 Esports
Team Secret
Full Sense
The tournament will consist of GSL style group play, followed by an eight-team single
elimination bracket. Teams were first sorted into four draw pools based on a combination of
their respective final placements at Challenger events and the strength of their region.
● Pool 1 – NA #1, EMEA #1, KR, M3 Winner
● Pool 2 – NA #2, EMEA #2, LATAM, BR #1
● Pool 3 – NA LCQ, EMEA LCQ, SEA #1, JP
● Pool 4 – BR 2, SEA 2, SAm LCQ, APAC LCQ
Next each team in each pool was randomly drawn into one of the four groups (Groups A-D). If at any point a team was drawn into a group that already had a team from their region, then they were placed into the next alphabetically sequential group. If they are the final team to be drawn from their pool, they will be moved backwards through the groups until a valid group is landed on. Once a full pool has been drawn and becomes fully valid, the results of that pool are locked and cannot be moved.
Finally, pool 4 contains 2 Brazil and 2 SEA teams. To avoid a conflict, the #1 seeds for BR and SEA cannot be placed in the same group.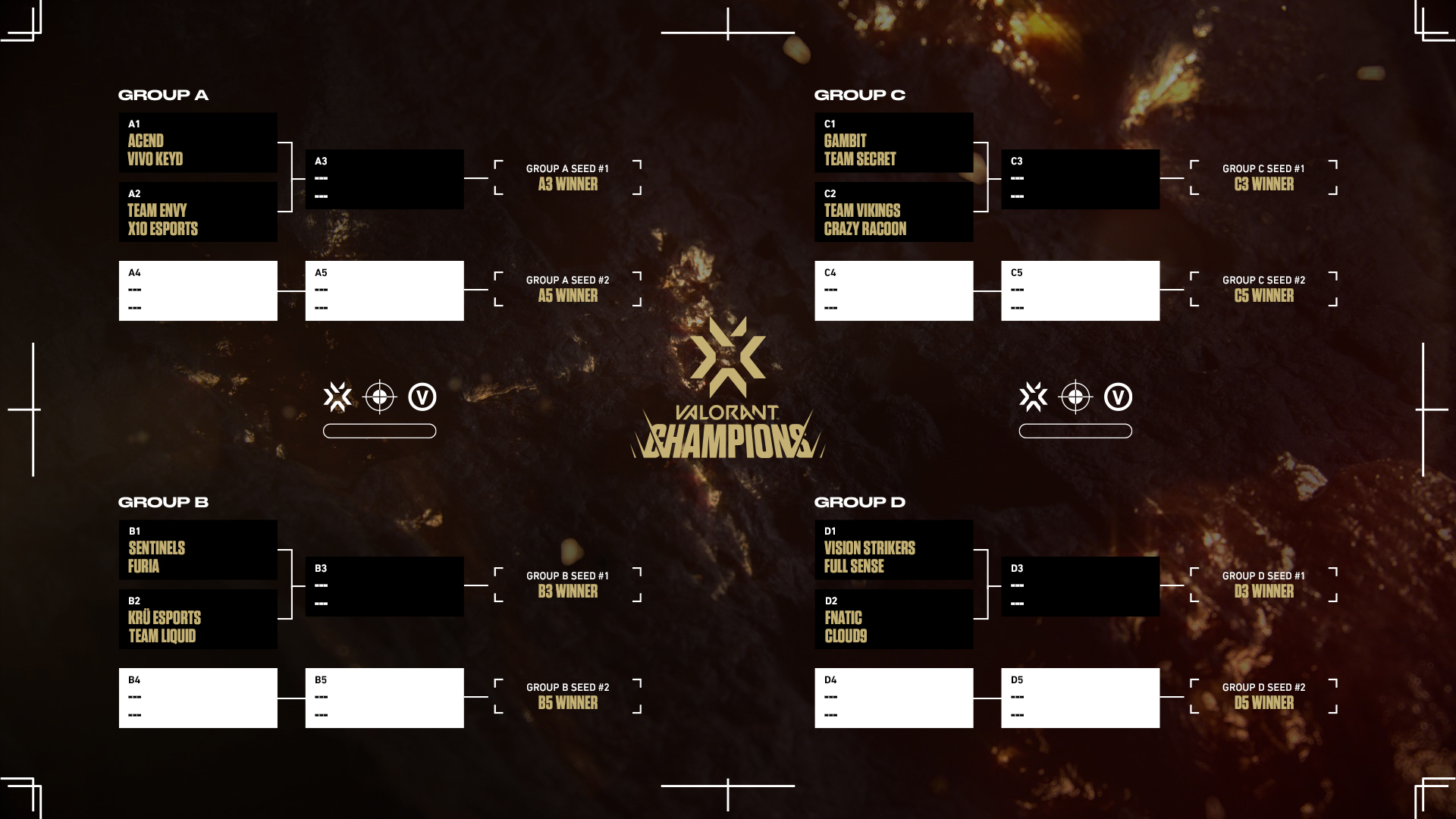 During the Group Stage, teams will compete through a four-team, double-elimination bracket to identify two winners from each group. In the first round of each group, teams from Pool 1 will face teams from Pool 4 and teams from Pool 2 will face teams from Pool 3.
After the Group Stage, a random draw will seed the Knockout Stage. The four teams who will have advanced out of their group in 1st place will be randomly assigned a yet-to-be-determined 2nd place team from a different group. The teams then will play through an eight-team elimination bracket, with the first round seeing teams who placed 1st play against teams who placed 2nd.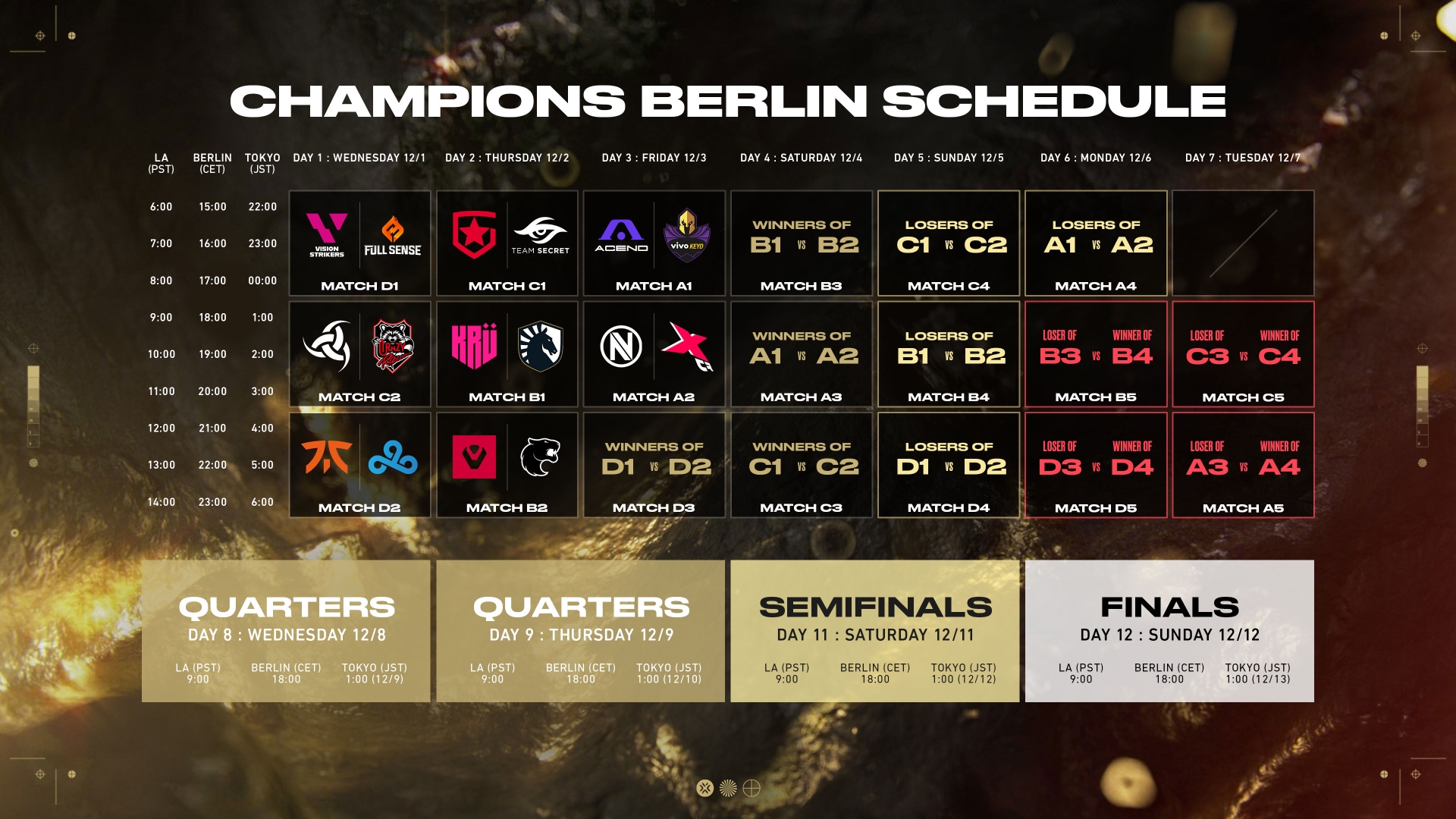 TOURNAMENT SCHEDULE:
• Wednesday, Dec 1 – 10 pm GMT+8 Group Play
• Thursday, Dec 2 – 10 pm GMT+8 Group Play
• Friday, Dec 3 – 10 pm GMT+8 Group Play
• Saturday, Dec 4 – 10 pm GMT+8 Group Play
• Sunday, Dec 5 – 10 pm GMT+8 Group Play
• Monday, Dec 6 – 10 pm GMT+8 Group Play
• Wednesday, Dec 8 – 1 am GMT+8 Group Play
• Thursday, Dec 9 – 1 am GMT+8 Quarterfinal
• Friday, Dec 10 – 1 am GMT+8 Quarterfinal
• Saturday, Dec 11 Dark Day
• Sunday, Dec 12 – 1 am GMT+8 Semifinals
• Monday, Dec 13 – 1 am GMT+8 Finals
Additional details about the match schedule will be posted in the coming days. Follow the below channels to get the latest information on Masters Berlin. For the health and safety of players, staff, and local residents, the event will not be able to accommodate a live audience.
● Twitter: @valorantesports
● Facebook: /valorantesports
● Instagram: @valorantesports
● Photos from the Event: https://www.flickr.com/photos/valorantesports/albums
● Recent VALORANT Esports News: valorantesports.com/news
● Web: http://valorantesports.com